Liberty Mountain Resort or better known as Ski Liberty is a full service ski resort in the mountains of Pennsylvania. The resort is a four seasons style resort with activities for families and individuals year around. Just a few of the activities they offer are an 18 hole golf course in the non-winter months, a year around conference center, a skating rink, winter tubing and many trails for skiing and snowboarding.
Read on to find out everything you need to know before you go to Liberty Mountain Resort.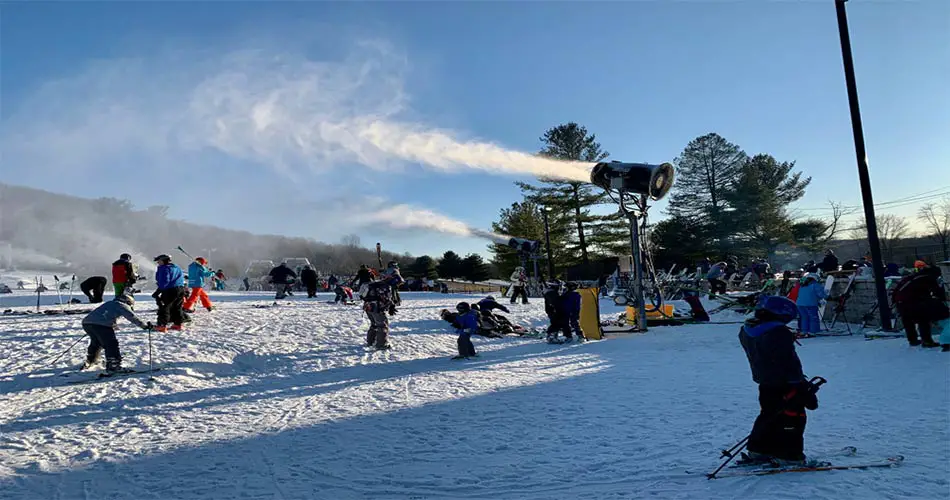 Where is Liberty Mountain Resort?
Ski Liberty is located in Fairfield, Pennsylvania, just outside of Washington, D.C. and Baltimore, Maryland. It is about an hour and a half drive to D.C. and an hour and twenty minutes to Baltimore. Being just a short drive from major cities, it makes a great East Coast getaway to see some snow up in the mountains.
Does Ski Liberty Have Lodging?
For people that are looking to make a weekend or week out of the resort, they have lodging on sight. The resort has a full service hotel and multiple restaurants to make for a perfect getaway.
Also with the numerous cabins in the mountain just by, Airbnb has some close options next to Ski Liberty.
Is Ski Liberty Better than Whitetail?
A common question that is asked is if Ski Liberty is better than Whitetail Ski Resort. Whitetail Ski Resort is a 60 minute drive from Ski Liberty and has 24 trails compared to Ski Liberty's 22 trails. Whitetail has a little edge with a vertical drop of 935 feet compared to Ski Liberty's 620ft. Both are great choices and Ski Liberty is easier to drive to if coming up from the South.
Does Ski Liberty Have Night Skiing?
Ski Liberty does have night skiing and snowboarding which is great for anyone visiting. It is generally less crowded at nights but can get a bit icy. Almost all trails are open for night skiing at Liberty, including the terrain park.
When Is the Best Time to Go to the Liberty Mountain Resort?
The best times to go to Ski Liberty are in the mornings, evenings and weekdays. The weekend can lead to the front side main lift being crowded at peak times. Heading over to the backside of the mountain can reduce some of this traffic. Additionally, Christmas and New Years tend to get packed on the mountain so expect large crowds. Generally, Liberty will shoot off fireworks for New Years so that is one time to bear the crowds.
Key Takeaways: Taking a day off work and heading up on a week day is the best way to have lesser crowded trails.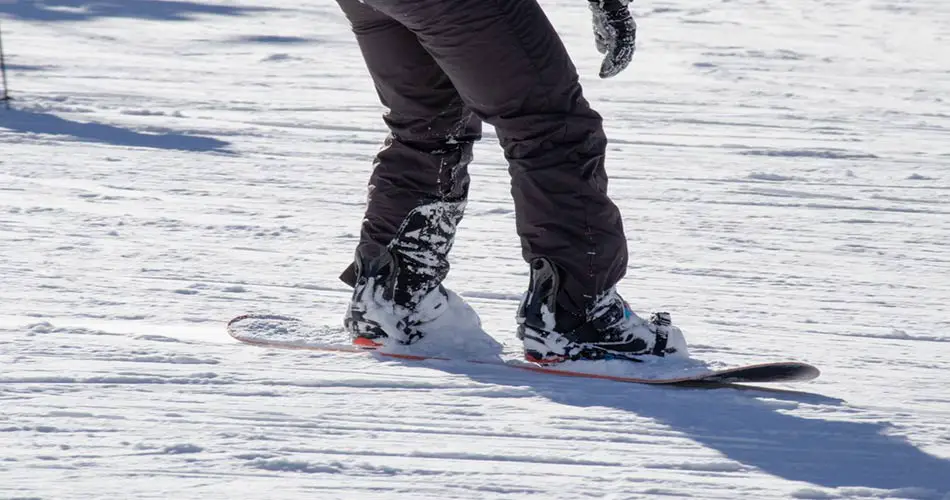 Highlights of the Resort
For a small East coast resort, Ski Liberty is the perfect weekend get away. Some of the highlights of the resort include
22 Trails and 8 Lifts
A front face and back face of the mountain to ski and snowboard on.
Family friendly winter time tubing
Multiple restaurants on site
Year around spa
Golf when seasons permit
Is There a Terrain Park at Ski Liberty?
For such a small resort, Ski Liberty has an excellent terrain park. It is complete with it's own J bar lift, rails, features, small jumps and large jumps. There are generally no big air jumps at Liberty as the snow is almost always machine made and a hard compact.
Does the Resort Blow Their Own Snow?
Even if there is not snow in the surrounding areas, Ski Liberty has snow making coverage on 100% of it's trails. This lets the resort open to mid or end of November if the weather is getting cold and hopefully let them stay open until late March.
While all trails don't open at the same time, Ski Liberty will focus on blowing snow to some of the more main trails and then more to expert trails once they have blown their base.
You can check out their trail cams here.
How Many Trails Does Liberty Mountain Resort Have?
Ski Liberty has 16 trails split between 35% beginner, 40% intermediate and 25% expert. This is spread over a total skiable area of 100 acres. The top elevation comes in at 1,190 feet and the base sits at 570 feet. The longest run ("Dipsy Doodle") clock in at 5,200 feet long and winds from the top of the mountain around the side and to the front.
The trails have a little something for everyone from the easy to learn on bunny slope, to the double black diamond mogul runs.
When Does Ski Liberty Tubing Open?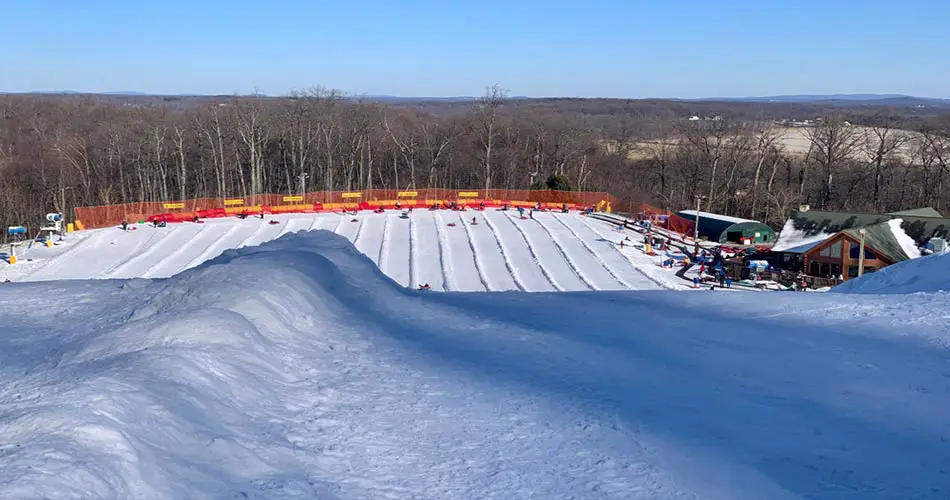 One of the fun family activities and group activities is tubing at Ski Liberty. The tubes are taken up to the top of the hill via a conveyor belt and so are the people. Generally, Ski Liberty looks to open tubing around the same time as the resort which is late November or early December.
Is There Summer Mountain Biking at Liberty Mountain Resort?
While there is no summer mountain biking at Liberty Mountain Resort, the resort stays alive with the conference center, golf, weddings and the spa. Even if for a spring or summer weekend mountain getaway, Ski Liberty makes for a great destination.
Conclusion
Ski Liberty as it is called in the Winter or Liberty Mountain Resort, as some people call it is a great place to escape to the mountains. There is fun to be had for beginners to experts and families too! If you haven't been and live close by than Ski Liberty is a must to check out. It doesn't matter which season it is, there is always something to do at Liberty.
Explore More Pennsylvania Ski Resorts