Blue Mountain Resort in the Poconos, not to be confused with Blue Knob in Claysburg is a four season resort that specializes in skiing, snowboarding, mountain biking, group events, weddings and more. Blue Mountain has one of the higher trail counts for Pennsylvania, the Poconos and some of the longer runs.
Read on to find out everything you need to know before you go to Blue Mountain Resort in the Poconos and why to check them out!
Where is Blue Mountain Resort?
Blue Mountain Resort is located near Palmerton, Pennsylvania. In one days driving distance is quite a few popular ast coast cities including Philadelphia, New York, Wilmington, D.C. and Allentown. The mountain itself is in the northern part of Lehigh Valley in the Poconos. The Poconos are beautiful to visit year around and Blue Mountain is no exception.
Does Blue Mountain Resort Have Lodging?
Blue Mountain Resort doesn't have their own lodging affiliated with the resort but there are hotels just near by and Airbnb options. For a true fall or winter experience, Airbnb is the best way to go as there are lots of cabins to choose from.
For corporate events, mountain biking and weddings, the local hotels are a great option too. Blue Mountain does offer on site camping and glamping in the fall around when the leaves are changing colors. That can be a perfect time to take advantage of a mountain get away.
Key Takeaways: There is no lodging on site aside from fall camping. Be sure to check out Airbnb or a similar rental site for the latest deals on cabins in the area.
Does Blue Mountain Resort Have Night Skiing?
Blue Mountain Resort has night skiing and snowboarding on 96% of their trails. They stay open till 9 p.m. so riders can make the most of their 40 trails and 5 terrain parks. Night skiing at Blue Mountain can be one of the best times to check out the trails as a lot of families have already packed it in for the day and are back at their cabins.
When Is the Best Time to Go to Blue Mountain Resort?
The best time to go to Blue Mountain Resort aside from the early mornings is in the evenings. Most individuals are leaving for the day and the mid day crowds can be avoided. Even with the 16 lifts, the slopes can slow down to standing lines on crowded weekends. It is just one thing to be prepared for.
Does Blue Mountain Have a Ski Shop?
Blue Mountain has two True Blue Ski Shops. This makes it even easier to get gear tuned or pick up anything is missing. They carry a full selection of boards, boots, jacks and other warm clothes.
One of the True Blue locations is at the Summit Lodge and the other is in the Valley Lodge. Be sure to check them out when at Blue Mountain and grab a cool souvenir while at it!
Highlights of the Resort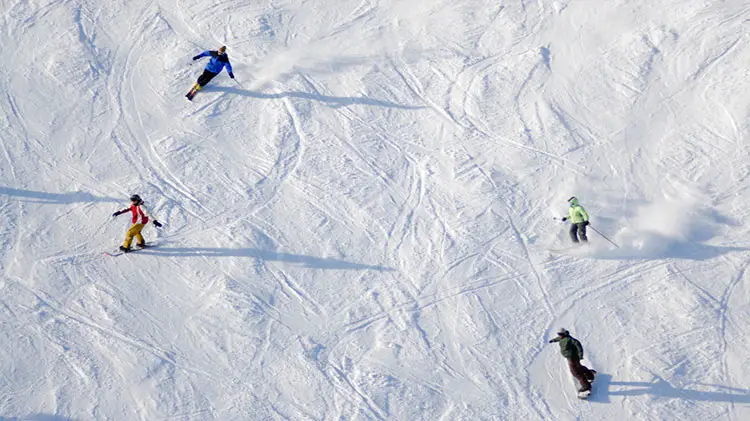 Blue Mountain Resort is one of the best Pocono mountain ski getaways. Some of the highlights of the resort include –
40 Trails and 16 Lifts
171 Skiable Acres!
5 winter terrain parks
Dining on site
Family friendly winter time tubing
Ropes courses and rock climbing for team building
The largest downhill mountain bike park in Pennsylvania
Does Blue Mountain Resort Blow Their Own Snow?
Blue Mountain Resort has snow making coverage on 96% of it's trails. This lets the resort open to mid or end of November if the weather is getting cold and generally lets them stay open until late March or early April
96% cover over 171 skiable acres makes Blue Mountain have one of the largest snowmaking systems in the east. It is a good thing that it is cold up there in the Poconos!
For the latest updates on the snow conditions and trails, you can check out the Blue Mountain Resort trail cams here.
How Many Trails Does Blue Mountain Resort Have?
Blue Mountain Resort has 40 trails split between 14 beginner, 6 intermediate , 11 expert level and 4 expert only level. The real catch to Blue Mountain is the 5 terrain parks which is one of the largest amounts in Pennsylvania. It is a great Winter stop for new riders but also those looking for a challenge.
The mountain is home to Pennsylvania's highest skiing vertical at 1,082 feet. With a vertical that high, it gives Blue Mountain some of the longest runs in PA skiing.
Is There a Terrain Park at Blue Mountain Resort?
Blue Mountain Resort really makes use of their 171 skiable acres by putting in 5 terrain parks. They have some of the largest air jumps in Pennsylvania and some of the best features to ride as well.
Their top to bottom trail Dreamweaver has a mix of 22 jumps and trails making it one of the most exciting trails to ride. For any terrain park junkie, Blue Mountain is a go to spot in PA.
Does Blue Mountain Resort Have Snow Tubing?
Winter time snow tubing at Blue Mountain is just another way to make for a great weekend and get the family on the mountain. It offers fun for all ages and makes a great wintertime group activity as well.
The snow tubing at Blue Mountain has an exciting 46 lanes that are over 1,000 feet long! They are serviced by three lifts so there will be no need to walk up the hill. The tubing center has both single and double tubes for use.
Is There Summer Mountain Biking at Blue Mountain Resort?
Not only is there mountain biking in the summer and fall at Blue Mountain Resort but it is Pennsylvania's largest downhill mountain bike park. Blue Mountain brings in riders all across the state and up the east coast for their downhill action.
The park is open from May to October and all the trails are lift serviced. Just put your bike onto the back of the lift and get ready for the next trail.
Conclusion
Blue Mountain Resort should be on everyone's PA wintertime list for a mountain getaway. Especially if they have never been to the famous Poconos. With the highest vertical for Skiing in Pennsylvania and snow tubing too, the whole family can enjoy a week or weekend at Blue Mountain Resort.
Explore More Pennsylvania Ski Resorts