Most people don't see themselves skiing and snowboarding in Alaska unless they live there. Sure, it is a far trip from the lower 48 states but one you'll remember forever. Especially if you go to a destination ski resort like Alyeska. The locals will tell you the trip is worth it and we will too, so let's figure out how to get there and everything Alyeska has to offer!
Highlights of Alyeska Ski Resort in Alaska
Some of the highlights and stats of Alyeska Ski Resort include – 
76 named trails
1,610 skiable acres
7 Lifts including the aerial tram
2,500 feet of vertical
Night skiing on select trails
Where is Alyeska Ski Resort Located?
Alyeska Ski Resort is located in Girdwood, Alaska. Most people ask how they will get there? It's simple. Ted Stevens Anchorage International Airport is 50 minutes from the resort. So how far is the flight from your city? We cover that below as well!
Flight times to Ted Stevens Airport
Seattle, WA -3.5 hours
Las Vegas, NV – 5 hours
Houston,TX – 8.5 hours
Chicago, IL – 8 hours
New York, NY – 9 hours
Just remember once you touch down, you are still 50 minutes out. After that you can check into your room, get a massage, diner or hit the slopes.
What is Alyeska?
Alyeska Resort the most popular destination ski resort in Alaska. While it's not the famous backcountry Alaska heli skiing that many people go to Alaska for, it is the second best thing. Plus it is a fraction of the cost.
If you want to check off skiing or snowboarding in Alaska on your bucket list then you should at least consider Alyeska. It is relatively easy to get to, has an unbelievable amount of natural snow (over 55 feet annually), and is an overall great resort.
Lodging Near Alyeska Ski Resort
It is pretty simple that if you are going to Alyeska Resort that you will stay there unless you want to drive 50 minutes each day back to Anchorage each afternoon. Yes, there are vacation rentals by owner nearby and also you can check carriage house accommodations but if you are doing the trip, stay at Alyeska. 
Alyeska has 301 guest rooms spread out over eight floors. The rooms start around $199 a night and Stay & Save packages for not much more.  In addition to staying right next to the slopes, it is a true resort. There is a spa with couples massages, great dining on site and even fitness classes. 
There is so much more just to learn about the resort at Alyeska so we recommend you to check them out.
Does Alyeska Ski Resort Have Night Skiing?
One more reason to go to Alyeska ski resort is because they offer night skiing. 4 pm to 8pm on Thursdays through Saturdays and select holidays, riders can join in on the night session. It isn't on all trails but it does include Bear Cub Quad, Chair 7 and Ted's express lifts.
 That's why it helps to stay nearby going into the weekends.
The Best Time to Visit The Resort
The best time to visit Alyeska Ski Resort is really whenever you can make it. The flight turns off a lot of people but it is worth a trip. In fact, if you fly Alaska Airlines, you can ski free the day you arrive by presenting a boarding pass and matching ID at the Alyeska ticket windows.
 The resort isn't overcrowded from locals and there is so much room on the trails that anytime is a good time to visit Alyeska. It is a year around resort. If winter isn't for you, they have biking and hiking in the summer.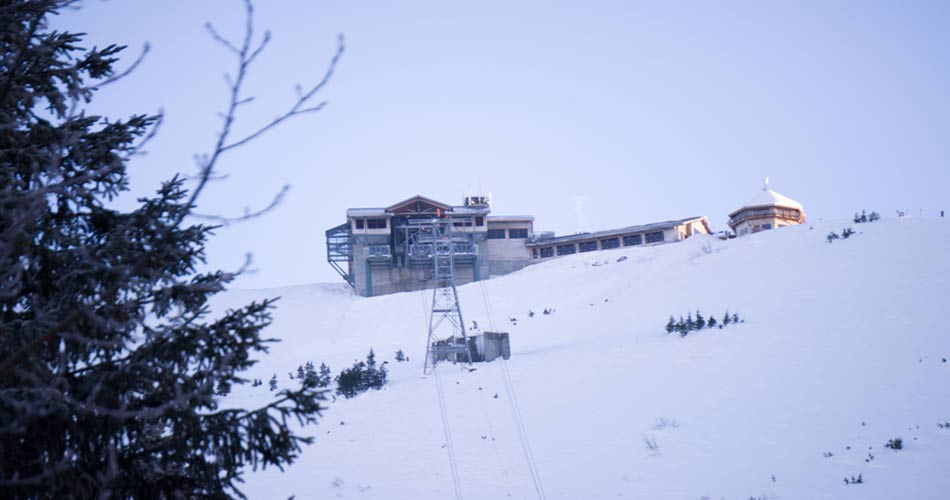 Pro Tip: By flying Alaska Airlines, you can ski free the day you arrive by presenting a boarding pass and matching ID at the Alyeska ticket windows. Just note, it only works on weekdays from January to April.
Does Alyeska Ski Resort Have a Ski Shop?
There are few shops to explore at Alyeska but if you want skis or boards then you need to check out Alyeska Mountain Sports. Head to the center of the mountain activities on the second floor of the hotel.
You can get just about anything you are looking for from Salomon, Burton, North Face and more.
Alyeska Ski Resort Terrain Park
There are four freestyle terrain areas at Alyeska. Its best to make use of North Slope and the Mini Pipe during the day since they aren't open in the evenings. If you are new to free style than Pump Station 3 is a good place to start or book a lesson.
The Refinery (also open at night)
North Slope
Pump Station 3 (also open at night)
Mini Pipe
Is Alyeska Ski Resort Good for Beginners?
Alyeska Ski Resort has beginner trails but if you are going to make the trip, then it is good to at least have skied or snowboarded a few times. We recommend intermediate and advanced riders to check out Alyeska.
For locals though that don't have to incur the flight cost, it is a great beginner resort! There are a lot of good trails near the base of the mountain for beginners like Blueberry Hill and Chair 3 Road.
Trails at Alyeska Resort – What to Know
The 76 named trails don't do justice to how much acreage there is to ride. If you want to ride bowls and glades all day, you really could. Alyeska is impressive for the amount of expert, advanced and intermediate terrain they have.
There are a few must ride trails at each level –
Expert trails
Money 2
Tram Pocket
Big Doo Doo
Advanced trails
Blue Lagoon
Gun Barrel
Big Dipper
Intermediate trails
Champagne
Corkscrew
Cabbage Patch
Be sure to check out the Alyeska webcam before heading out to see the trails.
Other Winter Activities at Alyeska
Want some other once in a life time opportunities?  Alyeska has both heli-skiing and cat skiing. Both provide a special memory in their own right. There is also snowmobiling for a speed rush. For a lighter activity, you could try snowshoeing, flight seeing or even a wildlife cruise near by.
Don't be surprised if you even see the northern lights on your trip to Alyeska as well! The best time to see them is from August to April so put that on your to do list.
Is There Summer Mountain Biking at Alyeska Resort?
Can't get to Alyeska in the winter? It happens. Should you go in the summer? Absolutely. If you are into mountain biking then it is an amazing place to ride. Alyeska has the best lift serviced downhill mountain bike park in Alaska. 
There is single track, roads and even man-made features to challenge you. The resort rentals bikes so don't worry about that. You just need to show up and ride. There are even lessons for first timers.
Final Thoughts on Alyeska:
If you are making a list of must ski or snowboard destinations, put Alyeska on there. It's earned it's place right up there with the best of them. Plus if you are coming from the lower 48, it's a notch in the belt to go ride Alaska.
Make sure you have a few days because you'll need them to explore all the terrain at Alyeska and be prepared to have fun.
Explore More Alaska Ski Resorts