Have you ever wanted to descend steep, untouched glacial mountains like they do in professional backcountry films? What used to be accessible only to the legends is now available to anyone that desires it – for the right price. The cost of heli skiing doesn't have to be a mystery.
Before you pack your bags and jump on the next plane to Alaska, let's first look at some details of heli skiing. In this article, we'll examine the various costs associated with it, what you can expect on your trip, and a comparison of what the various Alaskan operators have to offer.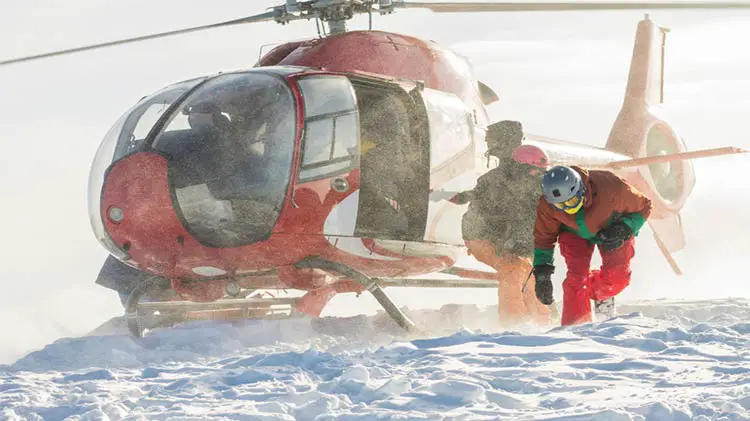 The Cost of Heli Skiing Can Be High But You Can Plan for It
As you might expect, the monetary cost of heli skiing can be extraordinarily high. It's not a trip that the average skier can just take on a whim. Choosing to purchase a heli skiing adventure will likely involve some serious budgeting, saving, and lots of prior planning.
Most heli skiing companies operate at very specific times of the winter season when the snowpack is at its greatest. This usually occurs from mid to late winter and lasts around 12 weeks. Spots are not endless and fill up quite fast as the demand for heli skiing has been constantly increasing. If you're considering booking one of these vacations, it's recommended that you do so at least one year in advance. If you wait too long, you'll risk not having a spot.
Booking a year or two out can certainly help you plan the financial expense and give you time to sort out your payment. All heli skiing operators require a significant down payment that is generally close to 50% of the total cost so be prepared for this when making your reservation. Additionally, cash refunds are normally non-existent. You may get a credited refund if you give ample notice of your cancellation – normally around six months out.
As you can see, heli skiing is a commitment that you must be 100% ready to make.
How Much Does Heli Skiing Cost? It Depends on the Operator
So, what's the actual cost of heli skiing? There are a variety of factors that are involved in this, but for a week-long, all-inclusive trip you can expect to pay around $8,000 – $10,000. While a large price tag, this generally includes all the avalanche gear you need, your accommodations, all of your meals, and occasionally transportation to and from the airport.
Heli skiing is the adventure of a lifetime, and the price reflects that. That number is just an overall average for a maxed-out ski trip. You can greatly reduce costs by booking shorter adventures and facilitating your own accommodations. If you're after a luxurious experience however, you're probably better off just going with the all-inclusive option.
What Costs Make Heli Skiing So Expensive
Heli skiing operators don't just charge thousands of dollars for the kick. There is a massive amount of resources that go into facilitating these types of trips, and companies must charge accordingly. Some of the factors that contribute to the price include:
Helicopter Fuel: Jet fuel can be expensive by itself, but when purchased in a remote location like the Alaskan wilderness, hefty premiums apply.
Guide Wages: All heli skiing tours are accompanied by a guide that knows the terrain.
Helicopter Pilot: With an average salary of $111,000 in Alaska, Helicopter pilots are well paid even if just a portion of their year is spent flying for skiers.
Gear: Avalanche gear and optional skis are provided to all skiers.
Transportation: All-inclusive packages normally include transportation to and from the airport to your remote destination.
Lodging: Your hotel room and all your meals (as well as après) usually come with the price of an all-inclusive package.
Additional expenses that aren't immediately apparent apply as well. Every operator needs to pay its entire staff including housekeeping, the culinary staff, and customer service reps.
There are also a variety of costs associated with this type of service including National Forest Service permits, avalanche control measures, and helicopter maintenance costs. All of this adds up to result in your final bill.
How Many Runs Can You Expect On a Heli Ski Trip
The number of runs you can expect from a heli skiing trip varies widely. Each operator has different averages, but generally, you can expect about 8 runs per day.
While this may seem to be on the lower end, keep in mind that backcountry runs are long. You could very well be skiing up to 5,000 vertical feet in a single run. These runs are normally 30-degree expansive stretches of powder that can take a significant amount of time to tackle. When you account for the breaks along your descent, a typical run can take 30-45 minutes.
Heli skiing operators make sure to prioritize skiing time above all else. When you get to the bottom of your run, that helicopter is going to be there for you. Most companies also allow skiers to purchase extra runs or helicopter airtime at a discount in case you didn't get your fix.
A Look at 3 Heli Skiing Operators in Alaska and the Cost
Alaska has around 10 different heli skiing operators, each offering slightly different packages. Three distinct areas host most expeditions:
Chugach Mountain Range
Valdez
Cordova
Many people find themselves wondering, how hard is heli skiing? Most companies cater to intermediate and advanced riders. This doesn't mean you need to be a cliff-dropping expert to enjoy the backcountry, however. While extreme expertise is not required, you should be completely confident on your skis or board and capable of making a wide variety of maneuvers on snow.
Let's check out three of the top Alaskan heli skiing companies and see what each provides its customers!
Points North Heli
Points North Heli is a family-owned and operated heli skiing company that has been exploring the Chugach Mountain range for nearly 20 years. They are the only heli skiing company in Alaska that has three helicopters which means more airtime and more skiing. They have access to over 1,000 square miles of terrain that is excellent for beginner to advanced skiers.
7 Day Trip Cost: $7,495 per person
What is Included: Included in your cost you will receive 7 nights of lodging with meals included. You'll get 4 hours of heli time (6-11 runs per day), essential avalanche equipment, and access to daily activities. Transportation to and from the airport is also included.
Majestic Heli Ski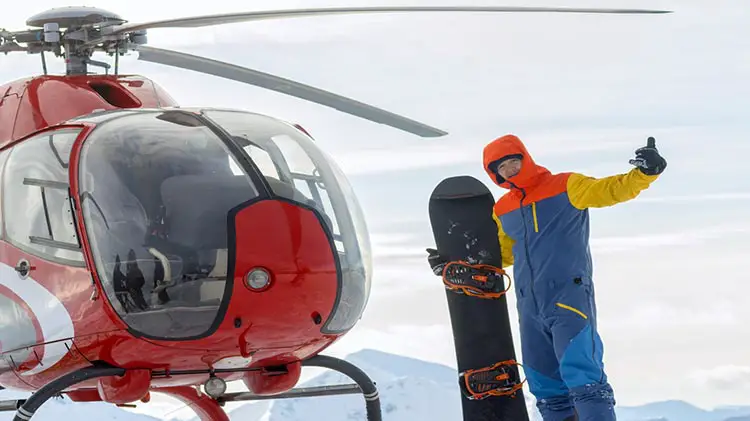 Majestic Heli Ski also operates in the Chugach Mountain range and their main facility is located just 115 miles from Anchorage Alaska. They focus on creating a more personalized, intimate heli skiing experience. They never book more than 16 people per trip, and there is always a 1:1 staff ratio to meet all your service needs.
Majestic Heli Skiing operates on terrain ranging from 2,000 to 10,000 feet in elevation, so altitude sickness is generally never an issue. Don't let this fool you though. They have access to some of the most extreme terrain in Alaska including spines, couloirs, and chutes.
7 Day Trip Cost: $12,700 per person
What is Included: Guests are provided with complimentary lodging and 3 meals per day. Rooms are double occupancy, but single rooms are available at a premium cost. Majestic provides K2 powder skis (bring your own boots or boards), avalanche equipment, and world-class guides. They also feature a vertical guarantee, so if you don't ski as much as they promise, you'll receive a partial refund or credit.
Valdez Heli Ski Guides
Valdez Heli Ski Guides offers an impressive 10,000 square mile range with access to some of the highest heli skiing peaks in the Chugach range. This includes Mount Diamond, a 6,200 vertical foot descent that can be done in one run. Valdez has risk-free booking options with only 10% down, making it a relatively affordable commitment compared to other operators.
Lodging with Valdez Heli Ski Guides is quite more luxurious than the typical base lodge of other operators. They put every guest up in the Totem Hotel & Suites where skiers will find comfort in the Tempurpedic mattresses, private suites, a hot tub, and community bar and kitchen.
7 Day Trip Cost: $8,500 per person
What is Included: Valdez provides 7 days of accommodations and 3 meals per day, like other all-inclusive operators. Their lodging is located at Totem Hotel & Suites, which is one of the nicer heli skiing accommodations on the list. They also offer the typical avalanche gear, and additional add-ons are available like demo boards.
So Is Heli Skiing Worth It?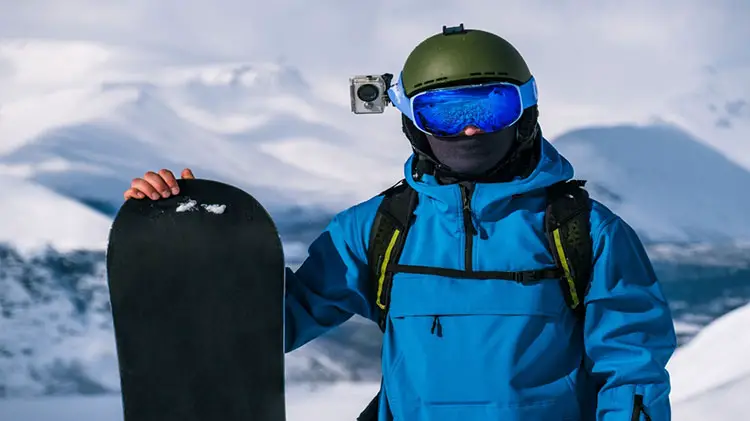 Heli skiing is an entirely unique and exclusive experience that most skiers and riders can only dream of. It's a relatively expensive vacation, with most 7-day trips totaling around $10,000 per person after flights, drinks, and optional purchases. However, if you're a die-hard skier who has grown tired of skiing in the same manufactured resorts, heli skiing is the next step. Nowhere else can you access the extreme variety of terrain that is found in the Alaskan backcountry.
If you have the funds and skiing is an integral part of your life, heli skiing is absolutely worth it. The memories, sights, and feelings of endless powder runs will last a lifetime and you'll be telling those stories for decades.
Consider working at one of the main operators if you're dead set on the experience but don't have the funds. There are a variety of jobs available at their lodges. Getting an "in" with the operator may allow you to heli ski for free or at a discount.
Final Thoughts on the Cost of Heli Skiing
Heli skiing is a once-in-a-lifetime expedition that will leave you utterly speechless. Few have the opportunity to ski down such monolithic slopes, but if you're determined and have the budget, you could be one of those few.
There's no doubt about it – heli skiing is definitely for the well-off. Despite it's increase in popularity over the years, you still have to cough up a decent amount of change for this experience.
You won't find fellow ski bums on these expeditions, but you'll certainly find a group of die hard skiers and riders. If you can swing it, don't think twice about booking this opportunity. You'll no longer be watching the next backcountry film in envy because you'll know that you too dropped in on some of the steepest runs the planet has to offer.