We get it, college is all about learning, getting your degree and getting ready for the workforce but who said it can't be fun? If I had to do it again, I would pick my college based on the ski and snowboard mountains nearby, along with my degree. There is no better place to make friends than in college and going to the ski slopes with them makes some unforgettable good times.
Let's look at 7 East Coast colleges for skiers and snowboarders to attend.
1. Plymouth State University
Tuition: $26,302 in-state / $36,682 out-of-state
Acceptance Rate: 89.4%
Enrollment: 4,100
Where to Ski: Loon Mountain, Waterville Valley
Located: Plymouth, NH
Known proudly for its alpine ski team and its ski club, Plymouth State University is a must-consider when you are thinking about east coast colleges and skiing. Whether you want to be an NCAA skier or just close to the mountains to ski or snowboard on your weekends, Plymouth State is positioned for both.
In addition to their competitive ski team, they have weekend shuttles to the slopes on the weekends. Loon isn't the closest drive at 2 hours away but it is excellent when you get there. A little bit further and you can make the trip to Sunday River in Maine which is 2.5 hours away.
With a wide range of degrees and access to the mountains, you should take a look at Plymouth State during your college search. It's not a huge student body so you'll certainly make friends, become close and have like-minded people to hit the slopes with.
2. New York University: NYU
Tuition: $83,250
Acceptance Rate: 21.1%
Enrollment: 27,500
Where to Ski: Camelback Resort, Stowe, Killington
Located: New York, NY
NYU? Yes, it totally needs to hit the list. NYU offers that intercity experience that some people seek out. This doesn't mean skiing and snowboarding need to be missed though. In fact, New York University is close to the east coast mecca for skiing and snowboarding. On top of that, it is all accessible with their ski & snowboard club.
Just 2 hours from Camelback, 6 to Stowe and 5 hours to Killington, you can plan some really good weekend ski trips. It's not the best college if you want to ski 7 days a week but the weekend ski trips can be epic.
Pack your weekend back and choose from tons of east coast ski resorts once your Friday classes are finished. With the large population body and ski club, you'll always have someone interested in taking a trip out to the slopes. With their low acceptance rate, you will get an amazing education in addition to all that winter fun.
3. Michigan State University
Tuition: $14,460 in-state / $39,766 out-of-state
Acceptance Rate: 76.3%
Enrollment: 50,400
Where to Ski: Marquette Mountain, Boyne, Crystal, Nubs Nob
Located: East Lansing, MI
Ride competitively on the Michigan State Ski and Snowboard Team or ride casually with the Michigan State Spartan Ski club. If going to a well known college and skiing or snowboarding is one of your priorities than you'll quickly realize there is a lot of options at Michigan State.
You can make an amazing group of friends with like minded individuals on the ski team or club scene at Michigan State. While the university isn't super close to all the ski resorts, there are plenty to explore in Michigan. Regularly students will carpool on the weekends and head up to the resorts in the winter season.
Don't discount Michigan State if you are looking for a east coast ski college. The vibe might be the one you want. Give the campus a visit and find out!
4. University of New Hampshire
Tuition: $18,938 in-state / $32,278 out-of-state
Acceptance Rate: 84.8%
Enrollment: 15,400
Where to Ski: Waterville, Gunstock, Cannon, Loon
Located: Durham, NH
Well known for their competitive ski team, University of New Hampshire is no stranger to competing regionally and nationally. Like Michigan State, if you don't want to get into the competitive scene then they also have the UNH ski and board club.
The UNH ski and board club takes about 10 trips a year. Most of the ski club trips rotate between Waterville, Gunstock and Cannon and have a bus to shuttle students back and forth to the resorts. All are exciting ski areas but you won't want the miss the trips to Cannon.
Aside from the ski team and the ski club, even just attending UNH puts you in a prime position to take trips to many of the well known east coast ski resorts. Be ready to take some trips and explore the best that the east has to offer.
5. Penn State University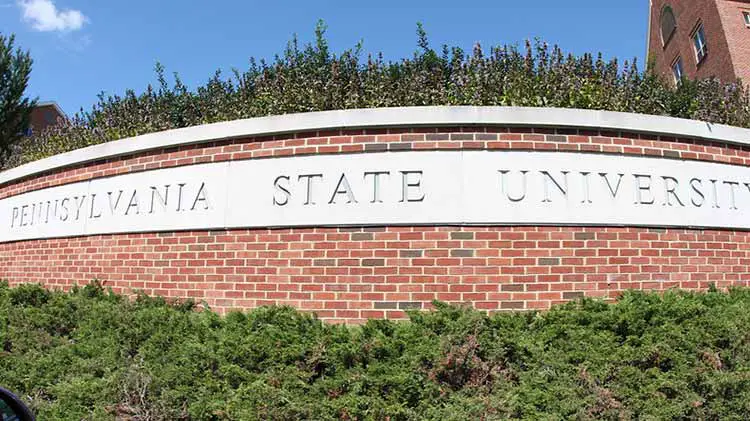 Tuition: $17,900 in-state / $32,382 out-of-state
Acceptance Rate: 51%
Enrollment: 98,800
Where to Ski: Tussey Mountain, Seven Springs, Jack Frost/BB
Located: State College, PA
Penn State puts you in driving distance to a ton of PA ski resorts but you still aren't far from New York, New Hampshire and Vermont if you want to take a weekend trip. Known for their excellent academics and football team, Penn State is a top choice for many perspective college students but is it for you?
You can ski competitively or just join the PSU ski club at Penn State. Whichever one you choose, you have multiple options to get onto the slopes. Mix up your studies with the slopes by going to Penn State.
Tussey is the local mountain for the alpine and freestyle ski team so be sure to check that out if you plan to ride for the ski team. Otherwise it's really up to you to enjoy PA and the east coast ski areas.
6. Middlebury College
Tuition: $62,000
Acceptance Rate: 22%
Enrollment: 2,500
Where to Ski: Middlebury Snow Bowl
Located: Middlebury, VT
One of the more prestigious colleges on the list and known for being a little ivey college, Middlebury College excels at academics but is centrally located to some of the top skiing on the east coast.
Just minutes from their local ski slope, Middlebury Snow Bowl, you'll have an easy time getting in some skiing or snowboarding between your classes. The snow bowl is home to training nationally known riders. Before we touch on University of Vermont, we just want to reiterate, if academics are your priority then Middlebury is one of the best choices on the list, if not the best.
7. University of Vermont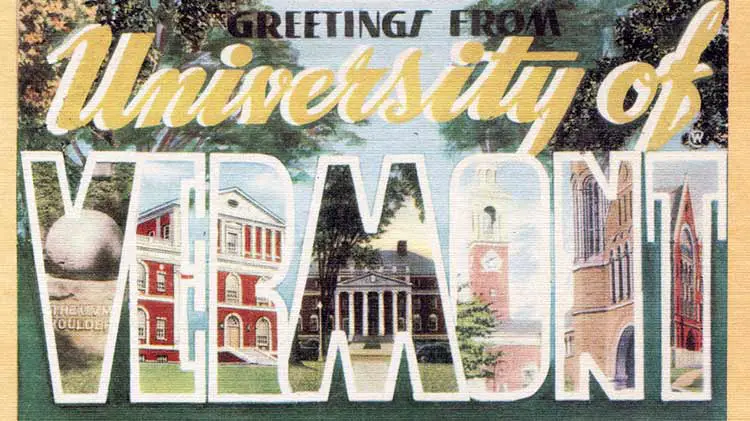 Tuition: $19,062 in-state / $43,950 out-of-state
Acceptance Rate: 71.3%
Enrollment: 11,900
Where to Ski: Jay Peak, Stowe, Mad River Glen
Located: Burlington, VT
Wrapping up and rounding out the list of east coast colleges for skiers and snowboarders to attend is the University of Vermont. While the University of Vermont isn't as academic as Middlebury College, you'll have access to a larger student body.
Some people would say the best was saved for last and that certainly feels true if you have ever been to Burlington.
Near the home of Burton, the University of Vermont has that ski and snowboard culture feel when winter rolls around. You can just feel it on campus. You'll be in no shortage of ski trips, trails and mountains to ride near the university.
Did we mention there is weekend shuttles to the slopes too? With Smuggs, Jay Peak and Stowe all within an hour, you better be ready to ride. It almost feels mandatory to learn how to ski or snowboard if you don't know how and are attending the University of Vermont.
Go give the campus a visit. It may just be the home you are looking for, for your 4 years in college.
Final Thoughts
A lot of good schools made it onto the list. Whether you are strictly academic focused, want a city experience or want to be in the heart of ski country, you should have a good idea of some of the schools to check out.
While we don't encourage you to be a ski bum in college, we do encourage you to make the most of your 4 years in college. Pick a college where you can make the most of winter on the slopes and you will want to stay in college for much longer than 4 years.