A resort as big as Loon Mountain Ski Resort in New Hampshire is in the state's White Mountains. That doesn't come as a surprise to most people once they hear Loon Mountain has 61 trails and 370 skiable acres. Loon Resort is impressive but their new lift the Kancamagus 8 will blow you away this Winter.
Read on to see why you need to visit Loon Ski Resort this Winter on your ski or snowboarding trip, where to stay and what to ride!
Highlights of Loon Mountain Ski Resort in NH
Loon Mountain Ski Resort is everything you'd expect out west, in New Hampshire. Some of the highlights include –
61 Trails
370 skiable acres
11 Lifts
Longest trail is 2.5 miles
2,100 feet of vertical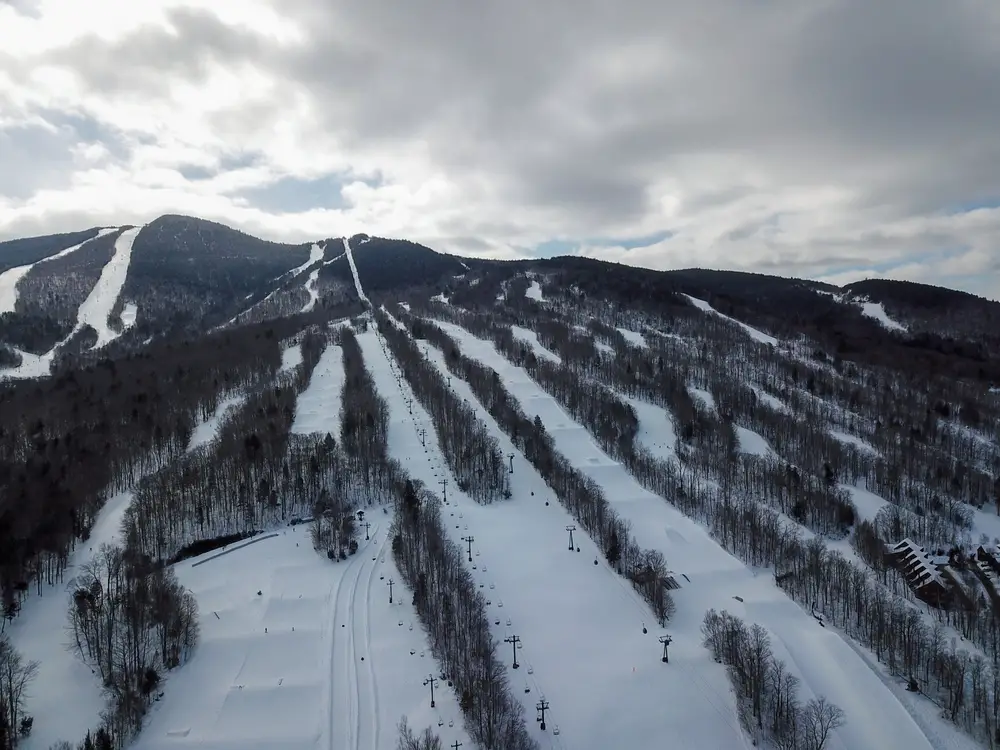 Where is Loon Mountain Ski Resort?
Loon Mountain Ski Resort is located in Lincoln, New Hampshire. The ski area is an hour to Concord, New Hampshire. Lebanon, NH is an hour and 20 minutes south. Portland, ME is two hours and 10 minutes to the east and Boston is two hours south.
If you are thinking that Loon Mountain attracts the Boston crowd on the weekends, they do but don't worry the crowds spread out over the mountain once you get to the peak.
Loon Mountain Lodging – Where to Stay
Loon Mountain Ski Resort doesn't have lodging that they run. That doesn't mean there isn't slope side accommodations though. The Mountain Club on Loon the only ski in/out option for Loon Mountain lodging.
You then need to get of the mountain and a great place is the Holiday Inn Express & Suites in Lincoln. Two things you can count on are renovated rooms and prices that won't break the bank.
Lastly, Woodstock Inn Brewery is 5 minutes away from Loon Mountain and a great choice for lodging. It does fill up quickly though since other resorts in the area have skiers going here too!
Key Takeaway: The only Loon Mountain lodging option that is ski in/ ski out is The Mountain Club on Loon.
Does Loon Mountain Ski Resort Resort Have Night Skiing?
Loon Mountain Ski Resort doesn't have night skiing. There are other resorts near by with night skiing but Loon Mountain isn't one of them. If you are looking for a night time activity than you can go snow tubing at Loon or head back to your lodging and grab dinner.
The Best Time to Go to Loon Mountain for Skiing and Snowboarding
The best time to go to Loon Mountain Ski Resort Resort is to take advantage of the midweek. The resort is open 7 days a week until 4 p.m. for skiing and snowboarding. Lift hours start at 9 a.m. on weekdays. If you are renting, get there 1 hour before, if you have your own gear, 45 minutes early should be good.
Does Loon Mountain Ski Resort Have a Ski Shop?
Forgot your gear or want a souvenir? Loon Mountain Sports Shop has you covered. You may as well at least stop by and grab a hat or hoodie if you are visiting the resort.
For demo gear though, head over to the performance demo center next to the ticket windows in the east base. You can demo 3 pieces of gear for one price and the cost of the demo goes to the cost of new gear. Between the demo center and sports shop, Loon has all the Winter gear and apparel.
Key Takeaway: If you are in the market for new gear, the Performance Demo Center at Loon is really good value to test on mountain then buy.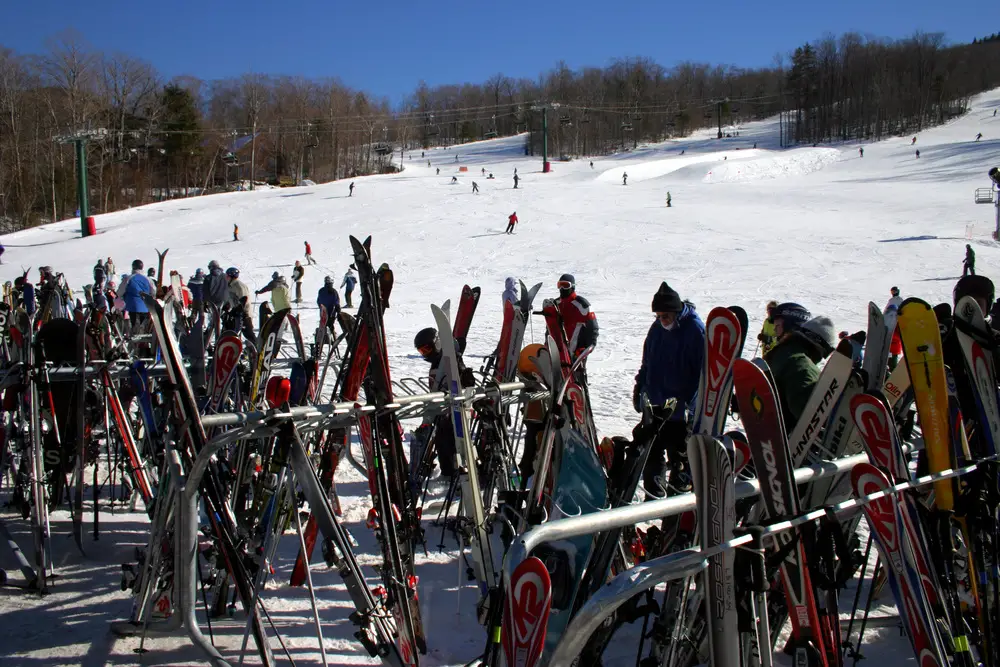 Is Loon Mountain Ski Resort Good for Beginners?
Loon Mountain Ski Resort is a larger resort which can make it a bit intimidating for first timers but yes, they have good lesson programs for beginners. Loon Mountain is a good ski resort for beginners because they offer multiple age bracket group lessons for kids so they don't just throw everyone together. The staff is super friendly and will have you going down the slopes in a small amount of time.
Does Loon Blow Their Own Snow?
Loon Mountain Ski Resort has snowmaking capabilities on 99% of it's mountain! They pump out snow on 322 acres. By mid November they are already blowing snow when the temperatures allow. Come late November or early December, make sure your skis or board is dusted off and ready for the mountain.
The Trails at Loon Mountain – What to Know
There are 61 trails and glades at Loon Mountain Ski Resort. That is spread out over 370 skiable acres. The breakdown is as follows-
20% Beginner
60% Intermediate
25% Advanced
What Can I Do At Loon Mountain Aside From Alpine Skiing and Snowboarding?
So the family or friends is going to Loon Mountain and you don't want to ski or snowboard? Try tubing, showshoeing, cross country skiing or sno-going.
Alright, sno-going takes a bit of skill but it is almost like a bike on snow with skis. Plus there is complementary guided tours for the sno-gos. There is so much more to discover at Loon aside from just the standard alpine skiing and snowboarding.
Terrain Parks at Loon Mountain
6 parks? Yeah, you heard that right. Some of the most in New Hampshire at one resort.
Springboard Park
Loon Mountain Park
Burton Progression Park
Burton Lil' Stash
Little Sister Park
Top Secret Parks
Where to start? Beginners should start on Burton Lil' Stash or the Progression Park. Experts should put their eye on the Loon Mountain Park.
Is There Summer Mountain Biking at Loon Mountain
Of course! Just wait until you get your bike on the new Kancamagus 8. The new lift and Governor Adams Lodge Base Area is the new home base for mountain biking in the Summer at Loon. Each year keeps getting better and better for downhill mountain biking in New Hampshire. Next year will be no exception at Loon Resort as they are always cutting new downhill trails.
Final Thoughts on Loon
Loon Mountain Ski Resort is one of the must ski/snowboard places in New Hampshire. They are always upgrading so you have a great experience in the Winter or Summer. Don't miss their powder this year because we're telling you, it is something special.
Let us know in the comments below if you prefer Loon Mountain Resort in the Winter or in the Summer!