While it isn't the biggest ski area in the Eastern U.S., that designation goes to Killington, Stowe Mountain Resort is the Vermont favorite of many thousands of serious skiers with 84% of its runs rated intermediate or expert. And make no mistake, Stowe is plenty big to offer an unforgettable experience as you immerse yourself in Vermont's spectacular winter scenery.
Where is Stowe Located?
Vermont's largest city, Burlington, is about an hour's drive to the west (43 miles), and Quebecers from Montreal are just two and a half hours away. Distance and drive-time estimates from other cities include:
Albany -183 miles, 3 hours 45 minutes
Boston -205 miles, 3 hours, 20 minutes
Hartford – 225 miles, 3 hours 30 minutes
Providence – 246 miles, 4 hours 15 minutes
New York City – 333 miles, 5 hours 45 minutes
The idyllic Village of Stowe is the perfect setting for a New England winter escape. While not a day-trip destination, the drive north (and south) is largely via interstate highways offering spectacular scenery as you wind your way through the Green Mountains.
During peak periods Stowe transports more than 15,000 skiers hourly up the hill, clear evidence that this is a serious ski resort that is well worth the drive.
Stowe Mountain Resort Stats
Mountain Peaks: Mount Mansfield 4,395 feet; Spruce Peak 3,320 feet
Highest Skiing Elevation: 3,625 feet
Vertical drop: 2,360 feet, to the base at 1,265 feet
Ski area: 485 acres (snowmaking coverage is 83%), 40 miles of trails
Longest run: 4.3 miles, Toll Road
Number of lifts: 12 including one intermountain transfer gondola, one high-speed summit gondola, four quads, three triples, two doubles and two surface lifts
The Trails at Stowe; What You Should Know
You surely won't be bored at Stowe where there are 116 trails to explore. Set out over 485 acres, there are plenty of options for skiers and boarders of all skill levels. Trail ratings are divided as follows:
Beginner, 16%
Intermediate, 55%
Expert, 29%
Stowe is well known for these steep and challenging 'Front Four' runs, all located on Manfield Mountain, the tallest peak in Vermont.
Liftline
National
Starr
Goat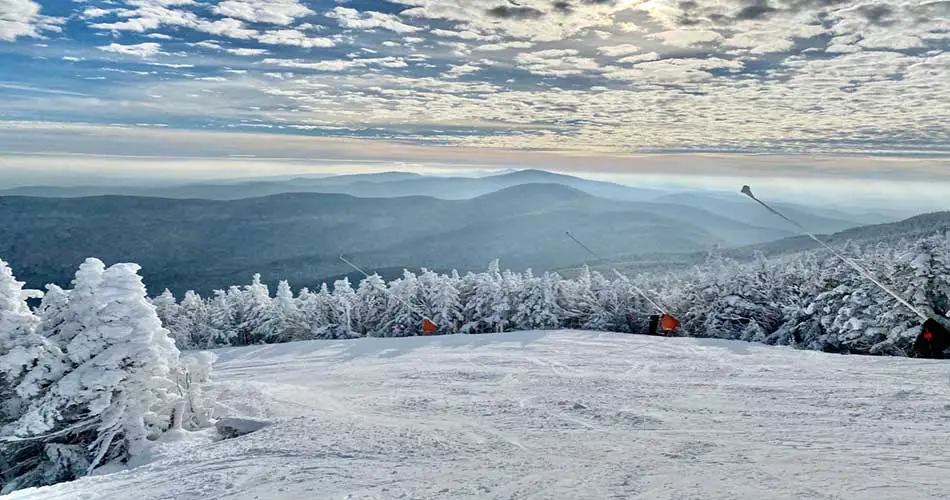 Where Can I Stay When Skiing at Stowe?
There are many great lodging options for a Stowe skiing vacation. Spruce Peak Resort is comprised of 250 units including the ski-in/ski-out Lodge and Stowe Mountain Rentals which are individually owned condominiums. Choose from 4-star properties like these or check out the AirBnb and VRBO private listings in the area. Whether you prefer a comfortable room or a suite with kitchen/dining facilities and a shared living area, there is lots to consider at Stowe.
Free ski shuttle service to the mountain is offered from Talta Lodge, Golden Eagle Resort, Sun & Ski Inn, Field Guide Lodge, Grey Fox inn and Stowe Motel & Snowdrift, and other local properties.
Something to Consider: New England is home to literally hundreds of country inns, many dating back to Revolutionary times. A stay at a local inn is something to consider when you are in Vermont, as there are small, family-run inns in virtually every town in the state. While you will have to drive to Stowe to ski, the experience is one that you won't ever forget.
From Maple Syrup to Cheese and Ice Cream….
While visiting Vermont, and in particular Stowe, you'll find a plethora (lots) of options to fuel your energy needs. While the 2nd least populated state in the nation isn't famous for its food with the possible exceptions of cheddar cheese and being the birthplace of Ben & Jerry's Ice Cream (still headquartered in Waterbury, just 16 miles from Stowe!), Stowe has an eclectic collection of delicious dining spots throughout the resort.
Indoor dining options include the Cliff House Restaurant (lunch only) and Octagon, both of which are on-mountain. The base area features an indoor café at the Mansfield and Midway lodges, and a pizza place at Midway. There is also indoor dining at the Spruce Camp upper level.
Looking for a quick grab-and-go meal? Check out the coffee shop which also has snack items, the Skinny Pancake, Igloo Apres and Whistlepig Pavilion.
Is There Night Skiing at Stowe Mountain Resort?
There is no night skiing at Stowe. Winter operating hours are as follows:
Over Easy Gondola, free transfer, 7:30 a.m. – 5 p.m.
Weekdays, FourRunner Quad Lift, 8 a.m. – 4 p.m., all other lifts begin operation at 9 a.m.
Saturdays, Sundays and Peak Periods, FourRunner Quad & Mansfield Gondola, 8 a.m. – 4 p.m.
Meadows Carpet and Meadows Quad lifts startup at 8:30 a.m.
all other lifts begin operation at 9 a.m.
When is the Best Time to Visit Stowe Ski Resort?
The advice from every ski area is to avoid the most crowded times. Easier said than done, but these times are midweek as you would expect, and not at the tail end of a holiday weekend, as many people who choose these dates also stay beyond the MLK or President's Day Monday.
Generally, Tuesday-Thursday is going to be when you will find less expensive lift tickets and hotel rooms, as well as far fewer people on the slopes. Dining reservations will also be easier to come by, and if you do have to wait in line for food or to travel uphill, the lines will be shorter. Best of all, road traffic will be lighter coming to Stowe and driving home on midweek days.
Can I Rent Ski Equipment at Stowe?
What's a world-class ski resort without the very latest ski equipment being available to rent? The base lodges at both Mansfield and Spruce mountains are stocked with a vast selection of skis, boards, poles and any other equipment to maximize your ride-time down the hills. Helmets are highly recommended and available for rent but are not included in ski package rates. Choose a multi-day rental and you'll also have free overnight storage for the length of your stay.
Stowe's rental shops offer technical assistance and tune-ups, plus you can choose to switch during your visit from rental to demo for possible purchase, and from snowboards to skis or vice versa. Lessons are available for skiers and boarders, kids and adults. Learn how to ski or freshen up on your skills that may have become rusty.
Pick Up Early: Equipment rentals should be made online in advance of arrival and can be picked up the during the afternoon one day before your skiing begins without additional charge. Guests of the Stowe Mountain Lodge, upon request to the Spruce Rental staff, can have their rental equipment delivered to the property by the ski valet.
What Can You Tell Me About Stowe's Two Terrain Parks?
A standard terrain park is located on Standard below Crossover. This park offers small and medium challenges including jumps, rails and boxes that will be most attractive to beginner and intermediate level enthusiasts.
The family-friendly Gulch below Crossover is made up entirely of snow features including banks, rollers, spines, rhythm sections and even more. There are no rails or boxes here, making for the perfect introduction to a beginning level terrain park.
Interested in Some X-Country Skiing?
Unlike many other downhill ski areas, Stowe is the perfect place to discover some truly wonderful cross-country trails. "The Ranch Brook" and "The Burt Trail" are here for winter fun enthusiasts who may want to climb hills as well as glide down them, or ski through the woods and across open fields.
The Timberland/Bruce Trail Loop is a 6 km fairly flat trail that is more suited for beginners or recreational skiers. There are two different return options so that skiers who may prefer some gradual or even steep climbs can challenge themselves.
A collection of interconnected advanced trails encompassing a total of 12 km is also offered. Cross-country ski tickets and trail fees are payable in advance at the touring center.
Is There a Tubing Hill at Stowe?
No, there is not a tubing hill at Stowe. But with so many miles of downhill ski and snowboarding trails, you'd be hard-pressed to find the time for tubing, too.
Does Stowe Make Snow?
Even though the Mansfield Mountain summit receives an average of 314 inches of beautiful fresh powder annually, Stowe has additional capability to blow snow over 83% of its trails. Since the timing of natural snow isn't possible, Stowe is always ready to make the white stuff when needed. So go ahead and plan your dates to be in Vermont. The snow will be waiting for you.
Some Closing Thoughts
New England's mountains, snow and skiing go together like Ben & Jerry's Mint Chocolate Chunk ice cream. Zone in on Vermont and it gets even better. The Green Mountain State is made for winter, and Stowe Ski Resort is one of the most complete experiences that you can find.
From the charming Village of Stowe and its quaint shops to Stowe Ski Resort itself, you'll be hard pressed to find a better locale for a memorable ski vacation. Couples, families and groups of friends will all want to return to Stowe time and time again.
Explore More Vermont Ski Resorts