Killington Ski Resort is the largest ski area in the Eastern U.S. and is also known for having the largest vertical drop in the region of more than 3,000 feet. Back in 2013 it was tagged with the nickname "Beast of the East", and that it certainly is. Killington first opened in 1958 but today's resort is a behemoth considering what the founders initially envisioned. Comprised of six interconnected peaks, it is hard to imagine a more beautiful setting than the mountains of New England.
Read on to find out all the essential information you need before visiting Killington Ski Resort.
Where is Killington Located?
Location, location, location is what it's all about with so many businesses, and for a ski mountain that is no exception. From its west central Vermont location, Killington is easily within driving distance of Boston (156 miles), Albany (106 miles), Hartford (154 miles), Providence (175 miles), and New York City (243 miles). While its generally too far to drive for a day-trip, huge numbers of serious skiers from throughout the Northeast make the relatively easy and very scenic drive to Vermont every ski season. And for our Canadian friends, Killington is just 308 kilometers, or just over three hours from Montreal.
With such a dedication to outdoor winter sports, it's easy to see why Killington is the top choice of so many snow enthusiasts for skiing and boarding at all proficiency levels.
Killington Ski Resort Stats
Number of trails: 155
Ski area: 1,509 acres (600 acres with snowmaking capabilities)
Highest Skiing Elevation: 4,229 feet
Base elevation: 1,165 feet
Vertical drop: 3,050 feet
Annual snowfall: 250 inches (20+ feet!) on average
Longest run: 6.5 miles, Juggernaut Trail, the longest in Eastern North America
Number of lifts: 21 (plus 7 at Pico) including two gondolas, five express quads, four quads, three triples, one double and six carpet lifts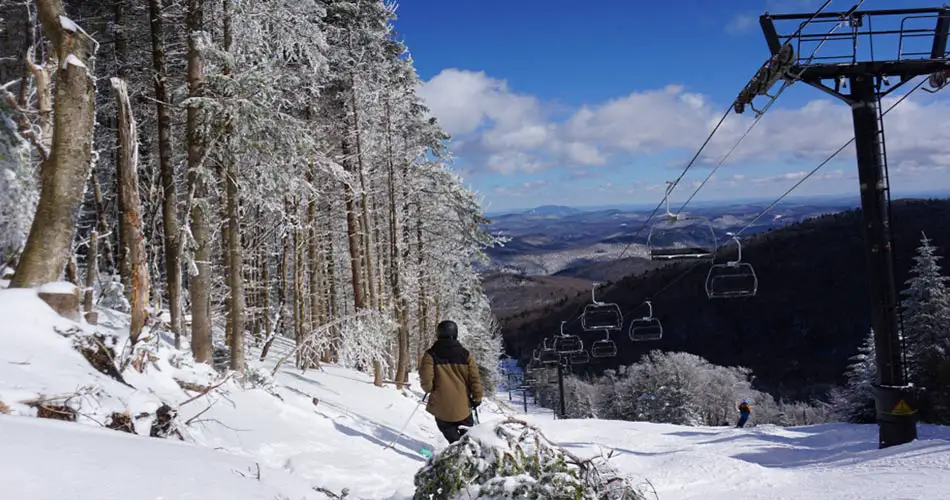 Is Lodging Available at Killington Ski Resort?
While the Killington area offers an amply number of inns, lodges and condominiums to rent during your stay, the only full-service property at the mountain itself is the 200-room, first-class Killington Grand Resort Hotel. The hotel has a ski-bridge to the ski area and a year-round outdoor heated pool. Preston's restaurant (named for Preston L. Smith) is on-site and includes a bar. There is also shuttle service from the hotel to the various base lodges during winter weekends, as well as Peak Days (holiday weekends).
Room types range from studios and hotel rooms for up to four guests, to one, two and three-bedroom suites for larger groups. Penthouse suites house as many as 10 people. Guests of the Grand Resort will find further lift ticket and other discounts available to them just for staying here.
Other properties available on the Killington.com website include the Mountain Sports Inn, North Star Lodge, as well as the Pinnacle, Highridge and Trail Creek Condominiums.
Vermont's Food is a Lot More than Ben & Jerry's
Sure, the iconic ice cream that originated in Northern Vermont is a local favorite, and the maple syrup and cheese are highly regarded, too, but the Green Mountain State's cuisine has also been influenced by the many great urban centers that surround it. Finding food at Killington isn't as challenging as some of its' runs, but the variety may have you flipping a coin with your friends or family about which venue to try out. Here are few of the places to consider eating at –
Snowshed Base Lodge: the largest food court in Vermont
Wobbly Barn: steak house
Ramshead Bear & Skyeship food courts
K-1 Base Lodge Café: food court
Brat Haus: ski-in/ski-out, grab and brat and get back to the slopes
Is There Night Skiing at Killington?
Killington Ski Resort does not offer night skiing. Daytime ski hours are Monday-Friday from 9 a.m. to 4 p.m. Saturday, Sunday and peak day hours start one hour earlier, at 8:oo a.m., however, be sure to check if these times have changed before making your plans. Peak periods are Thanksgiving weekend, December 25-January 2 and President's Day Weekend. However, the resort does occasionally add peak days around MLK Day and some spring break weeks.
The ski season can be a long one at Killington, often beginning weekends in late October to early November and continuing, weekends only in late April and sometimes even into May. It all depends on the weather, and the weather is always unpredictable!
The primary base area, K-1 is open for the longest time period each winter. Other mountain bases are generally open as follows: Ramshead, late Nov./early Dec. to mid or late April; Snowshed, mid-Dec. to mid-April; Bear Mountain, mid-Dec. to late April; Skyeship, late Dec. to late March.
When is the Best Time to Visit Killington Ski Resort?
Killington is no different from other ski areas when it comes to peak time periods. Weekends are the busiest times with weekdays being less crowded. However, given the size of the resort, it may not feel crowded even during the weekend, and it may appear to be quiet when there are still hundreds of weekday skiers and boarders on the multiple mountains.
Without a doubt the Thanksgiving, Christmas to New Years, MLK Day extended weekend and President's Day extended weekend will be very popular, and more crowded than other times. Putting this all into perspective, Killington's 21 lifts can transport 37,535 people per hour during the busiest times. That in and of itself is pretty amazing.
Does Killington Rent Equipment?
You name it, Killington has it. And with rental shops at each base lodge, you won't need to look far to find one. Rentals are less expensive when pre-purchased online, and the price per day varies depending on the number of days you need equipment from 1-7 days). Adult rates start at age 19, with youth rates about 20 percent lower.
As is the case at other ski areas, helmet rental is not included in ski and board packages. Helmets can also be rented as a stand-alone item if you have your own skis or snowboard and just need to protect your noggin.
IMPORTANT TO KNOW: The base lodge rental shops are open every day at Ramshead, K-1 and Snowshed, Friday-Sunday and peak days only at Bear Lodge.
Is There a Ski Shop that Sells, Tunes & Repairs Equipment at Killington?
When Killington is described as a 'complete' ski resort, it means they have it all. And we do mean ALL, including multiple service centers where you can get your equipment waxed, edged and tuned up overnight. Base lodge service centers are located at B-1 and Bear Mountain. The resort also operates the Killington Sports Store on Route 4, within minutes of the mountain, where you'll find a full-service facility for ski and snowboard adjustments.
More extensive services are available at Snowshed Base Lodge where the Double Diamond Service Center is located.
Killington also offers a Demo Shop, where you can rent skis and boards with the option to purchase them later. You'll find discounts of up to 40% if you choose to own the equipment you tried out.
The Trails at Killington – What to Know
There are 155 trails at Killington set over 1,500 acres. The trails range in difficulty and there is something for everyone in their skiing and snowboarding journey. The trails are split as follows-
28% Beginner
33% Intermediate
39% Advanced
One of the most popular trails is Homerun, if you haven't rode it, put it on your list as a must ride!
Does Killington Have a Terrain Park?
The Beast in the East has TWO amazing terrain parks, with features to challenge and wow all snow boarders. Astroland is located at Ramshead Mountain, offering small and medium features. Rails, boxes, jib and jumps are designed with an outer space theme that kids really enjoy.
The incredible Woodward Mountain Park is an enormous conglomeration of multiple terrain zones with an extensive variety of on-mountain terrain zones for all ages and proficiencies. There are early learning areas, expansive freestyle zones, and just about anything else you can imagine in a terrain park.
Bear Mountain features an 18-foot modified halfpipe, as well as The Stash and Dream Maker challenges. At Ramshead Mountain's Peace Park you'll find a three-stage Progression Park as well as the Family Cross Adventure Zone for kids of all ages to enjoy. Lil'Stash is focused on the youngsters as they begin their winter sports activities.
How's the Tubing at Killington?
Due to a planned redesign of the tubing hill, the Tubing Park will not operate during the winter of 2021-22. This information will be updated when the hill re-opens, bigger and better, as anticipated for the winter of 2022-23.
Does Killington Make Snow?
Try to wrap your head around these stats about Killington's snow-making capabilities. With more than 250 snow guns, more than 10 million gallons of water spreads a foot of snow over 60 acres of ski territory on a daily basis. The system itself includes more than 88 miles of pipe where an additional 1,700 snow guns shoot snow on the mountains. Killington's snow grooming professionals do their thing on more than 40 miles of terrain each and every night.
Some Closing Thoughts
Yes, Killington deserves the nickname "The Beast of the East" for many reasons. Come here once and you may never ski elsewhere again. The resort owner, Powdr Adventure Lifestyle Co. out of Park City, Utah runs an incredible operation that will keep you occupied for days on end with so much to see and do.
In addition to the skiing and snowboarding opportunities, Killington features snowshoeing, snowmobiling and gondola rides and perhaps best of all, a complete day care center (though not inexpensive) for the wee little ones who aren't yet old enough to partake in the winter sports activities. This is the place for a real winter vacation without flying away to a warmer climate. Embrace winter at Killington and you'll probably do it again and again.