You may not even have had your first step at the ski resort but are wondering how to ski. Having an idea of the skiing basics for beginners is one of the best things you can do even before taking a lesson. If not and you have already taken a beginner's ski lesson then you might want to jump down to the tips to improve your riding as a beginner.
Read on to learn how to ski, basics for beginners and how a beginner starts to ski.
How Does a Beginner Start Skiing?
A beginner starts skiing by by finding a resort. Look in the state near you and find one. Then check online and see if you can book some lessons.
Lessons can be intimidating for a beginner who wants to start skiing but it is the best choice. You will be paired in a group with other beginners so there is nothing to worry about.
Often with beginner lessons, the equipment will be included. Make sure to show up early to a lesson so you can get outfitted for your skis and boots in the gear shop. With your rental gear in hand and lesson booked, you are taking the best first steps for a beginner skier.
Peak Seeker Homework: Take a few minutes and learn about the ski slope levels. Having an understanding of the trail marker colors will help you on your first few days on the slopes!
How Can I Learn to Ski by Myself?
We don't really recommend learning to ski by yourself but it can make sense after you have had a lesson. Once you'd had a lesson then you can go off on your own and practice. It does help to have an experienced friend point out your form and any improvements points though.
Start by watching some videos if you truly want to learn to ski by yourself. Hanging out in forums and asking questions or posting videos of your own riding can also help improve and get feedback on your riding.
Key Takeaway: We don't recommend learning to ski by yourself but if it is mixed in with some lesson then you should be able to pull it off at the beginner level.
What Are the Basics of Skiing?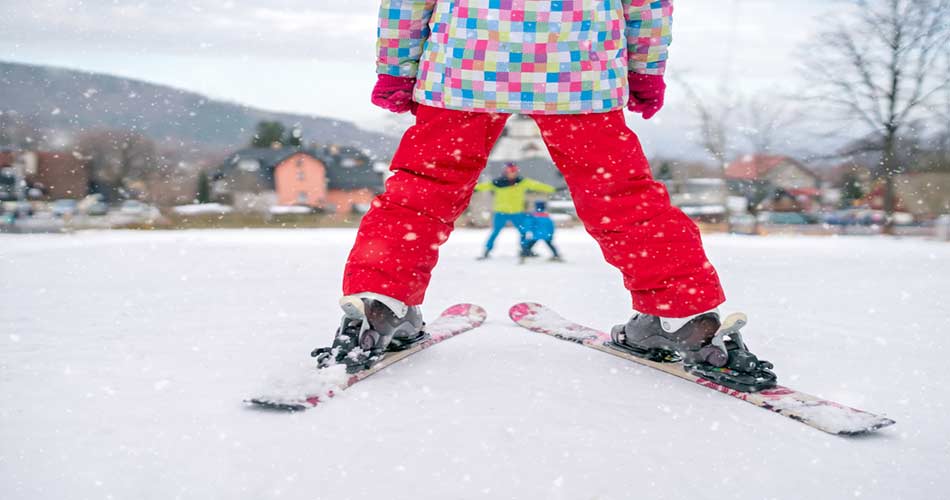 In general, there are three things that you need to know before you start skiing: equipment, technique and etiquette.
You'll be taught about your equipment as one of the first things in any lesson. Then it is generally followed by technique.
Lastly beginners should know one of the most important basics of skiing, etiquette. Skiing etiquette means giving the downhill skier or snowboarder the right of way. It also means cleaning out of the lift offload area when you get to the top of the lift.
Those are just a few of the basic skiing etiquette examples but any lesson will cover those and more.
5 Beginner Skiing Tips
Learning how to ski wouldn't be complete without a few basic beginner tips. Here are something's you should keep in mind when just starting out on the ski slopes.
1) Take a Lesson
If you want to go from knowing nothing about skiing to figuring it out quickly then a lesson is the best option. Learning how to ski, basics for beginners and beginner tips is all easiest under the instruction of a qualified ski instructor.
You'll learn the basics for beginners and how to ski in less time than if you were trying to figure it out on your own.
2) Wear a Helmet
It only takes seconds and one fall for an accident to happen. You can prevent it all by just renting a helmet. Don't start out skiing as a beginner unless you have a helmet on.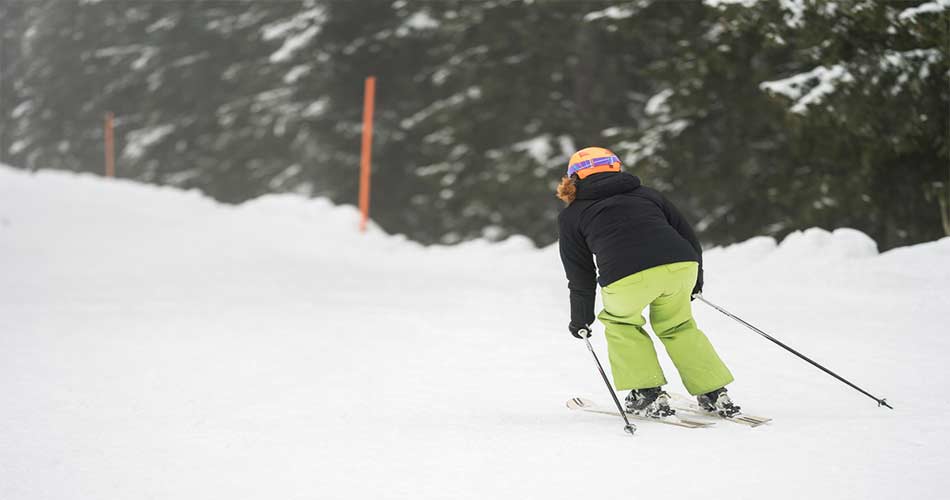 3) Learn How to Fall
All beginners will fall so knowing how to fall as a beginner skier can save you from a day-ending crash. Learn to fall on the large parts of your body like your hips and butt while avoiding sticking out an arm and brace a fall.
4) Keep an Athletic Stance
When you are first starting out, having a proper athletic stance will do wonders on the trails. Remember, feet shoulder-width apart, knees bent and looking up so you can see downhill.
5) Dress for the Occasion
Leave the jeans at home. Not only will they be difficult to move in but when you get them wet, they will be useless. Not to mention freezing. Use baselayers under your main clothing layers and get some proper bibs or snow pants, along with a ski jacket.
2 Bonus Ski Tips For Beginners Turning
Turning is one of the biggest areas that beginners struggle with. Don't worry, we have you covered. Apply these two basic tips for beginners to improve your skiing on the slopes.
1) Turn Uphill
What? Yes, turn uphill. Follow your turn all the way through so you are looking up the beginner slope. This will slow you down and help you control your speed when starting out vs flying down the hill.
2) Look Where You Want to Go
Don't be staring at your tips when trying to make a turn to the left. Instead, look the direction you want to go as you push your shins into the front of your boots. Engage into your turn and you'll be amazed how much it is to make beginner turns.
What Can a Beginner do Skiing?
A beginner skier is someone who starts out with no skills. What separates a beginner and intermediate skier is being able to confidently link together turns, stop using your edges and have better mountain control.
A beginner should first work on just staying upright, getting on and off the lift before they even consider linking turns. It may take a few days to get to that point depending on the person.
Here are some additional basics that beginners should be able to do before moving up to intermediate trails.
Control your speed
Avoid other people on the slopes
Stop with your edges
Confidently use the ski lift
Easily be able to ride all the beginner trails at your local resort
A low number of fall on beginner trails
For more beginner ski tips, be sure to check out The Manual who has a few extra ski tips.
How to Ski: Basics for Beginners – Final Thoughts
Learning how to ski doesn't come without it's set of challenges. If you can master the basics for beginners than you will progressively get better and better. Don't let the falls keep you down.
Falls may see common at first but stick with it and you can learn how to ski. There's no magic to it, the more days you are on the mountain, the quicker you will improve your skills and transition from beginner to intermediate trails!