Tucked way up north in Jay, Vermont, Just 20 minutes from the US – Canada border, Jay Peak Resort in Vermont is a quirky, fun, and one of the most complete ski resorts on the east coast. Jay Peak is known for getting the most snow in eastern North America and will not disappoint.
Whether you're just starting out skiing or snowboarding or you're a guru on the snow, you'll be stoked to head out to Jay. Keep reading for the complete ski and snowboard guide to Jay Peak in Vermont.
Highlights of Jay Peak Resort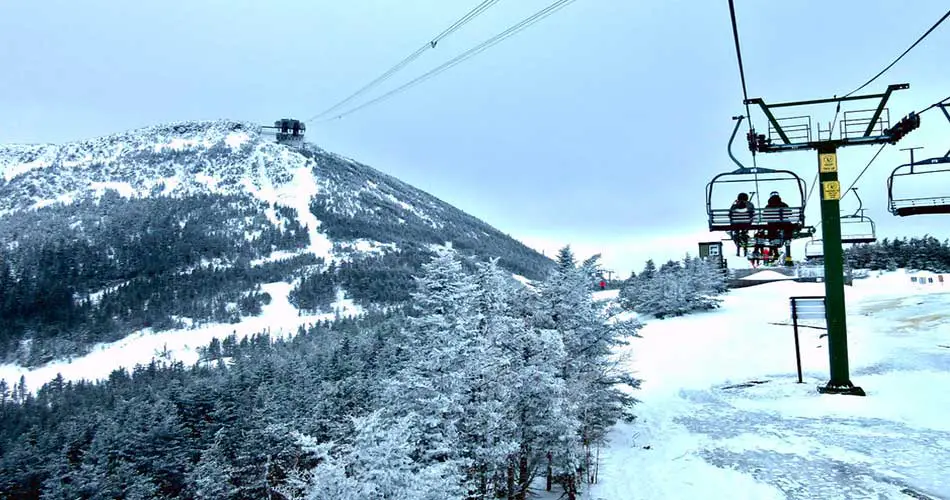 Some highlights of Jay Peak include-
81 marked trails
385 acres of skiable terrain
50 miles of trails
100+ acres of glades
2,153 foot vertical drop
9 lifts and Vermont's only aerial tramway
3 terrain parks
360 feet of average annual snowfall
Liberal in-bounds policy, skiing and riding off the beaten path
Lots of backcountry skiing and riding
Where is Jay Peak Resort?
Jay Peak Resort is located in northern Vermont, in Jay, Vermont to be exact. Jay Peak is located in the "Northeast Kingdom", or the farther north east corner of the state of Vermont. Vermont's Northeast Kingdom is known for its quintessential New England landscapes, great snowfall and autumn "leaf peeping".
Jay Peak in Vermont is about 2 hours from Montreal, Canada or 138 km. Some other distances are as follows.
New York, NY – 7 hours, 378 miles
Boston, MA – 4 hours, 230 miles
Burlington, VT – 1.5 hours, 67 miles
Albany, NY – 4 hours and 20 minutes, 239 miles
Concord, NH – 2.5 hours, 163 miles
Portland, ME – 4 hours and 10 minutes, 195 miles
Does Jay Peak Resort Have Lodging?
Yes! Jay Peak has premier lodging! Not only are almost all their properties ski in/ ski out or walking distance to the lifts, they also are within a short distance of the waterpark and golf courses!
Deciding where to stay at Jay Peak will not be an easy choice! From hotel-style stays at Hotel Jay or Stateside Hotel to condominiums, townhouses and even complete homes, Jay Peak Resort has something to accommodate every group.
Pro Tip: Jay Peak also has some budget options for those looking for a ski weekend on the cheaper side. Be sure to check out Stoney Path Condominiums and Stateside Hotel and Baselodge.
Does Jay Peak Resort Have Night Skiing?
All lifts at Jay Peak close at 4:00pm, so they do not offer night skiing. There are so many fun apres ski activities between ice skating, a movie theater, an indoor waterpark, spa treatments, shopping, arcades and dining that there won't be enough time in the day to get in all in!
The Best Time to Visit Jay Peak
There is no "best time" to visit Jay Peak! Jay Peak is the definition of a 4 season resort offering seasonal activities and adventures throughout the year. The high season is definitely winter but summer and fall are just as great for golfing, hiking and exploring the nearby state forests.
Pro Tip: If you're not planning on getting a season pass, be sure to grab your promo code for Jay Peak at Liftopia. Throughout the winter Liftopia has loads of promo codes for discounted Jay Peak lift tickets, so definitely check back when the season starts!
Does Jay Peak Have a Ski Shop?
Yes! Jay Peak has a rental shop as well as many retail shops. The rental shop stocks top of the line gear for all ability levels and the experts at the rental shop will fit you with the perfect personalized set up. In the retail shops you can find gifts, Jay Peak apparel, food and drinks, as well outerwear and clothing from the most trusted brands on the market.
The Gear Shop is where you can find skis, snowboards and everything related. And if you're a golfer, don't forget to stop by the Golf Pro Shop for all your golf accessories and exclusive brands.
Pro Tip: Jay Peak also offers tuning and repairs for ski and snowboard equipment. Be sure to tune up before you head out for the best experience!
Terrain Parks at Jay Peak Resort
Jay Peak is home to 3 terrain parks for your freestyle skiers and riders. What makes Jay Peak parks unique is that as the snow accumulates throughout the season the parks team rearranges and changes the parks' features. So every time you hit the parks at Jay you'll be in for some new surprises! The 3 main parks at Jay are:
Rabbit Progression Park – a park with smaller features great for beginners and those wishing to progress their skills.
Chalet Meadows Park – an intro park for those just starting out freestyle skiing and riding.
Family Cross – a great boarder/skier cross type park for the whole family to have some fun on the berms and rollers. Family cross is a great intro to faster speeds while skiing and riding.
Is Jay Peak Good for Beginners?
Don't be fooled by its size, Jay Peak is an excellent mountain for beginners. Within the beginner zone you can find designated slow ski areas, 5 lifts, 11 trails and even beginner friendly glades. Beginners definitely won't get bored from going down the same trail over and over.
At Jay, beginners can get a taste of all types of skiing and riding. The Ski and Ride School also offers a wide variety of camps and lesson programs for beginners as well as seasoned skiers/riders all taught by fun, passionate and expertly trained instructors.
Is Jay Peak good for beginners? You could say Jay Peak is perfect for beginners!
Does Jay Peak Resort Make Snow?
Yes! Jay Peak is known to get the most snowfall in eastern North America. One of the theories behind this is the "Jay Cloud"- a weather phenomenon created by nearby mountains and other natural factors that dump snow on Jay Peak year after year. But not only does Jay get a lot of snow, they also make snow on almost 100% of their skiable terrain!
So you'll always be sure to catch some fresh pow. If you want to get excited by just how much snow there is at Jay, take a look at the Jay Peak webcam on their website to keep tabs on the snowfall and trail conditions.
Trails at Jay Peak- What to Know
At Jay Peak, the marked trails are only a suggestion. With their "liberal in-bounds" policy skiers and riders are encouraged to think outside the box and to discover new lines.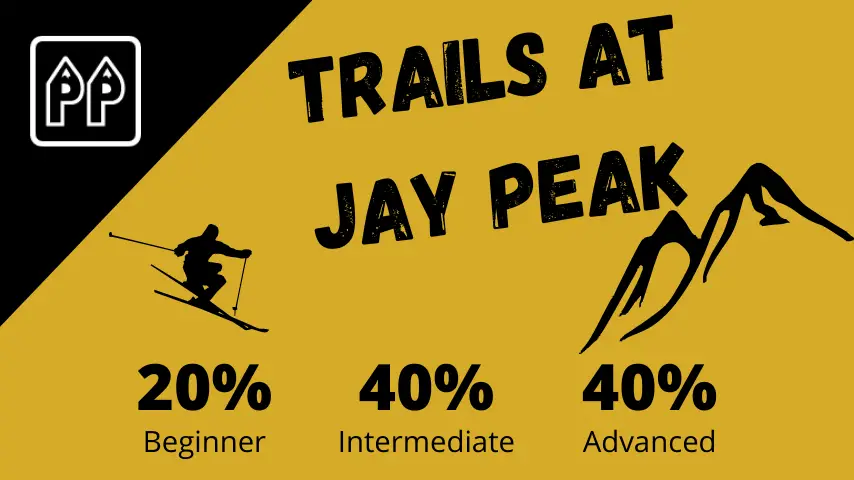 There are 81 marked trails and the breakdown is as follows:
20% Beginner
40% Intermediate
40% Advanced
Key Takeaway: The majority of the novice runs (green circles) and learning center are on the bottom half of the mountain and are serviced by the Metro Quad, 2 moving carpets, the Village Double Chair and the Taxi Quad lifts. From the summit there are many intermediate runs and cruisers (blue squares) and this is also where you can find the more advanced runs!
Other Winter Activities at Jay Peak
Jay Peak resort is full to the brim with exciting and relaxing winter activities. Jay Peak has Nordic skiing and snowshoeing, a fitness center, an indoor climbing facility, public ice skating, hockey, a movie theater, a complete spa and even an indoor waterpark! Not to mention the great shopping at the different ski and specialty shops and the top notch Jay Peak restaurants!
There are restaurants and cafeteria style dining for everyone at Jay! From Miso ramen noodle bowls to pizza, sandwiches and snacks, coffee shops and even a more fancy fine dining location, Alice's Table. There will never be a dull moment on your trip to Jay Peak Resort.
Is There Summer Mountain Biking at Jay Peak?
Yes! Although the mountain biking at Jay is not lift serviced, there are a few trail networks that are worth checking out. The mountain bike trails are free to all guests and there is a beginner route as well as intermediate routes offering exhilarating down hills and a few jumps here and there.
They do not offer bike rentals but there are few excellent local bike shops nearby.
Conclusion
Jay Peak is truly an all season resort with something fun for everyone. If you're looking for an exciting, laid back ski or snowboard trip with excellent snow, great lodging and tons of activities, Jay Peak is the mountain for you. So what are you waiting for?
Grab your skis or board and catch some great runs at Jay! What are your favorite trails and things to do at Jay Peak? Let us know in the comments below!
Explore More Vermont Ski Resorts