Après-ski is one part of skiing you need to know if you want to be a skier. It applies to snowboarders too since it is a lifestyle. You don't have to be riding double black diamonds to the best at Après-Ski. If you are sociable, a good eater and drinker then you might find that your favorite part of the ski day is the après-ski.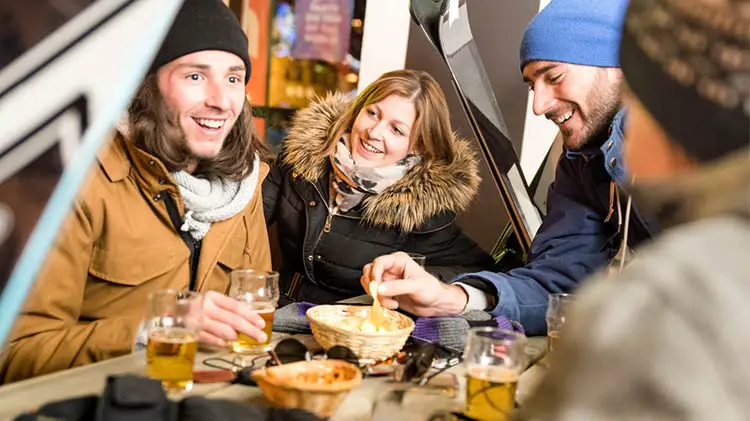 So What is Après-Ski?
Après-ski is a French term that means after skiing. It is the collaboration of friends to grab food and drinks after a long day on the slopes. Kick back, relax and enjoy the view of the mountain while you enjoy après-ski.
What is Après-Ski Culture?
Picture live music, good food and entertainment after a long day of skiing. If you thought skiing or snowboarding was fun, wait till you get done on the slopes. Sipping an apres-ski cocktail next to a fire or in a warm pub is a memory in itself.
Everyone chats about how fast they were going down the gnarliest trail or how they hit that sick powder in the glades. There is no room for not being in a great mood after a day on the slopes, with live music playing and drinks flowing. Now that you know what you are in for, here's how you should dress.
The Dress Code
There is no formal dress code for Après-Ski but try to get comfortable. You don't want to be slogging around in your ski or snowboard boots for hours when you are off the mountain. In fact, you might even want to head back to your accommodations and change into a new set of clothes. Get out of those ski boots and get in your après ski pub attire.
Dry socks, comfortable shoes and clothes are essential. Après-ski is an event in itself, you have to dress for the occasion. Some skiers like to break out their retro gear and show off bright colors at the bars. Snow bunnies have more of a fur and Uggs look.
One last staple look is the upscale skier. They tend to wear high-end clothes and ski jackets.
No matter what you wear, everyone should try Après-ski. People are welcoming and the food and drinks are an experience.
What to Drink and Eat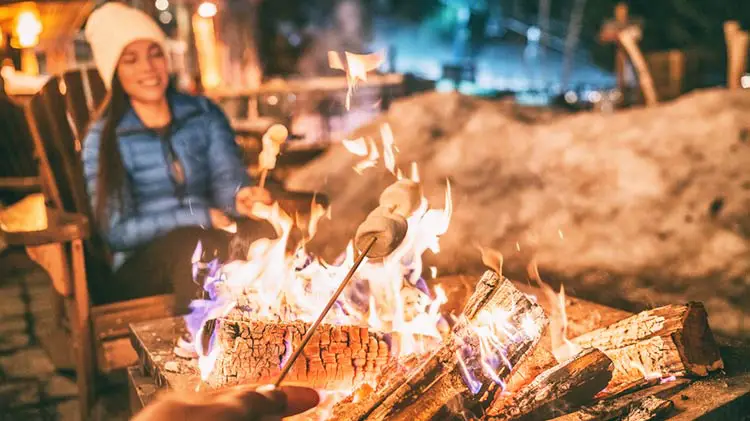 While the choice is yours after a long day of skiing, we surely have some favorites. After all think about all the calories you burned while skiing or snowboarding. Don't be shy to eat a big meal and have a few drinks. Especially if you plan to do another day of skiing. You'll need to refuel your tank.
Some of our favorite foods Après-Ski foods include:
Burgers
Sliders
Pizza
Nachos
Charcuterie
Cheese platters
Poutine
BBQ Pork Sandwiches
A good steak
Salmon
If you really want to replenish then go for a full meal. All the finger foods are nice but nothing beats a burger, sandwich, steak or salmon if trying to get calories back in your body after a day on the slopes.
Much like the après-ski foods, here are some of our favorite drinks to have after skiing:
A solid IPA
Double Jameson on the rocks with water
A glass of wine
Redbull and vodka
Jagermeister
Any other type of beer (Hey, we're not picky)
You can probably start to see how it works. Burgers and beer. Salmon or steak and wine. Jager and poutine. All solid choices for Après-Ski food and drink pairings.
Après-ski Dos & Don'ts
There are a few things to point out before we jump into the best places for après-ski. Knowing these will help you make the most of après-ski and fit in with the culture.
Do:
Change into new dry clothes so you aren't dripping wet and cold.
Wear something comfortable.
Bring some cash.
Stash your ski equipment in a locker or at the lodge.
Bring your phone.
Clean up if you can before going.
Eat a lot.
Have fun.
Don'ts:
Be loud and obnoxious
Drink way too much
Forget your sunglasses
Be dripping wet or you might be miserable
Be a downer (après-ski is a blast)
There is nothing more annoying at an après-ski pub than the guy or girl who has drunk too much and is shouting. We're all for some fun activities and entertainment but you don't have to be the life of the party to have a great time at après-ski.
Which Ski Resorts Have Great Après-Ski?
You can't go to a small family ski area and expect to have the best après-ski experience. Larger ski resorts with a town center are the places to go if you want a true après-ski experience. Here are some of the top places to visit for après-ski.
West Coast
The west coast is home to some of the largest ski resorts in the U.S. This means it is prime for après-ski.
1. Park City, Utah
Park City in Utah doesn't just have any old après-ski. Their après-ski experience is world-class. There is never a struggle to find a place to eat, drink or catch some music after a day on the slopes. Two popular spots are EBS Lounge and the Umbrella Bar.
2. Vail, Colorado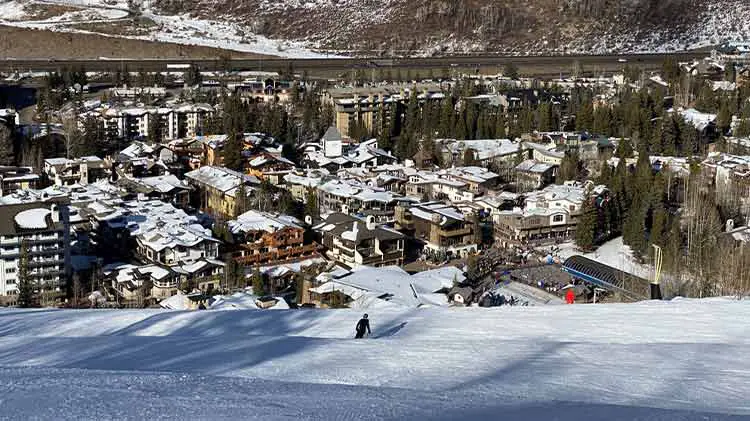 Vail doesn't need much of an introduction to most skiers or snowboarders. That just leaves the question, where is the best après-ski in Vail? We recommend you try Los Amigos if you want a bite of Mexican or The Red Lion if you want to grab a happy hour drink special. Both will exceed your expectations for good food and a good time.
3. Aspen Snowmass, Colorado
Aspen Snowmass is great if you want some higher-end après-ski food. They have some dive bars as well but two high-end après-ski places that stand out are The Wine Bar at Little Nell and Pine Creek Cookhouse. You will have a memorable experience and won't go hungry at these two.
4. Jackson Hole, Wyoming
Visiting Jackson Hole almost makes it a must that you visit the Mangy Moose and the Million Dollar Cowboy Bar. The Mangy Moose is one of the oldest establishments while the Million Dollar Cowboy is known for its saddle barstools. Try to hit both if you are in town.
East Coast
The east coast isn't as world-renowned as some of the west coast après-ski hotspots but there are still some amazing vibes out east. If you are over in the east, check out these spots.
1. Killington, Vermont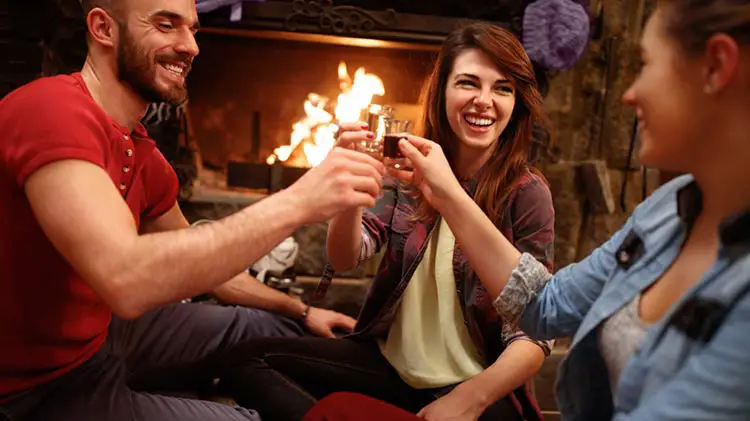 Killington is an east coast must-visit. For the high-end vibe, Preston's is sure to do the trick. Meanwhile, if you want a solid steak and some music, the Wobbly Barn doesn't disappoint. In fact, you can even get a free lift in the Wobbly Wagon (bus) to the Wobbly Barn if you are located along the Killington Access Road. There's no excuse to not go!
2. Sugarloaf, ME
Shipyard Brew Haus and The Rack. Yeah, we know them both well. You won't struggle to get a refreshing cold one at either. For hop heads, be sure to check out the Shipyard and if you want a burger, head down to The Rack.
3. Snowshoe, WV
While Snowshoe isn't a massive east coast ski resort, they do have a great little town center. After a day on the slopes, head over to the Old Spruce Tavern and grab some beers. You can even warm up with one of their homemade soups.
Final Thoughts
If you want to be a skier or snowboarder, you need to embrace the après-ski culture. Après-ski should be something to look forward to as much as riding the slopes. Ski towns never sleep and après-ski is the perfect example of that. Fill up on some food, and drinks and make some new company during après-ski.