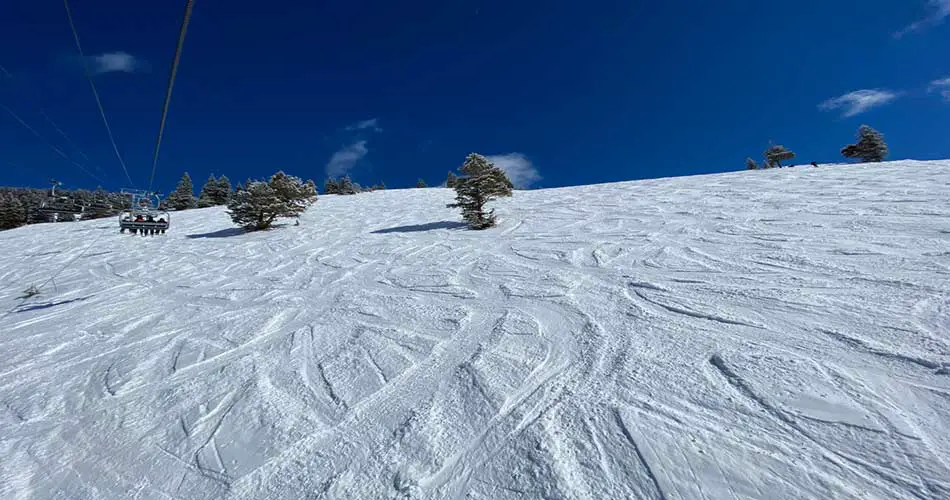 If you ask anyone where one of the greatest ski resorts in the world is, chances are they will say Vail ski resort in Colorado. It's easy to see why. Vail is the perfect mixture of bowls, powder, tree runs, parks, and an old European style village to make your next ski or snowboard vacation exactly what you need.
The Vail ski area was first founded in 1962 by Earl Eaton, Pete Seibert, and Harley Higbie. The trio used to train for mountain warfare in the Vail pass during World War 2. However, they soon fell in love with what they called No-Name peak during their training. After the war they came back to Vail pass to start construction on No-Name peak and after a few years Vail ski resort was born!
Read on if you want to know everything you need to know to start planning your Vail, Colorado ski or snowboard getaway.
Where is Vail Ski Resort Located?
Vail Ski Resort is located deep in the Rocky Mountains of Colorado. In the middle of Vail Pass headed west on Interstate-70. Simply a short hour and 40 minutes or 97 miles (156.1 Km) drive up I-70 from downtown Denver, Colorado. If you are flying in from out of state and don't feel up to the drive, there are multiple daily 40-50 minute long hopper flights to Eagle County Airplane from Denver International Airport.
If you decide to drive you can find a good amount of parking for Vail ski resort both in both Vail Village and Lionshead in their parking structures with options for daily and season rates.
There is free parking for the Vail ski resort outside of the Village itself at Gore Creek Trailhead and East Vail Interchange Trailhead to name a few. There will be some restrictions when it comes to free parking so always check the local rules for more clarification.
Mountain Stats at Vail Ski Resort:
Vail ski area has a little bit of everything for every skill level and style of skiing and riding. At the one of the biggest Ski Resorts in Colorado, Vail is host to multiple bowls, two peaks, a vertical drop of 3,450 Feet (1,052 Meters), and some of the best in-bounds backcountry Colorado has to offer, you will never find yourself getting bored of the mountain and will be struggling to fit every run into your vacation.
Here's a breakdown of what you can expect from the Vail ski area.
195 trails
31 lifts
8 Bowls
Skiable Area: 5,317 Acres (21.5 Km2)
Base Elevation: 8,120 Feet (2,454 Meters)
Tallest Summit: 11,570 Feet (3,527 Meters)
Longest Run: Riva Ridge at 4 miles (6.4 KM)
Lodging Options: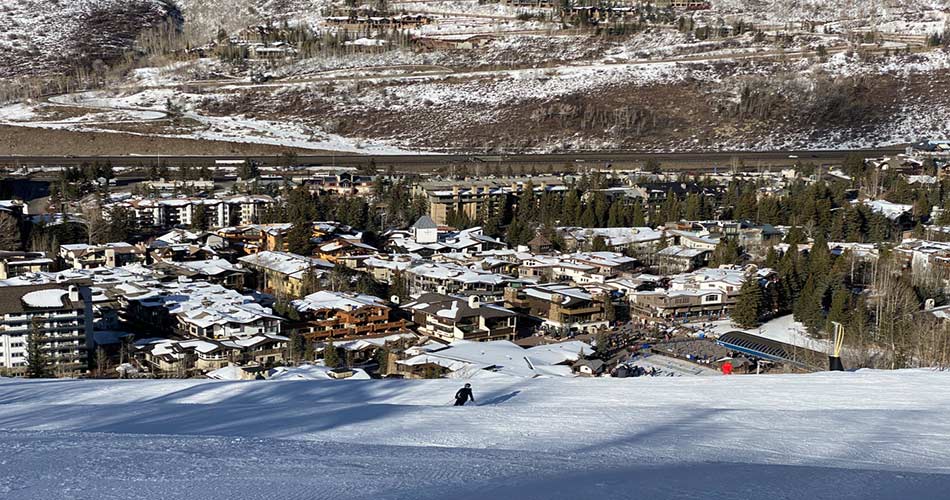 With the history and pedigree of Vail Village and Lionshead, you will find yourself spoiled for choice when looking for the perfect place to stay. In Vail you'll be able to find everything from family friend condos to Euro-style chalets, long-term stays, and everything in between.
Many options in Vail Village offer ski-in, ski-out lodging and easy access to everything else Vail Village has to offer. While planning your next big ski or snowboard get-away, here are some honorable mentions to consider when looking for your Vail ski resort rental.
Game Creek Chalet (On-Mountain ski-in, ski-out private chalet)
Village Center (Center of Vail Village condos)
Landmark Residences (Center of Lionheads Village full Residence)
Read More:
Check Out Some of the Vail 's Best Luxury Rentals
Dining Options:
After spending the day carving brand new lines in fresh powder there is usually only one thing on any skier or rider's mind, and that is usually a nice cold drink and a steaming plate of the best food on offer. In Vail ski resort and Vail village, this simple dream is no more than a few steps in any direction.
"In Vail Village you can find world class steak and seafood houses, French style cafes and restaurants, and wine from every corner of the globe."
Vail has some of the world's best cafes, restaurants, and bars both on and off the slopes. In Vail Village you can find world class steak and seafood houses, French style cafes and restaurants, and wine from every corner of the globe. While it might be a challenge to eat your way through every option Vail has to offer, here are a few honorable mentions to get you started.
Mountain Standard (Vail Village: Steak and Seafood house, fine wine and cocktails)
Vintage (Vail Village: French cuisine, french wine and local beers)
Wildwood Express Cafe (On-Mountain: BBQ, Soups, Coffee)
Mid-Vail (On-Mountain: Classic American Lunch)
Activities for Non-Skier and Riders:
While it might be hard to take a rest-day, your aching thighs and non-skiing or riding family and friends will thank you for it. During your rest-day Vail ski resort is chock full of other activities besides skiing and riding. In Vail Village and Lionshead you can find hundreds of shops selling everything from jewelry and gear to special gifts and hand-crafted art.
There are also high-end spas, the Eagle Bahn Gondola to take a scenic ride around the mountain, snowshoeing, ice skating, and toasty fire pits at the Solaris building if coffee and people watching is more your speed.
Is There Night-Skiing?
Due to the sheer size of Vail ski resort, there is sadly no ski-night skiing. The mountain and lift times operate from different times depending on the time of year. Generally speaking, here is a break down of the operating hours for the lifts.
Nov 12 – Dec 17: 9:00 AM – 3:30 PM
Dec 18 – Feb 21: 8:30 AM – 3:30 PM
Feb 22- 8:30 AM -4:00 PM
Is There Cross-Country Skiing?
Yes, there is Cross-Country skiing at Vail ski resort. Vail Nordic Center services over 10.5 miles (17 Km) of groomed cross-country skiing trails centered around the Vail Golf Course.
What kind of Rental and Gear Shops does Vail Have?
Vail ski resort has several rental options to serve any and all skiers and riders. Vail ski resort has its own operation for rental skis, snowboards, and gear but there are several incredible local options if you feel it's time to invest in your own gear.
Here are some honorable mentions to consider when looking for your own set of skis, boots, or even the simple new pair of gloves.
Burton – Vail Village
Christy Sports Ski & Snowboard
Pepi Sports
Important Information About The Trails At Vail Ski Resort: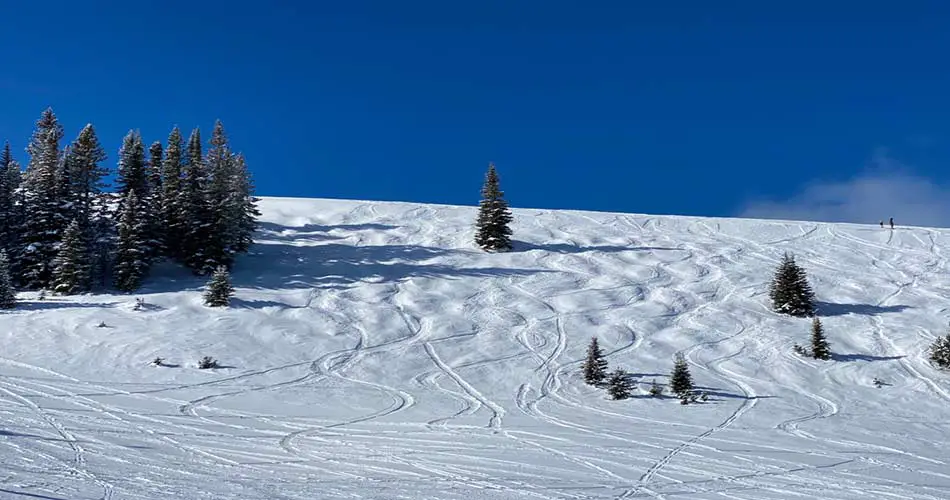 Vail Ski Resort Colorado is one of the biggest ski resorts in the Rocky Mountains. Vail has every type of trail to fit every type of skiing and riding.
Here's the breakdown of the trails available at Aspen Highlands Ski Resort:
5,317 Acres are split into 195 trails
18% are Beginner
29% are Intermediate
53% are Advanced/Expert
Does Vail Make Their Own Snow?
Yes, Vail ski resort has been an innovator in snowmaking technology and has created several water and energy-use friendly ways to do it.
Best time to go:
Vail ski resort is world-famous and has some of the biggest powder dumps in the Rockies, so expect it to be fairly packed most of the time. However, as a general note, the weeks on either side of Christmas and New Years will be the most packed. If in doubt you can always check on Vail's webcam system to get a better idea of mountain crowds and conditions.
Closing thoughts:
Vail ski resort is historic, massive, and without a doubt, one of the best ways to spend your winter vacation. Whether it's your first time ever playing in the snow or you find double-black diamonds to warm up, Vail ski resort will have it all.
Been to Vail ski resort before? Let us know in the comments what your favorite run is!
Explore More Colorado Ski Resorts