Snowshoe Mountain Resort, in West Virginia, is the perfect place to spend winter. It has sixty trails for all sorts of skiing and snowboarding fun. The resort also offers ski lessons if you're not very experienced; this will help you get your skills up to par in no time. Have you been into the deep mountains of West Virginia? If not, the beauty of Snowshoe Resort is something you have to experience for yourself. 
Read on to discover why you should visit Snowshoe for your Winter vacation this year in the wild and wonderful state of West Virginia!
Highlights of Snowshoe Mountain Resort in West Virginia
Some of the highlights and stats of Snowshoe Ski Resort include – 
60 trails
14 Lifts
100% snowmaking
5 terrain parks
800 foot vertical
Night skiing on select trails
Where is Snowshoe Located?
Snowshoe Mountain Resort is located in Snowshoe, West Virginia It makes it one of the larger ski resorts to go skiing or snowboarding near Washington D.C., Maryland, and Virginia. Even though Snowshoe Resort Resort is located in West Virginia, it is super easy to get to in one day's drive. Here are a few locations nearby – 
Washington, D.C. – 4 hours and 20 minutes, 221 miles
Baltimore, MD – 5 hours and 15 minutes, 258 miles 
Richmond, VA – 3 hours and 50 minutes, 203 miles 
Charlottesville, VA – 3 hours, 134 miles
Morgantown, WV 2 hours and 45 minutes, 119 miles
Pittsburgh, PA – 3 hours and 50 minutes, 193 miles
Need Snowshoe Mountain Resort Directions? Map it from your place here.
While it might seem far from some places, it just takes longer when you get near to Snowshoe. There are a lot of backwoods roads that are very beautiful but winding up through the mountains.
What is Snowshoe MountainResort?
Snowshoe Resort is the home to some of the best skiing and snowboarding in West Virginia. Not only is it a great Winter destination but in the Summer there is a full list of activities as well. From golf to 4x4s, a lake and even skeet shooting, Snowshoe is a four seasons resort.
Lodging Near Snowshoe Mountain Resort
There are really two choices of lodging at Snowshoe Mountain Resort.
Stay at the resort itself (The best option)
Find a vacation rental by owner
Staying at the resort itself will put you on the mountain in minutes while the other options will put you a close drive nearby. There are a lot of nice cabins and houses for rent near Snowshoe Resort. One tip is to check on vacation rental by owner.
While there are vacation rentals by owners of cabins nearby, Snowshoe has more than enough lodging to choose from on-site. There are so many options to choose from. For a hotel-style experience, Silver Creek Lodge is always a favorite of guests.
To be in all the action, Seneca is village central is somewhere you'll want to book. It is near all the bars, restaurants and shops. Allegheny Springs is a great alternative to Seneca if Seneca is booked up.
For a larger family, check out Creekside over in Silver Creek, Logger's Run on South Mountain or Sanctuary for higher-end lodging at Snowshoe Mountain.
Pro Tip: Want a hotel-like experience in the heart of Snowshoe? Stay at Rimfire Lodge and warm up in the hot tubs after a long day on the slopes.
Does Snowshoe Mountain Resort Have Night Skiing?
The Silver Creek territory has 12 trails for night skiing. A lot of the adults retreat to hot tubs and bars in the evening but you can keep skiing and snowboarding to your heart's content.
Does Snowshoe Have Snowmaking?
100% of Snowshoe Ski Resort trails have snowmaking capabilities. You might think a resort with more than 250 skiable acres wouldn't be able to cover that much ground but they are. With an expert snowmaking team, Snowshoe pumps out the snow as soon as it is cold enough.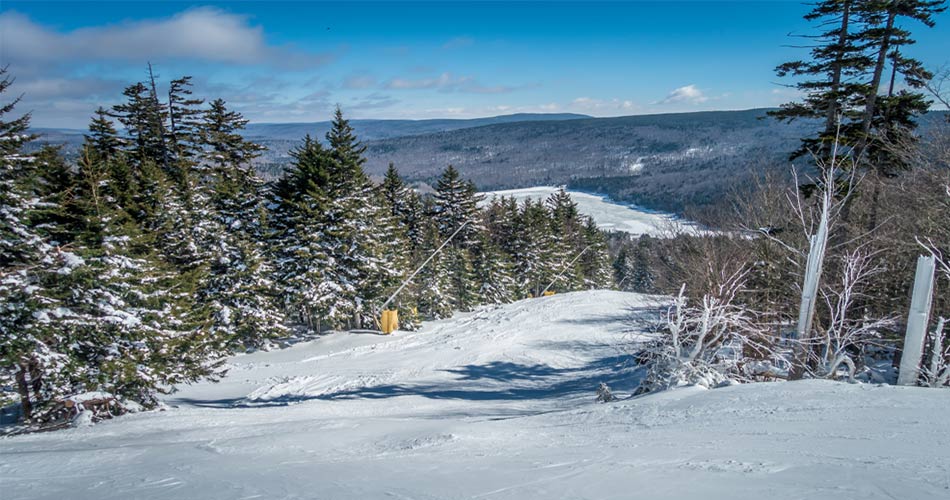 The Best Time to Visit Snowshoe Mountain
The best time to visit Snowshoe Mountain Resort is in the weekdays. Stay on top of the weather and plan your trip in advance. The best timing depends on how much snow there is, the temperature and other factors but a general rule of thumb is that the resort is a little less crowded on the weekdays.
 Likely though you won't find the trails crowded with 60 trails to ride. It is just the lifts at time and on packed weekends.
Does Snowshoe Have a Ski Shop?
Snowshoe Resort has multiple shops for geat in the Winter. The tool shed is a great place to get any warm weather clothing. If you can't find what you are looking for there then put High Country Clothing on your list to check next.
The mountain adventure center or better known at "MAC" is the place to go for skis and snowboards. They have both rentals and new gear so be sure to check them out during your trip at Snowshoe.
Snowshoe Mountain Resort Terrain Park
With five terrain parks at Snowshoe, you know they are attracting some big east coast freestyle riders. Whether you are a beginner or expert, you may as well try a park while you are at the resort. Here is a list of the terrain parks at Snowshoe Ski Resort.
Progression park – (Beginner)
Mountaineer Park – (Most extreme!)
Timberjack Park – (Intermediate)
Robertson's Run – (Beginner)
Evolution Park – (Intermediate)
While the jumps and features are always exciting at Snowshoe's terrain parks, so are they competitions. Things heat up on the snow as they even host competitions. One of the events they have regularly held is the Freestyle Freak Out by Smith Optics. If you are a freestyle rider then you won't want to miss it. Plan your trip accordingly.
Key Takeaway:  The five terrain parks draw quite a crowd of freestyle riders. Snowshoe is a great place to learn tricks either from their snow school in a lesson or with other riders in the park.
Is Snowshoe Mountain Resort Good for Beginners?
Snowshoe Mountain Resort is a great place for beginners. It has a huge variety of trails and gear rentals to suit all needs. 83 acres are geared towards beginner riders.
Snowshoe Mountain Resort is also a great place to spend a first day of skiing or snowboarding! They have an extensive snow school to provide lessons to beginners. The ski lessons at Snowshoe will have you making the most of all the green trails at the resort.
Trails at Snowshoe Resort – What to Know 
There are 60 trails to ride at Snowshoe spread over multiple territories.  It is fun in itself just exploring all the areas and lifts. You'll at least want 2-3 days for exploring and riding.  A break out of the trails is as follows – 
30% Beginner
24% Intermediate
37% Advanced
4% Expert
10% Freestyle
5% Glades
You won't find a lot of other ski resorts this close to Washington, D.C., Maryland, and Virginia with this much beginner and advanced terrain. Snowshoe puts in just as much for advanced as beginners.
Other Winter Activities at Snowshoe Resort 
Did we mention the spa at Snowshoe? Or how about the snowmobile tours, tubing and offroad adventures. Those are just a few of the other activities at Snowshoe in the Winter. Put on a pair of cross country skis or hop into the heated pools to warm up in the Winter.
Pro Tip: Think about treating mom or the woman in your life to the spa at Snowshoe. From body scrubs, facials and massages, the spa has a treatment that will put anyone into vacation relaxation mode.
Is There Summer Mountain Biking at Snowshoe Resort?
Snowshoe mountain bike park is one of the top places that downhill riders pilgrimage to in the late Spring and Summer.  It has one of the largest sets of trails for downhill mountain biking on the east coast. From beginner trails to road gaps, Snowshoe's bike park caters to all riders including pros.
Final Thoughts:
Snowshoe Mountain Resort is a ski resort where you will need a few days. There is too much fun to be had on and off the slopes. You won't even want to leave. If you are debating if it is worth the 3-4 hour drive this Winter, it is. Check out Snowshoe and it won't leave you disappointed.