Skiers from the powder forests out west and the ice coasts of the east wait each year to get their hands on their Epic Passes, Indy Passes and Ikon passes but which is the best choice? We will go into depth to compare the Epic Pass vs Indy Pass vs Ikon Passes and help you make an informed decision.
While each has its benefits, they also have some cons, don't worry, we will cover it all. If you have already read the full guide on the Epic Pass destinations, the Indy Pass and the Ikon Pass then let's get into comparing them.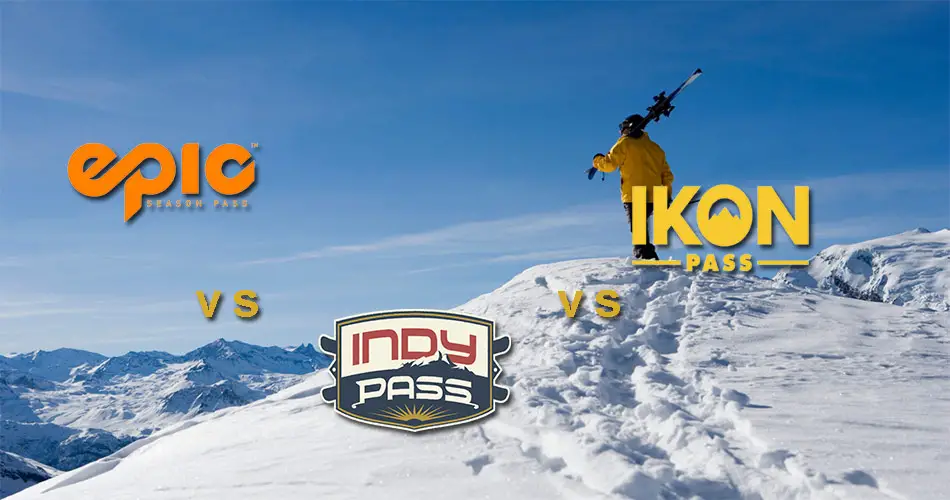 What is the Vail Epic Pass?
The Vail Resort's Epic Pass is an unlimited ski pass for the entire winter season. That's right we said unlimited.
The Epic Pass provided unlimited ski days at 37 resorts. In addition, you can get a limited number of days at additional resorts and discounts for some resorts as well.
The beauty of the Epic Pass is that there are no blackout dates so you can ride all through Christmas and New Years. For someone who is in Colorado, Montana, Utah, Vermont or as few other states, the Epic pass can be a great option. It all depends on how much you plan to ride and where you plan to ride though.
Not only does the Epic Pass give skiers and snowboarders access to unlimited riding but there is also a mountain of discounts over the season. We will touch on that a bit more in a minute.
How much Does the Epic Pass Cost?
Vail Resort's Epic Pass costs $841 if you get it on sale. The price does up the longer time after release. There are also cheaper options like the Epic Local Passes.
Where Can You Buy the Epic Pass?
Unlike other ski passes which can be bought in some stores, look out for Vail's email blast when the Epic Passes come out. You can get them online or at their resort that are open to selling the passes. Eventually, they cut off selling the passes and they close the sales for the season.
What is the Indy Pass?
The Indy Pass is another popular ski pass option that has been growing year over year. You get access to a lot more resorts but for much fewer days. This is the pass you want if you are traveling or road tripping.
The Indy Pass offers 82 resorts in total but 2 days at each resort. Often you will get much smaller lift lines at these resorts since they are independent resorts. This doesn't mean there won't be fantastic runs though. There is still some seriously notable resorts which we will touch more on.
How Much Does the Indy Pass Cost?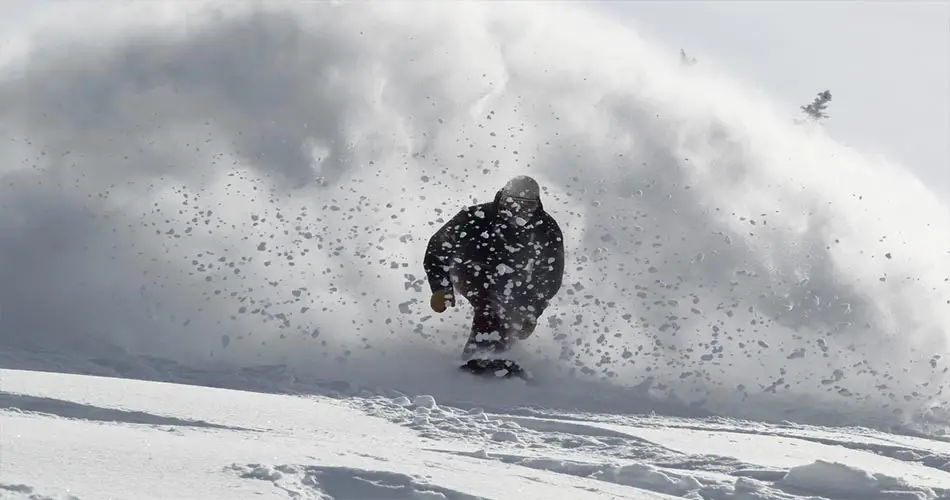 The Indy Pass is a fraction of the price of the Epic Pass and comes in at $279. Just riding a few days at a few resorts makes the pass completely worth it. You'll also get to see new resorts and trails as you take advantage of the 2 days at resorts.
You can bump up your access to full and unlimited access at all the resorts for an additional $289 witht the Indy+ Pass Addon.
What is the Ikon Pass?
The Ikon pass has two major options which is the Ikon Base Pass and the Ikon Pass. The Ikon base pass has access to 44 resorts worldwide and the Ikon Pass has access to 50 resorts. It doesn't mean there is unlimited riding at all these destinations though. The Ikon Pass has no blackout dates while the Base Pass has limited blackout dates.
How much Does the Ikon Pass Cost?
The Ikon Pass is $1,079 and the Base Pass is $769 but they both get cheaper with year over year renewals. There are also cheaper passes for 2 to 4 day adventures.
Where Can You Buy the Ikon Pass?
While you can buy the Ikon Pass online, you can also buy it at places like Costco. Just keep in mind there is a discount online for renewals, nurses, college students and individuals in the military.
Ski Pass Mountains Compared
What Mountains Does the Epic Pass Include?
So which mountains are included with the Epic Pass? Good question. Here are all the resorts included with the Epic Pass in the U.S. with some of our favorites highlighted –
Vail, CO
Beaver Creek, CO
Breckenridge, CO
Park City, UT
Keystone, CO
Heavenly, CA/NV
Northstar, CA
Kirkwood, CA
Stevens Pass, WA
Wilmot, WI
Afton Alps, MN
Mt Brighton, MI
Boston Mills, OH
Alpine Valley, OH
Jack Frost, PA
Big Boulder, PA
Telluride, CO – 7 Days
Brandywine, OH
Mad River Mountain, OH
Hidden Valley, MO
Snow Creek, MO
Paoli Peaks, IN
Okemo, VT
Mount Sunapee, NH
Mount Snow, VT
Attitash Mountain Resort, NH
Wildcat Mountain, NH
Crotched Mountain, NH
Hunter Mountain, NY
Liberty Mountain Resort, PA
Roundtop Mountain Resort, PA
Whitetail Resort, PA
Last updated 3/4/22
What Destinations Are Included With the Ikon Pass?
The U.S resorts included in the Ikon Pass and unlimited resorts outside the U.S. –
June Mountain, CA – Unlimited
Big Bear Mountain Resort, CA – Unlimited
Crystal Mountain, WA – Limited Amount of Days
Mt. Bachelor, OR
Sun Valley, ID
Aspen Snowmass, CO
Copper Mountain, CO – Unlimited
Eldora Mountain Resort, CO – Unlimited
Jackson Hole Mountain Resort, WY
Deer Valley Resort, UT
Brighton Resort, UT
Snowbird, UT
Stratton, VT – Unlimited
Sugarbush Resort, VT – Unlimited
Sunday River, ME
Loon Mountain, NH
Boyne Mountain, MI
Tremblant, QC – Unlimited
Mammoth Mountain, CA – Unlimited
Palisades Tahoe, CA – Unlimited
The Summit At Snoqualmie, WA
Schweitzer, ID
Steamboat, CO – Unlimited
Winter Park, CO – Unlimited
Arapahoe Basin, CO
Big Sky, MT
Taos, NM
Solitude Mountain Resort, UT – Unlimited
Alta Ski Area, UT
Snowbasin, UT
Killington Resort, VT
Sugarloaf, ME
Boyne Highlands, MI
Blue Mountain, ON – Unlimited
Last updated 3/4/22
[thrive_leads id='4741′]
What Mountains Are Included With the Indy Pass?
The Indy Ski Pass includes the following U.S. ski slopes –
Mt. Shasta Ski Park, CA
Snow Valley, CA
Mt. Ashland, OR
Hurricane Ridge Ski And Snowboard Area, WA
White Pass Ski Area, WA
Sunlight Mountain Resort, CO
Pomerelle Mountain Resort, ID
Soldier Mountain, ID
Blacktail Mountain, MT
Red Lodge Mountain, MT
Eagle Point Resort, UT
Antelope Butte, WY
White Pine Ski Resort, WY
Sundown Mountain, CT
Caberfae Peaks, MI
Pine Mountain Resort, MI
Swiss Valley Ski and Snowboard Area, MI
Detroit Mountain Recreation Area, MI
Powder Ridge Winter Recreation Area, CT
Terry Peak Ski Area, SD
Little Switzerland, WI
The Rock Snowpark, WI
Tyrol Basin Ski and Snowboard Area, WI
Saddleback Mountain, ME
Black Mountain Ski Area, NH
Pats Peak, NH
Catamount Mountain Resort, NY
Snow Ridge, NY
Swain Resort, NY
Bolton Valley Resort, VT
Magic Mountain Ski Area, VT
Cataloochee Ski Area, NC
Montage Mountain, PA
Massanutten Resort, VA
Winterplace Ski Resort, WV
Meadowlark Ski Lodge, WY
China Peak, CA
Hoodoo Ski Area, OR
49 Degrees North Mountain Resort, WA
Mission Ridge Ski and Board Resort, WA
Sunrise Park Resort, AZ
Brundage Mountain Resort, ID
Silver Mountain Resort, ID
Tamarack Resort, ID
Lost Trail Powder Mountain, MT
Beaver Mountain, UT
Powder Mountain, UT
Snow King Mountain, WY
Seven Oaks, IA
Big Powderhorn Mountain Resort, MI
Crystal Mountain, MI
Schuss Mountain at Shanty Creek, MI
Buck Hill Ski & Snowboard Area, MN
Lutsen Mountains, MN
Spirit Mountain, MN
Granite Peak, WI
Nordic Mountain, WI
Trollhaugen, WI
Mohawk Mountain, CT
Berkshire East Mountain Resort, MA
Cannon Mountain, NH
Waterville Valley Resort, NH
Greek Peak Mountain Resort, NY
Titus Mountain, NY
West Mountain, NY
Suicide Six Ski Area, VT
Blue Knob All Seasons Resort, PA
Shawnee Mountain Ski Area, PA
Bryce Resort, VA
Canaan Valley Resort, WV
Black Mountain of Maine, ME
Last updated 3/4/22
Ski Pass Discounts
Ikon Pass Discounts: What Discounts are Available?
The Ikon Pass has discounts for college students, nurses and the military. You can save a little over $300 if you meet their criteria and can produce a valid id.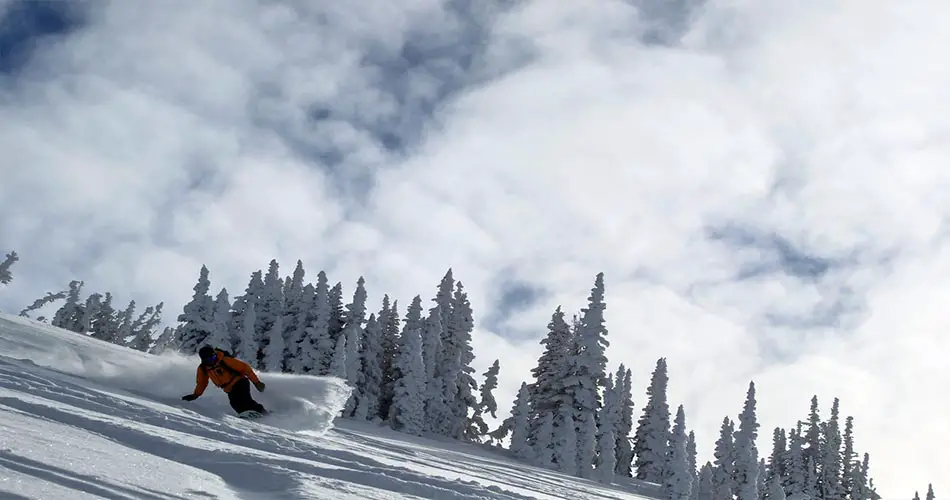 Epic Pass Discounts: A Few to Consider
We are happy to see it, Vail makes sure military members can take advantage of the military Epic Pass which is discounted at a rate to the normal Epic Pass.
Indy Pass Discounts: Are They a Thing?
Fortunately, the Indy Pass is low already to begin with. At such a low price, they don't offer any discounts aside from locking in early. This means no military, student or senior discounts.
One discount for the Indy Pass if you buy a Spring Pass, you can get a 10% discount on the following year's Indy Pass.
Ski Pass Refunds
Epic Pass Refunds: What to Know
Epic Pass refunds are based on two things. How much you used the pass and if you have a qualifying personal event. Refunds are prorated as long as you have used your pass less than 7 days. If you have used it for 7+ days then you can't get a refund through Vail.
Some personal events that qualify for a refund of the Epic Pass include –
Injury
Pregnancy
Military service
Job loss
Indy Pass Refunds: Must-Knows
The Indy Pass is nonrefundable! Make sure you know that before buying it. If you don't make it to the trails at all during the season then you can get a 10% credit for the next year.
There is also pass protection for $25 but that only gives a full refund if you can't use the pass before the end of April in the ski year.
Ikon Pass Refund: What to Know
The Ikon Pass offers Adventure Assurance, pass protection and injury insurance.
Pass protection is an addon if you can't use your pass to an unforeseen event.
Injury insurance is an addon covering medical costs if injured when using the past.
Adventure insurance comes with every Ikon pass and is a deferral option for Covid closures.
Pros and Cons of the Epic Pass vs Indy Pass vs Ikon Pass
What are the benefits to the Epic Pass? Here are the pros and cons.
Epic Pass Pros
Unlimited riding at 37 resorts with no blackouts
Limited riding days at select other resorts
Covers all the major Vail owned resorts
20% off food, lodging, transportation, rentals and lessons
Discounted buddy tickets
Epic Pass Cons
Mountains and lifts are crowded
Pass is expensive
The discounts cause you to spend more money
Parking at a lot of the resorts is terrible
How about the Ikon Pass? Here are the pros and cons.
Ikon Pass Pros
50 destinations with no blackouts 
Unlimited riding at 14 destinations
Up to 7 days at remaining destinations
First tracks (ride before the lifts open to the public, once a month at select locations)
25% off up to 10 lift tickets at select locations for family and friends
15% off food, beverage and retail at participating locations
Lodging and travel deals for pass holders
10% off heli-skiing and summer adventures
Ikon Pass Cons
Only unlimited days at 14 resorts
High price for the number of resorts
Discounts are mediocre
Parking at a lot of the resorts is terrible
Lastly what are the benefits to the Indy Pass? Here are the pros and cons to the Indy Pass.
Indy Pass Pros
All-Day or 2 All-Night tickets at 82 Resorts
Ability to upgrade to unlimited riding and no blackout dates
Inexpensive and most affordable pass option
Discover new private ski resorts
Less crowded ski resorts
The team at Indy Pass is always trying to add resorts
Indy Pass Cons
Limited riding days at each resort unless you upgrade
Doesn't include the major commercial mountains
Not heavy with discounts on lodging, gear and food
Which Ski Pass to Get
Now that you have a good idea of the pros and cons of each pass, do you see a winner? It may not be clear-cut and depends on what type of skier or snowboarder you are. Do you like big mountains or do you like more wide-open trails, lower crowds and better pricing?
The Epic Pass has been catching a lot of heat lately from the skiing and snowboard community but we don't think you should count it out just yet. We just encourage you to look at all your options like the Indy Pass and Ikon pass before going all-in on your pass next year.
Final Thoughts
Hopefully, it is much clearer once you have compared the Epic Pass vs the Ikon Pass vs the Indy Pass. We sure think so. We're unbiased so as long as there is a trail with fresh powder or newly groomed corduroy runs, well be on it.
Once you get your pass, we hope to see you there!