Everyone wants to be at the ski slopes in the winter but sometimes your car can be a dilemma. If you want to get up to the mountain then you'll not only need something suited for the mountain but the snow along the way. Ski vehicles are ones that are useful to pack all your gear into or on top of.
Read on if you want the 5 best vehicles for skiing. If you are an avid skier or boarder then you might want to consider one of these the next time you are in the market for a vehicle. Otherwise, it is also good to just note these as great winter weather vehicles.
Things to Consider with a Ski Vehicle
Not every car or truck makes a good ski vehicle, so what does? Space is certainly one thing but that is solvable with a roof box for your ski vehicle. Here are some things to look for when looking at a winter vehicle in addition to space.
4 Wheel Drive
For areas of heavy snow and if you are making a lot of trips to the mountain, 4 wheel drive should be a no brainer. Having 4 wheel drive or All Wheel Drive on a vehicle you are taking to the ski resort only makes it safer. Why take a two wheel drive when you can take a four or all wheel drive?
All wheel drive or 4 wheel drive ensures that the front and back wheels are all being provided power. It is important to consider all wheel drive or 4wd because safety should be a number one priority on already dangerous snowy or icy roads.
High Wheel Clearance
The second thing to look for is a vehicle with high wheel clearance. Why does this matter? The higher the wheel clearance means the less chance of your vehicle getting stuck in the snow. With ski vehicles like SUVs, trucks or jeeps, you'll already have an advantage over cars since they ride lower to the ground.
Have you ever been in that ski resort parking lot, the snow is coming down and you wonder if you'll be able to get your car out? At least set yourself up for a few less worries with a high wheel clearance vehicle when headed up to the ski resort.
Tow Hitch
The last important thing to at least consider when looking for a ski vehicle is if it has a tow hitch. A tow hitch comes in handy if you are looking to run a ski and snowboard rack on the back. Sure, you can go with the roof rack but some people opt for the tow hitch rack.
While a tow hitch isn't as essential as all wheel drive and a high wheel clearance, it is still something you should consider when looking into a ski vehicle.
The 5 Best Ski Vehicles for Getting to the Slopes
Jeep Gladiator
You might know it going down the street as a Jeep truck but formally, the Gladiator has multiple ways to get your skis or snowboard to the mountains. With both roof racks and bed rack available, the options are end less.
The Gladiator sits up high and has 4×4 power. With a good set of snow tires, you will be unstoppable. With that extra bed space, you can even put in a set of chains for the worst of days and steepest of mountains.
Price: $35,315
MPG: 16/23
Subaru Crosstrek
Some people are Subaru afficinaos while others opt for Hondas. The Crosstrek is a nice mix of outdoor, sporty and practical. It can get you or a family up to the mountain with ease.
The Subaru Crosstrek is certainly one of the cheaper ski vehicles and there isn't much compromise. Sure, it is a bit lighter and the engine is a bit smaller than some of the others but that is to be expected. Just like the Gladiator, throw in some snow tires and you should be all set for the mountain. The Crosstrek pairs nicely with the Thule Aerobars as a roof rack.
Price: $22,445
MPG: 28/33
Audi Q7
Get the premium gas ready. The luxurious Audi Q7 is a ride of style and comfort up to the ski slopes. It is AWD and slices through the snow like butter. You aren't going to want to put your wet skis and boards inside so consider a roof rack or a roof box.
Certainly a luxury vehicle, the Audi Q7 or any Audi for that matter will usually turn heads and get a look. Like we often say, if you can't ski good, at least you can look good. But hey, maybe you can do both this winter!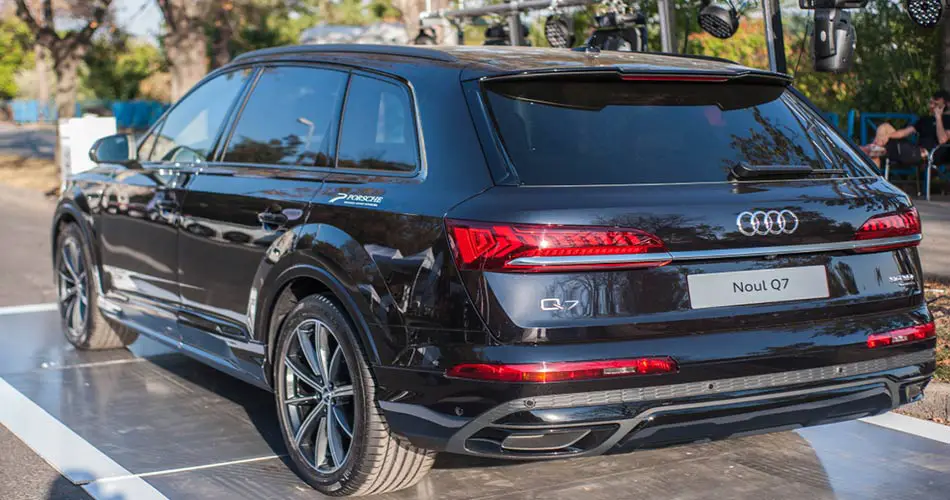 Price: $55,800
MPG 18/23
Ford F150
Electronically shift between 4×4 high and low. The snow will be no match for the Ford F-150 when you head to the ski slopes. With some of the most ground clearance on the list, Ford is Built Tough.
Put your skis or boards in the bed and you'll avoid any inside water like you'd get with a SUV. When it's not ski season, the F150 is still one of the most versatile vehicles around the house or mountains.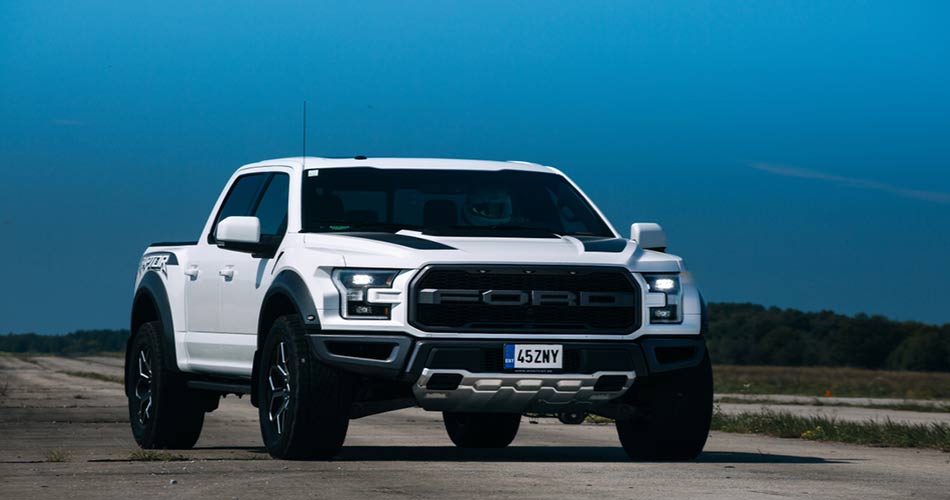 Price: $43,195
MPG: 20/27
Honda CRV LX
Made to last forever and get through all conditions, the Honda CRV ties together a lot of ski vehicles on the list. It has a touch of luxury but also a sporty and comfortable ride. Set up a Yakima or Thule roof rack and you can keep the trunk as good as new.
The CRV LX has AWD. AWD CRVs have been staples for getting to ski resorts for years. Not only is it a good ski car but also a great family car. It is easy to see why the Honda CRV makes the list of best ski vehicles.
Price: $27,250
MPG: 28/34
Final Thoughts on Ski Vehicles
Drive into any ski resort lot in the U.S. and we can almost guarantee you will see one of each of these vehicles. They are the best for a reason. Safety is often the reason.
It doesn't matter if you are in the market for a used or new vehicle, if you are a big time skier or snowboarder then put some thought into you next vehicle. Think of it as a tool to get to the mountain and bring you fun. Let us know your favorite vehicle to take to the ski resort below.