Saying the name, Sugarloaf Ski Resort just gets people excited in the ski and snowboard community. If you are looking for a resort in Maine with everything than look no further. 60 miles of trails, 5 terrain parks, a 3.5 mile trail, 13 lifts, the list goes on and on of crazy statistics! It is exciting just reading it!
Read on to learn everything you need to know before visiting Sugarloaf Resort this Winter. The largest ski single ski mountain in Maine.
Where is Sugarloaf Resort?
Sugarloaf Ski Resort is located in Carrabassett Valley, Maine. The resort is two hours from Lewiston. It is also two hours Bangor. Portland is almost 2 hour and a half hours to the South of Sugarloaf Resort. Some other distances from Sugarloaf to large cities are as follows –
Boston- 4 hours, 224 miles
Montreal- 3.5 hours, 309 km
New York- 7.5 hours, 429 miles
It might look like a long drive from a place like New York but we can't stress how much Sugarloaf Resort Ski Area is worth the drive.
What is Sugarloaf Resort in Maine?
 Sugarloaf Resort is the most comprehensive skiing and snowboarding experience in Maine. It is the only lift serviced above the treeline skiing and snowboarding on the East coast. There is so much ground to explore, restaurants to eat at and nice places to stay. They also have New England's only snowcat skiing and snowboarding experience.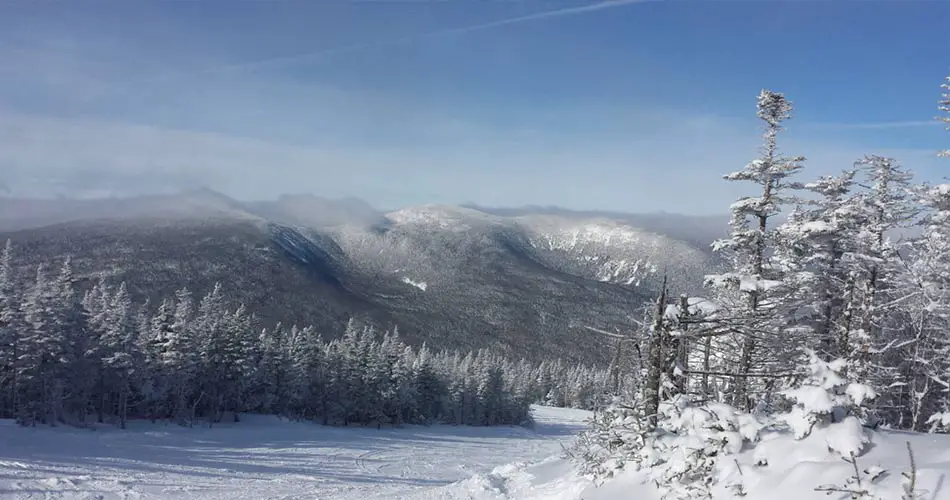 Does Sugarloaf Resort Have Lodging?
Sugarloaf Ski Resort has so many options of lodging, as it should for the largest ski area in Maine. If you want to be in the heart of the action and village than Sugarloaf Mountain Hotel is a good choice. If trailside sounds more like you than Birchwood Condos on the Snubber Trail are the place to book.
For a higher end experience or larger space than booking a private home or premier property is a great option.
After that,  the list of places to stay at Sugarloaf goes on so long that it is too much to get into here. Sugartree condos, Snowflower condos, Snowbrook Village and Mountainside Condos are just a few to look into.
Does Ski Sugarloaf Resort Have Night Skiing?
Sugarloaf Ski Resort is a huge resort but they don't have night skiing. Lifts close at 3:50 p.m. After that you can head back to your lodging and start up a fire or explore the village for some nightly fun. 
The village is the place to be on Friday and Saturday nights.
The Best Time to Go to Sugarloaf Ski Resort
Sugarloaf Ski Resort is massive. There isn't a best time to visit per se because there is so much terrain to cover. Yes, it can be crowded on the weekends but that makes some of the atmosphere in the village to be honest.
Also, once you get onto the trails, it thins out significantly anyway.
Highlights of the Sugarloaf in Maine
Sugarloaf Ski Resort is one of the top resorts on the East coast for good reason. Even the highlights are too many to list. Some of the highlights of the ski area include –
162 Trails and glades
1,240 skiable acres
13 lifts
2,820 Foot vertical
5 Terrain park
Expansive village and lodging
Only snowcat skiing and snowboarding in the East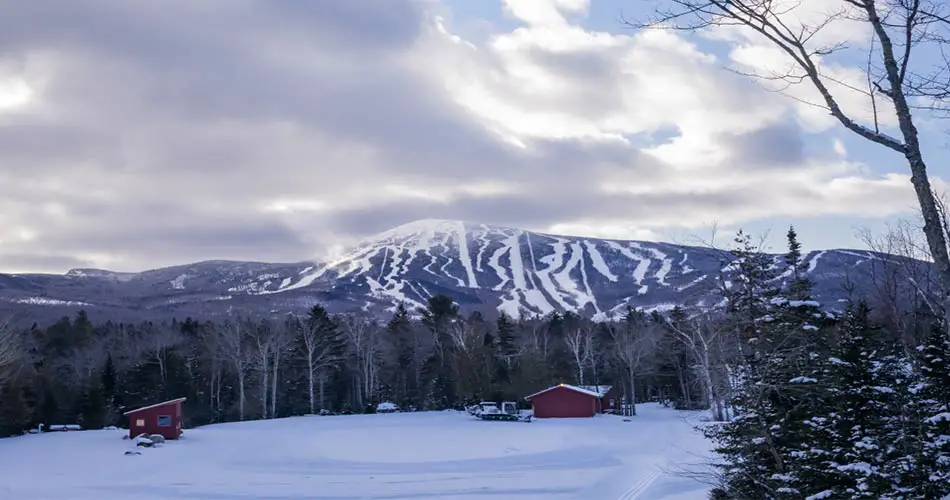 Does Sugarloaf Ski Resort Have a Ski Shop?
Sugarloaf Resort Mountain has a rental shop, tuning shop and multiple places to buy new equipment including a Burton Signature Store.
The rental shop will take care of all your needs if you are showing up to the mountain but didn't bring your own gear.  If you brought your own skis or snowboard but need a tune than Downhill Supply Co is the place for the fix. The staff can fix just about anything or make your gear better than when it came in the door.
Finally if you are looking for new gear, check out the shops in the village which sell an array of cold weather clothing, some skis and boards.
Terrain Parks at Sugarloaf Ski Resort
Sugarloaf Resort Mountain has a 5 terrain parks spread across the mountain. Everyone from beginners to pro freestyle riders will feel at home at Sugarloaf terrain parks. 
Skybound is the place to start if you are just getting into freestyle riding. Even kids can ride at Skybound terrain park. It is located below Cruiser trail.
For some big air, stomping ground ramps the feature up quite a bit. Skid road is comparable at an intermediate level as well.
Experts can head over to the Drop Line. It is where Sugarloaf put all their pro level features, just next to Lower Winter's Way.
Is Sugarloaf Ski Resort Good for Beginners?
 Sugarloaf Resort Mountain is great for beginners. There are lessons for adults and children to get everyone out on the trails. Whether you want to try skiing or snowboarding, Sugarloaf's talented instructors will get you going down the mountain. You can even take a lesson in skiing one day and the next take a snowboarding lesson. The choice is up to you!
Does Sugarloaf Blow Their Own Snow?
 Sugarloaf Ski Resort has snow making coverage on 618 of their 1,240 acres. That means they can blow snow on roughly 50% of their trails. Don't worry though, the 10 year snowfall average is 200 inches a year. That is almost 17 feet! By mid January almost every trail should be open.
How Many Trails Does Sugarloaf Have?
There are 162 named trails at Sugarloaf Resort when you count the glades. The breakdown is as follows-
23% beginner
34% intermediate
27% advanced
16% expert
 If you can't find a favorite run at Sugarloaf than you are going to have to head out West. There is over 60 miles of trails and the longest is 3.5 miles! Tote Road is the one to ride if you love a long run.
What Are Some Other Winter Activities at Sugarloaf?
Sugarloaf Resort Mountain has cross-country skiing, snowshoeing, ice skating, fat bikes and even skibikes to try. There are 55 miles of cross-country skiing trails and a full sized NHL ice rink for adults and kids.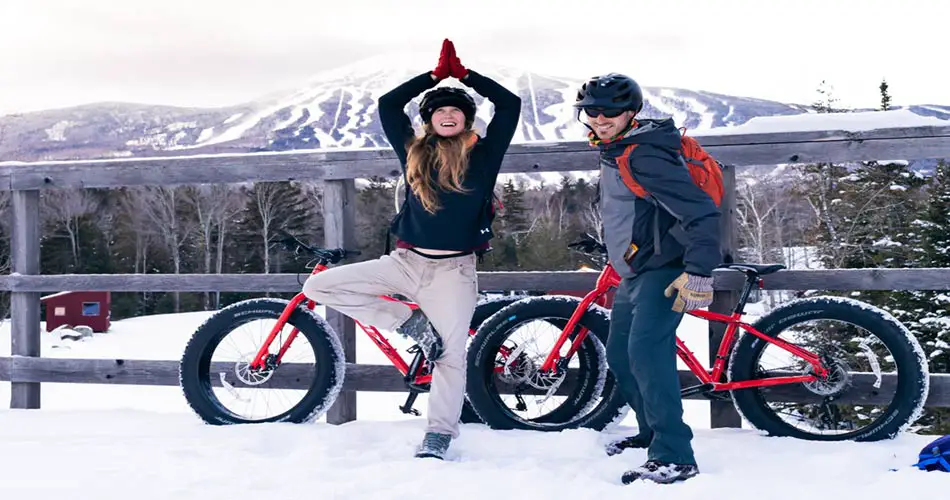 Is There Summer Mountain Biking at Sugarloaf?
Sugarloaf Resort has both cross-country and downhill trails, although none are lift serviced. You have to hike or ride up if you want to access the 10 miles of downhill trails. There are 80 miles of cross-country mountain bike trails.
Conclusion
Sugarloaf Ski Resort is known on the East Coast for being one of the best resorts year after year. There is so much to do and so much to ride that you need more than just 2 days to experience it all. Once you go once to Sugarloaf, you'll want to come back year after year.
We want to hear your favorite trail or terrain park feature in the comments below. Shout it out!
Explore More Maine Ski Resorts