Sunday River Ski Resort is another one of Maine's huge ski and snowboard areas. It's so big that it is hard to explore it all in just a weekend. 135 trails and glades, 870 acres, 53 miles of trails. It is music to any skier or snowboarders ears. Top that off with 5 terrain parks and 8 peaks to explore. What more could you want for skiing or snowboarding on the east coast?
Read on to learn everything you need to know before visiting Sunday River Resort this winter and why you should make the trip!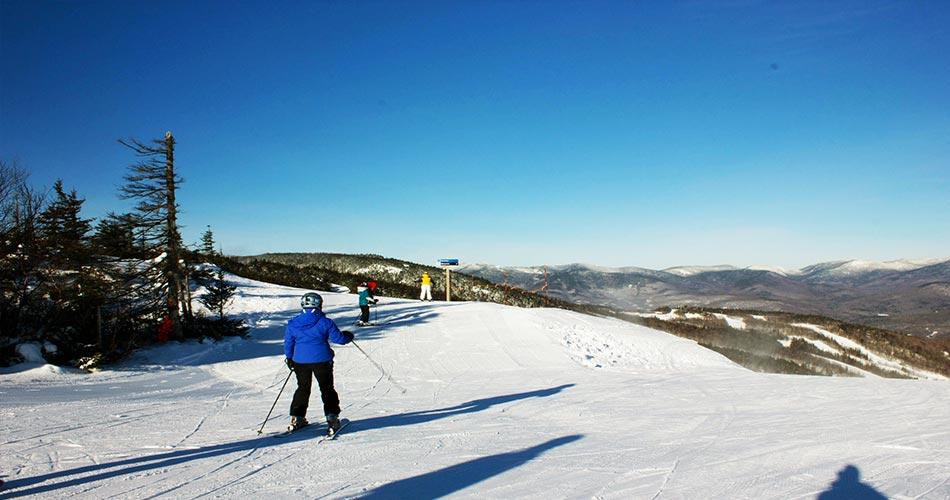 Where is Sunday River Resort?
Sunday River Ski Resort is located in Newry, Maine. The resort is one hour and 15 minutes from Lewiston. It is also two and a half hours Bangor. Portland is an hour and 45 minutes to the south of Sunday River Resort. Some other distances from Sunday River to large cities are as follows –
Boston- 3.5 hours, 182 miles
Montreal- 3.75 hours, 301 km
New York- 7.25 hours, 387 miles
Being on the West side of Maine, Sunday River is very accessible for anyone coming from Vermont, New Hampshire, Massachusetts or even Canada.
What is Sunday River Resort in Maine?
Sunday River Resort is more than just 8 peaks of skiing and snowboarding. They also have great lodging which we will touch on and tons of activities for the families. There is the Jordan Spa for a little relaxation. Dog sledding for a once in a lifetime experience or river lanes bowling for some warm indoor family fun.
There is even ice climbing if you want a new experience at Sunday River Resort this winter.
Does Sunday River Resort Have Lodging?
Sunday River Ski Resort has so many options of lodging to choose from, which is to be expected with a resort of this size. If you want to be in the heart of the action and village than the South Ridge Lodge is the biggest base lodge. If trailside sounds more like you then Peak Lodge which is mid-mountain should be your choice.
The Jordan Hotel is the premiere place to stay at Sunday River and is right next to the Lollapalooza trail. Rooms start around $200 and go up from there.
There are also plenty of local options like vacation rentals, bed & breakfasts and on mountain condos in Bethel Maine. Bethel is only 11 minutes (7 miles) from Sunday River Resort if you want to stay nearby but not right at Sunday River.
Does Sunday River Have Night Skiing?
Unlike Sugarloaf which is well known for being a huge resort in Maine with no night skiing, Sunday River Ski Resort has night skiing on Fridays, Saturdays and Holidays. Night skiing at Sunday River is from 3 p.m. to 6:30 p.m. on the South Ridge and North Peak. The resort keeps the South Ridge Express and Chondola lifts running into the night!
The Best Time to Go to Sunday River
Sunday River Ski Resort is very big. There isn't a best time to visit per se because there is so much terrain to cover. If we had to pick one time, we'd tell you to go on a Friday or Saturday so you can take advantage of the night skiing at Sunday River.
It is a whole different experience and you may as well take advantage of it if you are staying at the resort.
Highlights of the The Resort
Sunday River Ski Resort is one of the largest resorts Maine and they have too many highlights to list. Some of the highlights of the ski area include –
135 Trails and glades
870 skiable acres
17 lifts and a high speed Chondola
8 separate peaks!
2,340 feet of vertical
5 Terrain park
Expansive village and lodging
Does The Resort Have a Ski Shop?
Sunday River Resort Mountain has everything. Rentals, tuning and shops with new gear and apparel. You could leave everything at home and still find brand new skis, snowboards and apparel in the Sunday River shops.
Sunday River Sports Flagship is the one stop shop if you are looking for new skis, a snowboard or apparel.
For a tune, head over to the tuning shop located at South Ridge Lodge. Rentals can also be found in the South Ridge Rental Shop or the Jordan Hotel Rental Shop.
Some of the brands that the stores carry are K2, Rossignol, Head, North Face, Oakley and the list goes on.
Terrain Parks: What to Know
Sunday River Resort Mountain has a 5 terrain parks spread across the mountain. Everyone from beginners to pro freestyle riders will feel at home at Sunday River terrain parks.
T72 is the largest terrain park and the features are always changing. You can access it from the North Peak Express or the Chondola chairlifts. 3D is a medium-sized park with jumps and jibs. You have to ride the North Peak Express to access it.
Who-ville and Wonderland are great for families and beginners who want to ride freestyle. The last park is Flow State which is family friendly and accessed by the Locke Triple lifts or the Barker Mountain Express.
Is Sunday River Resort Good for Beginners?
Sunday River Resort Mountain is not a bad resort for beginners There are lessons for adults and children to get everyone out on the trails. Whether you want to try skiing or snowboarding, Sunday River's helpful instructors will get you going down the mountain. The only downside is the resort gets crowded. Just think if you want to learn at smaller resort.
If the large atmosphere doesn't bother you than Sunday River is a great place to learn.
Does Sunday River Ski Resort Blow Their Own Snow?
Sunday River Ski Resort has snow making coverage on 522 of their 870 acres. That is 60% of their terrain which is a huge factor to giving them night skiing.
Sunday River has over 2,000 snow guns and makes snow on average 95 days a year. It is an incredible feat they pull off each year with the amount of snow they blow in addition to the natural snow to make sure everyone has perfect trails.
How Many Trails Are There?
There are 135 named trails at Sunday River Resort when you count the glades. In total there are 53 miles of trails! Just the distance from White Cap Peak to Jordan Bowl Peak is 3 miles, incredible. The breakdown is as follows-
30% beginner
36% intermediate
18% advanced
16% expert
If you are looking for the longest run, look no further than Lollapalooza which is 3 miles long (4.8 km)! You can take the Jordan Mountain express to the top of Jordan Bowl and head down Lollapalooza which is a beginner rated trail.
What Are Some Other Winter Activities?
Sunday River Resort Mountain has ice climbing, snowshoeing, nordic skiing and snow tubing in addition to the downhill skiing and snowboarding. You could spend a weekend without ever touching your skis or snowboard with everything there is to do at Sunday River.
Is There Summer Mountain Biking at Sunday River?
Sunday River Resort doesn't have mountain biking in the summer but there is a trail network in the nearby Bethel area. The resort stays busy in the summer with golfers and hikers.
Conclusion
Sunday River Ski Resort is one of the top resorts on the east coast for good reason. 53 miles of trails. Tons of off the snow activities and great lodging for individuals, couples and the family. If you can't make it this year, it needs to be on your bucket list resorts of the east.
Let us know, would you choose Sunday River over Sugarloaf if you had free lift tickets to both? Comment below!