Shawnee Peak Ski Area is the home of the most night skiing in the northeast. That's right, not just Maine. Do you like long skiing and snowboarding days? Most people do! If that is a yes than Shawnee Peak needs to be the mountain you visit this winter in Maine.
Read on to see everything that Shawnee Peak has to offer, where to stay and even the best times to visit the mountain.
Where is Shawnee Peak?
Shawnee Peak Ski Area is located in Bridgton, Maine. The resort is two hours and 45 minutes from Bangor. It is only an hour and 15 minutes from Portland. Augusta is an hour and a half away from Shawnee Peak Ski Area to the East. Some driving distances to other large cities include –
Boston – 3 hours
New York – 7 hours
Montreal – 4.5 hours
Being on the west coast of Maine, Shawnee Peak is very accessible without having to drive far into Maine.
Does Shawnee Peak Have Lodging?
Shawnee Peak Ski Area has some really cool on slope lodging but there is off the slope lodging too. Even though all of the places to stay are with Shawnee, they book through Airbnb.
They have a Yurt called the Northridge Yurt which is ski in/out on top of the mountain and sleeps 4.
The next option at Shawnee Peak sleeps 6. The Tuckermans Cabin has an outdoor firepit to light up and enjoy.
Two of their larger options are the Shawnee Peak House and the Sunnyside Lodge. Shawnee Peak House sleeps up to 44 and is great for family gatherings. The Sunnyside Lodge sleeps 14 and is 50 feet for the chairlift.
Does Ski Shawnee Peak Ski Area Have Night Skiing?
Shawnee Peak Ski Area has the most night skiing in New England and is the longest operating ski resort in Maine. There is no better experience than lodging in the Yurt or Tuckermans cabin, night skiing and then being back at your lodging in 10 minutes.
Hands down, the best night skiing in New England goes to Shawnee Peak!
When Is the Best Time to Go to Shawnee?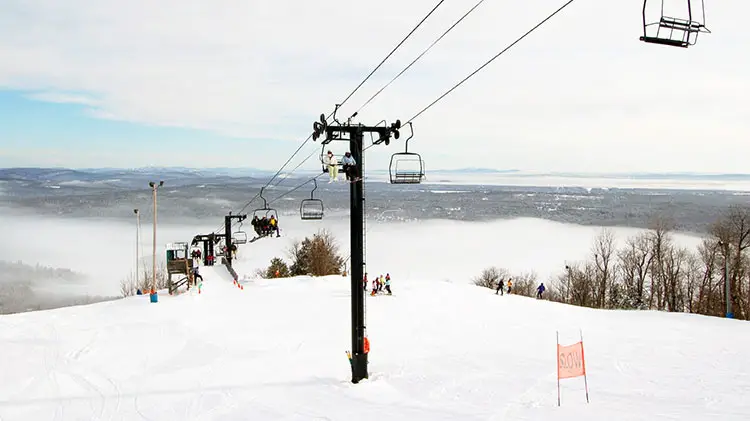 The best time to go to Shawnee Peak Ski Area is the mornings or evenings. Crowds are most prevalent on weekend middays. If you are staying at Shawnee, it is simple to roll out of bed, grab some morning runs, take a break and eat lunch then hit the night session.
Does Shawnee Peak Ski Area Have a Ski Shop?
Shawnee Peak Ski Area has a rental shop where they are adding new equipment every season. They feature Elan skis and Burton snowboards. Most of their boots are boa boots as well! All rentals need to be made at the ticket booth and not online. You can either rent for a full day or just the night session at Shawnee Peak.
Highlights of the Shawnee Peak Ski Area
Shawnee Peak Ski Area has the most night skiing in Maine. What else is better? Some of the highlights of the ski area include –
40 trails and 7 glades
6 Lifts
1,300 feet of vertical
249 acres of skiable terrain
83 years in operation!
98% snowmaking
Is There a Terrain Park at Shawnee Peak Ski Area?
Shawnee Peak Ski Area doesn't just have a terrain park, they have 3 terrain parks. There is the mini park for new freestyle riders. Then there is the grommet garden and the main free style terrain park as well. The mountain is super well rounded for freestyle riders of all skill levels.
Is Shawnee Peak Good for Beginners?
Shawnee Peak Ski Area is a certified Burton Learn to Ride Center and a Elan Discovery Program Area. So YES, it is a great sport for beginner skiers or snowboarders. There are also children's seasonal programs, group and private lessons offered. Children and adults can all learn at The Peak!
Does Shawnee Blow Their Own Snow?
Shawnee Peak Ski Area can blow snow on 98% of their terrain. It is pretty impressive when they have 249 acres of skiable terrain. It is safe to say the mountain and your trip doesn't have to rely too much on the natural snowfall at The Peak.
How Many Trails Does Shawnee Have?
There are 40 trails at Shawnee Peak serviced by 4 chair lifts and 2 surface lifts. It is broken down into the following –
25% beginner trails
50% intermediate trails
25% advanced trails
It is a great resort for families because some people can go off and ski or snowboard beginner trails while higher skill levels can go off and do their own thing.
Is There Summer Ski Area Biking at Shawnee Peak?
Shawnee doesn't have downhill mountain biking but you can still book the mountain cabin or yurt. Some of the things you can do during the summer time at Shawnee Peak are hiking, canoe on moose pond and have an event or outing.
Final Thoughts – Why Visit The Peak
Shawnee Peak Ski Area has the best night skiing in the Northeast. They have great lodging that is first come first serve on the bookings and great food at Blizzards Pub. With over 40 trails to ride during the day and 19 at night, Shawnee Peak is one of the most fun ski areas in Maine.
We'd like to hear everything about your trip. Are you headed to Shawnee Peak Ski Area this year? What was your favorite trail if you have been? Did the night skiing live up to the hype for you? Let us know in the comments below!