Snowboard gloves with wrist guards, should you wear them? Well, if you are a park rider or shred the half-pipe then you should at least give it a thought. They are designed to save you on the mountain when you need it most and just having them save you once pretty much means they have done their job.
We will look at if you should be wearing snowboard gloves with wrist guards, why you would want to wear them and some popular ones. Read on for the details!
What are Snowboard Gloves With Wrist Guards?
Snowboard gloves with wrist guards are a type of snowboarding gear that is designed to protect the snowboarder's hands and wrists from injury. Mainly park riders are going to wear these gloves with the wrist guards built-in. You might not even notice people out in the parks wearing them because they look similar to regular gloves and mittens.
Gloves with wrist guards also protect the hands from injury by providing a cushion between the hand and hard objects such as ice or rocks. Some people argue though that the fracture could go up into the forearm if you come down hard on the wrist and the energy goes up the arm. We haven't seen anything conclusive on this.
For now snowboard gloves with wrist guards aren't the most popular but they are gaining a bit of traction.
Do All Snowboarders Need Snowboard Gloves With Wrist Guards?
It is safe to say that not all snowboarders need to wear snowboard gloves with wrist guards built in. They can feel a bit restricted and clunky but you get used to it after awhile. Most mountain riders simply won't need them. Stick to regular gloves or mittens and you will be just fine. Wrist guards in your gloves would be a bit of overkill.
Should beginners wear them? Good question. Beginners should really learn the fundamentals of falling even before starting to snowboard. This means falling on larger parts of your body such as the butt, or shoulders if possible. You don't want to stick out your arm and brace for a fall with your wrist.
That being said, with proper technique for falling, beginners don't even need snowboard gloves with wrist guards.
So who are they for then? As we mentioned, park riders and halfpipe riders will get the best benefit from snowboard gloves with wrist guards. Wrist guards are going to help when you take that spill or slam from an aerial trick or fall off a bar.
When you least expect it, that's when you'll be happy you were wearing them.
Do They Make Snowboard Mittens with Wrist Guards?
If you aren't a fan of gloves then don't worry, there are also mittens on the market with wrist guards. Finding snowboard mittens with wrist guards built in is even a bit more uncommon but Level Gloves makes a few pairs.
We haven't tried Level Gloves mittens at Proper Peaks but a lot of their other gloves are solid so we'd expect the mitts to be the same.
What are A Few Options for Snowboard Gloves and Mittens with Wrist Guards?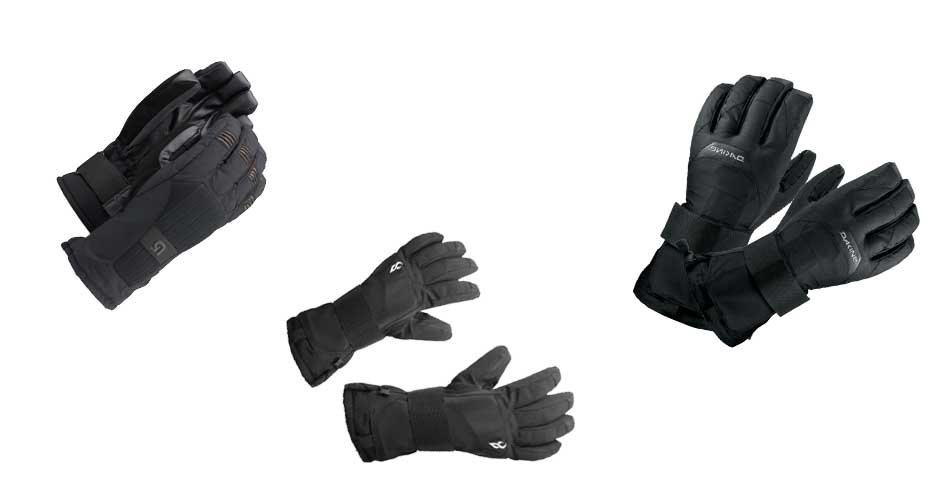 Burton Men's Support Glove
Burton, the tried and tested snowboard brand makes a set of support gloves. We put them on the list because they used to make a good pair of support gloves. The current pair, not so much. Everything we are hearing is they aren't what they used to be. We are big Burton supporters but stay away from these ones. The plastic can jab into the wrist and it just isn't comfortable.
The current Burton men's support gloves aren't made like they used to be.
Dakine Wrist Guard Glove
At least the Dakine wrist guard glove is a bit more comfortable than the Burton. It isn't as secure as the Demon clinch but it is a large step up from a normal glove with no wrist guard. The one nice feature if you can remove the plates in the palm and the back of the hand if you want to ride with a bit less protection. It is really up to you with this glove.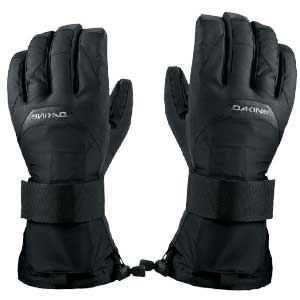 Demon Cinch Wrist Guard Glove
The clinch is one of the best gloves with wrist guards out right now. There is a plastic splint both on the palm and the top of the glove to keep your wrist in place during the biggest impacts. Any gloves won't save you if you are in for a massive slam but at least this one gives you a better chance.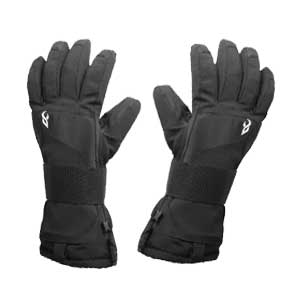 Which Snowboard Glove to Choose
So you have narrowed it down that you probably need a bit of wrist protection but still are unsure? You can either go with some protection or all-out wrist protection. Dakine has a bit of protection and the Demon gloves are all-out protection. Level Gloves is also another brand that is worth a look.
Key Takeaway: At the end of the day, the brand matters less. If you are riding big park features, it is wise to wear a glove with a wrist guard. That can be the difference that keeps you riding all season.
Final Thoughts on Snowboard Gloves With Wrist Guards
Not everyone needs gloves with wrist guards. Let's get that out there. It's not like you need to spring for a pair if you are an all-mountain rider and kicking it on green and blue trails. For an avid park rider though who is looking to improve and go bigger then getting a pair is definitely something to put in the gear bag.
One big fall and you'll thank yourself you got some snowboard gloves with wrist guards.