Knowing what to wear under your snowboard gear is the difference between a great day at the ski slopes and a not so great day. There are some key clothes to have in your closet that should be worn under your snowboard gear. First, let's just go over one tip that applies to dressing for a great day at a ski resort.
Layering Your Snowboard Clothes
If there is one take away from this article aside from the clothes to wear under your snowboard gear, it is layering. You'll have a much better day at the mountain if you put on multiple layers of clothing. Then when you get hot, you can take off a layer. If you are cold, just do the opposite and put on another layer.
Having the right layers and the correct number of layers will always lead to a better snowboarding trip. Start with a base layer, then build on that with a core inner layer and finally an outer layer. If you follow that strategy two those two crucial layers under your snowboard gear, you'll be toasty.
Explore Some of The Best Things to Wear Under Snowboarding Gear
Base Layers to Wear Under Snowboard Gear
Under Armour Cold Gear
High wicking, warm and flexible. All great attributes to have to a base layer. Under Armour has formulated specifically designed base layers for the toughest cold. UA cold gear is heavily polyester-based and will keep you warm even when you start sweating on the mountain.
The cold gear base layer is designed to be worn comfortably all day under your snowboard gear.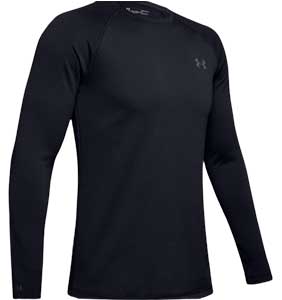 Wool Turtle Neck
Wool is one of the only natural materials to keep you warm when it is wet. It is great alternative to something like a Under Armour Cold Gear base layer. Often you can get wool turtle necks for around the same price point but some people find them more comfortable than polyester.
It might be best to try one wool turtleneck as a base layer and compare it to a synthetic then go from there.
Snowboarding Core Layers
Hoodies
The next layer on top of the base layer is the core layer. Typically it is easy to remove like a zipable jacket or hoodie. In this case, a hoodie is good to wear under your snowboard gear since it is bulky enough to be worn without the outter layer.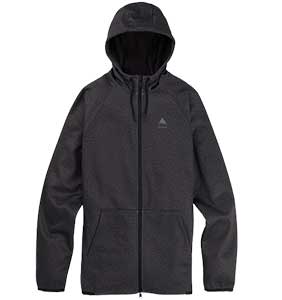 One drawback though is that most hoodies aren't waterproof. It can be tough to find a waterproof hoodie but water repellent are the next best thing. It's not as hard to find a water repellent hoodie for snowboarding so you should probably have one in your bag.
Light-Weight, Water Proof Jacket
An alternative to a water repellent hoodie is a light weight waterproof jacket. It won't keep you as warm as an outer layer but that's okay. You want this layer in case you peel off your outer layer.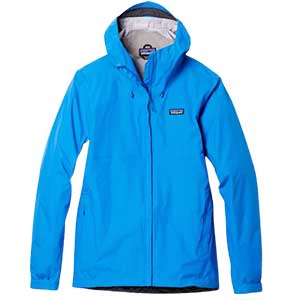 Sometimes zippable jacket is easier it get on and off than a hoodie, plus you might be able to find one with more pockets. All something to consider when trying to decide on your core layer for under your snowboard gear.
Outer Layers for Snowboarding
Snowboard Jacket
Once you get to the outer layer, the last step is really the jacket itself. You can can low, medium or high end here. Look for something that is at least water repellent. Very high end jackets are gusseted to almost block out all the water. Another think you want is vents to reduce heat when you start to warm up.
Leggings
They make them both for men and women. Leggings are an essential thing to wear under your snowboard gear. Leggings easily fit under both snow pants and bibs.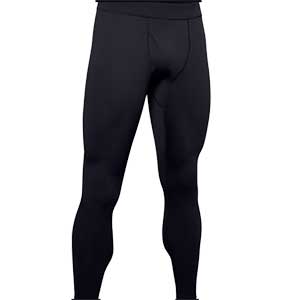 Again, you can go for synthetic like under around or instead a natural fabric like wool. Coupled with a good pair of socks, your legs shouldn't have any issues on the trails.
Socks to Wear Under Your Snowboard Boots
It is important you don't make the two most common beginner mistakes when picking out socks to go snowboarding. First, they often pick a sock that is too thin and their feet get cold on the mountain. Second, the sock isn't long enough.
A decent snowboarding sock needs to be higher than your snowboarding boot or you may find your boot cutting into the back of your leg during the day. Wool boot socks make for some of the best snowboarding socks to wear under snowboarding gear.
How Much Clothes Do I Need for Snowboarding
So now that you know what to wear under your snowboard gear, it is important to pack the correct amount for a trip. You will need more than one set of base layers and socks.
Figure about one per day unless you have a good system to dry them out between riding days on the trails. If you have access to a washer and dryer, great! Otherwise make sure you have a nicer dry set of tops, bottoms and socks to ride in.
Optional Equipment: Body Armor
One last piece of clothing to consider wearing under your snowboardin gear is body armor. The two main types are padded shorts and a padded top with a spine protector.
The padded shorts really help from a bruised butt or hips when you fall. The padded too is a good piece for terrain park riders. Having the bit of protection on the arms and spine can save from nasty falls on boxes, jails and jumps in the terrain park.
Final Thoughts on What to Wear Under Snowboard Gear
Plan your clothing for a warm day on the trails. Nothing ruins a day snowboarding faster than dressing improperly. Have the right mount of clothes is just as important if you are going on a multi day snowboarding trip. Get a snowboarding trip packing list and you won't miss an essential clothes.