Anyone that has their own ski and snowboard gear knows they need a solution to get their gear to the slopes in the winter. Too often people will buy nice snowboards or skis but they fail to take care of them on the way to the mountain. A ski and snowboard vehicle rack is the wintertime solution. We will explore how you can easily transport your skis or snowboard to the mountain using a car rack and look at some of the options out there.
Let's jump right into exploring some of the pros and cons of ski and snowboard vehicle racks.
Pros of Using a Ski and Snowboard Vehicle Rack
Some people swear by using a ski and snowboard car rack while others don't. There are a lot of features that make a rack with getting if you truly understand their use. Here are a few of the pros to using a ski rack on the car.
Keeping wet boards and skis on the outside of the car
Save space inside the vehicle for trips
The ability to take more skis and snowboards than usual
Being able to lock the boards and skis to prevent theft
Proper spacing so the skis and boards don't bang into each other
Car rack can be used for other sports like kayaking or mountain biking
That being said, and while ski and snowboard car racks are great, there are also some drawbacks. You should consider both just before going out and getting one for your car.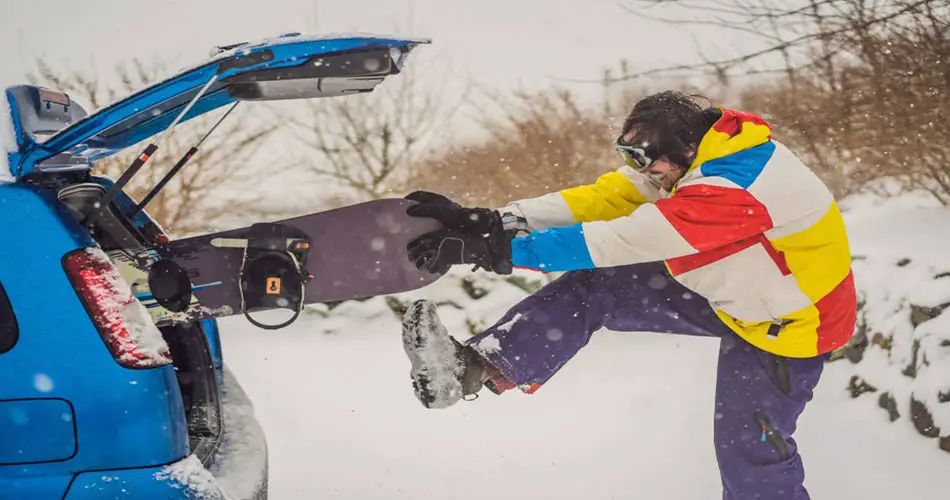 Cons of Using a Car Ski and Snowboard Rack
As we said, everything to a ski car rack isn't just a benefit. Here are a few of the cons to consider.
It takes time to install the rack on your car, plus the attachments
Some people argue their boards and skis are safer inside their cars
Time is saved by just throwing a single board in the back of a car
Solo riders don't save as much space and time
Not much benefit if you don't ski or snowboard often.
It is important to think how much you will use it because if you are just a casual skier or snowboarder, going less than four times a year, maybe you don't need a rack. Alternatively, you might mountain bike as well in the summer and therefore you could be using a car rack almost year around.
What Are Some Good Ski and Snowboard Vehicle Rack?
There are two major brands that make ski and snowboard vehicle racks. Thule and Yakima are the higher-end brands and then there are a lot of lower-end brand copycats. With a brand like Thule or Yakima, they stand behind their products and are industry tested. The smaller brands are not so much.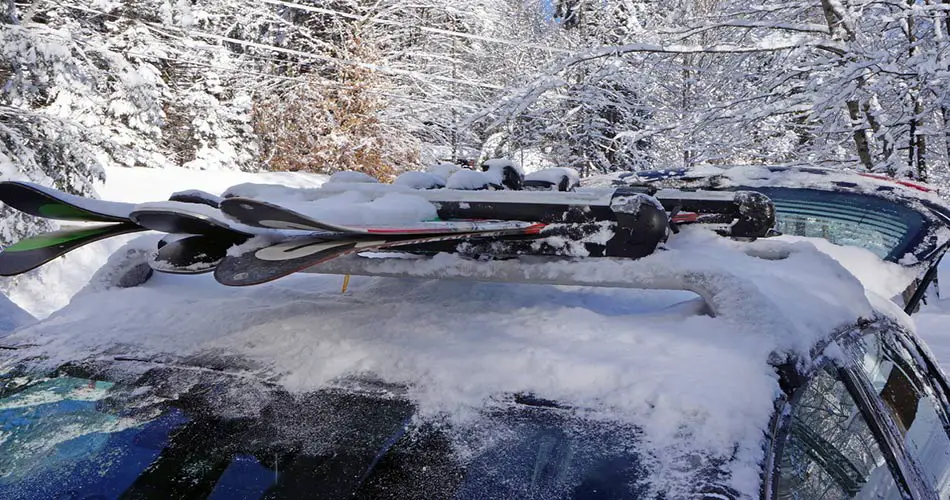 Entry Level Ski Rack
Tyger Hitch Mounted Rack
The Tyger hitch-mounted rack is a good option if you have a study car or truck. It is quick to install and can hold 6 pairs of skis or 4 snowboards. For most people headed to the ski resort, that is going to be plenty! It is not the most aesthetically pleasing but it gets the job done.
One of the drawbacks is unlike other roof racks, this plug-and-play system can't be used for a mountain bike or kayak in the summer. Considering that, it does a great job in the winter but you would be storing it away in your garage for half of the year.
Mid Tier Snowboard and Ski Rack
Rhino Rack Ski and Snowboard Carrier
You will need the base Rhino Racks on your car before installing the Rhino Rack ski and snowboard carrier attachment. Just like a Thule or Yakima, Rhino Racks makes about three different roof rack bars to choose from. Then you add the attachments.
While this is a bit more expensive, it is a better looking and more functional system. With a little bit of time, you can swap your winter attachment for your summer attachments and leave on the same base roof rack bars.
One nice thing about Rhino Raks is their feature to fit your vehicle online for a roof rack. While the other big guys have this as well, it is something to take advantage of.
This rack is similar to the hitch rack in that it can also hold 6 skis or 4 snowboards. It certainly looks better than the hitch rack and the attachment even comes with locks so your gear is secure.
High-End Ski and Snowboard Vehicle Racks
Yakima FatCat Evo 4
Do you want something not as big and very aesthetically pleasing? If so, you are in luck with Yakima's FatCat Evo 4. Essentially this low profile rack can carry two snowboards or four sets of skis. It might not be the family solution but it can work for couples or friends.
The FatCat Evo 4 still needs to be installed on a base set of Yakima roof racks as this is just an accessory. It is a little pricer but you can count on the year after year use.
If two snowboards just isn't enough, Yakima also makes the FreshTrack 6 which can carry four snowboards or six pairs of skis. Often that is plenty for the family and maybe even a friend to hit the mountain. Both of the Yakima racks are awesome options for a ski and snowboard car rack.
Thule SnowPack
The Thule SnowPack is a classic skir and snowboard car rack. You aren't going to hit a big ski resort parking lot in the winter without seeing one. As you might already know, Thule is one of the best names in car racks. So what is the SnowPack?
Well, the Snowpack roof rack comes in different sizes to hold 4 or 6 pairs of skis. The large model is the best for fitting boards.
The last thing to know about Thule is the SnowPack Extender is best ski and snowboard roof rack for SUVs or any vehicle where you want easier offloading. It fits in all your skis or boards but is a little easier to take off than the normal SnowPack. Pairing the Snowpack with one of these SUVs makes for a dynamite combo when heading to the ski resorts.
Are we a little biased towards Thule? Sure, but if you have been using their racks for years like us without problems, wouldn't you be too?
If you decide the SnowPack is the best ski and snowboard rack for your vehicle, it is always best to order direct from Thule and you'll get the Thule guarantee.
Read More: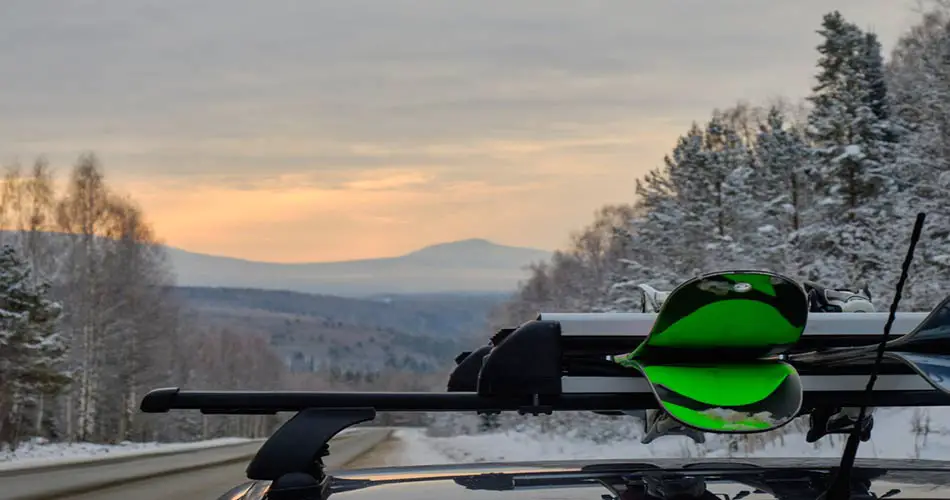 Final Thoughts: Narrowing Down the Choices
Go back up to the pros and cons to really look at some of the things we have noticed by owning a ski and snowboard rack ourselves. At the end of the day, it comes down to how many skis or boards you have and how often you go to the mountain.
If you go a lot, then it probably makes sense to get a good rack system. For those who just aren't there yet then ask if yourself if it really makes sense. Best of luck and we will see you on the trails!