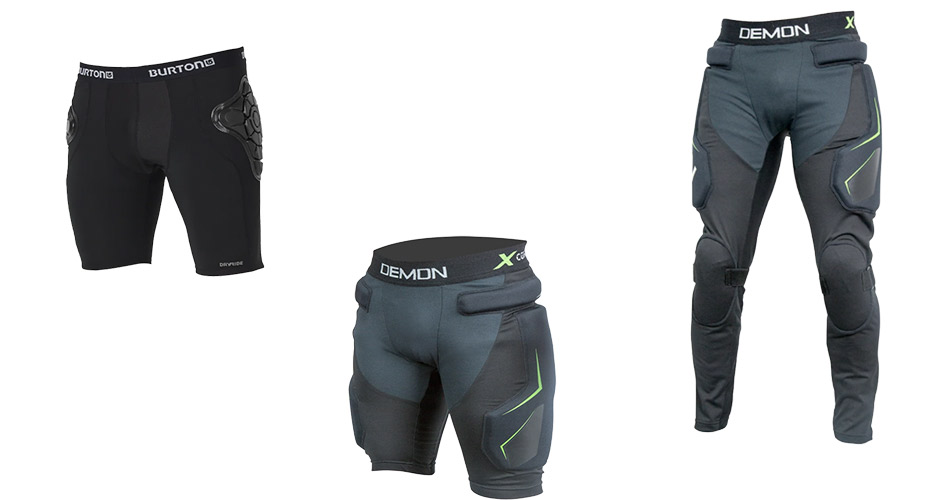 What Are Snowboard Impact Shorts
Snowboard Impact Shorts are designed to offer protection against the impact of snowboarding, especially falls. Falls can happen from beginner to advanced riders.
There are two types of snowboard impact shorts: shorts and crash pants. Shorts usually go up to the hip, while crash pants go all the way down to the ankle like leggings. The padding in snowboard impact shorts is placed on the hips and lower back, where most of the impacts happen during a crash.
Why You Need Snowboard Impact Shorts
Have you ever taken a fall snowboarding? If you have, you'll know the bruised tailbone and hips feeling. Impact shorts provide protection because they are made with a thick layer of material that is designed to reduce the impact of falls. All while they are stretchy enough for comfort and mobility.
Snowboard impact shorts are a must-have for any snowboarder. They provide the perfect balance of protection and mobility, which is essential for a rider's safety. You can save yourself from having to take days off of riding by just wearing the correct protective gear.
Snowboard Crash Pants vs Snowboard Impact Shorts
In snowboarding, there are two different types of lower body protection – snowboard crash pants and snowboard impact shorts. The primary difference between the two is that snowboard crash pants are designed to offer protection from a crash. They are also full-length. Impact shorts are for falls more to the butt and hips. For most people, the shorts are plenty to wear as a base layer.
Let's dig deeper to compare the two types of snowboarding leg protection.
Snowboard Crash Pants:
Designed to offer protection from a crash
Full-length pants with extra padding in the knees and hips
More expensive than Snowboard Impact Shorts
Snowboard Impact Shorts:
Not as bulky
Cheaper than crash pants
Less protective solution to crash pants
Are Snowboard Impact Shorts Good For Beginners?
Snowboard impact shorts offer a lot of protection for beginner snowboarders. They are not just for terrain park riders. Beginner snowboarders will get some of the most advantages in wearing impact shorts because they are bound to fall when learning. You may know, if not, you'll be surprised how much you can fall as a beginner.
There are many different brands to choose from, so it is important to find the one that best suits your needs.
Key Takeaway: All beginners should be wearing a pair of impact shorts. You will fall as a beginner.
Preventing Snowboard Injury with Impact Shorts
Try falling on an icey slope onto your butt or hips without impact shorts and then with impact shorts. It is like falling on concrete sometimes. While most snowboard injuries are wrist injuries, bruised hips and butts are very common, especially for beginners.
All it takes to help prevent snowboarding injuries is having the right gear in the first place. Impact pants are worth the price when you fall and if it saves you from medical bills later. Don't think it can't happen, it is a dangerous sport!
What Are Good Snowboard Impact Shorts: Two Brands Compared
Burton Total Impact Shorts
With protection where you need it, Burton Total Impact Shorts won't fail you on the mountain. Wear them like a pair of boxers and you won't notice them flying down your favorite trail or over a jump in the park.
They are tight enough to where they won't shift around but they also won't constrict your riding. If you are riding multiple days then you might want to have two pairs so you can swap them out. Otherwise, you might be wearing the same sweaty impact shorts on the second day. For a bit of peace of mind on the slopes, Burton gets the job done with their impact shorts.
Demon X Connect Snow Snowboard Impact Shorts
The X Connect Snow Impact Short by Demon provides big impact protection when it is needed. It is a must more robust snowboard impact guard for the butt and hips. The pads are thicker than the Burton shorts but the mobility is still there.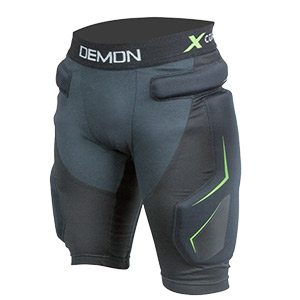 For most beginners, the Burton shorts will be just fine but if you are riding steeper slopes or terrain park features then Demon is the way to go. With Demon Impact Shorts, you are getting more bang for your buck. Pair it with some of their upper body snowboard protection and you can really ride safe on the slopes.
Bonus: Demon X Connect Snowboard Crash Pants
Want total snowboard impact padding? The Demon X Connect crash pants are a different level of leg protection. Unlike the shorts, the crash pants extend padding down to the knees. If you end up catching a back edge and falling on your front then the knee pads can be a saving grace. They are also a lifesaver when progressing up to larger jumps and practicing on park rails.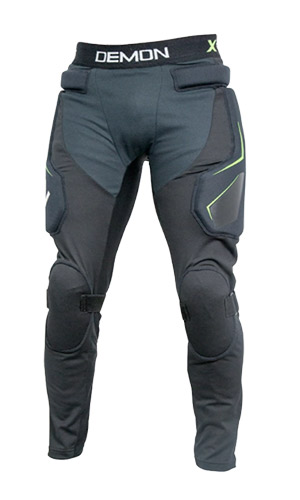 The crash pants come in around the same price as Burton's shorts. Ask yourself –
What type of trails of parks will you be riding?
How much protection do you need?
Once you can answer those questions, you'll be in a good spot to determine if you need crash pants or impact shorts.
Final Thoughts
When learning to snowboard, you can have a lot of impact on your body. At least take the steps to protect yourself since it is available to you.
This is why snowboard impact shorts are such an important piece of equipment, now more than ever. 10 years ago, impact shorts weren't popular and no one was wearing them. Now, they are easy to get and an essential piece to many snowboarder's kits to improve their on mountain safety. Join the rest and ride safe!