Updated August 27, 2023 by Brianna Lee. This post contains affiliate links at no added cost.
Have you ridden a ski lift on a day without a neck gaiter? You can probably remember that cold, stinging wind smashing your throat and mouth. Fortunately, if you get a few neck gaiters then you'll never have that issue again when skiing. If you are riding with a bandana then a neck gaiter is a must for skiing. Let's look at 6 that we'll be wearing on the slopes.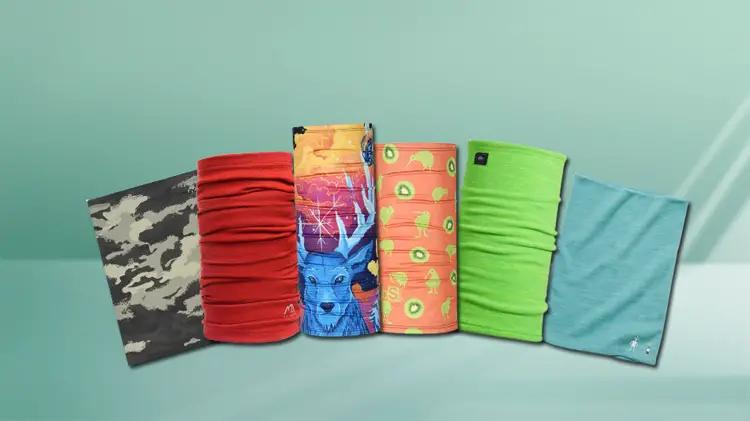 The Top Neck Gaiters for Skiing
Warmest Neck Gaiter: Smartwool Merino 250 Neck Gaiter
100% Polyester: Oakley Neck Gaiter
Want a Crazy Pattern?: BlackStrap The Therma Tube
A Solid Back-Up: Merino.tech Wool Neck Gaiter for Skiing
For Kids: BlackStrap The Kids Therma Tube
Honorable Mention: Turtle Fur Neck Gaiter
What to Look for in a Good Neck Gaiter for Skiing
Neck gaiters serve 3 purposes, keeping the wind off your face, keeping the snow out and helping you stay warm. Two things that are important in a good neck gaiter are the material and the fit. Here's what to look for when comparing a bunch of neck gaiters.
Comfortable Material
Merino wool is often touted as one of the most comfortable neck gaiters and it's also water-resistant. Unlike other fabrics, Merino wool can get wet and still keep you warm. We often opt for a Merino wool neck gaiter when skiing but there are a bunch of other materials to choose from.
Warmth
A neck gaiter doesn't need to be burning hot but it should keep you warm on those powder days. A medium-weight merino wool is a good starting point for most ski days. If it is abnormally cold then step up to a heavy-weight neck gaiter. When spring season rolls around, you can break out the lightweight neck gaiters. Lightweight neck gaiters still help with the flurries and wind in the spring season.
A Decent Fit
Proper fitting ski neck gaiters should sit around the bottom of the neck and fit from the jacket, up over the mouth. They shouldn't be too tight but should fit comfortably and shield from the UVs on bright day. You don't want your neck gaiter choking you out all day so get one that fits properly!
1. Smartwool Merino 250 Neck Gaiter
Keep your neck warm when skiing with Smartwool's Merino 250 neck gaiter. What it lacks in color selection, it's made up for in warmth. Don't worry about the big blizzard, merino stays warm even when it gets wet.
Coming in as a mid-weight merino wool, the 250 neck gaiter will get you through November to February skiing. After that, you may want to switch to a lighter-weight neck gaiter or less-dense merino wool gaiter.
Material: 100% merino wool
Pros:
Warm when wet
Good length – 10 inches
Very warm
Cons:
Limited colors
Might be too hot for some people
2. Oakley Neck Gaiter
Oakley almost needs no introduction. Their quality shines in full force with their neck gaiter. You can check off comfortable, warm and well fitting with this neck gaiter. While black matches with just about any ski outfit, hopefully you aren't looking for another color. It's one size fits all and one color appeals to all with the Oakley TNP neck gaiter.
You can't go wrong with Oakley and surely not with their neck gaiters. Throw one into your kit even if it's your spare.
Material: 100% Polyester
Pros:
Quality brand name
Keep off the stinging wind
Cons:
Paying extra for the name brand
Limited colors
3. BlackStrap The Therma Tube
Chances are if you see a crazy neck gaiter on a skier than it might be a BlackStap The Therma Tube. These neck gaiters not only look cool when flying down the slopes but they have excellent UPF 50+ integrated into the fabric to protect from 97.5% of the bad UV rays.
Coming in more than 15 patterns, there is not excuse to not be able to find one you love.
Pros:
Lots of choices in colors
Warm
Breathable
Cons:
One size fits most but can run a bit large for some
4. Merino.tech Wool Neck Gaiter for Skiing
With 15 colors, Merino.tech has a bunch of choices to match their neck gaiter to your ski clothes. Their merino wool neck gaiter is ultra-soft and anti-bacterial. It is also one of the longest neck gaiters on the list coming in at 25" long. If you want a long-neck gaiter then this is the one!
Material: 100% merino wool
Pros:
Plenty of colors to choose from
Long design
Anti-bacterial
Cons:
5. BlackStrap The Kids Therma Tube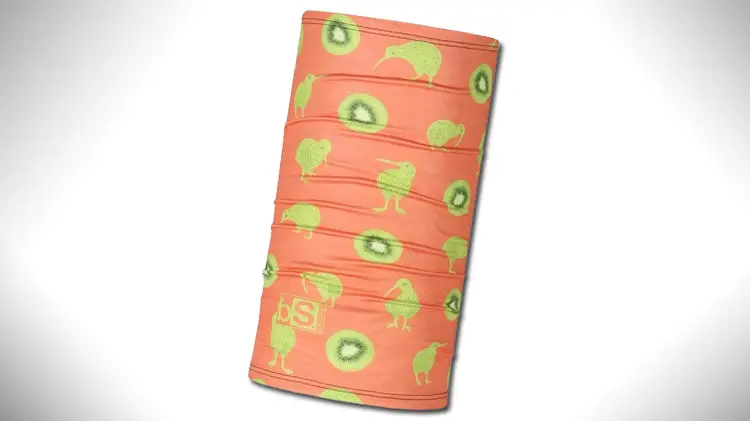 10 choices of sweet designs will keep the kids happy on the slopes with BlackStrap's kids Therma Tube. Just like the Therma Tube for adults, BlackStrap delivers again for young skiers. Wrap it up or stuff a stocking because the kids Therma Tube is a must for any young skiers.
Keep them warm on the slopes and put a smile on their face with these cool designs at the same time!
Pros:
Lots of choices in colors
Warm
Breathable
Cons:
Could possibly grow out of the size eventually.
Recommended Reads:
6. Turtle Fur Neck Gaiter
Turtle Fur! Don't worry, that is just the brand name and not the material. The Turtle Fur neck gaiter is a beast when it comes to the sun, snow and windburn. The fleece is heavy weight and will keep you warm with whatever is thrown at you on the slopes.
Material: Fleece/ 53% recycled polyester
Pros:
Keeps the wind off
Great for sunny days
Cons:
How to Wear a Neck Gaiter for Skiing
To wear a neck gaiter for skiing, make sure you put it on before putting on your ski jacket. The optimal amount to pull the neck gaiter up on the front of the face is covering the nose. On the back of the head, the neck gaiter will come up just below the goggle strap of your ski goggles but wait, there's one more thing to know!
Make Sure You Avoid This When Wearing A Neck Gaiter Skiing
If there is one thing every skier should know about wearing a neck gaiter, it is to not tuck it into your goggles. For foggy goggles, tuck your neck gaiter into your goggles. You don't want that! No one does. Keep it just below your goggles and you'll avoid some serious ski goggle fog.
Final Thoughts on Neck Gaiters for Skiing
Ask yourself if you want your face to be cold when skiing or not? If you don't, a neck gaiter is one of the simple solutions for keeping your face warm when skiing. We don't ski without them so why would you? Make your day on the slopes more enjoyable and get yourself a few neck gaiters. Don't forget to get a crazy-looking one to keep things weird too!