Ladies and gents, get ready to shred down the slopes with some seriously sweet ski comparisons! With so many options on the market, choosing the right ski can be a daunting task. But fear not, we've got the inside scoop on the best of the best. K2 vs. Salomon, who will come out on top? It's time to find out!
Performance, stability, and versatility are the key factors in determining the perfect ski. So whether you're a beginner, an advanced rider, or just looking for a good time, we've got the ski for you. Let's see if K2 or Salomon takes the crown in this uphill battle!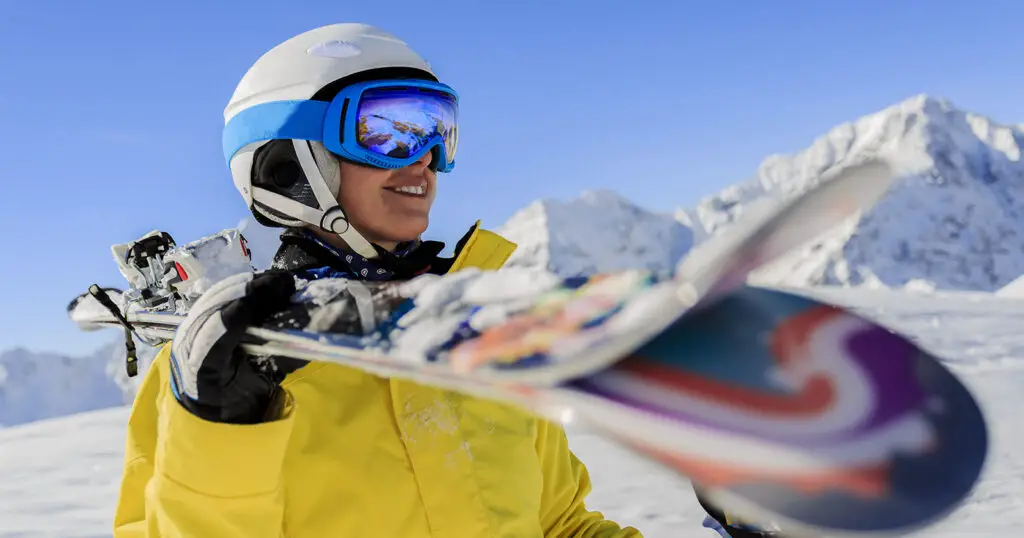 K2 Skis– A Quick Background on K2
When it comes to skiing, K2 is a name that always pops up. And for good reason! These skis are versatile, stylish, and packed with performance. But don't just take our word for it, let's dive into the pros and cons of K2 skis and find out why they're a fan-favorite on the slopes.
First up, the pros! K2 skis are known for their versatility, meaning they can handle any terrain you throw at them. From the park to the powder, these skis won't let you down. And let's talk about style, because who doesn't want to look good while they shred?
K2 has got you covered with skis that are not only performance but also make a statement on the mountain.
Now for the cons, and trust us, there aren't many. K2 skis can be on the heavier side, but hey, with all the performance packed in, it's worth it. And while they may not be the most responsive skis out there, they more than make up for it in stability.
Plus, with so many different models to choose from, you're bound to find one that fits your specific needs.
So there you have it, the pros and cons of K2 skis. Whether you're a seasoned skier or just starting out, K2 has got you covered with performance, style, and versatility. So what are you waiting for? Get out there and shred with K2!
Read More:
7 Cool Gadgets for Skiing | 3 Must-Have Gadgets When Skiing
Which K2 Skis are Good?
K2 Mindbender: The K2 Mindbender ski has a medium-width waist which makes it a great all-mountain ski, as it can handle everything from groomers to fresh powder. The ski's rockered tip and tail allow for effortless turns and improved float in soft snow.
Additionally, the ski's carbon backbone gives it added stiffness and stability, making it an ideal ski for intermediate to advanced skiers. The K2 Mindbender is also one of the most reasonably priced skis in its class. It offers excellent value for money and is a great option for skiers on a budget who want a high-quality ski without breaking the bank.
K2 Dispatch: The K2 Dispatch is a highly versatile and affordable ski designed for intermediate to advanced skiers. It's made for all-mountain skiing and is equipped with a directional twin shape, making it ideal for both groomers and off-piste skiing. The ski is also quite stable, with a stiff flex that provides good support, even at high speeds.
However, it may be a bit heavier, making it less responsive and less ideal for technical, quick turns. But if you're looking for a ski that can handle a variety of conditions, the K2 Dispatch is a great option.
Read More:
Helly Hansen vs Spyder: Which Ski Brand is Right for You?
Salomon Skis: What You Need to Know
Salomon is a French ski brand that's been slaying the slopes for over 75 years. With its innovative design and cutting-edge technology, Salomon skis have become a staple for many skiers around the world. Let's dive into the pros and cons of this French brand.
On the plus side, Salomon skis are incredibly responsive and precise, making them perfect for carving up the mountain. They're also incredibly lightweight, which means you won't be dragging heavy skis around all day. This makes Salomon skis a great choice for those who want to focus on speed and agility.
On the downside, Salomon skis can be a bit more expensive than other brands, so you'll need to be prepared to invest a bit more for quality. Additionally, some skiers might find them to be a bit too nimble, so if you're looking for a more forgiving ski, Salomon might not be the best choice for you.
Despite the cons, Salomon skis are a solid choice for skiers who are looking for responsive, precise, and lightweight skis. So, if you're looking for a ski that will help you dominate the slopes, look no further than Salomon!
Which Salmon Skis are Good? (A Few to Look Out For)
Salomon Stance: The Salomon Stance is a versatile all-mountain ski that is designed for skiers of all levels. It's built with Salomon's proprietary Energyzer camber, providing skiers with added pop and energy with each turn.
For added precision, the Stance is equipped with a flat tail, making it easier for skiers to control their speed and maneuver through the slopes. This ski is also designed with a powerful and stable platform, making it easier for skiers to carve and hold their line through turns.
Salomon QST: The Salomon QST is a popular ski model from Salomon that boasts a strong all-mountain performance. The QST features a medium-stiff flex rating, making it a great choice for intermediate to advanced skiers who want a ski that can handle a variety of conditions and terrains.
The ski's lightweight construction provides quick and responsive handling. The QST is also equipped with Salomon's Spaceframe technology, which enhances the ski's strength and stability.
Overall, the Salomon QST is a great choice for skiers who want a ski that can handle anything the mountain throws their way and perform with style and confidence.
Drum roll… Which is the Winner?
Trying to choose between K2 and Salomon skis is tough. But don't fret, we got you. Lighter than air and responsive like a sports car, Salomon skis may just be your dream date if you're super advanced. But for the majority of skiers out there like us who already pay through the nose for season passes and gear, K2 skis are the champion in our showdown!
They won't break the bank but still give you the versatility you need on the mountains. So, grab your wallet, hold on tight, and let's go skiing with some serious K2 skis that'd make you king of the mountain!
Salomon vs K2 Skis – Final Thoughts
In the end, finding the perfect ski is a journey that requires careful consideration of your individual needs and preferences. The right ski should fit your style and level of experience like a glove, providing the ideal balance of comfort and performance. So, don't settle for a ski that's just "meh."
Take your time, research different options, and choose wisely. Whether you prefer the affordability and versatility of K2 skis or the lightweight responsiveness of Salomon skis, never stop searching until you find the ski that will bring a smile to your face every time you hit the slopes.