Let's face it – buying gifts for the friends and family in your life is never easy. However, if you're reading this you've found yourself in a lucky predicament! Buying skiing gifts for a dad's birthday is some of the easiest shopping you can do. With an endless amount of options, both big and small, you're guaranteed to find something that dad will not only love but also use throughout the entire winter season.
This list will cover 11 of the top ski gifts you can purchase for your father's birthday. From off-slope winter clothing and accessories to gear that's best enjoyed up on the hill, you're bound to find something that's right for any budget.
Gifts for the Casual Skiing Dad in Your Life
Does your father's skiing style align with that of a weekend warrior who prefers cruising long groomers and taking extended beer breaks? If so, buying top-of-the-line equipment might not be necessary. Stick to some basic accessories and items that can be used on and off the slopes instead. You won't have to break the budget, and your dad will still get plenty of use out of it. Let's check out some of the top options. We may get a small commission if you pick one of these gifts.
1. Wall Ski Hanger for the Home or Man-Cave
No décor brings more personality and uniqueness to a skier's space than a wall hanger for all their skis. If your father has got himself a quiver of prized skis with nowhere to put them other than storage, a wall-hanging ski rack could be the perfect birthday gift idea.
Not only will it make a centerpiece of conversation for all his friends that come over, but it also makes grabbing his skis a breeze. Simply set it up by the door or in the garage and slide them into the vehicle. No clumsy fumbling through storage required! After a wet powder day up on the hill, hang them back up so that they're all dry for the next adventure.
2. Crocs Clogs for Easy Village Walking
Every skier knows the pain of walking through a cobblestone village or gravel parking lot with their ski boots on. Extremely clumsy and downright painful, the best option for remedying this is to invest in some lightweight, comfortable shoes to wear until you get up to the main lodge or gondola. Once up there, simply slip them off, pack them away into a locker or discrete location, and strap on your ski boots.
Crocs Clogs are the perfect choice for this. Super lightweight, flexible, and water-resistant, you'll be able to get your ski boots on in no time at all. You can even go for an insulated option to keep your feet warm on the walk back to the car. The best part? Clogs are generally affordable so you can feel alright about leaving in a tucked-away location if paying for a $20 locker isn't your thing.
3. Snag a Cozy Flannel Shirt from REI
Not every skiing gift has to be used exclusively on the mountain. With a warm flannel from REI, your father can choose to wear it on or off the slope. The variety of color and pattern options are sure to meet any personality, and he'll be getting a quality flannel will last you many years of use.
Unless your dad is skiing in some frigid temperatures, most people just rock a shell jacket. These can be quite cold on those early morning laps, and flannels are a great underlayer. Once the sun comes out, your father can feel free to ditch either for cooler laps. A stylish flannel also makes the perfect apres-ski outfit for those end-of-the-day craft brews.
4. Yeti Coffee Thermos for Those Early Morning Resort Drives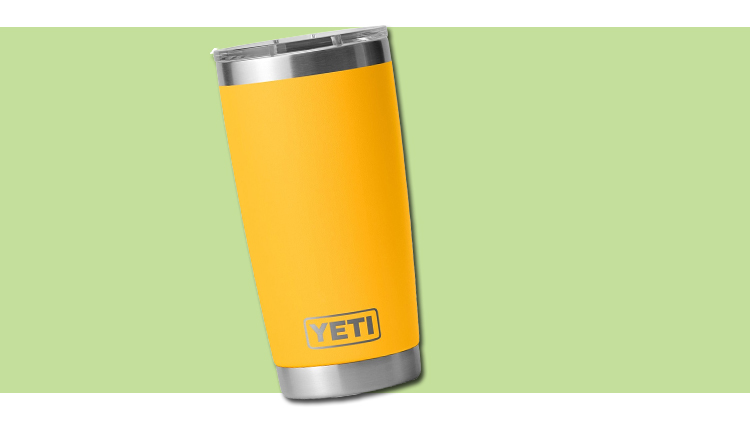 It's no easy task getting up in the wee early hours of the morning to secure the first chair. The best companion for these trips always has been, and always will be – coffee. If your father is a coffee or tea drinker, he'll greatly benefit from having a quality thermos to keep his beverage warm on the drive up to the hill.
Yeti makes a quality product that's guaranteed to stay warm for the duration of your trip. With a diverse selection of color and sizing options, you're sure to find something that he'll enjoy. Although a bit on the higher cost end of the typical thermos, a Yeti will perform for years to come, and your dad will think of you every time he takes a sip.
5. Heated Rechargeable Socks for Cold Powder Mornings
Heated socks are one of those things that always seem like an unnecessary expenditure. At first glance, they're almost a luxury that has no place on the ski hill. All it takes is just one run with them on a cold, below-freezing morning and you'll be sold on their comfort and functionality.
There are countless options out there for this kind of sock, and it's a gift that your dad will truly appreciate. With removable batteries for charging, as well as USB charging options, these socks will be ready to go day after day.
6. New Oakley Shades for On and Off the Slopes
If style is something your dad is always after, you can never go wrong with some sleek Oakley sunglasses. These are perfect for on and off the slopes. While goggles are the traditional choice for skiers up on the mountain, there's something about a well-fitting pair of sunglasses that expresses the ultimate amount of steeze and confidence.
If you're going for sunglasses that will be worn while skiing, there are a few features to keep in mind:
Visibility: Make sure the lens is wide enough to adequately block out the glare of the snow.
Durability: If you buy something geared more towards fashion than functionality, you risk damaging the shades on a nasty fall.
Straps: If your father plans on doing some hard bouncing mogul runs, you might want to invest in some shades that have a back strap so that they don't fall off while bombing the slopes.
Is Your Dad a Powder Junkie? You Might Have to Splurge…
Instead of being a weekend warrior, maybe your father is just a little more obsessed. Are you used to waking up at 4 am just so you can stand in line for two hours to secure the first tracks? And once you're up there, does being left behind to follow his tracks through tight glades ring a bell?
If you answered yes to either of these questions, you're dealing with a powder hound. For a ski dad like this, you may want to consider getting him some gear that he'll truly appreciate and put to work.
7. Invest in Some Tech with a Garmin Fenix Smartwatch
The days of paper trail maps are over. If your dad is tech-savvy, consider getting him a smartwatch with built-in trail maps features for his upcoming birthday. While expensive, this is a great gift that will serve its purpose on and off the mountain.
You and your father will never have to sit down and take an interrupting break the next time you go just a little too far off-piste. The Garmin Fenix will easily guide you back on course with its database of thousands of popular ski resorts. Once the season is over, you can even use this watch for hiking and backpacking, giving you the same peace of mind you need while out on the wooded trails. If you aren't a fan of Garmin, here are 4 other skiing watches as well.
8. How About a Splitboard?
If your dad is a true powder junkie and enjoys backcountry skiing and riding, purchasing a splitboard is a gift he'll never forget! While certainly expensive, a splitboard will give him years upon years of off-piste pleasure, and the functionality is tough to beat. No more choosing to strap up the skis or boards when you can have both. He can get a bit of skiing and snowboarding with a splitboard.
While splitboards may not be best utilized at a ski resort, there's truly no better option if you're going off into unmarked terrain. Your dad will be able to seamlessly traverse and scale difficult terrain without having to carry up a heavy snowboard on his back. Once he's reached the summit, there's no better feeling than switching over to a snowboard and taking long, screaming carves down an untouched mountain face.
Every main snowboarding brand now offers splitboarding options, so you're sure to find one that will fit the budget. Online marketplaces are also an incredible resource for finding used gear, especially if you live near a bustling ski town.
9. Don't Skimp Out on the Avalanche Gear
Along with purchasing a splitboard, avalanche gear is one of the perfect skiing gifts for a dad's birthday if he likes taking his skiing into the backcountry. In fact, having an avalanche kit is an absolute requirement for a safe descent. Countless gift options make a great addition to an avalanche kit, so let's check out some main components:
Avalanche Transceiver: Also known as a beacon, a transceiver is a device that continuously emits a radio signal while backcountry skiing. Should your dad get stuck in an avalanche, his companions will be able to switch their beacons to search mode so that they can accurately locate him under the pile-up.
Avalanche Probe: This goes hand in hand with the receiver. A probe is essentially a long foldable stick that can be extended to locate an avalanche victim's location under the snowpack. Make sure you know how to use it before going on your first trip.
Compact Shovel: Once the victim has been located, the avalanche shovel is essential for digging them out.
Along with avalanche gear, another fantastic gift option is to pay for avalanche courses! Most popular ski resort towns will have classes available by certified professionals. This is truly the best way to make sure you and your father are prepared for your backcountry skiing endeavors.
10. Skiing Multitool for Quick Repairs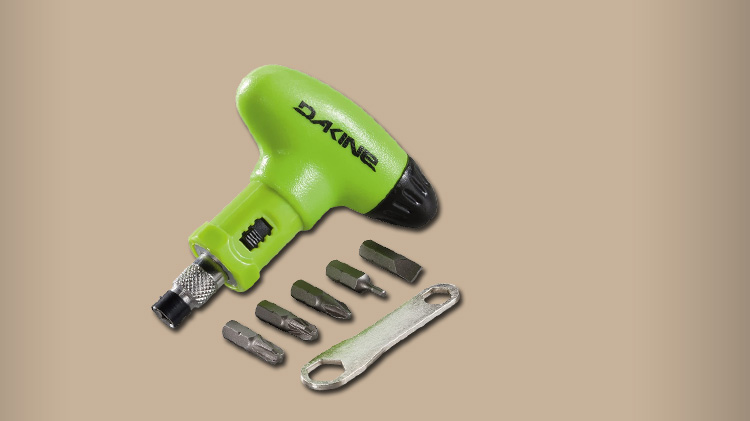 No one enjoys running into a technical difficulty while up on the slope. While there are often tool benches located at the top and bottom of lifts, this is never guaranteed. When they are there, these benches always seem to lack the one specific tool or drive bit you're looking for. How do you remedy this? Bring your own compact multi-tool.
A typical Leatherman makes a perfect option for most of your needs out on the slopes, but if you're looking for something a little more directly geared towards skiing, consider getting a portable torque driver from Dakine. These tools easily fit in the palm of your hand, are very lightweight, and carry just about every bit and screwdriver accessory you'll need to make a quick repair slope side.
11. Hydration Packs for those Long Days Without Breaks
Sometimes the snow is simply too good to take any breaks. If your dad likes to hit the slopes from 9-4:30, pack his own lunch, and use the chair lift as his only break for the day, packing enough water to fuel this can be a challenge. That's where a hydration pack comes in.
A hydration pack can easily fit underneath all your dad's winter gear, and with a convenient drinking tube, he won't have to stop for anything. Most of these packs hold between 2 and 3 liters are water, so your father will truly never have to stop, save for that midday IPA purchase. Hopefully, you can keep up!
You Can't Go Wrong with These Skiing Gifts for Dad
It doesn't matter if your dad's birthday falls in the middle of summer or the depths of the winter season, buying a skiing-related gift is something you can't do wrong. Whether he gets to put it to good use immediately or must wait a few months, he'll be thrilled at the thoughtfulness you put into one of his favorite hobbies.
So, what will it be this year? A new, outdoorsy flannel or a complete avalanche safety kit? Only you can decide that, but we guarantee he'll be beyond stoked no matter what you choose to buy.