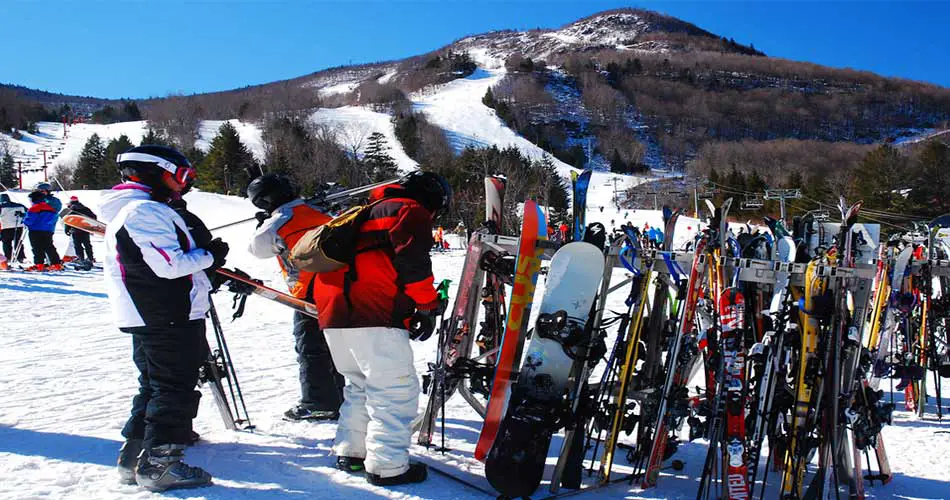 The closest big ski mountain to New York City, Hunter Mountain has long been a favorite ski destination in the Northeast. First opened in 1959, the ski area is located in Greene County north of NYC, in the heart of the Catskill Mountains.
While Hunter was independently owned and operated for decades, it is now part of the expansive Vails Resorts group of ski resorts which includes Vail, Keystone, Breckenridge and Beaver Creek in Colorado, Heavenly at Lake Tahoe, Park City in Utah, Whistler Blackcomb in British Columbia, and some smaller ski areas scattered around the U.S.
Hunter offers challenging downhill ski and snowboard hills, freestyle terrain parks, as well as an exciting tubing hill. While not offered at Hunter Mountain, cross-country skiing and snowshoeing are available nearby.
How to Get to Hunter Mountain
Just a 30-minute drive west of the New York State Thruway (exits 20 & 21 depending on which direction you are coming from), Hunter Mountain is two and a half hours from the heart of New York City, and just an hour and 15 minutes from the Capital District of Albany/Schenectady, N.Y. Binghamton, N.Y. and Syracuse are just two and three hours away respectively. Hunter is also very popular with skiers from Long Island and Northern New Jersey.
Hunter Mountain Ski Area Stats
Highest Trail Elevation: 3,200 feet (Hunter Mountain's summit: 4,040 feet)
Base Elevation: 1,600 feet
Vertical drop: 1,600 feet
Ski Area: 320 acres
Number of trails: 67 (34 miles total)
Longest run: 2 miles
Number of lifts: 13 ranging from double, triple, quad and even two 6-pack high-speed lifts. A carpet and pony lift serves the smallest hills.
Trail Types: Beginner, 25% ; Intermediate, 30%; Advanced, 30%; Expert, 15%
Is Lodging Available at Hunter Mountain?
For a very small town with a permanent population of just 2,800, Hunter N.Y. has a lot of places to stay within minutes of the slopes. Kaatskill Mountain Club offers deluxe studios, as well as an array of one-bedroom units.
Both Liftside and Pinnacle Condos are made for larger groups and longer stays, with a choice of one, two and even three-bedroom units complete with kitchen, dining area, living room and decks with great views.
"There are literally dozens of motels, B & B's, guest houses, lodges, cabins and spectacular private homes available for rent within minutes of the mountain."
In addition to the above properties, there are literally dozens of motels, B & B's, guest houses, lodges, cabins and spectacular private homes available for rent within minutes of the mountain.
Did Someone Mention Food?
While no one can guarantee bright sunny days and perfect powder on the slopes, rest assured that you will not go hungry while enjoying Hunter Mountain Ski Resort. With more than a dozen food spots and more in the planning, the eating choices are spread out nicely throughout Hunter so that you're never far away from some satisfying grub. Check out these options:
Pika's Waffle Cabin: Slopeside
Marketplace: Base Lodge Food Court
CopperTree: West End Base Lodge
Jerry's Deli: Base Lodge
Santini's Pizza: Base Lodge
Is There Night Skiing at Hunter Mountain?
Hunter Mountain does not offer night skiing. Daytime ski hours are Monday-Friday from 9 a.m. to 4 p.m. Weekend and holiday hours start 30 minutes earlier, at 8:30 a.m., however, be sure to check if these times have changed before making your plans. Holiday periods are Thanksgiving weekend, December 26-31, MLK Birthday weekend and President's Day weekend.
When is the Best Time to Visit Hunter Mountain?
As is the case with any ski area, weekdays are less crowded. This is especially true for Hunter Mountain, as it is the most popular snow mountain for the New York City area, and beyond. With so many people living just two or three hours away, weekends have been known to be crowded at times. However, with the recent expansion to 320 skiable acres, added lifts and the widening of many trails, some of the busiest times during the weekends and holidays should be more manageable.
Keep in mind that if you are renting ski or boarding equipment, you can pick it up after 3 p.m. the day before you hit the hills, allowing an early start the next morning when crowds are thinner.
Is There a Ski Shop that Sells, Tunes & Repairs Equipment at Hunter Mountain?
When you're at Hunter Mountain there's no need to shop anywhere else. The Hunter Mountain Expedition & Sports Center has it all, and then some. Top-notch equipment, clothing, gear and winter sports accessories are here in abundance. In fact, there's even a separate Board Room Snowboard Shop, proof that this boarders are important people, too.
Are you looking for new boots that were made just for you? Well, you're in luck as they also do custom boot molding here. Get the best fit imaginable across a great lineup of manufacturers including Atomic, Salomon, Lange, Nordica and Tecnica.
Does Hunter Mountain Rent Equipment?
Skis, boards, bindings, poles, boots and nearly everything else you need to make the most of your time at Hunter is available for rent. While helmets are not required, (but HIGHLY recommended) they are also available to be rented for the length of your stay. Helmets are NOT included in ski rental packages, so be sure to specify that you want one when making your advance equipment rental reservations. Reserve your rental equipment online in advance and save 20% off of same-day walk-in rates.
A Word to the Wise: While helmets are available without an advance reservation on a first-come basis, it is possible that there may not be enough of them to go around. Don't take a chance. Make an online advance reservation for all of your equipment needs, including a helmet.
You're visiting Hunter Mountain to escape from the stresses of daily life, right? So why not pick up your equipment the day before your downhill time begins? If you're planning a visit that includes an overnight stay, you can arrange to collect your rental equipment after 3 p.m. the day ahead of your first run down the mountain. And the best news is that with a late afternoon pick-up you won't charged for that day's rental.
Equipment pick-up is located at the Learning Center on Hunter East Mountain.
Lessons are available for purchase, too, for the novice skier and those who are looking to improve their skills. Private and group, child and adult instruction is offered.
For those skiers and boarders who already have their own personal equipment but need a tune-up from leveling your edges or want any nicks and cuts grinded out, Wintersteiger Mercury machinery is on-site and ready to fix you up.
Does Hunter Mountain Have a Terrain Park?
Hunter answers with a resounding YES when it comes to terrain parks. The Empire Terrain Parks are proof that freestyle ski activities are top-of-mind here. A full-time staff is laser focused on creating a terrain park experience for young and older alike, no matter what level of abilities you may have.
On Hunter Mountain's primary face is Park Avenue, full of rails, jumps, transitions and everything else a terrain park skier is looking for. Following this park you can move on to Park Avenue West, home to the freestyle events that are frequently happening here. Try it out for yourself when you're at Hunter!
How's the Tubing at Hunter?
At the base of Hunter Mountain, you'll find one of the biggest tubing hills in all of New York State. At nearly 1,000-feet in length, this family and individual fun activity requires no skill and will have you screaming and laughing during each run down the hill. An easy to manage lift, the "Magic Carpet", takes riders quickly back to the top for another exhilarating slide.
Single and double tubes are available for rent, and only Hunter provided equipment is permissible. Two-hour sessions cost $25 for one person, or $35 for an adult and one child. Children must be between 36" and 44" tall in order to ride with an adult. Kids under 36" are not permitted to ride on the tubing hill.
Important to Note: As the tubing experience at Hunter is extremely popular, reservations must be made at least 48 hours prior to your planned arrival date.
Does Hunter Mountain Make Snow?
Here's some more historical information about Hunter Mountain. Way back in 1980 Hunter Mountain became the world's first ski area to have the capability of making snow for all of its trails. In fact, they have been making snow here since the late 1960's. Hunter now has the capacity to cover one acre of land with a foot of snow in just one hour!
On average, Hunter gets about 85 inches of snow each winter season, so having the snowmaking equipment fired up and ready-to-go is the final assurance you need to know that your ski getaway can proceed as planned.
What Can You Tell Me About the Hunter Mountain Zipline?
New York Zipline Canopy Tours depart from the base lodge at Hunter Mountain Ski Area. A separate company from Vail Resorts, owner of Hunter Mountain, the zipline offers two different zipline tours high above the trees.
Both options ride the ski lift, one to mid-mountain and the other to the summit. The mid-mountain tour includes 6 ziplines, 4 suspension bridges and 9 tree platforms. Experience a zipline of 650-feet and a 65-foot rappel at the end. The incredible Skyrider tour features 5 ziplines over 4.6 miles with the longest being over a half-mile long and 600-feet above the valley floor.
Reach speed up to 50 miles per hour. This ride is definitely not for the faint of heart, but then again, is skiing?
Some Closing Thoughts
Countless kids from the streets of New York City and its suburbs had their first skiing experience at Hunter Mountain. But Hunter isn't just for city folks. People from all over New York State and Western New England come for a single day, weekend, or for several days as there is more than enough offered to keep any snow enthusiast on the go.
Skiing, boarding, freestyle terrain excitement, and an incredible tubing hill assure all visitors of a fabulous experience. There is an indescribable energy at Hunter Mountain that few ski areas offer. No matter if you are skiing solo, with a group of friends or your family, this is the place to be.
Explore More New York Ski Resorts