If you are easily intimidated by big resorts, then Thunder Ridge Ski Area is the place for you. It's a small mountain that is perfect for beginners and families. It is also affordable, friendly, and easy to get to!
Read on to learn how to get to Thunder Ridge, about their night skiing and the trails you can't miss.
Thunder Ridge Highlights and Stats:
Here are some quick facts about Thunder Ridge you are going to want to know before you go.
Trails: 22
Chairlifts: 3
Magic Carpets: 4
Night Skiing
Directions to Thunder Ridge
Thunder Ridge is located in the hills of Patterson, New York, and it is conveniently situated right off of Route 22. There is ample free parking available. And if you don't have a car, and you are coming from the city, that's no problem. Thunder Ridge offers a free shuttle from the Patterson train station. So, you can ride the Metro North (AKA the "Ski Train") from Grand Central Station right to the slopes! Here is an idea of how far some nearby cities are to the mountain:
Danbury, CT – 12 miles, 25 minutes
Poughkeepsie, NY – 25 miles, 40 minutes
New York City, NY – 65 miles, 1.5 hours
Philadelphia, PA – 160 miles, 3 hours
Thunder Ridge Lodging
Thunder Ridge is certainly not a resort-y place. This means there is no lodging at the mountain. However, there are rental properties on Vacation rental by owner that are quite close. Be sure to set your search for either Pawling or Patterson, New York.
Otherwise, you can look for hotels nearby in more populated areas like Brewster, NY or Danbury, CT.
Hotels Near Thunder Ridge
Here are some top hotels close to Thunder Ridge:
You can't go wrong with any of the above and frankly they are all great to get out of the city and have a ski weekend.
Hours of Operation
Thunder Ridge Ski Area opens at 10:00am during the week and at 9:00am on the weekends.
Thunder Ridge Night Skiing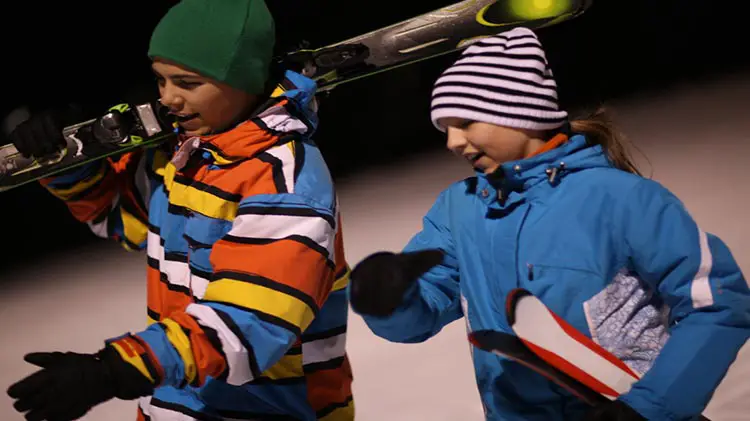 One of the best things about Thunder Ridge Ski Area is that it is open for night skiing. The mountain closes at 9:00pm every night except for Sundays when it closes at 5:00pm. The entire place is lit up and they even have two types of evening tickets available.
One is called the Twilight Ticket. It means you can ski from 3:00pm to close. And the other is called the Night Ticket which means you can ski from 5:00pm to close.
Fun Fact: If you go at night, you will probably catch a local ski team practice or even see a race!
Thunder Ridge Rentals
No gear? No problem. Thunder Ridge Ski Area has everything you need for a successful day on the mountain. You can rent all the gear you will need and if you forget your gloves at home, there's a shop for that right inside the main lodge, too.
Peak Seeker Pro Tip: You can reserve your rental equipment two weeks in advance. If for whatever reason Thunder Ridge cannot meet your rental needs, then be sure to check out Ski Haus. It is an excellent ski and snowboard shop just down the road from Thunder Ridge in Brewster, NY.
Ski & Snowboard Tuning
If your skis or snowboard have seen better days, don't worry. Thunder Ridge has a ski and snowboard tuning center. They can easily wax and tune your gear in no time so you can keep up with the best of them on the hill.
Thunder Ridge Ski Lessons
Thunder Ridge may be small, but their Snowsports School is mighty. They have one of the highest percentage of certified instructors in the northeast, and they've been at it for over 40 years.
The school offers private lessons, group lessons and a six-week program. Their instructors are equipped to teach all ages and abilities. So, whether you are a group of beginners or a solo expert looking to improve, Thunder Ridge's got you covered.
Peak Seeker Pro Tip: Because they have so much to offer when it comes to lessons, be sure to call ahead and explain what your ski/snowboard goals are. That way, they'll be sure you enroll in what's best for you.
Trails: What to Know
As mentioned up above, there are 22 trails at Thunder Ridge. You can ski or snowboard the entire place in a day, and you'll never be lost. It's an easy mountain to navigate. There's also a terrain park in the middle of all the action that has lots of small rails and jumps.
Some stand out trails are:
Snow Conditions at Thunder Ridge
Thunder Ridge Ski Area does not have to rely on natural snowfall to get their lifts up and running. They blow their own snow all season long. Typically, they do not cover the entire mountain, but they do make sure that their more popular trails have snow and that the beginner area does too.
Be sure to check out the Thunder Ridge mountain cam before heading out so you know what to expect.
Where to Eat
Thunder Ridge's main lodge has a cafeteria and pub with great views of the mountain. Alternatively, here are some great options of where to grab a bite nearby:
Grab & Go:

Red Rooster – great for burgers, fries and milkshakes.

Sauro's Deli – best sandwiches around. You can build your own or order off their extensive menu.

Dine-In:

McKinney & Doyle – delicious, modern American cuisine with a bakery!

Carriage House – family friendly menu with lots of craft beer, too.
Final Thoughts
Thunder Ridge Ski Area is the perfect mountain to hone your ski or snowboard skills at. No trail is too hard, the vibes are friendly, and there are plenty of ticket options for the many hours that the mountain operates. So, if you find yourself in the area, definitely make it a point to check out Thunder Ridge!
Explore More new york Ski Resorts