A stone's throw from Lake Erie, you'll find Peek'n Peak Resort. We love the name by the way.
You might not have been around since the mid-1960's but this ski resort has. Generations of New Yorkers have been enjoying the Peak which now has 27 trails for riders to explore. They even have onsite lodging to make it a full winter getaway.
Read on to plan your trip to Peek'n Peak, the anticipation will start building.
Highlights of Peek'n Peak Resort, Clymer, NY
The fastest way to get an overview about Peek'n Peak is by reviewing the stats. Here are a few of the stats for the ski resort –
27 trails
Terrain park
Night skiing
Snowtubing
400 feet of vertical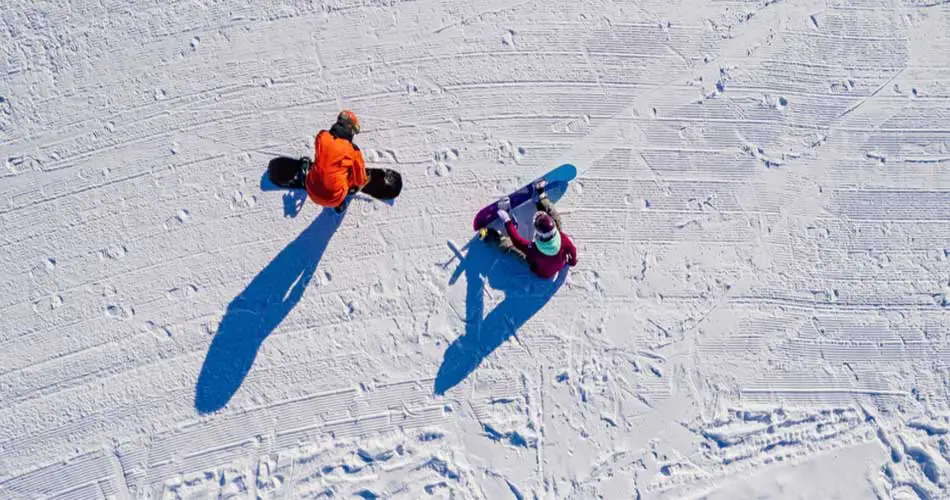 Where is Peek'n Peak?
Peek'n Peak Resort is located just below Lake Erie in Clymer, New York. It gets the crowd coming down from Buffalo and Rochester for some winter vacations. Here are some places within driving distance to Peek'n Peak –
Erie, PA – 40 minutes, 20 miles
Buffalo, NY – 1 hours and 30 minutes, 90 miles
Rochester, NY – 2 hour and 30 minutes, 160 miles
Cleveland, OH – 2 hour and 5 minutes, 120 miles
Need Peek'n Peak Resort Directions? Map it from your place here.
Peek'n Peak Hotels
Planning a trip to Peek'n Peak is simple. Not just because of the lodging at the ski area but also because of the nearby hotels. The two lodging options at the resort include the Inn at the Peak and the condos. If you have a large group, you'll want to stay at one of over 85 condos near the upper golf course. A lot of the condos are ski in/ ski out.
For smaller groups, families or couples, the Inn at the Peak might be the better choice. It has an old feel on the outside and a more updated feel in the rooms. Staying at the inn makes for a perfect weekend getaway. Slopes, tubing and lodging, it doesn't get much better then that.
We know what you are thinking, staying on site at the resort can be expensive. Sure, it can if you book a full condo. The inn though has some great ski and stay packages at Peek and Peak.
If you are looking to save a few dollars and spend them more towards lift tickets and food, then a hotel might be the better option. Here are some of the closest hotel options –
Comfort Inn – Findley Lake (10 minutes)
Cobblestone Hotel & Suites – Harborcreek (30 minutes)
Baymont by Wyndham Erie (35 minutes)
It isn't out of the question to get a hotel near Peek'n Peak and just drive over to use the slopes. Have a think since it is a viable option too!
Peek'n Peak Ski Lessons
The snowsports school at Peek'n Peak has a dedicated and exciting staff to help you learn skiing or snowboarding. Stay at the inn and take lessons if you are a first timer, it will make for a weekend of fun. The beginner area is easy to learn on and designed to be unintimidating for first timers. You might not pick up skiing or snowboarding in one day but stick with it for a few lessons and you'll be sure to grasp it!
Peek'n Peak Night Skiing
The ski area offers night skiing,7 days a week. Night skiing mixes between closing at 9 pm and 10 pm. Both providing plenty of time to get in those nighttime runs.
The Best Time to Visit Peek'n Peak Resort
The best time to visit Peek'n Peak Resort is to hit the early week. Mondays and Tuesdays are great days because you can head up to the ski area while most people are working. Provided you can get off work. Also, these are good days to avoid any weekend city crowds coming out.
College students should try to make it up during the week as well. Peek'n Peak lift tickets are discounted during the week for college students so the best time for them is Monday through Fridays (non-holidays).
Is Peek'n Peak Resort Good for Beginners?
Peek'n Peak Resort is a great place to learn through the snowschool but you can make the most of the trails if you are an intermediate level. Over half of the trails are for intermediate riders. This shouldn't be a breaking point though, there is still plenty of beginner terrain to learn on and explore.
Trails at Peek'n Peak Resort – What to Know
One of the most important parts of planning your trip is knowing which trails you will ride. In fact, it can be some of the most fun aside from learning about the resort and getting your geear ready. Here are some runs that you should try when you visit Peek'n Peak.
Beginner
Intermediate
Greenwood Forest Trail
Robin Hood's Retreat
Advanced
For the latest on the trails, you can always check the Peek'n Peak webcams.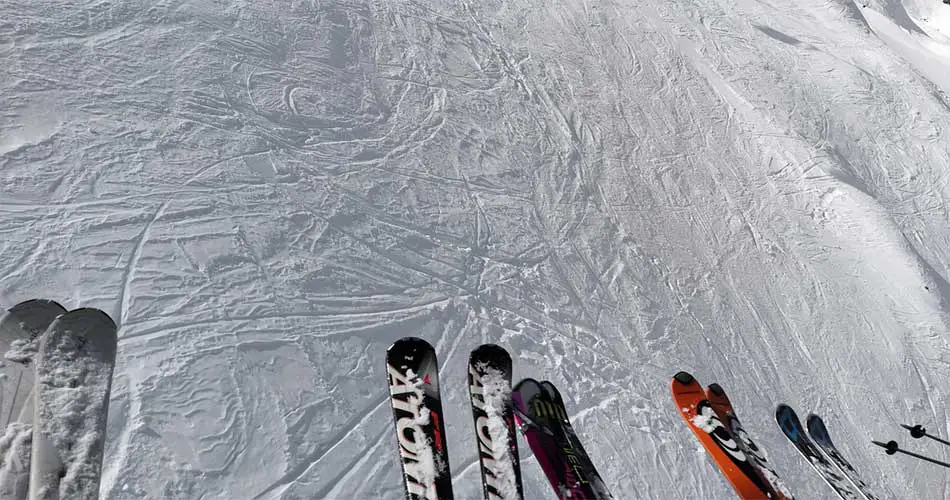 Peek'n Peak Tubing
Do you want some of the most fun snowtubing in New York State? That is a bold claim. Well, we think it is at Peek'n Peak tubing. The most fun is to be had during the Lunar Lights snowtubing sessions.
After dark, thousands of LEDs light up the tubing runs for non-stop fun. It is one of the most exciting snow tubing experiences and it will leave your group smiling. Make sure you put tubing on your list when you visit Peek'n Peak so you take advantage of their 14 tubing lanes.
Pro Tip: On select dates, they bring out a live DJ to get the tubing hill rocking. Be sure to keep this in mind when booking if you want even more excitement.
Peek'n Peak Resort Terrain Park
Get creative on the 4 terrain parks at Peek'n Peak. That right, 4! There are features all the way from beginners to expert level. Rails, jumps and boxes, you name it, they have it. If you even want some help, book a private lesson specially for the terrain park. Just let the instructors know in advance down at the ski and snowboard school.
What is There to Do in the Summer at Peek'n Peak?
So maybe you can't make it in the winter to Peek'n Peak. Maybe you had so much fun that you want to go back. What can you do?
In the summer time, Peek'n Peak has golf, a ropes course, a zip line, segways, mini golf and more. Take dad up for some golf and the wife can take the kids to the pool. It is a family destination. Just because the snow melts off the slopes, it doesn't mean Peek'n Peak shuts down. It is quite the opposite!
Final Thoughts:
There is a lot of ski areas in NY but not all are like Peek'n Peak. They just aren't all as comprehensive of a weekend getaway. You can learn to ski or snowboard, go tubing and stay at a fantastic inn, all in the depths of winter. Quickly you'll be wanting to come back for a weekend in the summer to make use of the mountain again.
Take the break you deserve this winter and ski the trails at Peek'n Peak.