A four seasons resort in New York with 220 acres, good dining and a family atmosphere. If you would have guessed Greek Peak Mountain Resort in Cortland, NY, you would have been correct. Greek Peak not only has a good amount of skiable acres to keep the day interesting but it has night skiing to keep you on the trails 7 days a well!
Read on to learn about Greek Peak Mountain Resort so you can plan your trip accordingly.
Highlights of Greek Peak Mountain Resort, Cortland, NY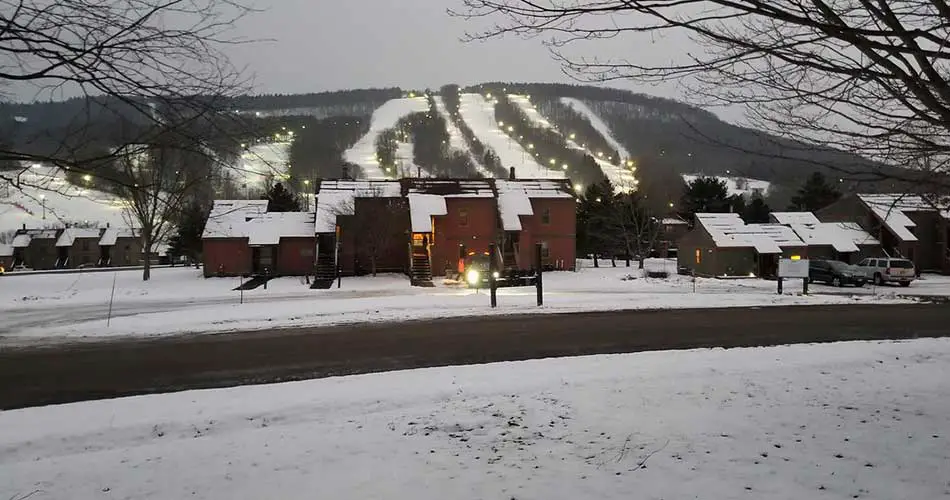 The easiest way to get a quick understanding of Greek Peak is by reviewing the stats. Here are a few of the stats for the ski resort –
56 trails
952 feet of vertical drop
Summit elevation of 2,100 feet
Night skiing
Snowtubing park
Where is Greek Peak Mountain Resort Located?
Greek Peak Mountain Resort is located above Binghamton in Cortland, New York. Talk about a good place to get up into the mountains, Greek Peak is exactly that! Here are some places within driving distance to Greek Peak –
Binghamton, NY – 45 minutes, 35 miles
New York, NY – 3 hours and 30 minutes, 210 miles
Syracuse, NY – 45 minutes, 40 miles
Albany, NY – 2 hours and 40 minutes, 150 miles
Scranton, PA – 1 hour and 35 minutes, 93 miles
Need Greek Peak Mountain Resort Directions? Map it from your place here.
What is Greek Peak Mountain Resort?
Greek Peak is a family staple to a lot of NY and PA families. Not only just for skiing and snowboarding but it is also a place to gather and relax. The mountain has a deep history aside from it's trails as a place for weddings and venue for functions.
While we at Proper Peaks are all about the skiing and snowboarding, just know that Greek Peak can offer you a bit more than the normal ski area in the offseason.
Hotels near Greek Peak Mountain Resort
The easiest way to stay near Greek Peak Mountain Resort is to stay slopeside. Hope Lake Lodge and the accommodations at Arcadia Village are two of the best options if you want to stay right near the trails. The lodge is a tasteful experience and frankly they have rooms that can pretty much sleep any sized party. If your family wants to make use of the indoor waterpark then it can be a convenient place to stay too.
All the major hotels near Greek Peak are less than 20 minutes away. Close enough to get in some night skiing or snowboarding.
Arcadia Village is a bit more quiet and a bit more upscale. You will want a little larger group to be renting out these full townhouses at Greek Peak. The village is a nice way to be on the slopes within minutes as well. There is a shuttle in the winter that will take you up to the hotel and ski area.
Back up in Cortland, you are going to find all the hotels near Greek Peak Mountain Resort. Here are just a few you are probably familiar with –
Best Western Plus Finger Lakes Inn & Suites
Fairfield by Marriott Inn & Suites
Holiday Inn Express Cortland
All the major hotels near Greek Peak are less than 20 minutes away. It is pretty manageable even if you are doing the night skiing on the slopes.
Restaurants near Greek Peak Mountain Resort
Again, most of your food and restaurants near Greek Peak Mountain Resort are going to be in Cortland. There is a wide range of choices up there. The resort itself though does have quite a few good dining options.
If you want a quick bite to eat or just a more laid back experience, Trax Pub & Grill is the place to go at Greek Peak. They have a huge selection of beer and that alone makes us recommend it.
For a more upscale experience, you should check out Carvers Steakhouse. The dinner menu if simply off the charts if you are a steak eater. Some of their options are fit for two people or will test your will if you are trying to solo some of the massive steaks they offer. Carvers is one of the best dining experiences at Greek Peak so if you are a steak eater, treat yourself!
Does Greek Peak Mountain Resort Have Snowmaking?
83% of Greek Peak Mountain Resort trails have snowmaking capabilities. You'll never have to worry when the temps get cold enough. The snowmaking team at Greek Peak makes sure they are putting out as much snow as possible when needed!
The Best Time to Visit Greek Peak Mountain Resort
The best time to visit Greek Peak Mountain Resort is to come in on a Wednesday and leave on a Friday, Saturday or Sunday. If you get in a little before the weekend, you'll have a bit lighter trails in terms of any crowds.
Also restaurants like Carvers Steakhouse only open Wednesdays through the weekends. Just keep that in mind before booking a vacation to the mountain.
Does Greek Peak Mountain Resort Have a Ski Shop?
Of course! You'd expect a resort this big to have a ski shop and they do. Greek Peak also offers full tunes and rentals as well. Don't worry if you accidentally left some gear at home, the rental shop can help you out and it won't break the trip.
Greek Peak Mountain Resort Terrain Park
There are terrain parks for both beginners and for the more advanced riders at the Peak so pick the best option and throw down. There are a mix of boxes, rails and jumps scattered throughout the freestyle areas. Here are a few areas where you can find the freestyle terrain at Greek Peak –
Parkathon (Beginner)
Lower Pollux (Beginner)
Alcmene (Advanced)
It doesn't matter what resort you are at,one tip to keep in mind at all resorts, including Greek Peak is to start on the small stuff before progressing up to the larger features.
Is Greek Peak Mountain Resort Good for Beginners?
You are going to enjoy Greek Peak Mountain if you are a beginner. Not only do they have a great team of instructors to get you on the mountain but you can do the full experience. What we mean is booking a few days at the resort, learning to ski or snowboard and enjoying the dining as well. It is fun to take the lessons and there is a lot of terrain to learn on but then you can get off the mountain, grab a bite and chat over your learning when you want a break.
Trails at Greek Peak Mountain Resort – What to Know
So we have talked a little bit about there being beginner trails and terrain parks but having a breakdown of the trails always helps. Check it out –
20 (35%) Beginner trails
16 (29%) Intermediate
15 (27%) Advanced
5 (9%) Expert trails
Again, start small and work your way up to the harder trails. All resorts are different.
Here are a few of Proper Peaks favorite trails at each level.
Beginner
Lower Poseidon
Meadow
Karyatis Way
Intermediate
Advanced
Expert
For a latest view of the trails, check out the Greek Peak webcams.
Other Winter Activities at Greek Peak Mountain Resort
Are you really going on vacation if you aren't getting a massage? That is just one of the other fun things to do at Greek Peak. Alternatively you could try the snow tubing over at the tubing center.
There is also the Cascades Indoor Water Park and nordic trails over at the adventure center. Starting to see why you need more than a day or two?
What is There to Do in the Summer at Greek Peak?
The summer is also a great time to visit Greek Peak. They keep the lifts running with their 17 trail downhill mountain bike park. Between the skiing and snowboarding in the winter and the downhill mountain biking in the summer, there is year around excitement at Greek Peak.
You can rent bikes, get a day pass or even buy a full mountain bike season pass if you are an avid rider.
Final Thoughts on the Peak:
If you want a NY ski vacation this year, snowboarders too, then Greek Peak is worth a peek. There is just so much to do to stay busy and active for yourself or the family. Sure, you can go to larger resorts up north but why drive tons of hours if you are only a couple hours from Greek Peak.
If you enjoy Greek Peak as much as we do, there will surely be a smile on your face once you start hitting the slopes.
Explore More New York Ski Resorts