Learning to ski is one of those activities that people have for life. It is like swimming, riding a bike or driving a car. While starting at a young age is best, not everyone gets the same opportunity to hit the slopes. That begs to ask, can you learn to ski at any age? You sure can but there are some key things to know about learning to ski at different ages.
Read on to learn if you can learn to ski at any age, which ages are easiest and if it is worth your time to learn as you get older.
Is it Possible to Learn to Ski as an Adult?
You can absolutely learn to ski as an adult!
One of the most common misconceptions is that it takes a lot of time to learn to ski. But in reality, it just takes a few lessons and some practice. Taking lessons is the most important part because it will get you up to speed the quickest.
Some people may not want to invest the time upfront but you might get hooked once you try it. Sure, it can look a bit scary when you see that first learning area or hills but a good instructor will help ease any fears when starting out skiing.
Key Takeaway: Lessons are completely worth your time as a beginner. Don't overlook the value of a real ski lesson with an instructor.
How Long Does it Take to Learn to Ski?
Different people have different learning curves when it comes to skiing. The time it takes varies from person to person, based on their level of skill and physical ability and how often you are getting on the snow.
It can take much of a first season and constant practice to work your way up to black diamond trails.
It also depends on the type of skiing you want to learn as there are several different types that all vary in difficulty. Do you want to just go out and ride beginner trails? If so, you can be doing that in just a few days. Even on your first day you can be cruising down some green trails on skis.
Add on a few more learning days and a lesson if you want to move up into intermediate trails.
To get to the black diamonds, it can take a skier much of their first season even if they are going frequently. Add in moguls and you are talking even more lessons and days on the slopes.
Learning to ski can be quick but becoming a great skier will take time and a lot of practice.
Can You Be Too Old to Learn to Ski?
Nobody is too old to learn to ski and everyone should try the thrill of skiing. Putting on your ski boots for the first time feels awkward. Falling the first time does too. It's not long though that it all becomes second nature and it starts to feel natural.
The ski instructors do a great job to help people feel comfortable. They see beginner after beginner of all ages, day after day. They will be able to help you!
Many people believe that it's not possible for you to still learn how to ski when you're "too old". However, there are many adults who have learned how to ski in their 40's and 50's.
It is never too late or too early to start learning to ski.
Can You Learn to Ski at Any Age? Just About
There are many benefits to starting to learn skiing early but it isn't to say someone shouldn't start later in life
In order for someone to learn at any age, they should approach it with these 3 things.
Go with an open mind and have fun
Be prepared for challenges and to fall
Have patience because you will get there
What Age Can Kids Start Skiing?
The age to start skiing varies from child to child like we mentioned but is mainly based on a variety of factors like skill level, body size, and previous experience. Some toddlers start on their skis at around age 1. Once kids can, walk and talk, there really isn't much to hold them back from learning to ski.
Starting at such a young age though, parents always stay on the easiest of slopes and have to hold their little ones between their legs until they move up to a ski harness at age 2 or 3.
Starting early is a great way to introduce a toddler into a life long of skiing.
Learning to Ski as a Child
Many more kids join ski lessons between 3 and 6 years old. Children even start to gain more advanced skills around 5-8 years old.
One of the best ways for kids to learn is by starting indoors and transitioning to the outdoor slopes when ready. Children and their parents often have group lesson options or private at a young age.
Introducing a child to skiing can be –
A good form of exercise
Challenging
A fun and rewarding experience
As children progress to their years just before their teens, some have already started racing, riding terrain parks and are smashing the black diamonds.
Pro Tip: It doesn't matter for children or adults but all should remember to wear a helmet when learning to ski.
Skiing as a Teenager
The teenage years are some of the most fun on the mountain. Hitting runs, hanging out with friends and getting great winter exercise. If not learned by this stage in life, the teenage years are a great age and easy age to learn skiing.
Ski Lessons in Your 20s
The 20s offer a time to ski with buddies in college and maybe even become a ski bum afterward if you love it enough. There is no better time than your 20s to invest some time into learning and skiing surely counts!
If you haven't learned to ski up until your 20s than it is not to worry, the 20s are still an easy time to learn skiing.
Learning How to Ski at 30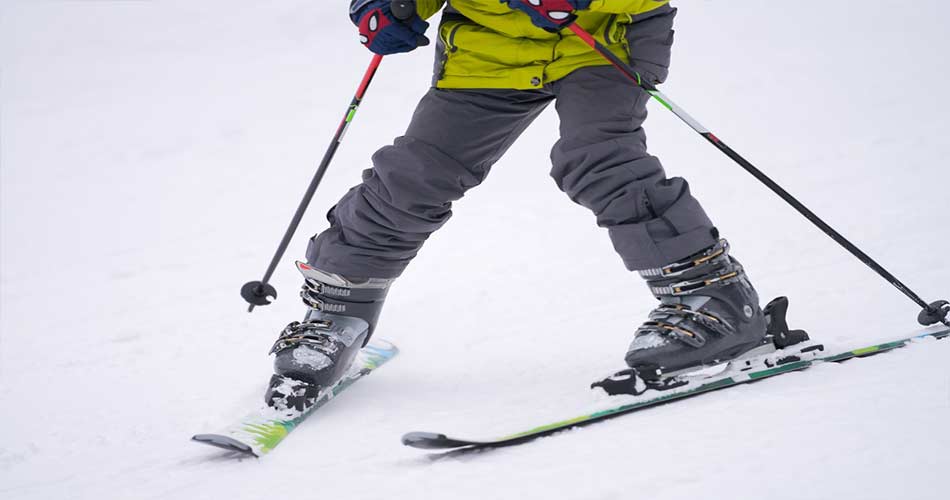 If you live in a particularly snowy area, it's likely you've had the opportunity to learn how to ski this winter. And if you haven't, chances are you might want to know more. After all, there are many benefits of learning how to ski at 30.
The first thing that might come to mind when thinking about learning how to ski at 30 is that it the falls hurt. Maybe even a bit more than learning as a child.
Don't let your age stop you though. There are plenty of options for beginners in their 30s who want a gradual introduction to skiing. Taking a lesson and getting an instructor is where you should start!
Can You Learn to Ski After 40?
The 40's are the perfect time to take up one of those hobbies that you always wanted to do but never got around to. Lift tickets and the gear may be a bit easier to afford at this age, while still expensive. With so many resorts around the U.S. now, it is convenient to find a resort, take a lesson and learn to ski in the winter.
Most people believe that the ski slopes are too difficult for someone over 40 and that there are too many risks involved with skiing. Despite this worry, individuals past the age of 40 still go skiing due to a variety of reasons.
It is amazing winter exercise
You get to experience the outdoors
There is an element of constant learning and improvement
Know your limits but challenge yourself at the same time and you will have a blast skiing in your 40s.
Can You Learn to Ski at 50?
Certainly! Skiing for beginners at the age of 50 can be a great way to have fun and get fit. It's never too late to learn to ski. If you're over the age of 50, it will start to get a little more difficult to learn from scratch.
Getting an instructor or private lesson is the best thing you can do if learning to ski in your 50s. Take it slow to start and enjoy the process.
Learning to Ski at 60
Want to learn to ski in your golden years? There are many benefits to learning now in your 60s (or even later). Ski instructors say that many people who start later have a better time of it because they learn slower, which helps them learn more.
The best way to get started is by doing a few sessions with a private ski instructor who will help you learn the basics before taking off on your own.
There are also programs for seniors who want to take up the sport by themselves or with other seniors. If you don't want to ski downhill, there is always nordic skiing too which is great exercise but much flatter. The risk of falling is real in both and something everyone learning to ski at 60 should keep in mind.
Can I Teach Myself to Ski
There are many reasons to teach yourself to ski. The first is that it can save you time and money. You won't have to commit to a full day of lessons every weekend or spend hours on the slopes with an instructor.
If you are able to learn in a backyard then it can surely save some money if you have a friend for a teacher. There can be some drawbacks though too.
Getting the wrong technique, falling more and learning slower. While you can teach yourself to ski, the best option is to go with a lesson and learn the correct form from the beginning.
Can You Learn to Ski at Any Age? Final Thoughts
Skiing isn't reserved for the young or old. Asking, can you learn to ski at any age is like asking if you can learn to ride a bike at any age. You certainly can. With practice, your skills will improve and you can enjoy winter after winter on the slopes.
Start out young if you get the chance, don't let falls discourage you and stick with it. You'll learn to be a great skier in a short time!