Winter mountain sports have always been about experimentation. As soon as skiing hit the mainstream, creative athletes pioneered new ways of getting down the hill. But what exactly is a ski bike, and how on earth do you ride one? Learning how to ride a ski bike will open up a whole new form of winter fun.
This article will cover everything you need to know about how to ride a ski bike so that you can hit the slopes with confidence.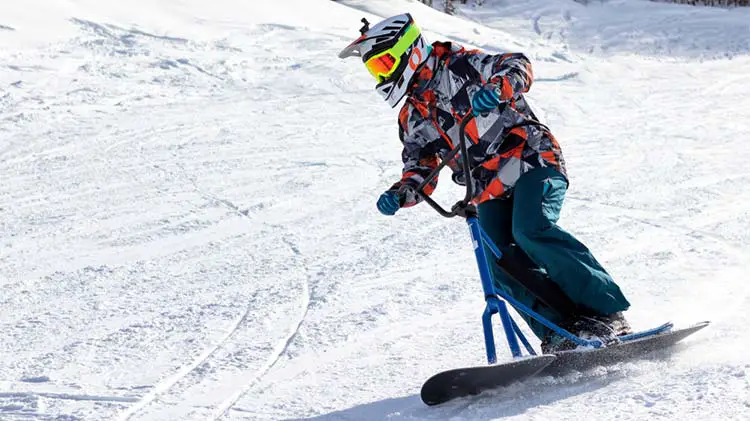 What is a Ski Bike
A ski bike is exactly how it sounds. It's a creative engineering blend of skis and mountain bikes. Mountain biking has long been associated with resort culture, as many ski resorts turn into mountain biking terrain in the summer. The ski bike is a way for diehard individuals to ride their bikes year-round.
The ski bike is manufactured with two small, wide skis in the place of a bicycle's wheel. The back skis remain stationary, and the front skis are steered using handlebars. Some ski bikes have seats, but many are meant to be ridden standing up, only using the seat for rest – much like how BMXers utilize their bikes.
These bikes are designed in a way that makes them specialized for snow. Shock absorption is included in some high-stress areas unique to ski biking, and many bikes come with a manual option, allowing the rider to do a wheelie.
How Do You Ride a Ski Bike?
Here's a quick list of steps to get you ripping up the slopes in no time:
Starting at the top of a flat hill, stand up on the pedals with your feet securely placed.
Inch yourself forward down the hill to start your descent.
To initiate a turn, lead into the handlebars. Slightly shift your weight to the uphill facing pedal and turn the handlebars slowly.
To head back down the hill, lean into the handlebars, shift your weight to the downhill facing pedal, and turn the handlebars in the opposite direction.
Once you've mastered these turns, start to pick up more speed and make turns more frequently. Eventually, you'll start linking turns and descending the mountain just like skiers and snowboarders.
How Do You Stop on a Ski Bike?
Unlike a regular mountain bike, a ski bike does not have any brakes. While this may seem dangerous at first, it's no different than skis or a snowboard. Snowboarding got a bad rep during its inception for not having brakes, but people quickly learned this wasn't an issue.
Stopping on a ski bike is done exactly the same as on a snowboard or skis – through turn initiation and edge control. By turning uphill, you effectively reduce the momentum that you're accumulating.
To stop hard and quickly, simply whip your turn around much quicker. If you just need slight speed control, a gentle carve in one direction or the other will work great. Once these motions are mastered, stopping on a ski bike is nearly instantaneous.
Is it Hard to Ride a Ski Bike?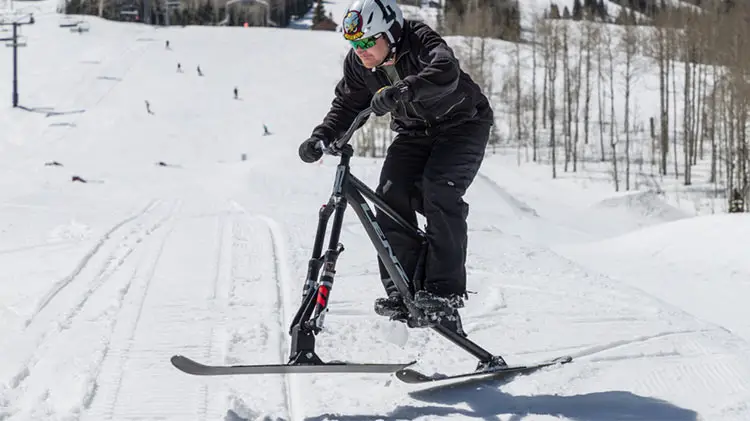 Ski biking is an incredibly simple process, and most first-timers find it much easier to pick up than skiing or snowboarding. Nearly everyone is familiar with the sensation and body positioning of riding a bike, making the transition to ski biking that much easier. On average it only takes 2-3 runs to be able to carve a beginner run efficiently.
Ski bikes are also much lighter than a typical mountain bike, making transportation and control much easier. However, they are quite awkward when brought onto a lift due to their size.
Should I Wear a Helmet When Ski Biking?
Absolutely! Ski biking is no less dangerous than any other snow sport. While helmets are never required at resorts and are ultimately an individual's preference, we always recommend ski bikers, snowboarders and skiers wear helmets. Catching edges as aggressively as on a snowboard isn't as common, so you don't have to worry about whiplashing impacts.
You do, however, need to worry about impacts with other skiers and snowboarders, as well as natural obstacles like trees.
The carving line of a ski bike is slightly different than skis or snowboards, so people approaching from the rear may not be able to predict your motions as easily. If they fail to give you enough space, an erratic turn can quickly lead to a collision.
It's a common misconception that the better you get, the less likely you need a helmet. Quite the opposite. The better you get, the faster you'll go and the more risks you'll take in the name of progress. Equipping yourself with a helmet is the smartest decision and lets you push your limits without fear of injury.
The bottom line – helmets are cool. Many ski bikers opt to wear their mountain biking, full-faced helmets for extra style.
How Much is a Ski Bike?
The cost of a ski bike varies widely. It depends on the type of bike you buy, as well as the features included. Not all bikes are the same, and there are some obvious differences between the budget bikes and the pro bikes.
For your first ski bike, expect to pay between $1000-1500. This will set you up with a quality entry-level bike that will easily conquer all the terrain you're trying to take it on. Bikes in this price range might lack some advanced technology, but you'll be getting a solid product that rips.
Premium ski bikes can be purchased for around $3,500. These bikes come with all the bells and whistles, extra engineering, and more durable materials.
Cost to Rent a Ski Bike
Renting a ski bike will require a little more work than just showing up to the resort with your money in hand. Most resorts don't offer ski bike rentals, so you'll have to find a third-party company. Fortunately, ski biking has grown in popularity in recent years, so most major ski towns will have a rental shop in the area to outfit you.
If you're having trouble finding one, consider calling up mountain biking shops as they often have some rentals available.
Rental prices vary based on the model of ski bike you get, but on average a daily rental will set you back $75. Certain ski bike rental shops even offer seasonal rentals for around $500. Renting is a great option for those who would like to try ski biking for the novelty but aren't sure if they want to commit.
Comparatively, it's a much more expensive purchase than a new set of skis or a snowboard, so it makes sense to be hesitant.
Cost to Buy a Ski Bike
As mentioned before, the cost of a ski bike is very variable depending on which features you include, and the model of bike you'd like. Let's look at some prices of ski bikes by Lenz, one of the leading ski bike brands on the market:
Blip
Recon
Launch
$1,700.00
$1,850
$3,025.00
Features:
–Child's Ski Bike
-Lightweight Aluminum Frame  
Features:
–OEM Rear Shocks
-RST Stitch Fork
Features:
–Marzocchi Bomber Rear Shocks
-BMX Style Handlebar with Cross Brace
Additional upgrades are available at an extra cost. These add-ons increase performance and add more stylistic touches to the ski bike.
A few options include:
BFS Skis: $150.00
Fox 38 Series Fork: $600.00
Two-Color Fade: $250.00
Nuclear Polish: $150.00
Can You Take a Ski Bike on a Ski Lift?
Ski biking is still at its early stages, and not all resorts allow them on the lifts or slopes. This is especially the case at smaller, independent resorts. However, a large portion of the corporate mega-resorts do allow them. Vail Resorts, for example, allows ski bikes at most of their properties, including all of the resorts in Lake Tahoe.
If you're unsure it's always best to call the resort and ask ahead of time. Smaller resorts may not see these bikes often and don't have a written policy.
To load a lift with a ski bike, you'll likely need to either ride it alone or with one other passenger. Keep the bike on the snow as the lift approaches, grab the handlebar, and as the lift takes off lift the back of the bike up. The bike's seat can rest on the seat next to you with the skis facing directly ahead. You can loop your arm through the frame to secure it.
Can You Go Uphill on a Ski Bike?
No, you cannot ride a ski bike uphill. There is no gear system or wheels to propel you forward. The ski bike relies completely on gravity, so you must take it downhill.
Final Thoughts
Riding a ski bike is an exciting new way to enjoy the slopes, and it's the perfect option for mountain bikers looking to extend their sport's season throughout the entire year. Even if you're not a mountain biker, ski biking is a great way to enjoy the snow if skiing or snowboarding isn't your thing, or you're just looking for a new hobby.
While pricing is indeed expensive, as ski biking grows in popularity the cost should decrease. In the coming years, expect to see much more of these unique bikes out on the hill. You might want to even pick one up for yourself!