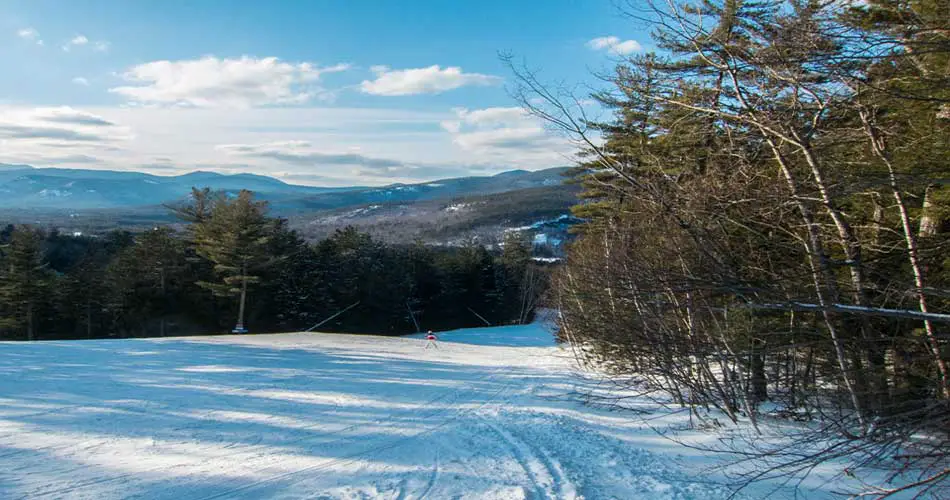 Attitash Mountain Resort is a good example of what New Hampshire skiing and snowboarding is known for. Powdery runs, smooth trails, some natural snow covering the trees and lots of trails to ride. If you want to ride a larger resort without having to drive up to Maine, Attiash should be in the list you are narrowing down.
First we will cover some highlights of Attitash Ski Resort and then go into the common questions that people have about Attitash Mountain. You should be able to make an informed decision if you want to visit, just read on.
Highlights of Attitash Mountain Ski Resort
Attitash Mountain Resort is in the family of Vail managed resorts. Some of the highlights include –
68 Trails
9 lifts (3 quads, 3 triples, 2 doubles and a surface)
311+ Skiable acres
1,750 foot vertical drop
23 total miles of trails!
Where is Attitash Mountain Ski Resort?
Attitash Mountain Ski Resort is located in Barlett, New Hampshire. It is one of the last ski resorts you'll pass before crossing the boarder into Maine.
Tucked in the Northeast corner of New Hampshire, the ski area is 2 hours and 10 minutes to Lebanon. It is almost 2 hours Concord, NH. Portland, Maine is almost equal distant and is an hour and 45 minutes to the ski slopes.
Even though Maine has great ski resorts, Attitash gets some of the out of state traffic during peak season.
Read More: Want to Ski a Massive Maine Resort? This Place is a Must Visit.
Does Attitash Mountain Resort Have Lodging?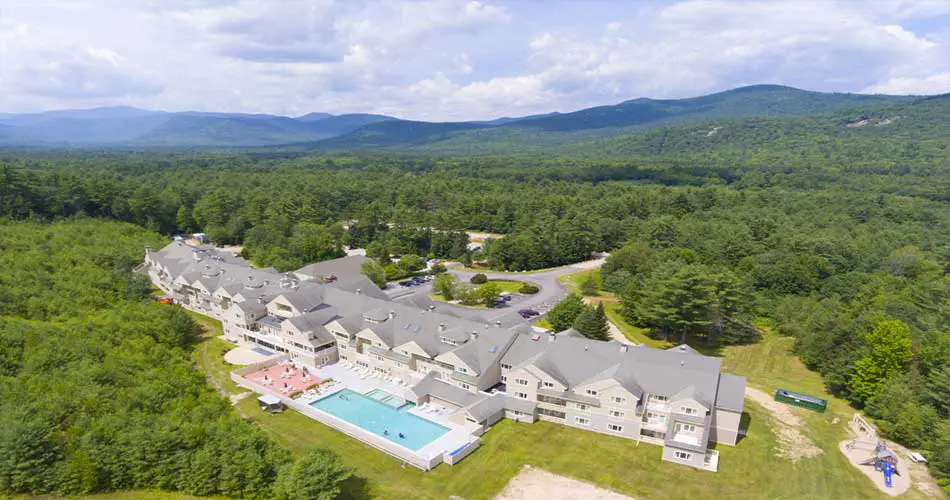 The difference that separates Attitash Mountain Resort from a bunch of smaller ski areas is not only their trails but their options in lodging. The lodging and number of trails makes it worth it to spend at least 2-3 days on a ski or snowboard vacation at Attitash Mountain.
If you are looking to save a little on lodging, consider a bed and breakfast off of the resort or look for a private rental.
They have the Attitash Mountain Village which is a four season destination. Aside from the skiing, ice skating and snowboarding, they have kayaking, tennis courts and pools for the warmer months. The village is a great place if you want a lot of amenities during your stay or are looking to stay trailside.
A higher end option is The Glen House.  It is a 68 room hotel that features a tavern, restaurant and did we mention the indoor heated saltwater pool. The pool is one of the best ways to relax after a long day on the mountain.
For a more family oriented place to stay, check out the Grand Summit Hotel at Attitash. It is at the base of Bear Peak. It is the only ski in/ out resort on Attitash Mountain. To take full advantage of the ski in/out capability, you usually have to go in January though. It is really dependent on the snow.
For the travelers looking to save a little on lodging, consider a bed and breakfast off of the resort or look for a private rental. Going with a private rental might be a 10-15 minute drive but it can save quite a bit on lodging.
Does Attitash Mountain Resort Have Night Skiing?
 Attitash Mountain Ski Resort does not have night skiing. All lifts run until 4 p.m. There are other resorts nearby with night skiing but sadly Attitash is not one of them.
Read More: Want to Go to a Resort with Night Skiing? Here You Go.
The Best Time to Go to Attitash Mountain Resort
The best time to go to Attitash Mountain Resort is to get on the slopes midweek at 9 a.m. Another tip is to get ready an hour before hand with your own gear so you can beat most of the rentals out onto the mountain. It will make sure you are skiing or snowboarding the best time at Attitash and make it up to the top of the mountain.
Does Attitash Mountain Resort Have a Ski Shop?
Attitash Mountain Resort has a equipment rental and service shop. They can do all the basics like waxing, sharpening and binding adjustments.
There is also a sports shop near the main lodge base. If you want to do some real shopping or look for a great selection of Winter clothes than Settler's Green are where you need to visit. If you are not familiar Settler's Green is an outlet village and has over 70 shops. It is a great place to stop by before heading to the resort.
Key Takeaway: If you are looking for Winter clothing. Stop by Settler's Green Outlets before visiting the resort for your most options.
Terrain Parks at Attitash Mountain Resort
The parks at Attitash Ski Resort are worth the drive. There are three parks to make use of depending on your skill level. 
Bear Bottom park is at the base of Bear peak and is the earliest to open in the season. It is open while Kachina and Myth Maker are a work in progress.
One of the next to open up is Kachina which is good for all riders. It is a skier and boardercross course with banked turns and rollers.
Lastly the big riders hit the Myth Maker park. You can make a name for yourself on the 20 to 35 foot jumps. The park has some of the larger jumps in New Hampshire and the Myth Maker is not for the feint of heart.
Read More: Want to Ride the Longest Trail in NH? Click Here.
Is Attitash Mountain Resort Good for Beginners?
 Attitash Mountain Resort is a good place for beginners to start skiing and snowboarding because the more time on the snow means more learning. The resort makes that easier with all the nearby lodging. If you book for 2 or 3 days and take a beginner lesson, you'll definitely have improvement and fun!
Does Attitash Mountain Resort Blow Their Own Snow?
The mountain has snow making on a lot of their beginner and intermediate trails but Attitash does rely on natural snow too. 98% of the trails are covered by snow making. Don't worry because by the end of December there is always plenty to ride. Come mid January, often everything is in full swing which makes it a good time to book after holiday season.
Trails at Attitash Ski Resort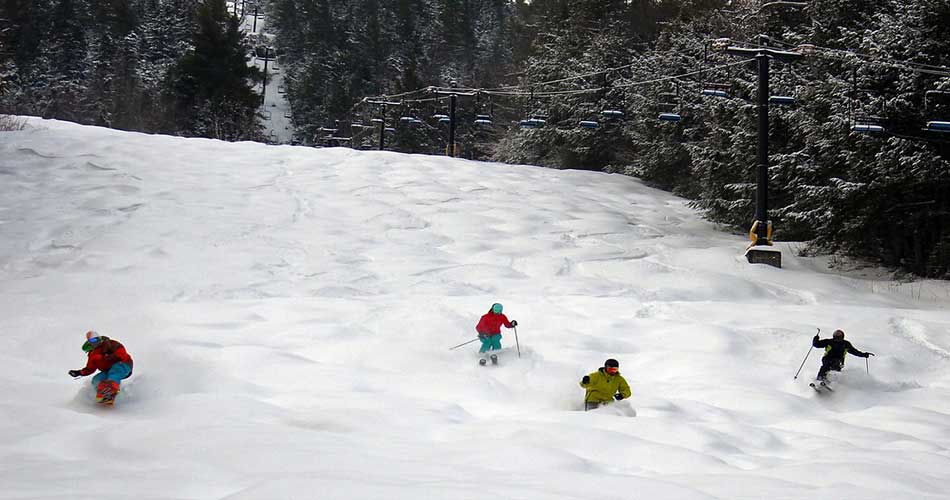 The trails at Attitash ski resort are split between 29% beginner, 44% intermediate and 27% expert. In total there are 68 trails which makes Attitash one of the largest ski areas in New Hampshire.  In addition there is over 60 acres of glades. 
If you want the pristine powder than chances are it is hidden in the glades.
Final Thoughts
Should Attitash Ski Resort be on your list of places to visit this year?  100% if you are in the Northeast. It is worth a drive. With 68 trails and over 23 total miles to ride, it is a really cool place to visit. The lodging is excellent, they have a good food scene and there is even shopping not far away.
Let us know what you think of the lift lines? Too crowded on the weekends for you or do you still head out to Attitash?
Explore More new hampshire Ski Resorts