What is more surprising, the second biggest vertical drop in New Hampshire is in the White Mountains? Or that it is a Vail owned resort? Both are true when the top elevation is at 4,062 feet! With that comes a vertical drop of 2,112 feet at Wildcat Mountain, amazing views and crisp trails.
Read more to plan before you visit Wildcat Mountain this year and find out what to know before your getaway!
Where is Wildcat Mountain?
Wildcat Mountain is located in Gorham, New Hampshire. Gorham is in the famous White Mountains and is about three hours north of Boston, Massachusetts. Portland, Maine is just under two hours south of the slopes. Montreal is three and a half hours north.
If you want views, head to Wildcat Mountain. It will make anyone talk about them when the sky is clear and the treetops are powdered.
Key Stats on the Mountain
The ski area has a variety of challenging terrain. Some of stats include –
48 Trails
5 Lifts
225 Skiable acres
2,112 feet of vertical
Longest beginner trail in New Hampshire (2.75 miles)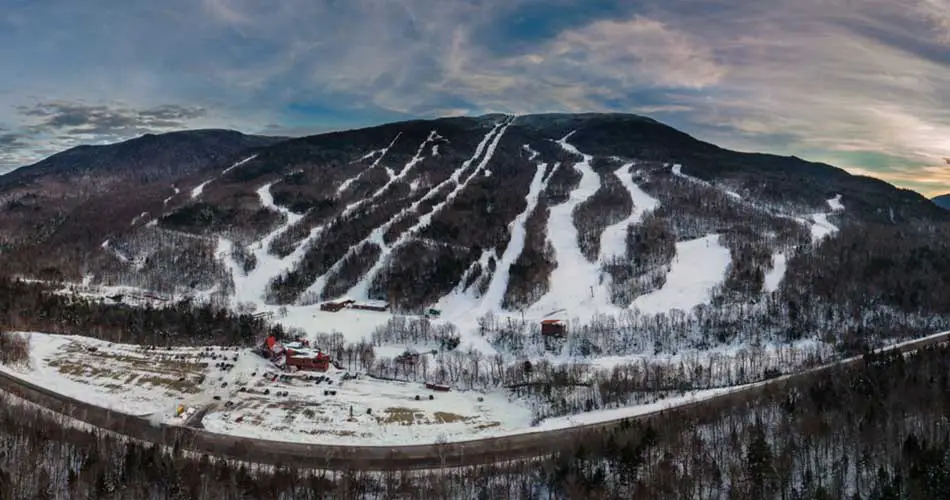 Wildcat Mountain Lodging
The best options for lodging when visiting Wildcat Mountain Resort is to drive back down to Attitash. Attitash Mountain is 20 minutes away and is the sister resort of Wildcat. They have multiple places to stay ranging in different sizes and price points.
For the travelers looking to save a little on lodging, consider a bed and breakfast off of Wildcat Mountain or look for a private rental. Going with a private rental can be a closer ride to Wildcat and even come up cheaper. One place to check is Vacation Rental by Owner.
"For a family oriented place to stay at Attitash, check out the Grand Summit Hotel."
For a family oriented place to stay at Attitash, check out the Grand Summit Hotel. It is at the base of Bear Peak.
A higher end option at Attitash is The Glen House. It is a 68 room hotel that features a tavern, restaurant and a indoor heated saltwater pool. The pool is one of the best ways to relax after a long day on the ski slopes.
Key Takeaway: Some of the best lodging will be down at Attitash Mountain if you want some night life and don't want to do a private rental.
Does Wildcat Mountain Resort Have Night Skiing?
Wildcat Mountain doesn't have night skiing. It is best to start the day right when the lifts open if you want to get in a full day of skiing and snowboarding. Then use the evenings to grab a nice dinner or to sit around a fireplace.
The Best Time to Go to To The Resort
The best time to go to Wildcat Mountain is mid week. Beat the weekend lift lines and have the mountain more to yourself when you visit Wildcat during the week. They are open 9 .m. to 3:30 p.m. mid week days.
Does The Resort Have a Ski Shop?
W Sports at Wildcat Mountain is a full service mountain outfitter at the slopes. They have branded Wildcat gear but also anything you probably for got at home. Goggles, check. Jackets, check. Gloves, they got em. Don't worry if you get to the mountain and forgot something, W Sports will have you covered.
Is Wildcat Mountain Resort Good for Beginners?
Wildcat Mountain Resort is isn't a bad mountain for beginners. It is a big mountain which can intimidating to new skiers and boarders but they don't need to go up to the top. Lessons take place closest to the base lodge. The lesson instructors make sure that beginners are comfortable when starting out on the slopes.
Does The Resort Blow Their Own Snow?
Most of the mountain has snowmaking. The staff does a great job pumping out the powder as soon as it gets cold enough. Generally by mid to late November, the resort is opening. Wildcat if often one of the earliest opening ski resorts in New Hampshire and one of the latest to close.
Once the base is set in on the mountain, it isn't long after that the resort starts opening trails.
How Many Trails Does The Mountain Have?
There are 48 trails at Wildcat Mountain Resort. Sure, it's not the most in the state but there still is 225 skiable acres, which is huge. Once you get to the top of the mountain and are standing at over 4,000 feet of elevation, you'll take in how big the mountain really is!
To keep an eye on the resort, check out the Wildcat Mountain webcams here.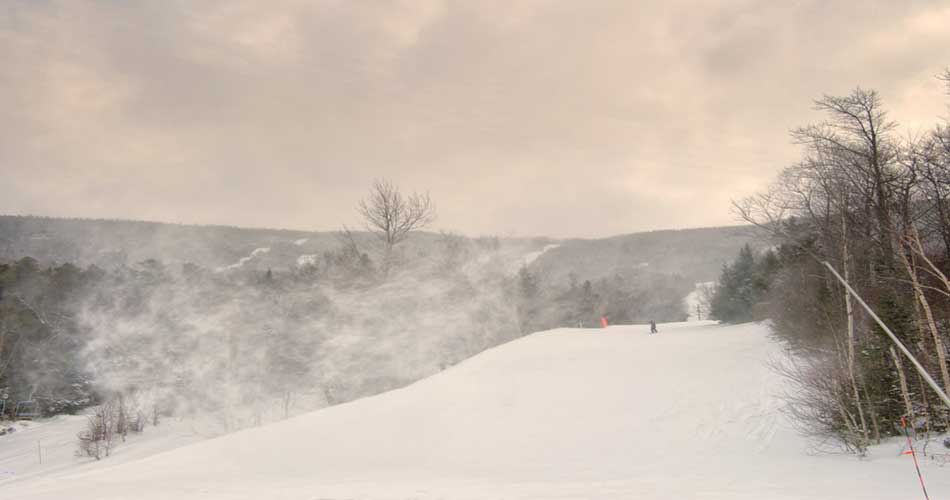 Is There Summer Mountain Biking?
Wildcat Mountain doesn't have downhill mountain biking in the Summer but they do stay open for weddings. Weddings are the main attraction at mountain in the Summer. You can't ask for a much more beautiful backdrop come the Spring and Summer.
Final Thoughts on The Mountain
If we could only pick one resort this winter in New Hampshire, Wildcat Mountain would be in the runnings. You need to take a trip there and take in the views from the top of the mountain to appreciate it. Ride down Upper Wildcat and test your skills before ducking into some glades closer to the bottom of the mountain.
Wildcat is a nice resort for beginners but if you have already been riding a few times, we know you'll enjoy the resort even more. Let us know your favorite trail at Wildcat.
Explore More New Hampshire Ski Resorts