Ragged Mountain vertical drop is 1,250 feet. Is that enough to peak your interest? It should be! You should visit Ragged Resort if you want to ride a large amount of trails, have ski in/out access and enjoy some perfectly groomed trails. The resort has trails to challenge the best riders while being inclusive to new skiers and snowboarders as well.
Read more to plan your visit to Ragged Mountain this year and find out what you should know before you go!
Mountain Stats
The mountain has a variety of challenging terrain. Some of stats of the mountain include –
57 Trails
5 Lifts
1,250 feet of vertical
3 Terrain parks
85% Snowmaking coverage
Where is Ragged Mountain?
Ragged Mountain is located in Danbury, New Hampshire. The ski area is an hour and 45 minutes from Boston, Massachusetts. Portland, Maine is just under 2 hours and a half hours from the mountain. Concord, NH is 45 minutes south of the resort.
Ragged Mountain is a great destination to ride two mountains but more on that in the trails section below.
Read More: Want a Ski Area With a Great View? Yes, This One is in NH Too!
Ragged Mountain Lodging
There are three easy choices for lodging. Slope side or close by are the first decision you need to make. The Cardigan Cabins are ski in/ ski out and right on the slopes. It is fantastic if you want to make the most of your riding. They sleep 4-10 so you are going to need some friends and family to rent one out.
For a close by option, New Hampshire Mountain Inn is also a great option. They are less than 10 minutes to the resort, offer breakfast, dinner and an indoor pool.
The third option is to check out Vacation Rentals By Owner to see if there is any private cabins or places to rent near Ragged Mountain.
Key Takeaway: Cardigan Cabins are one of the best lodging options at the ski resort. They are ski in/out and very new.
Does Ragged Mountain Resort Have Night Skiing?
Ragged Mountain doesn't have night skiing. It is best to start right when the lifts open if you want to get in a full day of skiing and snowboarding. Then if you are lucky enough, you can head back to your on mountain lodging if that is what you booked.
Read More: Want a Resort Close by With Night Skiing? Check Out This One
The Best Time to Go to The Resort
The best time to go to mountain is on Thursdays. You can beat the weekend crowd and get some runs in. Friday, Saturday and Sundays are of course the peak days and not the very best time to go. Just because they aren't the best time to go, doesn't mean you shouldn't go. They are still great days to hit the slopes.
Is There a Ski Shop?
The resort ski shop has daily and season long rentals. You can reserve rentals online up to two days in advance. The shop at Ragged Mountain also can work on your equipment providing tune ups and repairs.
Is Ragged Mountain Resort Good for Beginners?
Ragged Mountain Resort is a good mountain for beginners. They have a learning center to help beginners get started on their mountain and lessons for all ages. The center offers both group and private lessons as well as half and full day programs for kids. Learning is not only easy but also fun at Ragged Mountain learning center.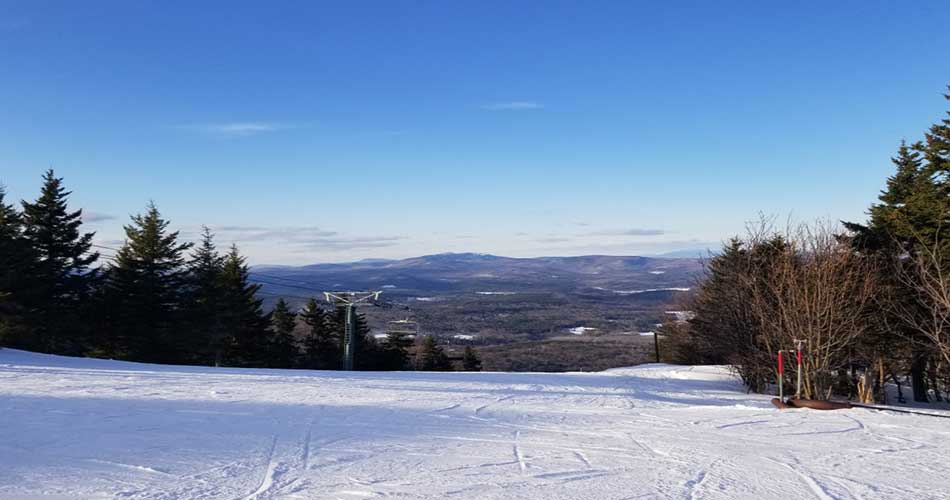 Read More: Want to Go to Another Great Beginner Ski Area in New Hampshire?
Does The Ski Area Blow Their Own Snow?
85% of Ragged Mountain's 250 acres has snowmaking. The staff does a great job pumping out the powder as soon as it gets cold enough. Once the base is set in on the mountain, it isn't long after that they resort starts opening trails.
The Trails – 2 Mountains and 57 Trails
There are 57 trails at the ski area. They are spread out over Ragged Mountain and Spear Mountain. Spear Mountain has much more of the difficult trails like Not Too Shabby but it also has Cardigan which is a favorite of the beginner trails. Between the two mountains and over 50 trails, it is enough for 2-3 days of fun.
To keep an eye on the slopes, check out the Ragged Mountain webcam.
Terrain Park: What to Know
Three parks make up Ragged Mountain. Barnyard is where you need to start if you are a beginner. On the flip side, if you are looking for the big features, Wild Side won't disappoint. Right in between the two extremes is Lower Chute Bx which is a boardercross trail full of berms. Lower Chute Bx also is the home of quite a few events over the season at Ragged.
Read More: How About Trying a Resort with a Gondola Like This One?
Is There Summer Mountain Biking at The Mountain?
Ragged doesn't have downhill mountain biking in the Summer but they do stay open for weddings. Weddings are the main attraction at mountain in the Summer along with hiking. You can't ask for a much more beautiful backdrop come the Spring and Summer.
Final Thoughts on Ragged
Visit Ragged Mountain Resort once and you'll want to go back. There are plenty of trails to keep riders busy for multiple days and the slope side lodging to complement it. If you are a first timer and debating if Ragged is the right place to learn, don't doubt it, try it. For all those who are Ragged Mountain regulars, we hope to see you on the trails too.
Explore More new hampshire Ski Resorts