Snowboarding is one of the most popular winter sports aside from skiing but it can be expensive to buy a board and bindings. There are a few reasons why snowboards are so expensive.
We'll look at why snowboards are so expensive, what drives that cost and should you ever get a cheap board.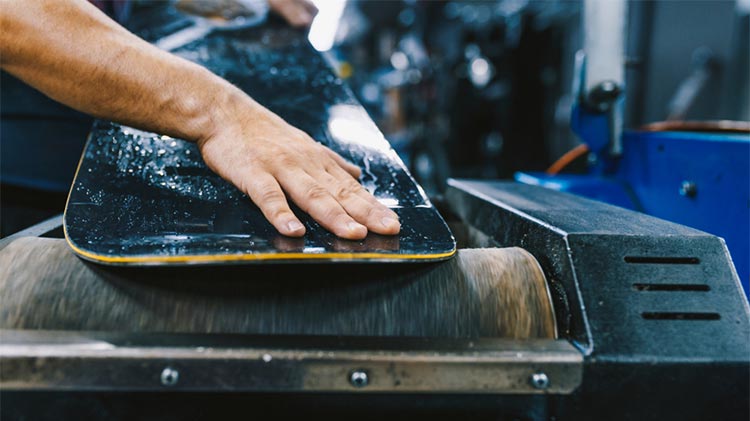 How Much Do Snowboards Cost? A Little to Expensive
Snowboarding can be a very expensive hobby. A good quality snowboard can cost well over $500. Many people wonder if the cost is worth it, and the answer to that question really depends on the person.
Some people believe that you don't need to spend a lot of money on a snowboard in order to have a good time. There are many affordable boards on the market that are perfect for beginners. As you get better at snowboarding, you may want to upgrade to a more expensive board, but it's not necessary.
At the end of the day, there are really 3 ranges for snowboard prices:
Low-End Snowboards – $200- $400
Quality Snowboards -$400-$600
High-End or Premium Snowboards – $600+
You don't need a high-end board right off the bat to learn snowboarding but A good board will last longer and perform better than a very cheap one. If you're serious about snowboarding, then it may be worth spending more money on a board.
One thing we always say to beginners is that they don't need to go for a new snowboard and can get a used one for much cheaper if they know what to look for and have someone helping them. It's key to know the size of board needed and style of riding before getting any snowboard.
Why Are Snowboards so Expensive?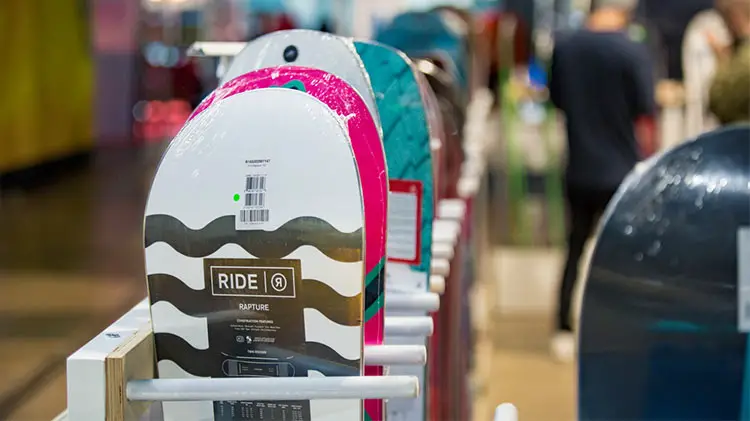 There are a few factors that make snowboards expensive. The materials used to make them are costly, and the manufacturing process is intricate. Additionally, because of the sport's popularity, there is a high demand for snowboards, which drives up the price. It is similar to the lift costs which never go down as well.
Snowboards are made from a variety of materials, including fiberglass, carbon fiber, kevlar, and bamboo and poplar. These materials are expensive by themselves but require further skilled labor to install properly.
The manufacturing process also involves many steps, including shaping the board, drilling the snowboard core, preparing materials for the board, assembling the base, cassette prepping and pressing it together.
A Look at How are Snowboards Made From A Factory Visit
We know how much work it takes to make a snowboard and once you see it, you'll quickly appreciate that the prices seem fair. Especially if you compare brands using U.S. labor like Gnu and Never Summer, which can cost more than companies that get boards made outside the U.S.
If you ever head up to Never Summer snowboards outside of Denver, you can take a factory tour as we did. They go through 8 steps to make a snowboard and that doesn't include the years of research and development that have gone into their snowboards and the other brands they make.
Essentially the process of making a snowboard is as follows:
Step 1: Making the Core from Wood – Most companies are the same but we saw Never Summer using sustainable wood like poplar, beech and paulownia trees, as well as bamboo to make their cores. These trees grow fast and are lightweight. The core block forms the center of the snowboard. Never Summer gets these core blocks made by a local manufacturer and then finishes them in-house.
Step 2: Drilling and Sanding – Once the core blocks are prepped, they are drilled for binding mounts and sanded to taper the board. This makes it so the board has some flex. Finally, they cut the tail and nose shape into the snowboard.
Step 3: Getting the Other Materials – At this stage, employees gather everything else they need for making the board. This includes any plastic, carbon fiber, rubber and fiberglass.
Step 4: Putting the Base Together – Next, the team assembles graphics onto the base and installs the logos onto the board. At the same time, the edges are bent to attach to the board.
Step 5: Prepping the Cassette – Now an employee preps the cassette. Essentially it is like a machined formed die. The base goes in and it is ready to be pressed.
Step 6: Pressing the Board – Pressing the board is where the magic happens. Board builders add layers of fiberglass, carbon and rubber by hand to build up the snowboard. Glue is added to hold the layers together before it is pressed for almost 20 minutes. The board then hits the drying racks to cool off.
Step 7: Quality Assurance – At a shop like Never Summer, they grade the boards before sending them out the door after doing finishing touches like adding a coat of wax to the base. At their shop, they use a 20-point inspection list to make sure boards are up to par and they get at least an "A" in quality.
Step 8: Sublimation – Finally it is time that the techs add those graphics you all know and love. It is the last step in making a snowboard. Once the graphics are added on the topsheet, a press and heat sublimate the graphics onto the board.
As you can see, it's not just the steps but the materials, time and people that go into making every snowboard so expensive.
The Major Costs That Make Snowboards so Expensive: A Closer Look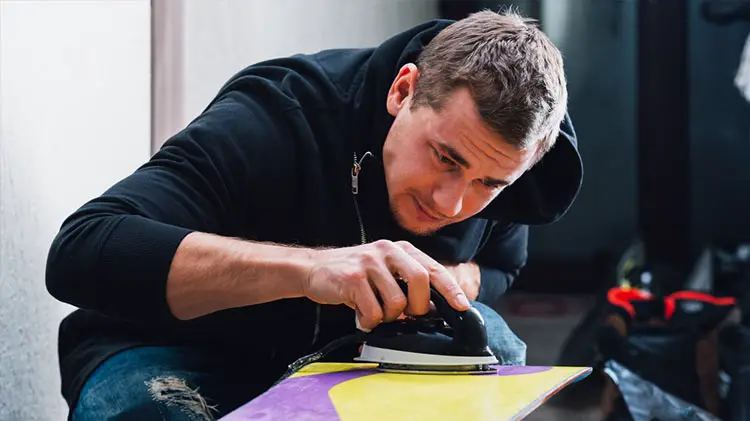 After taking a tour of the factory, we could pinpoint those major costs.
Here are some of the major costs that make snowboards so expensive:
1) The cost of materials: A high-quality snowboard typically consists of a wood core, fiberglass, and other materials that add strength and durability. These materials come at a cost, which drives up the price tag for a new board.
2) Labor costs: Manufacturing a snowboard requires skilled labor, which drives up the cost even further.
3) Shipping and handling: When you purchase a new snowboard, it needs to be shipped to your location. This adds to the overall cost of the board. Something you don't even see in the manufacturing process since shipping is done after.
Finally, advertising goes into the cost of boards. For some brands like Burton, it is huge but for other brands, they rely more on their quality and word of mouth at resorts instead of heavily spending on advertising.
What Makes Cheap Snowboards, Cheap
There are many factors that make a snowboard cheap. The most obvious factor is the materials used in the construction of the board. Some manufacturers use cheaper materials, like plastic and foam, in order to keep costs down.
Another reason boards are less expensive is because they are often made in lesser-known factories in China and other parts of Asia. Additionally, some companies offer lower-priced boards as part of their entry-level or beginner lineups.
Finally, there is a lot of competition in the snowboarding market, so companies are often forced to sell their products at a lower price point in order to stay competitive. Some of the brands making boards in the $400 range are just as good as the $700 range of companies like Burton.
Jones and Never Summer are two of our favorites that make great boards just above the entry-level price point but don't come in as cheap.
Often, we find it better to save your money on anything that is sub-$300 as frankly you can just spend a little more and get better quality.
Now You Know
In conclusion, snowboards are expensive for a variety of reasons. The most important factors are the materials used and the manufacturing process and labor. With so many different brands and models available, it can be hard to know which one is right for you.
However, with a little research, you can find the perfect snowboard for your needs and budget.