Nothing beats the adrenaline and pure excitement of a dumping powder day. Most of you probably head to your favorite local resort and search endlessly for untouched tree lines. Maybe you hike to the resort's off-piste peaks and drop in through granite chutes. The most daring head out into the backcountry, fully equipped with avalanche gear and splitboards, hiking hours to get one pristine line in nature that no one else will ever find.
Jones Snowboards – created by the legendary freerider Jeremy Jones – are the go-to pow boards on the market today. Let's take a closer look at the selection, quality, pricing, and artwork to determine if these boards are worth it or not.
What's the Jones Snowboard Selection Look Like?
The Jones snowboard lineup is quite different than other board brands. They really don't bother catering to park rats or freestyle-oriented riders. Jones is strictly about freeriding. And for good reason, as their focus ensures the most off-piste-oriented technology possible.
Their primary categories are:
Directional Freeride
Directional All-Mountain
Surf Series
Splitboards
If you're a powder hound and spend most of your riding time bombing steeps and diving through trees, you want a freeride snowboard. Freeride boards are geared toward the rider that avoids the park and crowded groomers as much as possible. They go where the terrain is the most challenging.
Jones offers an impressive women's snowboard lineup, and their surf series boards are incredibly unique. Designed by Jones himself and surfboard shaper Chris Christenson, these boards are designed to optimize float and resemble wave riding conditions as much as possible.
While lacking freestyle board options, their expansive freeride selection and diverse splitboard lineup garners them an 7.6 out of 10 for selection.
What is the Quality of Jones Snowboards Like?
Jones Snowboards take great pride in its manufacturing process and dedication to sustainability. All boards are run through "Forever Flex". This is a Jones factory process that breaks in the wood core to ensure the board is responsive and ready to go on day 1. Additionally, they also factory-tune each board before sale so that your new ride is ready to rip.
All snowboards are made from sustainably sourced wood, and their proprietary resin blend contains 27% plant-based carbon, instead of petroleum. These practices help reduce the brand's footprint and lead to a more ecologically focused future in snowboarding.
The dedication to sustainability and forethought put into their surfing-inspired designs returns a 8.4 out of 10 rating for quality.
Jones Snowboards Price – How It Compares to The Industry:
Jones has a reputation for being extraordinarily expensive, but when compared to other freeride brands this really isn't the case. Sure, they do have higher end freeride boards that are on the upper end of the budget, but most of their boards fall within an average pricing range. Anywhere from $450-$600 will grab you one of their top-shelf boards.
The difference with Jones is that they really don't cater to beginners or budget-oriented riders that are willing to sacrifice some features to save a few dollars. All Jones boards are top-notch, and their pricing reflects that. But, compared with other top-line free ride boards on the market their price seems reasonable.
In fact, their splitboard prices seem to be significantly cheaper than some other brands we've seen. Most Jones splitboards are priced from $500-$700, with a few specific models breaking $1000. Other splitboards from different brands normally hover right around the $1000 mark consistently.
For their overall average pricing with good splitboard deals, Jones snowboards receives an 8 out of 10.
Jones Snowboard Graphics: The Art
When it comes to Jones snowboards art, there really isn't a whole bunch to say. All their boards employ the same design variations on their base – either the brand's mountain logo, the words Jones themselves, or a combination of the two.
Top sheet artwork is slightly more unique with Jones boards, although this too only comes in a few variations. Most top sheet art features impressionistic mountain landscapes portrayed with a "water-like" movement to them.
If abstract and diverse artwork is what you're searching for in a snowboard, Jones will probably not fit the bill. We give them a 7 out of 10 for graphic design.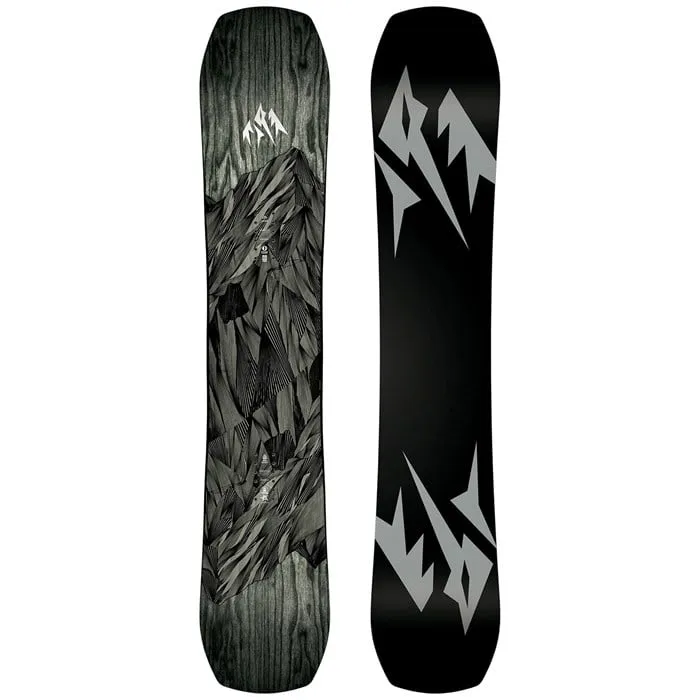 What are the Best Jones Snowboards Right Now?
Jones has a beautiful selection of freeride-oriented directional snowboards, but there are two boards that stand out from the rest:
The Storm Chaser is the archetypal powder board. This is a short, wide, swallow-tail board that is sold under the Surf Series category. As mentioned earlier, this board is designed by surf shaper Chris Christenson and inspired by his fastest gliding surfboards.
It features a rocker base and a setback stance, promoting maximum flotation and playfulness in even the deepest of powder.
Jones is well known for its impressive dedication to women's backcountry snowboards, and the Twin Sister is one of their premier women's model. While most Jones boards are directional, the Twin Sister is a true twin and is perfect for taking all over the mountain, even the terrain park.
It features blunt tips for reduced swing weight, Traction Tech edges to maintain a maximum grip on firm snow, and a Sintered 8000 base for optimum speed.
So Are Jones Snowboards Good?
Being a company that is owned and operated by a professional snowboarder who designs the boards himself and strong ethics, it's safe to say that Jones snowboards are a good brand.
While their selection is completely catered towards those who are looking for freeride options, what they do, they do right. Jones has some of the best freeride boards on the market that can handle the deepest of pow days, the most challenging of off-piste terrain, and even the classic groomer. It's perfect for the snowboarder that likes to push their limits on extreme terrain.
Not the flashiest boards, their artwork is simple and refined, but perfect for the rider that just wants to snowboard hard. And as far as pricing, we've found that Jones snowboards offer some very reasonable prices for the quality it provides, especially with their splitboard lineup.
Overall, Jones receives an 7.8 out of 10 rating and makes a great freeride snowboard choice for those looking to advance their riding.