Stevens Pass Ski Resort, in Washington state, is one of Vail Resort's largest resorts outside Vail itself. They manage many resorts across the U.S. but Stevens Pass is pretty special if you like riding glades, bowls, and faces. Their advanced trails will test even the most advanced riders. Buckle up your boots if you want to test your skills.  
Read on to see why you should be visiting Stevens Pass Ski Resort this winter and answer all your questions before you go.
Highlights of Stevens Pass Ski Resort in Washington
You know a Vail-managed resort is going to be good. How good though? Check out these stats of Stevens Pass Ski Resort –
52 major trails
1,125 acres of skiable terrain
11 Lifts
Summit elevation: 5,845 feet (Cowboy Mountain)
Base elevation: 4,061 feet
Where is Stevens Pass Ski Resort Located?
Stevens Pass Ski Resort is located in Skykomish, Washington. It is one of the easiest resorts to get to from Seattle for skiing and snowboarding. Here is the distance to some of the nearby cities to Stevens Pass-
Seattle, WA – 1 hour and 30 minutes, 85 miles 
Spokane, WA – 4 hours, 225 miles
Portland, OR – 4 hours and 40 minutes, 250 miles 
Walla Walla, WA – 4 hours and 20 minutes, 240 miles
Need Stevens Pass Ski Resort Directions? Map it from your place here.
You can't beat getting outdoors in the winter and Stevens Pass is a great way to get outdoors and out of the cities.
What is Stevens Pass Ski Resort Ski Resort?
Stevens Pass Ski Resort is a dual-peak resort. It is candy for all you Peak Seekers out there. Trails are split between Cowboy Mountain and Big Chief Mountain, all meeting up at the main lodges. Catering to some of the more advanced riders in the state, Stevens Pass has a run for everyone.  The resort is super family-friendly is just an overall nice place for a vacation.
Lodging Near Stevens Pass Ski Resort
So where are the nearby hotels and inns? Leavenworth has all the lodging and is about 40 minutes away. Part of the fun of going to Stevens Pass is staying overnight in Leavenworth.
Leavenworth is special because it resembles a Bavarian village. So yes, it is totally worth the drive. Some nice places to stay in Leavenworth include –
Icicle Village Resort
Solstice Suites
Enzian Inn
You'll be able to kick back and grab a bite after your long day on the slopes. Maybe even hit a hot tub if you are lucky. 
Another option you have is checking for private rentals near Stevens Pass. Airbnb is always a good place to look although you'll miss out on the charm of Leavenworth.
Pro Tip: Monitor the weather. We can't say it enough. If you are driving back to Leavenworth from Stevens Pass, it can be wise to leave in daylight or before that incoming snow rolls in on the roads.
Does Stevens Pass Ski Resort Have Night Skiing?
Stevens Pass has night skiing Wednesdays through Sundays in peak season. Generally, it is till 10 p.m. This will give you enough time to hit the resort on a Wednesday night and then drive back home if needed.
The Best Time to Visit Stevens Pass
The best time to visit Stevens Pass is going to be a Wednesday. 13 hours available for skiing and snowboarding… How can you beat that? Plus heading up to the slopes mid-week means you will beat the weekend traffic. Finally, you will have a lot of families headed home when it gets dark. Wait it out and you'll have some super clear runs.
Rental Gear at Stevens Pass: What to Know
Alright, so you can reserve your rentals online in advance. Why wouldn't you do it? Reserving in advance makes sure you will have skis or a snowboard on a peak day.  Just keep in mind that you can also grab your gear starting at 3 pm. the day before your day on the slopes. This will help you beat the lines the next morning in the rental shop and get on the trails. It also helps you get familiar with the resort the day before.
Stevens Pass Terrain Parks
Is freestyle what you crave?  There are three options for terrain parks at Sevens Pass. Make the best choice depending on your skill level.
Midway (Great for intermediate to advanced)
Mavericks (Advanced riders only)
Training Grounds (As the name implies, for beginners)
Remember, it is best to start small and work your way up since all resorts aren't the same. Even some of the features in training grounds can give you a test of your skills. Plus it is a great place to warm up.
Once you are feeling it, head up to Midway. It is the progressional stop before riding Mavericks which has the biggest rails and jumps.
Is Stevens Pass Ski Resort Good for Beginners?
Stevens Pass Ski Resort is good for beginners. It is an easy drive out of the city for a first-time resort. Their ski and snowboard school is super helpful if you want to grab a lesson. Something we highly recommend if you are a first-timer. Yes, grabbing rentals can be intimidating as a first-timer but you can make it easier by reserving online.
Next, book your lesson online and you'll have a plan in mind before going to Stevens Pass.
Trails at Stevens Pass Resort  – What to Know 
There are 52 major trails to ride at Stevens Pass Ski Resort. If you are a local, you'll quickly see that it makes sense to go for the season pass. As a traveler, you'll at least want two or three days to appreciate the resort. 
Here is a breakout of the trail difficulty at Stevens Pass.
11% Beginner
54% Intermediate
35% Advanced & Expert
So now you know some of the essentials about the resort. We'll even give you some of our favorite runs for Peak Seekers like you. Here are a few of the best ones –
Beginner
Intermediate
Hagen Hill
Skid Road
Sky Line
Brennan's Trail
Advanced
Expert
 You might not be able to ride all of our favorites if you are a beginner or intermediate but work your way up, eventually, you'll get there!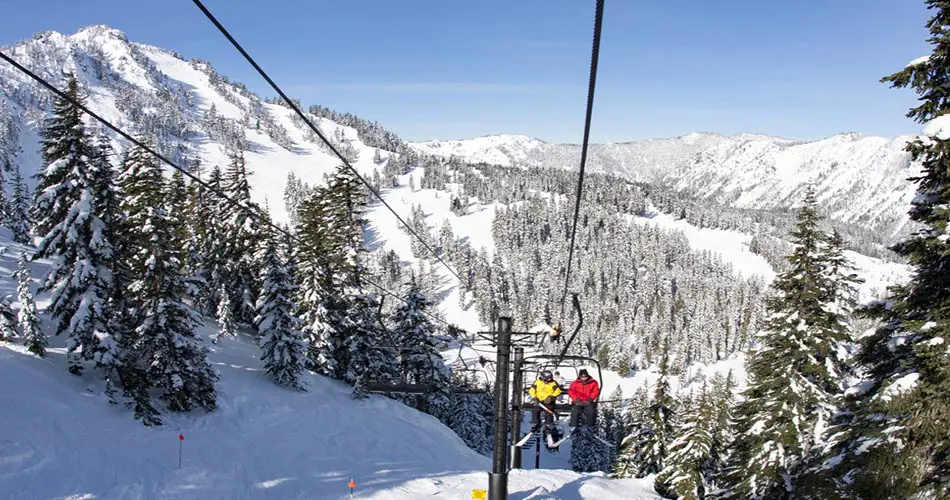 Other Winter Activities at Stevens Pass Resort  
Tired of seeing the Cascades with the downhill riding? Visit the nordic center. There are 30 km of groomed ross country trails. It's even free if you hold an Epic Pass. Some days you might not want to wait in a lift line or just need a change of scenery. Go the nordic route.
Is There Summer Mountain Biking at Stevens Pass Resort?
Generally Stevens Pass opens up a downhill park in the summer. It is touch and go with COIVD but stay tuned for an update if they open.
Final Thoughts:
Stevens Pass Ski Resort has the bowls, it has the glades and it has all the trails you are looking for. Whether you ski or snowboard, you are sure to hit some nice runs. Challenge yourself this year, have some fun. If you get tired of it all, explore the nordic trails.
Explore More Washington Ski Resorts