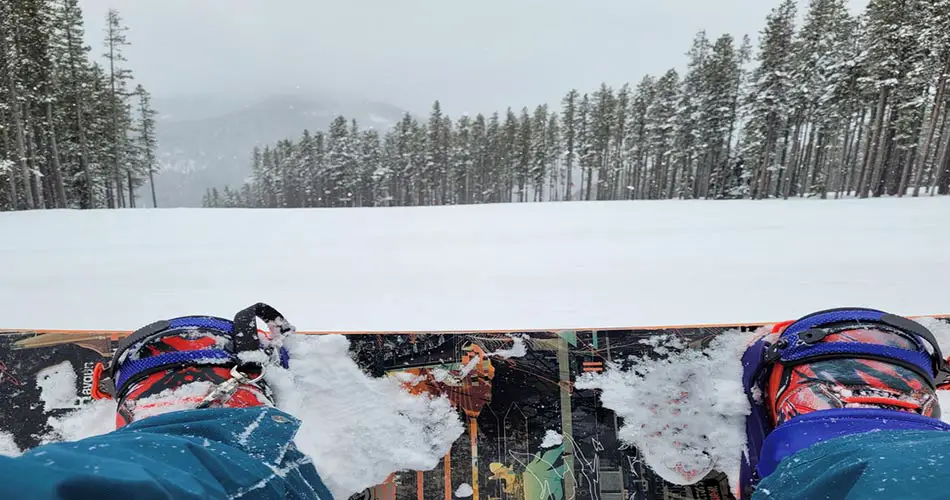 49° North Mountain Resort, in Washington, is one of the most northwest resorts in the lower 48.  The riding area is expansive and it's hard to compare anything on the east coast, to this west coast delight. Your jaw might drop as big as their vertical drop once you learn how much area there is to ride.
Read on to discover about visiting 49 Degrees North Mountain for your ski or snowboard trip and learn everything you need to know before you go.
Highlights of 49° North Mountain Resort in Washington
 A big mountain means impressive stats and these surely are. Some of the highlights and stats of 49 Degrees North Mountain Resort include – 
82 marked trails
2,325 acres of patrolled riding
7 Lifts
Summit elevation: 5,774
1,851 feet of vertical drop
Where is 49° North Mountain Resort Located?
49° North Mountain Resort is located in Chewelah, Washington. The resort is closer to Idaho than the coast. One fun thing to know is that the resort is inside the Colville National Forest. Some of the driving distances nearby the resort include –
Spokane, WA – 1 hours and 15 minutes, 60 miles
Seattle, WA – 5 hours and 50 minutes, 337 miles 
Portland, OR -7 hours, 410 miles 
Missoula, MT – 4 hours and 30minutes, 242 miles
Need 49° North Mountain Resort Directions? Map it from your place here.
If you are itching to get up in the mountains then the resort will solve that for you. Just be prepared to drive up!
What is 49 Degrees North Mountain Ski Resort?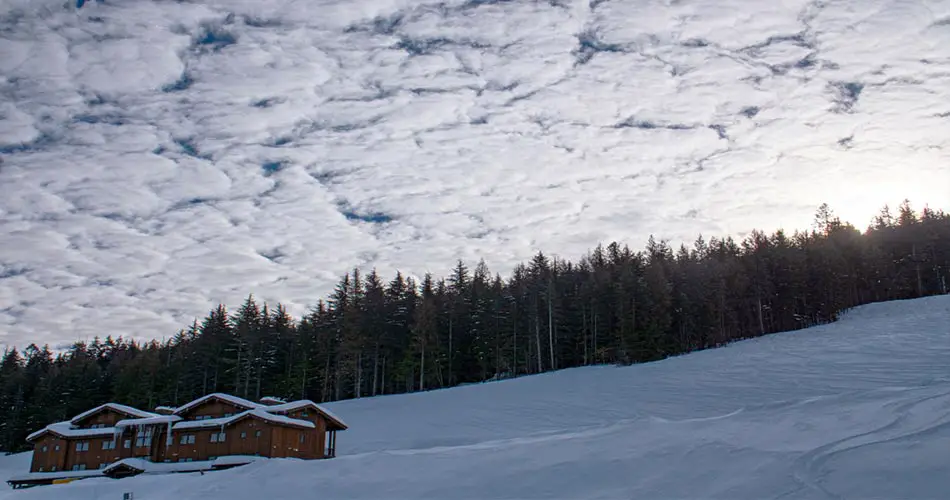 49 Degrees North Mountain is everything you'd want in a ski or snowboard resort. The resort covers a huge area over Chewelah and Angel Peaks. This means they have both downhill and nordic trails to explore. During the day they offer daycare in the winter season and even RV parking on a first-come, first serve basis
Lodging Near 49° North Mountain Resort
There are really three choices of lodging at 49° North Mountain Resort.
Stay at the resort itself with an RV
Stay nearby at a vacation rental by owner
Drive back to Spokane for a hotel
RV options at 49° North Mountain Resort can include electrical or not. There are only 6 spots with electric and they are first-come, first-serve. Just be aware there is no dump station at the resort and RVs must vacate on days the resort closes. The resort is open Friday through Tuesdays in general operating season.
Vacation rentals by owner can be a great alternative if you don't own an RV but want to stay nearby the resort.  The two big sites to check are VRBO and Airbnb. If you are lucky, you can find a cabin or a private rental, not too far from the resort.
The last option is really to drive back to Spokane and grab a hotel for the night. Yes, it is about an hour and 15 minute drive but you'll find places like the Ramada, Hampton Inn and La Quinta.
Pro Tip:  If you want an RV spot with electricity, you need to be there early. Make it your number one priority because they can go fast.
Does 49° North Mountain Resort Have Night Skiing?
There is no night skiing at the mountain. The resort doesn't operate any later than 4 pm.
The Best Time to Visit 49° North Mountain Resort
Remember the resort only operates Fridays through Tuesdays. That being said, the biggest crowds come on the weekends. Generally, your best time to visit is going to be Friday, Monday or Tuesday.
Truth be told, the resort is so big, once you get onto the trails, you won't worry about any crowds.
How Do I Get Rental Gear at 49° North Mountain Resort?
If you aren't bringing your own gear, no worries. The resort has you covered. What you need to do though is first buy your lift tickets online and second, book your rentals for the same day as your lift ticket. 
Important to know:  Just because you get a lift ticket, doesn't mean there will be rentals available and vice versa. You could also secure rentals but the resort could be at lift capacity.
49° North Mountain Resort Terrain Parks
There are multiple places you can ride freestyle terrain at the resort. This is in addition to all the glades riding you can take advantage of.
If you want to hit some of the parks, you'll need to ride Silver Ride or Claim Jumper.
Is 49° North Mountain Resort Good for Beginners?
49° North Mountain Resort can be a bit intimidating for beginners due to it's size but honestly, on their first few days, beginners probably won't go to the top of the mountain.
There is a bunch of green trails near the bottom of the mountain including Easy Slide and Treasure Hill to get started on. Taking a lesson is highly recommended as well for beginner skiers and snowboarders.
Trails at 49 Degrees North Mountain  – What to Know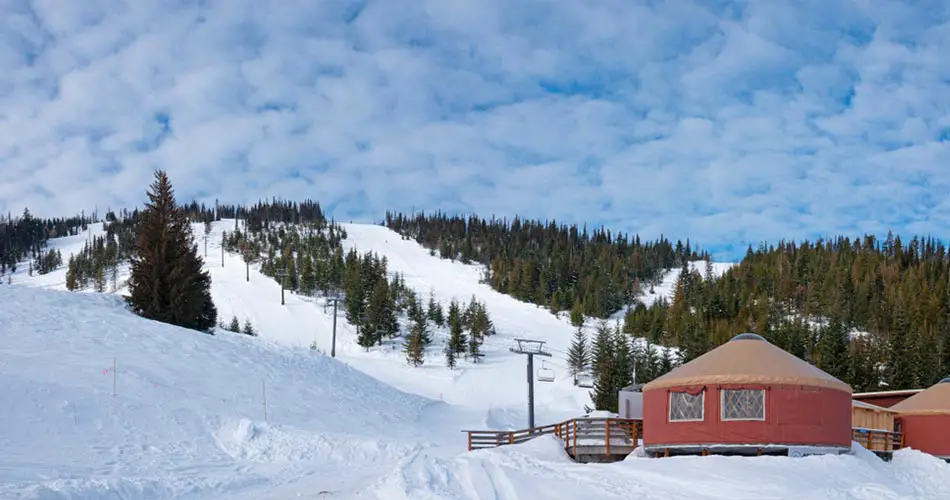 There are 82 named trails to ride at 49 Degrees North Mountain spread over the two peaks. You'll need more than a day or two to explore all the trails.  A break out of the trails is as follows – 
30% Beginner
40% Intermediate
25% Advanced
5% Expert
This doesn't even include the 10 miles of nordic skiing. The split is pretty good between ability levels but you still may be wondering, what are some of the best trails to ride at the resort… Well, we have put that together for you too with a few of our favorites.
Beginner
Silver Ridge
4800 Road
Quartzite Ridge
Intermediate
New Prospector
Mahre's Gold
Griz
Advanced
Roller Coaster
Last Chance
Expert
Pro Tip: Even if you are a competent skier or snowboarder, always start at green and work your way up the trails. You never know the difficulty of trails at a new resort.
Other Winter Activities at 49 Degrees North Mountain  
You could spend days on the downhill trails alone but make sure you leave some time for the nordic center. The nordic center at 49 Degrees North Mountain Resort is the place to go if you want to fat bike, snowshoe, skate ski or classic ski.  There is 25 km of trails (10 miles) to enjoy.  You can make a whole day just from the nordic skiing.
Is There Summer Mountain Biking at 49 Degrees North Mountain?
49 Degrees North Mountain doesn't have lift-assisted mountain biking but there is mountain biking in the summer. You can use the service roads on the east, west and central basins. 
Another cool thing to do is go Huckleberry picking during the season on Chewelah Peak. Combine this with some hiking and it makes for a great day. You'll probably even see some skiers hiking to get in a June or July ski run.
Final Thoughts:
49° North Mountain Resort is a ski resort where you will at least need a few days. You'll quickly see why a season pass is so worth it. There is so much land to ride and trails to explore. You'll be arguing over the freshest runs and your favorite trails with your friends for a long time.
The first thing you need to do is make the trip and that all can be discussed on the mountain!
Explore More Washington Ski Resorts