Crystal Mountain Resort, in Washington, just outside the famous Mt. Rainier National Park is one of the top skiing destinations in the northwest. Are the mountains calling your name for some skiing and snowboarding? If so, go to Washington state's largest ski resort, Crystal Mountain.
Read on to learn about the largest ski resort in Washington State. Here's the full overview of Crystal Mountain. 
Highlights of Crystal Mountain Ski Resort in Washington
 A big mountain means impressive stats. You have to check these out. Some of the highlights and stats of Crystal Mountain Resort include – 
85 named trails
2,600 acres (2,300 lift-serviced acres)
11 Lifts
Summit elevation: 7,012 feet (Silver King)
Base elevation: 4,400 feet
Where is Crystal Mountain Resort Located?
Crystal Mountain Resort is located in Enumclaw, Washington. If you are familiar with Mt. Rainier, well Crystal Mountain is less than 100 miles east. Some other cities within driving distance include – 
Seattle, WA – 1 hour and 40 minutes, 85 miles 
Spokane, WA – 5 hours and 30 minutes, 320 miles
Portland, OR – 3 hours and 50 minutes, 200 miles 
Yakima, WA -3 hours and 30 minutes, 185 miles
Need Crystal Mountain Resort Directions? Map it from your place here.
Sometimes it takes a little drive to get to the good resorts but Crystal Mountain is totally worth the effort. You'll thank yourself when you get there.
What is Crystal Mountain Ski Resort?
Crystal Mountain is the largest ski resort in Washington state. It is hard to even compare the massive size of Crystal Mountain if you have only been to small resorts. The mountain is a great way to get out of the city, almost a pilgrimage of sorts for some people. It could be the place where you and the family reset this winter.
Lodging Near Crystal Mountain Resort
There are really three choices of lodging at Crystal Mountain Resort.
Camp at the resort itself with an RV
Stay nearby at a vacation rental by owner
Stay at a local inn
There are 66 RV sites at Crystal mountain. They go quick! RV options at Crystal Mountain Resort are between 50 amp and 30 amp electrical. There are 30 sports for large RVs, 22 for medium RVs and 14 for small RVs. Just be aware there is no dump station at the resort and no bathhouses. Now Crystal uses a pre-queue for their RV reservations so it is more like a lottery system. Be sure to register if you want a reservation.
Vacation rentals by owner can be a great alternative if you don't own an RV but want to stay nearby the resort.  The two big sites to check are VRBO and Airbnb. If you are lucky, you can find a cabin or a private rental, not too far from the resort. They can be pricey around the holidays so just keep that in mind.
The last option is a few of the local inns near Crystal. There is the Crystal Chalets, Alta Crystal Resort and Silver Ski Chalet all within a few minutes of the resort. Alta Crystal has rustic cabins which can really cap off a winter vacation. Silver Ski Chalets are pretty modern if you like some upgrades amenities.
Pro Tip:  If you plan on a RV reservation at Crystal, make sure you enter their pre-queue. Monthly dates open at the start of the month before. 
Does Crystal Mountain Resort Have Night Skiing?
Fortunately for you, Crystal does have night skiing from Fridays to Sundays, December through February and select holidays. It is on select trails till 8 p.m. but a great way to extend your riding hours.
The Best Time to Visit Crystal Mountain
The best time to visit Crystal is earlier in the week. There will be less traffic on the lifts on Monday through Wednesday. This comes at a cost though because you won't get to enjoy the night skiing which is only on weekends. Figure out if night skiing is important or less people on the lifts.
Rental Gear at Crystal: What to Know
Don't worry if you don't have your own gear or don't even want to lug your gear to the mountain. You can rent slopeside at Crystal. Stop into the guys at Brand X equipment to rent skis or snowboard gear. They carry a wide arrange of manufacturers and if you don't find what you are looking for then you can also pay a little extra to rent some demo gear.
Crystal Mountain's Terrain Parks
So you want to ride one of the parks at Crystal?  They have three options.
Disco Park
Quicksilver
Jump Line
Disco is going to be the best park if you are a beginner. Be sure to start there before progressing up to Quicksilver. Quicksilver has some larger jumps and steeper rails. If you are already an advanced level and want to hit some air, then check out Jump Line. It has some of the most legit jumps stacked back to back
Is Crystal Mountain Resort Good for Beginners?
Crystal Mountain Resort can be a bit intimidating for beginners due to its size but honestly, on their first few days, beginners aren't going to see the whole mountain. Get a lesson and start small. Make the learning area your friend until you have it mastered. Then go onto the harder greens.
Read More:
Have You Skied at Loup Loup? Check Out This Smaller Ski Area.
Trails at Crystal – What to Know 
There are 85 named trails to ride at Crystal Mountain. You'll need multiple days to explore all the trails, let alone the 2,600 acres. You'll also need a high skill level.  A break out of the trails is as follows. This only applies to 57 of the 85 trails. 
11% Beginner
54% Intermediate
35% Advanced & Expert
So now you know a lot about the resort but we want to let you in on a few of the trails Peak Seeks love. Here are a few of our favorites –
Beginner
Discover Meadow
Quicksilver
Tinkerbell
Intermediate
Gandy's Run
Sheppard
Wally's Way
Advanced
Memorial Forest
Snorting Elk
Whit's End
Expert
Bruce's Bowl
The Nose
A-Basin
Pro Tip: Even if you are a competent skier or snowboarder, always start at green and work your way up the trails. You never know the difficulty of trails at a new resort.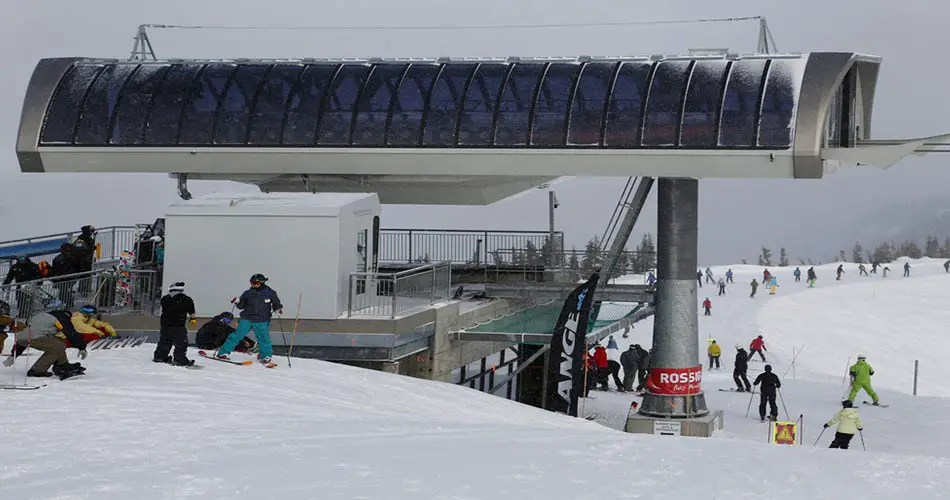 Other Winter Activities at Crystal Mountain  
The big draw to Crystal is the downhill skiing and snowboarding but if you want to experience something different, book a guided snowshoe adventure. You can also go without a guide on one of six snowshoe trails. While we are all about the downhill and parks, snowshoeing could be fun for you. Plus the more people snowshoeing means more people off the lifts. Win, win.
Is There Summer Mountain Biking at Crystal Mountain?
The only mountain biking at Crystal you will find in the summer is non-lift-assisted mountain biking. That being said, there are a bunch of other things to do at Crystal in the summer. Stop by for some great hiking, play a round of disc golf or even book a wedding. 
There is even a glamping retreat at Crystal to check out. Their sky camp is the best way to make a wedding even more memorable.
Final Thoughts:
Crystal Mountain Resort is a must-visit resort if you are in Washington state. We can appreciate it if you learn at a smaller resort but at some time in your skiing and snowboarding journey, you need to visit Crystal.
Sure, you can get lost in the planning thinking you will eat here and ride this trail there. You need to just do it. Make it the year you ride Crystal or head back. It's hard to ride anything else after!