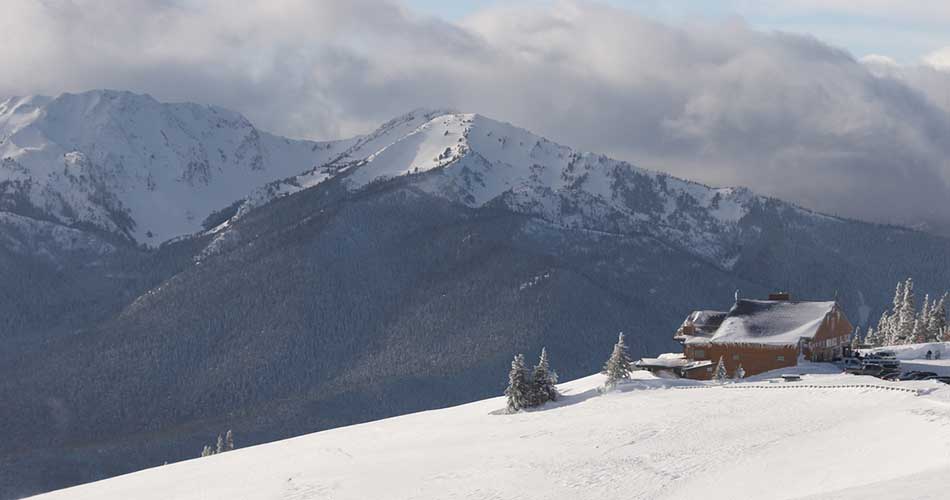 Put your snow tires on if you are headed to Hurricane Ridge Ski Area, in Washington state. Hurricane Ridge Road requires you to carry tire chains in your vehicle when going up and that is no joke. The average annual snowfall at Hurricane Ridge can exceed 400 inches. Great for skiing and snowboard conditions but be sure to come prepared.
Read on to learn about one of the few ski areas inside a national park, Hurricane Ridge. Once finished, you'll be in a good spot to go up and shred the trails.
Highlights of Hurricane Ridge Ski Area in Washington
Do you love the ski and snowboard stats? Check out these stats of Hurricane Ridge Ski Area –
10 trails
2 rope tows
1 poma lift
Terrain park
800 feet of vertical
Peak elevation: 5,500 feet.
Where is Hurricane Ridge Ski Area Located?
Hurricane Ridge Ski Area is located in Port Angeles, Washington. You'll have to venture across or around the Puget Sound to get to the trails. Here is the distance to some of the nearby cities to Hurricane Ridge-
Seattle, WA – 3 hours and 10 minutes, 100 miles
Portland, OR – 4 hours and 40 minutes, 250 miles
Tacoma, WA – 2 hours and 40 minutes, 125 miles
Need Hurricane Ridge Ski Area Directions? Map it from your place here.
What is Hurricane Ridge Ski Area?
Hurricane Ridge Ski Area is one of few ski areas inside a National Park. This means that there is more to do than just downhill skiing and snowboarding. You'll find that in the huge park, you can also go on ranger-led snowshoe walks and snowtubing. The former better for younger kids in the family and the latter is better for older kids as it is nine years old and above for tubing.
Lodging Near Hurricane Ridge Ski Area
Once you come back down the almost mile from the top of the mountain, there are a few places to stay nearby. You can always go the VRBO/ Airbnb route but the closest hotels will be about 40 minutes away back in Port Angeles. There is both a Super 8 by Wyndham and a Quality Inn.
Keep heading 20 more minutes and you'll find the Holiday Inn Express & Suites in Sequim. This is a good place to stay for families and a little bit nicer than the options in Port Angeles.
You can even overnight camp in the Hurricane Ridge area. Two things you should know though are that you need to register in advance and be a half-mile from the Hurricane Ridge parking area.
Alternatively, you can go to the Heart O' the Hills Campground which is the closest to Hurricane Ridge peak.
Pro Tip: Monitor the weather. We can't say it enough. Hurricane Ridge is almost a mile up. It is not uncommon to get extreme winter weather and blizzards up and near the mountain. Be smart and leave early if you need to.
Is Hurricane Ridge Ski Area Good for Beginners?
Hurricane Ridge Ski Area is has a bunny tow and gives lessons. The two nice things are that beginners can work on the bunny slope all day and the lesson class sizes are low. The only drawback is that if you are a fast learning beginner, you won't have tons of beginner trails to ride.
Does Hurricane Ridge Ski Area Have Night Skiing?
Hurricane Ridge does not have night skiing. This is probably a good thing. The road can get dicey in the winter and you don't need the darkness adding to it.
The Best Time to Visit The Ski Area
The best time to visit Hurricane Ridge is going to be the mornings on the weekends. They are only open Saturdays and Sundays from 10 am to 4 pm. It makes for a good weekend trip to get up to Port Angeles on a Friday night. Then come Saturday morning, you can cruise up for a session at Hurricane Ridge.
Rental Gear at Hurricane Ridge: What to Know
If you need rental gear when you visit Hurricane Ridge, stop into the lower level of the visitor center. They can hook up you or a family with a full downhill package. It is also the place to rent out your snowshoes for the day if you want to do a bit of exploring.
Terrain Parks: Do They have Any?
Do they have a terrain park at Hurricane Ridge? They sure do! It is on the intermediate face. Just grab the intermediate tow. The features aren't massive but you should certainly have ridden a few times before just jumping into the terrain park at the ridge.
Trails at Hurricane Ridge Ski Area – What to Know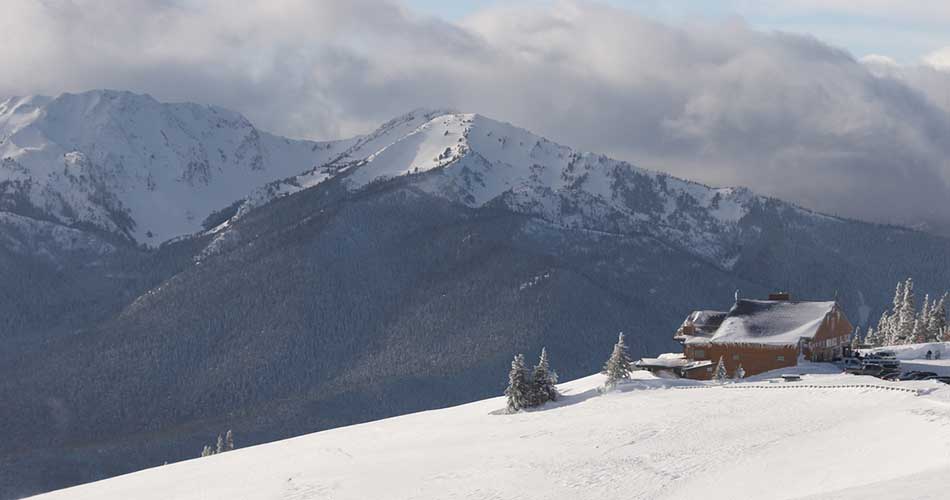 There are 10 trails to ride at Hurricane Ridge Ski Area.  You will definitely get through them quickly but that doesn't mean the fun will stop. Hurricane Ridge is a great place to visit. If you really get tired of the trails then switch over to snowshoeing. 
Other Winter Activities at Hurricane Ridge
Rivaling the skiing and maybe even better, we recommend checking out the snowshoeing at the ridge. It slows you down, is great exercise and you'll be able to take in some amazing sights. Don't overlook it because it is a lot of fun!
Is There Summer Mountain Biking at Hurricane Ridge?
So when the seasons flip, you can make use of the cross-country mountain bike trails. It is worth a second visit when the seasons change to see the new sights. You might even catch a glimpse of some animals. Check the Olympic Discovery Trail when starting your bike adventure.
Final Thoughts:
Hurricane Ridge Ski Area is unique in its own right. High up and in a national park. Sure, its not the biggest ski area in the state and it doesn't have the most trails but just getting out there is an adventure in its own right. It's a great weekend getaway and a nice family trip. The scenery alone is worth checking out the ski area.
Be sure to put Hurricane Ridge on your list of places to ski this winter!
Explore More washington Ski Resorts