One ski hill we can't recommend enough in Washinton is Loup Loup. If you know anything about it then you know there is a great atmosphere, the people are friendly and it is inviting for the whole family.
Before you take your trip out to Loup Loup this year, we're going to help you get set with directions, everything you should know about rentals and even some of the most fun trails to ride.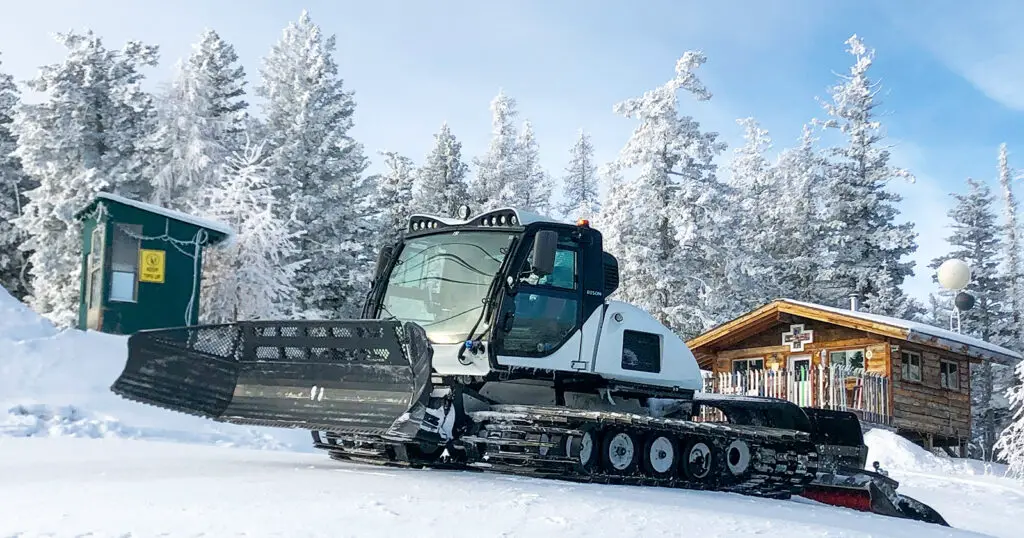 Loup Loup Ski Bowl in Washington: How to Get There
Loup Loup Ski Bowl is located just west of Okanogan up in the Okanogan Wenatchee National forest. Off of highway 20 between Okanogan and Twisp, WA, Loup Loup is simple to get to. Here's how long it takes to get there from some nearby areas.
Twisp, WA – 20 minutes, 15 miles
Winthrop, WA – 30 minutes, 20 miles
Okanogan, WA – 25 minutes, 20 miles
Brewster, WA – 45 minutes, 35 miles
Conconully, WA – 50 minutes, 40 miles
If you need directions then feel free to use Google maps.
Stats of Loup Loup Ski Bowl
Before you dial in that GPS, let's do a quick overview of what to expect at Loup Loup Ski Bowl. Here are some stats about the Loup:
10 cut trails on Little Buck Mountain but 16 trails in total
Peak elevation of 5260 ft
One quad chair, a rope tow and a poma
Nordic skiing
Luge for the family
Terrain park
Now with a good idea of what Loup Loup offers, let's get onto the good stuff.
Loup Loup Lodging: Where to Stay
While Loup Loup isn't a typical overnight ski vacation destination, it is overlooked in our opinion for a relaxed family weekend ski trip. The closest hotels are in Twisp and Omak, with a bigger selection up in Methow. If you want to stay really close to Loup Loup then a vacation rental by owner is often the best bet.
20 minutes away, an easy to get to option is Twisp River Suites. It is a really good home base to ski or snowboard out of for a few days.
Further up in Methow, your top option is Methow River Lodge and Cabins. Twisp River Suites is a little more upscale and closer but if a backup is needed then Methow River Lodge isn't a bad second option. The plus side to staying in Winthrop is access to the tons of cross-country trails in the area.
Lastly, if chain hotels are your preference, you can head east 35 minutes and stay at the Best Western Plus in Omak.
Does Loup Loup Ski Bowl Have Night Skiing?
What's the good and the bad when it comes to Loup Loup night skiing? Let's start with the bad. Unfortunately, there isn't night skiing at the ski bowl. That being said, the good is since the last chairs wrap up around 3:45 p.m. you'll be able to get home, to dinner or lodging before it gets too late into the evening.
Loup Loup Ski Bowl Resort Weather: How Are the Snow Conditions
The weather and snow conditions at Loup Loup Ski Bowl can vary greatly throughout the ski season. Since the ski area is located in Okanogan County, Washington, the ski bowl is subject to the region's typical winter weather, which can include sub-zero temperatures, dry snow and excellent natural snowfall.
It's important to note that the ski bowl does close down for sub-zero temperatures. You can always monitor the on Loup Loup's channels.
Rentals at Loup Loup: What to Know
If you're planning to visit Loup Loup Ski Bowl and need to rent ski or snowboarding equipment, there are a few things you should know.
Rentals are available on-site: Loup Loup Ski Bowl has a rental shop located at the base of the ski bowl near the parking lot. Unlike many huge resorts, the rental process at Loup Loup is simple. You can rent online or in the shop.
Make a reservation for rentals: Even though you can rent in the shop, consider booking online at least 2 days in advance of your skiing or snowboarding day.
Consider a rental package: Aside from normal daily rentals, there are two more flexible options if you plan to ride a lot at Loup Loup. You have the option for take-home rentals and their rental pass.
Take-home rentals are a great option if you need rental gear but plan to ski some other mountains in the winter. The rental pass is great if you just want to pick up your gear every time when showing up to the Loup.
Learning to Ski at Loup Loup Ski Bowl
Loup Loup Ski Bowl is a great place to learn how to ski, whether you're a complete beginner or an experienced skier looking to improve your skills. The ski bowl offers a variety of programs and lessons for all ability levels, including group, private lessons, mommy/daddy & me, wolf pack and adventure camp.
The good thing about learning at Loup Loup is the smaller crowds, unintimidating ski area and friendly instructors.
Little ones can start out in lessons at ages 4-6 with the Mommy/Daddy & me ski program. It is a great way to get the family on the slopes and the little ones into the sport.
Once they get older, they can join Wolf Pack classes on Saturdays which are a progressive program for kids and young adults from 7 to 17 years old.
Lastly is the fun adventure camp they run in January for a full month. It targets advanced skiers and snowboarders ages 12 to 17 for Saturday classes.
It doesn't matter if you are a first-timer or want to hop into a class at Loup Loup, trust us, you'll have fun.
Trails at Loup Loup Ski Bowl: The Must Rides
If you ride at a high skill level then you'll be able to ride all the trails a Loup Loup in a day but it is still worth highlighting some of the favorites at each level.
Beginners
Intermediate
Expert
For the latest on the crowds, you can check out the Loup Loup Ski Bowl webcams.
Tubing at Loup Loup and Luge
If all that downhill skiing and boarding isn't already enough fun, Loup Loup has the Wild Wolf Tubing Hill for more excitement and luge sledding.
Tubing at Wild Wolf is perfect for families, the younger crowd, birthdays and corporate events. To step up the fun even a bit more, that is where Bear Mountain Luge comes into the picture.
Luge is only open on weekends and holidays so be sure to book early. There is a bit more skill level than tubing since you will get to master the sleds which you steer down the trails. If you have time during the winter, it is worth trying both the luge at Loup Loup and the tubing.
Loup Loup Ski Bowl: Final Thoughts
Whether you're a beginner or an experienced skier or snowboarder, Loup Loup Ski Bowl has something for everyone. There is even tubing and luge if the kids don't want to get onto skis or a board.
Head out to Loup Loup this winter, it is one of the true low-crowd resorts with a retro vibe that is still giving an amazing experience each year in Washington!