Song Mountain is one of the most characteristic mountains in Upstate New York. Although it is small, Song has terrain for everyone. So, whether you are a true beginner or a more advanced rider, you will be satisfied with all that Song has to offer. Read on to learn everything there is to know about this family friendly ski area.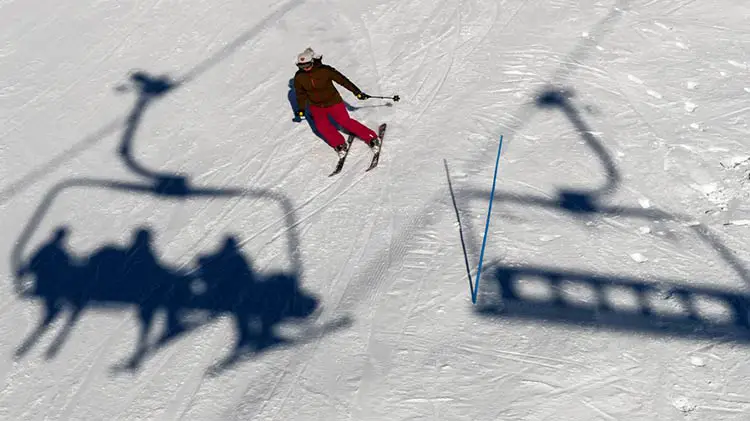 Directions to Song Mountain: How to Get to Song
Song Mountain is located in Tully, New York. And it is easy to get to since it is not that far from Interstate 81. Once you see Song Lake, you will know you are in the right place! There is also a ton of free parking available at the base of the mountain. Here is a look at how far Song Mountain is from some nearby cities:
Syracuse, NY – 25 minutes, 20 miles
Albany, NY – 2.5 hours, 165 miles
Niagara Falls, NY –  3 hours, 170 miles
Philadelphia, PA – 4 hours, 240 miles
New York City, NY – 4 hours, 240 miles
Song Mountain at a Glance: The Highlights
Song is privately owned by the same folks who operate Labrador Mountain in Truxton, New York. So, if you have been to Lab or read our review about Lab, you will notice that Song is a very similar mountain. It gets a bunch of snow in the wintertime from the lake effect storm systems nearby and the owners like to keep the mountain open as long as possible.
This means that if it is a big snow year, Song will run its lifts well into the spring months. Here are some quick facts about the mountain:
Trails: 24
Lifts: 5
Night Skiing
Song Mountain Resort Lodging: Where to Stay
Song Mountain is not a big resort-y type place. Instead, it has a real local, small-town vibe to it. There are no hotel chains at the base of the mountain or any ski-in, ski-out condos lining the trails. So, if you are coming from out of town, your hotel options will all be a short drive from the mountain. Some of the best places to stay are:
Hampton Inn & Suits Cazenovia
Hampton Inn Cortland
The Craftsman Inn & Suites
Mirbeau Inn & Spa Skaneateles
As mentioned above, Syracuse is only 25 minutes away and there are more hotel options there that are worth checking out as well. Additionally, VRBO has some great rental properties close to Song that satisfy just about every budget.   
Song Mountain Resort Restaurants: You Won't Go Hungry
Song Mountain has an incredible restaurant right at the base of the mountain. It opened in 2021 and it is called Heuga's Alpine. There is a ton of seating inside and a great wrap around bar you can post up at after a long day of skiing or snowboarding.
They have outdoor seating as well for those nicer spring days. And, Heuga's Alpine even has live music. Be sure to check out their social media for updates on happy hour specials and performances.
Song Mountain Ski Pass & Lift Tickets: What to Know
Song Mountain has a variety of lift ticket options. For example, if you want to ski for two hours, there is a ticket for that. Or, if you want to ski for a week straight, there is a ticket for that, too.
Like most ski areas, Song's ticket options are priced per age group, and they have special offers for college students and military personnel. If you get a pass, even if for a week, it will be honored at Labrador Mountain, too. So, technically, you get two mountains for the price of one!
Hours of Operation & Night Skiing at Song
Song Mountain is not open on Mondays unless it is a holiday. Tuesday through Friday, Song opens at 10:00am and closes at 9:00pm. So, yes! They have great night skiing. And on Saturdays and Sundays, Song opens an hour earlier at 9:00am and closes at 4:30pm.
Song Mountain Rentals
Even though Song is a mom-and-pop operation, it still has everything you need for a successful day on the slopes. You can rent total packages that provide you with all the equipment you need, or you can rent items individually. So, if you forgot your poles at home, Song's rental shop has you covered.
Trails & Terrain Parks – One's You Won't Want to Miss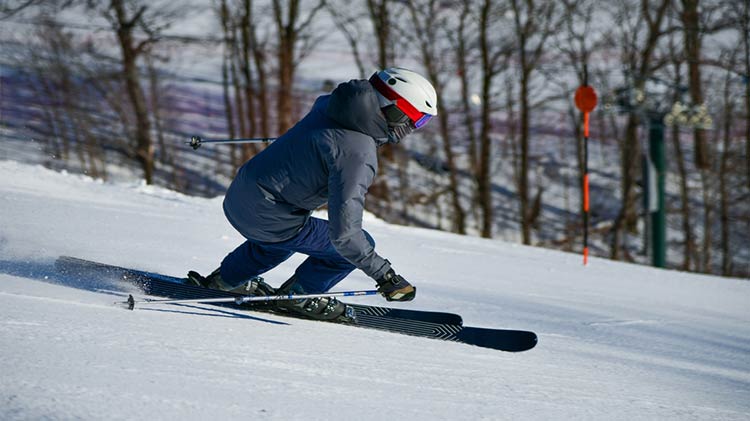 As mentioned above, Song Mountain has 24 trails and 5 different lifts. The terrain is diverse and there is a good mix of green, blue and black trails. There is even a steep moguls run called Jupiter that is sure to satisfy ever thrill seeker out there. Here are some more stand out trails at Song Mountain by ski/snowboard ability:
Beginner
The Meadow
Bunny Hop
Mixing Bowl
Intermediate
Stormy Weather
Crossover
Hello Dolly
Advanced
Upper Dipsy Doodle
Chopsticks
Bali Hai
There are no designated terrain parks on the trail map. However, do not be surprised if you come across some small jumps and rail features while cruising down Song Mountain.
Song Mountain Ski School
Song Mountain has a great team of professional ski and snowboard instructors. They offer group and private lessons for all ages and abilities.
There are also extended programs that are great if you are going to be in the area for a while or if you are local. For example, the women's program at Song Mountain runs for six Saturdays in a row.
Other Winter Activities
Song Mountain really is just for skiers and snowboarders. There are no other winter activities like tubing or ice skating at Song Mountain.
However, and as mentioned above, there is live music at Heuga's Alpine Restaurant. And, if you join Song Mountain's Thunderbird Club, you could have access to even more fun activities and parties on the mountain.
Song Mountain: Final Thoughts
There is not much to complain about when it comes to Song Mountain. They offer a pass that grants you access to a whole other mountain. The vibes are friendly. And the terrain is far from boring! So, if you find yourself in Upstate New York, be sure to check out Song Mountain and grab at a bite at Heuga's Alpine Restaurant on your way out.   
Explore More New York Ski Resorts