Whiteface Ski Resort is one of the pinnacles of east coast skiing and snowboarding. There is not many east coast resorts where you will find a gondola, let alone 90 trails! If Whiteface has been on your list but you haven't made it there yet, get ready to plan a trip. You'll need more than two days to experience all that Whiteface has to offer.
Read on to learn everything you need to know before visiting Whiteface Ski Resort this seaso.
How Do I Get to Whiteface Mountain?
When skiers in the Northeast want to really 'get out of town', there's no better place than the Adirondack Mountains of New York State. Unspoiled, sparsely populated and heavily forested, this is truly an escape from the fast-paced world of the big city.
Albany – 145 miles, 2 hours 35 minutes
Boston – 265 miles, 5 hours, 10 minutes
Hartford – 253 miles, 4 hours 10 minutes
Montreal – 169 km, 2 hours 5 minutes
New York City – 296 miles, 5 hours 20 minutes
Syracuse – 216 miles, 4 hours
As the 5th-highest peak in New York, Whiteface is situated where on a very clear day the skyscrapers of Montreal can be seen almost 80 miles away!
Whiteface Ski Resort Stats
Mountain Peaks: Whiteface Mountain, 4,867 feet; Little Whiteface Mountain, 3,676 feet; Lookout Mountain, 4,000 feet
Highest Skiing Elevation: 4,650 feet
Vertical drop: 3,430 feet, to the base at 1,220 feet
Ski area: 288 acres, 22 miles of trails
Longest run: 2.1 miles, Wilmington Trail
Number of lifts: 11 including one 8-passenger gondola, one high-speed detachable quad, three fixed quads, one triple, three doubles and two conveyor lifts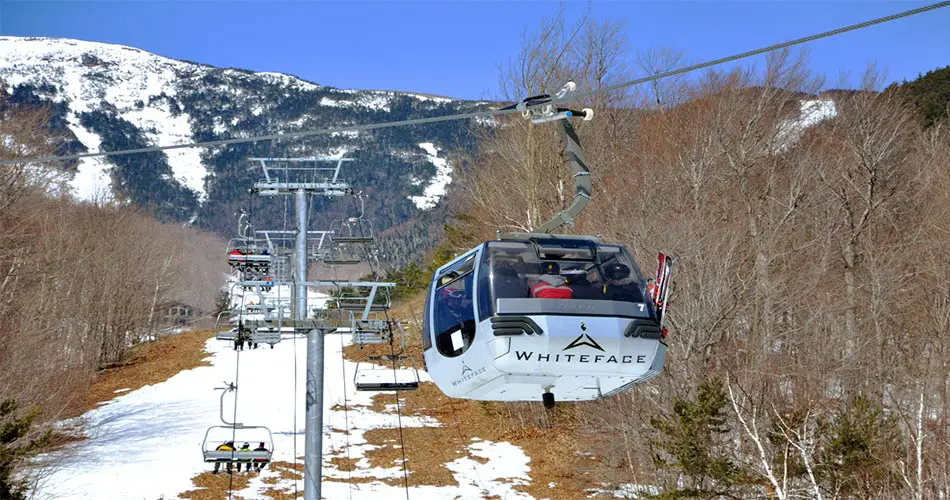 It's All About the Trails at Whiteface Ski Resort
Three peaks, 90 trails and 22 miles of downhill fun await you at Whiteface Mountain Ski Area. There are limitless options for skiers and boarders of all skill levels. Trail rating are divided as follows:
Beginner, 20%
Intermediate, 42%
Expert, 38%
With some of the steepest drops in the Northeast U.S., Whiteface is well known for some incredible Double Black Diamond runs:
Cloudsplitter Glades
Slide View Glades
Rand's Last Stand
Sugar Valley Glades
The Slides & Slide Out
Lodging Near Whiteface Ski Resort
As we mentioned earlier above, if you want a complete ski experience, Lake Placid is THE place to stay for the best choice of accommodations, dining, and shopping. Ever since the Winter Olympics put Lake Placid on the world's map, it has been a popular year-round vacation spot in the Adirondacks. Some properties to consider include:
• Mirror Lake Inn Resort & Spa (AAA 4-Diamond rated)
Hotel Saranac (downtown Lake Saranac, 9 miles from Lake Placid, 19 to Whiteface Mountain)
High Peaks Resort
Wildwood on the Lake
Placid Bay Inn
Best Western Adirondack Inn
Also, check out the many bed and breakfast properties and rental homes in the area.
Food, Glorious Food
Skiing and boarding are a blast, but they can sap your energy quickly. Getting recharged with great food isn't a problem Whiteface Mountain, where a nice variety of food venues await you, including indoor options:
Growler's Grill, a family-friendly pub at the Bear Den Lodge
Cloudspin Bar & Grill, 3rd floor of the Main Base Lodge
Taste NY Café, quick service and casual in the Main Base Lodge Solarium
Black Bear Market, breakfast and lunch options that kids will enjoy
J. Lohr Vineyards & Wines/Café & Wine Bar
The Base Camp Market is the grab-and-go venue here featuring soups, pizza, wraps, burgers and chili. And don't forget the Waffle Cabin at the base of the Gondola.
Looking for a quick grab-and-go meal? Check out the coffee shop which also has snack items, the Skinny Pancake, Igloo Apres and Whistlepig Pavilion.
Dining reservations are highly recommended for the indoor dining spots, especially during weekends and peak holiday periods. You can reserve a day in advance to ensure that you'll have a table when you arrive.
Can We Ski After Dark at Whiteface?
There is no night skiing at Whiteface Ski Resort. Peak season operating hours are as follows:
Ticket windows open at 8 a.m.
General lift hours are 8:30 a.m. to 4 p.m., but some may vary based on conditions and day of week
Must Know: Same-day walk-up lift tickets will NOT be available on peak days which includes most holidays and weekends. Save time and money by purchasing your lift tickets in advance, online.
Is There a 'BEST' Time to Visit Whiteface Mountain?
Without a doubt, midweek skiing is your best way to avoid crowds and save money. The overwhelming majority of Whiteface guests stay for at least three days, and many stay even longer, due to the longer drive-time it takes to travel to the Adirondacks for most U.S. visitors. For Canadian skiers, be sure to check the dates each year for the Martin Luther King holiday weekend in January, as well as President's Day weekend in February.
These weekends are sure to be jam-packed with your south-of-the-border friends who are willing to pay more for lift tickets and accommodations due to being off from work on Monday. Generally, Tuesday-Thursday is going to be when you will find less expensive lift tickets and hotel rooms, fewer people in the ski area and town restaurants as well as far fewer people on the slopes.
Fewer people + lower prices = shorter lines and more skiing!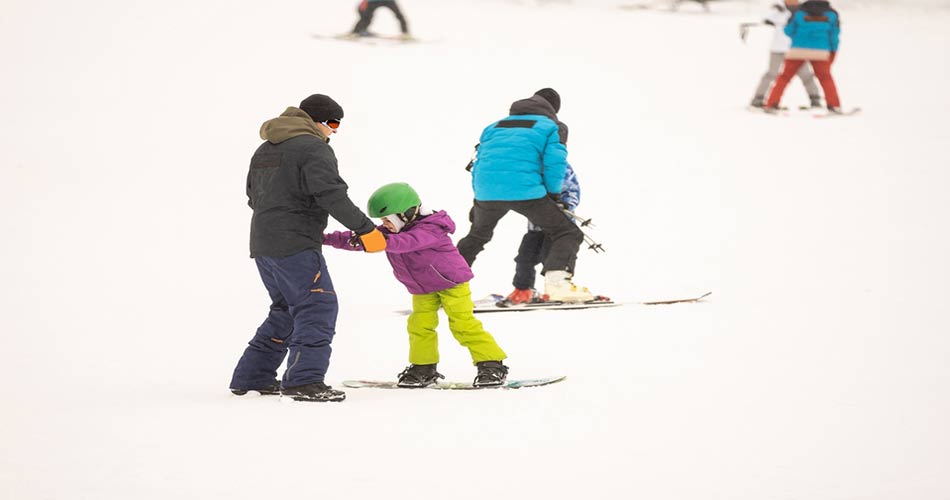 How's the Rental Equipment at Whiteface Ski Resort?
Whiteface offers top-of-the-line ski and board rental packages, or individual items, at their Rossignol Experience Centers. With more than 1,200 pair of Rossignol skis and 200 Burton snowboards, you are practically assured of finding just what you're looking for. Or, for those interested in a demo for possible purchase, there are more than 150 additional pairs of skis to contemplate.
As is standard procedure at most ski areas, helmets come highly recommended but are an option, so be sure to reserve one in advance if you want to add this level of safety to your experience. If you're bringing your own ski or board equipment but need a helmet, be sure to reserve one in advance to avoid being disappointed.
Tune-ups and equipment repairs are also available at the rental locations. Their Autoturn rocker technology can make your ride more balanced, helping to control your speed and steering. Keep in mind that when the ski area is busiest (weekends and holidays), the tune-up and repair shop will be busier, too. If you are visiting during a peak time period there is the possibility that your issue may not be able to be resolved quickly, if at all. Our advice? Plan ahead and deal with your personal equipment issue before heading for the hills.
Reserve Online: Equipment rentals should be made online in advance of arrival and may be made at the same ticket you purchase your lift tickets.
What Can You Tell Me About Whiteface's Terrain Parks?
First-time terrain enthusiasts will be thrilled by the Flying Squirrel beginner's trail at the Bear Den Learning Center. Also for newer terrain skiers is the Fox Trail located at the Whiteface Mountain Base. Enjoy a super mini half-pipe and some wide flat boxes as you gain terrain riding experience.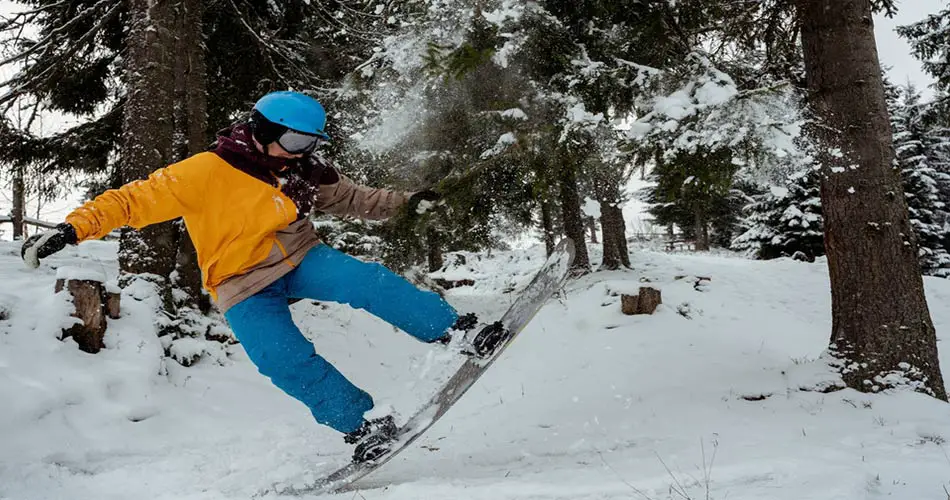 More experienced terrain park users can experience Broadway, Danny's Bridge, Brookside, and Wolf & Wolf Run, designed to give you some air time if desired, as well as more challenging jumps and rails.
Does Whiteface Offer a Snow Tubing Hill?
While Whiteface does not feature a snow tubing hill, there are some tubing options in the Lake Placid/Saranac Lake area, most at notably Mount Pisgah, a small town-operated ski hill that also offers tubing.
Do They Make Snow at Whiteface Mountain?
Utilizing 335 snow guns and 40 miles of pipe, this ski area means business with 99% coverage of its runs. The only areas that the guns don't reach are the black double-diamond Glades and Slides runs. Average natural snowfall at Whiteface is almost 140 inches annually.
Some Closing Thoughts
You've surely reclined sometime in an Adirondack chair, but maybe not during the winter. While many famous things are named for someplace but didn't necessarily originate there, the Adirondack chair is the real thing, as it was first designed and produced in the town of Westport, New York. After limited initial success when first introduced in 1906, the inventor decided that Adirondack might just be a stronger marketing name, and the rest is history.
But you're coming to these mountains to ski, not sit. Whiteface Mountain and the spectacular Adirondack Mountains is one of those beautiful places that you won't forget. And with a bit of Olympic history in the mix (if you were old enough to remember in 1980, this is where the U.S. men's hockey team shocked the Russians and the world with an unexpected victory while en route to the gold), this is an all-around wonderful place to say goodbye to stress and hello snow.