It's no secret that cross-country skiing is an intense and demanding form of exercise. From recreational cross-country skiing, to college and the Olympics, heart rate monitors can improve skiers' outputs. There are a variety of heart rate monitors for cross-country skiing that can help you measure your heart rate and track your data.
We're going to look at four heart rate monitors for cross-country skiing and point out one that you might want to pass on.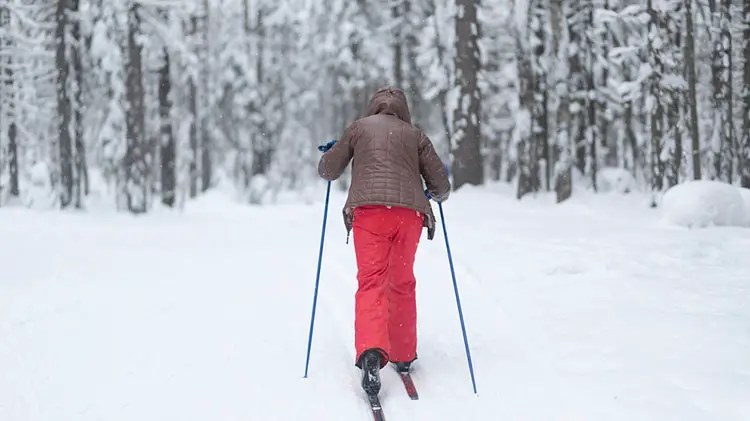 What's The Point of a Heart Rate Monitor For Cross Country Skiing?
Would you like to have higher performance and optimize your cross-country skiing workout? That is the main point of wearing a heart rate monitor when cross-country skiing. The data.
With the use of a heart rate monitor, you can easily keep track of your heart rate throughout the session and be sure that they are staying in its optimal training zones for skiing. By monitoring and adjusting your heart rate as needed, you can ski longer, faster and more efficiently.
Training with a heart rate monitor is especially beneficial for those looking to improve performance in competitive cross-country skiing events but it is just as valuable to recreational skiers.
For competitive skiers, being able to accurately measure your average heart rate over an entire race is invaluable information when it comes to fine-tuning your training routine. Training at specific levels of intensity helps increase aerobic capacity, allowing you to push yourself further while still avoiding fatigue and injury due to overexertion.
You'll have a better idea of how much exertion you are using on the flats vs going up the hills. That's a competitive edge.
What To Look for in a Heart Rate Monitor
A heart rate monitor is an invaluable tool for cross-country skiers due to the above reasons. So what should you look for in a heart rate monitor? There are a few key features as follows in a heart rate monitor.
First and foremost, you are going to want a model that can analyze data from your workouts such as intensity levels. It's useless if the data isn't stored. This will give you more insight into how your body is responding so you can better adjust your activity accordingly. Can you push it harder uphill? The data doesn't lie.
Additionally, you will want long battery life. This way your device won't die during any of your skiing sessions; some models even come with rechargeable batteries. Finally, make sure the device is waterproof so it won't be damaged by sweat, water or snow. This is basically a given these days.
Why More Cross-Country Skiers Are Using a Heart Rate Monitor
It has just been in recent years that more competitive racers are using heart rate monitors to help them race faster. They are the most reliable way to measure your performance on the cross-country trails.
The biggest tweaks you can make using a heart rate monitor for cross-country skiing are:
Optimizing your heart zones.
Monitoring during your ski session or race.
Using the data to see your exertion at certain sections of the course.
Looking at 4 Heart Rate Monitors for Cross Country Skiing
There is an abundance of monitors on the market, which one should you choose? We've put together a shortlist of 4 good options that are currently available on the market and 2 stand out from the rest.
Garmin HRM-Pro: A Heart Rate Monitoring Beast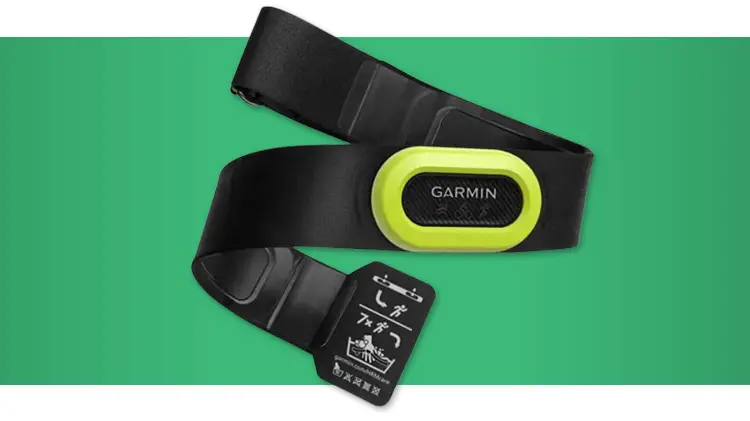 Garmin's HRM-Pro is the top-of-the-line when it comes to heart rate monitors. It is perfect for cross-country skiing. It uses ANT+ and Bluetooth to transmit data onto a Garmin device or phone. If you pair it with the Garmin Fēnix then you have a perfect setup to monitor the data on your watch while on the trails.
The beauty of the HRM-Pro is that it can store heart rate data when your watch or phone is out of range.
The battery life could be a bit better since it only lasts about a year before you will need to change it. That doesn't take away from how well the HRM-Pro performs. It's lightweight and will do everything you need to improve your cross-country skiing.
Read More:
Buying vs Renting Skis [When it Makes Sense to Buy Skis]
Birthday Gifts for Teen Skiers: 30 Items for Great Ski Gifts
POLAR H10 Heart Rate Monitor: Great Alternative for Cross-Country Trails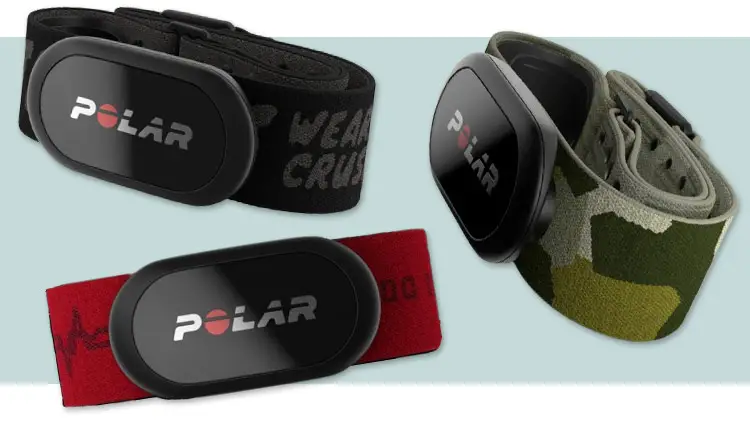 Another comfortable alternative is the POLAR H10 Heart Rate Monitor. The H10 is extremely similar to the HRM-Pro. It also uses ANT+ and Bluetooth to transmit data. You are really splitting hairs between Garmin and Polar so you need to consider the platforms behind the heart rate monitors.
We certainly give Garmin a bit of a nod when it comes to software and digesting the heart rate data.
You are going to get a similar battery life of about 1 year. The thing to keep in mind is that with both of them, the battery should truly last longer than a year since cross-country ski season only lasts for around 6 months. You can't go wrong with Polar and if you don't want to join the Garmin line up then this is a solid alternative.
Wahoo TICKR X Heart Rate Monitor: Not Bad If You Like to Cycle Too
The Wahoo TICKR X Heart Rate Monitor is useful for skiers and cyclists. You might know Wahoo Fitness which puts out the famous Wahoo Kickr for cycling. If not, no worries. It has all the features you need to track your heart rate for cross-country skiing. One plus is that it is a little bit cheaper than the Polar and Garmin.
While the Wahoo TICKR X is specifically designed for cycling, it is good for cross-country skiing because it can store 50 hours of data in the monitor itself.
If you do a bit of cross county skiing and cycling then the TICKR X is a great option. Otherwise, stick to the Garmin or Polar H10 which just get the job done.
Read More:
Ski Gifts for Ski Moms: 13 Gifts for a Ski Mom's Birthday
When to Start Your Kid Skiing | Ages 1-3 Explored
COOSPO H6 Heart Rate Monitor: A Budget-Friendly Option
Rounding out the list of heart rate monitors for cross-country skiing is the COOSPO Heart Rate Monitor. The COOSPO H6 is an entry-level monitor that provides a cheaper alternative to high-end monitors like Garmin and Polar but not by too much.
I'm always a believer in paying a bit extra for quality but this one is good for the recreational cross-country skier.
If there was one heart rate monitor for cross-country skiing that we would avoid, it would be this one. The strap is a bit short if you have a larger chest and the app isn't as refined as the Garmin app. While the COOSPO H6 will get the job done, it may leave you just want a bit more quality and better output for the data.
Which Heart Rate Monitor Do I Wear for Cross Country Skiing?
Wondering which heart rate monitor (HRM) to wear for your cross-country skiing? With so many choices out there, it can be difficult to decide. We recommend the Garmin HRM-Pro for the best data when you're hitting the trails.
As we mentioned the HRM-Pro works with a compatible Garmin watch and tracks your heart rate in real-time. With a comfortable strap, long battery life and a great software program behind it, what more can you ask for?
Final Thoughts on Heart Rate Monitors for Cross-Country Skiing
Using a heart rate monitor for cross-country skiing can change how you ski. You'll be able to improve your endurance, work on your race times by managing your output and keep an eye on your heart thresholds. If you want to make the biggest improvement to your cross-country skiing, give a heart rate monitor a try. The data is priceless!