A ski trip or day at the slopes is the perfect opportunity to get away from it all and enjoy some time on the trails but before you hit the slopes, you should be prepared in case of any medical emergencies. Medical kits for skiing should be something every skier at least considers. It's often overlooked to take a medical kit skiing. We'll look at some medical kits to take skiing, both for your car and on the mountain.
Do You Need a Med Kit When Skiing?
When it comes to skiing, do you really need a med kit? I will always say yes. I'm not talking about just on the slopes but I also think you need one in your car if you are driving to go skiing. You just don't want to be caught in a bad situation in the car or on the slopes.
The one exception is if you're sticking to the groomed slopes at your local resort, then probably not. If you are venturing into the backcountry, then having a med kit with you is essential.
You never know what might happen when you're out in the backcountry. You could fall and injure yourself, or worse. Having a med kit with you can help ensure that you're prepared for anything that might come up except concussions and bone injuries.
At the very least, your med kit should include items like bandages, gauze, tape, and antiseptic wipes. But it's also a good idea to include things like pain relievers and an emergency whistle.
A First Aid Kit When Skiing Can Be a Lifesaver
When you need it most, a first aid kit can be a lifesaver when skiing. Skiing is a great way to enjoy the outdoors and get some exercise, but it's important to be prepared for accidents. You might have all the confidence in the world but only one accident can mess you up.
Falls are the most common type of ski accident, and they can often be prevented with proper safety gear and techniques. However, sometimes falls happen even when you're being careful. If you or someone else falls and injures themselves, it's handy to have a first aid kit on hand.
Sometimes it's not even yourself that needs it but you can lend a helping hand if someone needs help on the trails.
Even having a small kit in your backpack means you treat minor injuries until professional medical help arrives or until getting to ski patrol.
It Doesn't have to be Huge Medical Kit to Take Skiing
A small first aid kit is great to have. It doesn't have to be huge or carry everything. A compact first aid kit is all you need is it is better than not having one at all.
You never know when you might need one. A lot of people think that they need a huge first aid kit, when in reality a small one can deal with most of the issues on the slopes if it is packed correctly.
Keeping One in the Car and One On the Mountain
It's always a good idea to have two first aid kits – one in the car and one on the mountain. That way, you're prepared for anything that comes your way.
A large first aid kit in the car is a must. This can help with any minor injuries that occur while you're on the road. Make sure to restock it regularly so that it's always ready to go.
A small first aid kit on the mountain is also a good idea. Just shove it in your backpack. This can be especially helpful if you're skiing in an area where there is no cell service and something minor happens.
Read More:
5 of the Best Ski Vehicles to Get to Ski Resorts This Winter
Are Snow Tires Better Than Chains? [There is Only 1 Winner]
What are Some Good First Aid Kits for Skiing?
When it comes to first aid kits for skiing, you have lots of options. You can buy small kits that fit in your pocket, or large ones that have everything you need for a group.
No matter what size kit you choose, you'll want one that has the essentials for dealing with common ski injuries. This could be some band aids, headache medicine, hand warmers, gauze pads and sports tape.
For a larger kit, you'll want to add items like splinting materials and scissors. You may also want to include a blanket in your larger car kit. It's wild to see how many skiers don't have their cars prepared.
1 – Johnson & Johnson All Purpose Portable Emergency First Aid Kit: For the Car
By now maybe you are starting to see why it is smart to have a first aid kit on hand. While there are many different types and sizes of first aid kits available, the Johnson & Johnson All Purpose Portable Emergency First Aid Kit is a great option for those who are looking for a larger kit that has the essentials.
This first aid kit comes with everything you need to treat minor cuts and scrapes, as well as more serious injuries. It includes bandages, gauze, tape, scissors, tweezers, gloves, and antiseptic wipes. Plus, it has a helpful instruction booklet that can walk you through the steps of treatment. Just a heads up, if you want to improve your skiing safety and do buy a med kit using a link in this post then Proper Peaks may get a small commission which it will use to meet payroll.
That said, the best part about this first aid kit is that it is designed specifically for use in the car. It has a compact design that makes it easy to store in the trunk or under the seat. Winter or summer, this kit can be there when you need it.
2 – First Aid Kit: Sized for a Backpack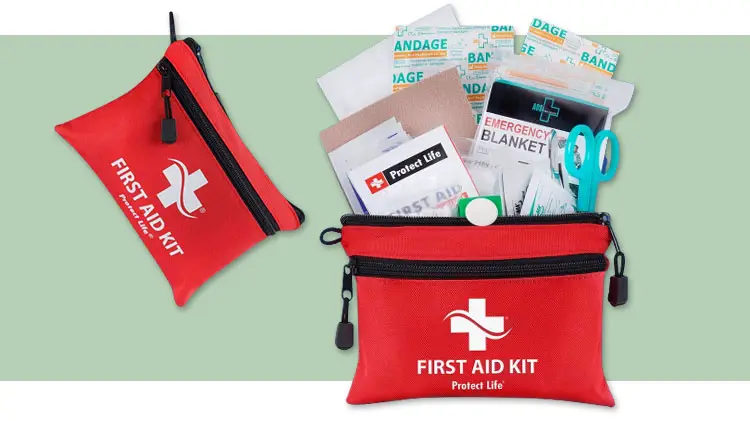 When you head out for a day of skiing, always be sure to pack a small first aid kit in your backpack. This is especially important if you are skiing in a remote area. A first aid kit is great to have on hand in case of minor injuries, such as cuts and scrapes.
Always carry a few bandages, some antiseptic wipes, and some pain relievers in your first aid kit. You may also want to include some tape and gauze in case you need to wrap up a more serious injury. If you are heading out into the backcountry, it is also a good idea to pack some supplies for dealing with blisters and other foot problems.
A small first aid kit is an essential piece of gear for any skier, whether you are just hitting the slopes at your local resort or venturing into the backcountry.
3 – First Aid Trauma Bag | A Must for the Car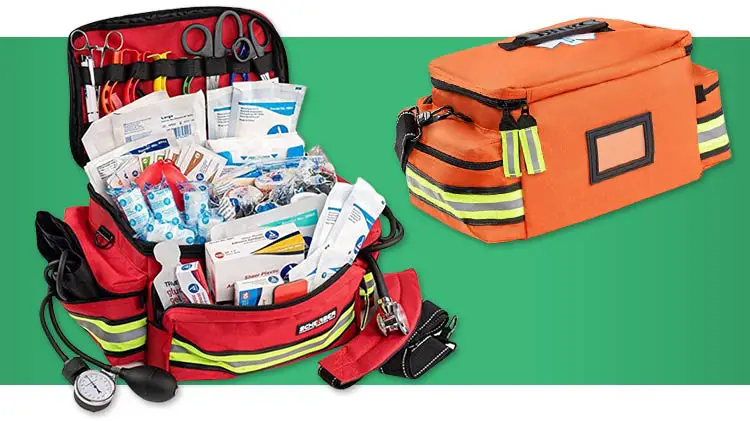 When it comes to being prepared for an emergency, having a first aid trauma bag in your car is even better than the Johnson & Johnson kit. This is especially true if you enjoy backcountry skiing, as you may find yourself miles away from help.
While a basic first aid kit is a good start, a trauma bag contains more advanced items that can mean the difference between treating an issue or not.
A trauma bag should include items such as bandages, splints, a resuscitation mask, and gloves. You'll also want to make sure you have plenty of supplies for treating wounds, including gauze and antiseptic wipes.
You may be thinking, I'll never need this or use a bag so big but having it for one injury can pay for itself with the sense of security you'll have, knowing you have it.
Remember, being prepared for an emergency is vital when you're out in the backcountry.
Read More:
8 Hydration Packs for Skiing: (Take One Of These Skiing)
Requirements for Ski Patrol: [What to Know to Join]
4 – Mini First Aid Kit: On Mountain Essentials
A mini first aid kit is another perfect option for the backpack. A small, lightweight kit is all you need.
Of course, the best way to avoid any accidents is to ski safely and be aware of your surroundings. But even the most experienced skiers can find themselves in unforeseen situations. While its not even super first aid related, keeping a few hand warmers in there can be a game changer.
One More Thing For the Car
A walkie-talkie is something I always recommend for the car or backcountry too. A two-way radio that is small and portable, making it easy to keep in the car or throw in the backpack. While most people think of them as being used for backcountry skiing activities, they can also be a valuable tool in your car.
If you find yourself in an emergency situation, a walkie-talkie can be a lifesaver if you have no cell signal. You can use it to call for help or to let others know what is happening. If your car breaks down, you can use the walkie-talkie to call for a tow truck or to ask for directions if your cell has died and people are on channels nearby.
Having a walkie-talkie in your car is one more thing that can help you stay safe and prepared for anything.
Getting a First Aid Kit is Insurance When Skiing
Having a first aid kit with you while skiing is always a good idea. It's worth the money, at least so I have peace of mind. It's better to be prepared and not need it, than to need it and not have it. No one wants to be in a situation where they are injured and don't have the supplies they need to get help.
Make sure you get a first aid kit before heading out on the slopes! One day you may be glad you did.