Nestled at the base of the Teton mountain range in Wyoming is the ever-popular Jackson Hole Mountain Resort. Often considered one of the top ski destinations in North America, Jackson Hole offers visitors a chance to experience some of the best skiing and snowboarding available.
With over 2,500 acres of terrain to explore, Jackson Hole is a true winter wonderland for anyone looking to hit the slopes.
We'll look at some of the highlights so you can plan a once-in-a-lifetime trip to Jackson unless you live close by.
Directions to Jackson Hole Mountain Resort
Teton Village is only a 15-minute drive from the Jackson Hole airport, making it one of the most convenient ski resorts to fly into. This is the most popular area to call home base. We'll touch on lodging in a second but once you get to Teton Village, keep in mind you are still 12 miles from Jackson Hole Resort.
If you do end up in the Teton Village area then you can take the START bus or a taxi to the resort. So many people are doing it that you just need to follow the crowd in the village.
Get directions on Google Maps
Jackson Hole Mountain Resort Stats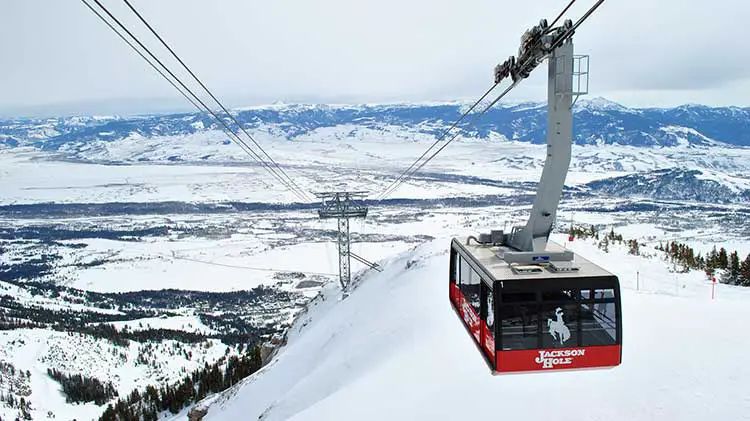 Jackson Hole Mountain Resort has a lot of hype but you'll see the hype is worth it.
There are:
133 named trails across 2,500 acres.
The resort has a vertical drop of 4,139 feet and an aerial tram.
There is 4,139 feet of vertical drop
Over 3,000 acres of backcountry riding
It's easy to see why Jackson Hole is a mecca for skiers and snowboarders by just taking a high-level look at their stats.
Lodging at Jackson Hole Mountain Resort
Looking for the best place to stay during your next ski trip to Jackson Hole Mountain Resort? Teton Village is by far the most popular. It has all the lodging you could ask for, apres ski and even transportation to the resort.
There are plenty of options for lodging and the sky is the limit on price.
Here is a look at a few:
Whether you're looking for a luxurious suite or a cozy condo, VRBO has something for everyone. If you want to forgo the hotels, you can easily find some of the best deals through owner rentals.
Night Skiing at Jackson Hole Ski Resort
There is no night skiing at Jackson Hole Ski Resort. The resort is open from 9 am to 4 pm during the winter season. The resort does not have the necessary lighting for night skiing. There are other ski resorts in the area that do offer night skiing, such as Snow King.
Jackson Hole Weather- What to Expect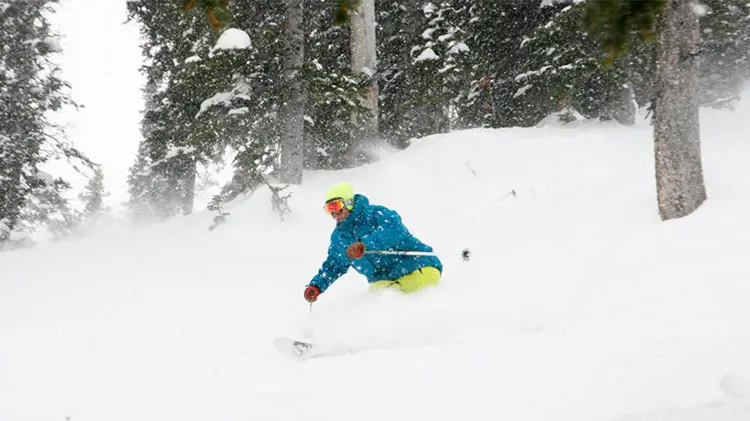 If you're planning on hitting the slopes at Jackson Hole Ski Resort, you're in for a treat. On average, the resort sees over 400 inches of snow each year. That means there's lots of powder to enjoy. And, because the resort is located in a high mountain valley, the snow is usually excellent. You can expect great conditions and lots of great skiing.
The average winter temperature is 21 degrees in the valley.
Read More:
Short Skis vs Long Skis: Which Do You Need?
How Much Skis Cost (What to Budget for Buying Skis)
Jackson Hole Ski Rentals
If you're planning a trip to Jackson Hole to hit the slopes, you'll want to make sure you have all your gear sorted out in advance. While you can certainly find places to rent skis and snowboards when you arrive in town, it's usually cheaper and easier to book everything ahead of time.
There are a few different ways to reserve skis or snowboards before your trip. You can either rent directly from a resort or through an independent company like Teton Village Sports. There are pros and cons to both options.
Renting from a resort is often more expensive than going through an independent company. However, it can be more convenient since you can often pick up your equipment right at the resort. This is especially helpful if you're traveling with kids or carrying a lot of gear.
Another option is ski rental delivery like Black Tie Skis offer and Door 2 Door Ski & Snowboard rental.
Terrain Parks at Jackson Hole
With world-renowned snow, you'd expect world-class terrain parks and Jackson doesn't disappoint. They have multiple terrain parks with features for beginners to experts. You can have a lot of fun at Jackson Hole whether you are just starting out or you are an experienced rider.
Jackson itself is a playground with all its terrain but there are multiple Burton Stash parks in addition to the main parks at Jackson Hole. A beginner should start at Little Stash and work their way up to the expert level Stashley Ridge.
Trails at Jackson Hole – Which to Ride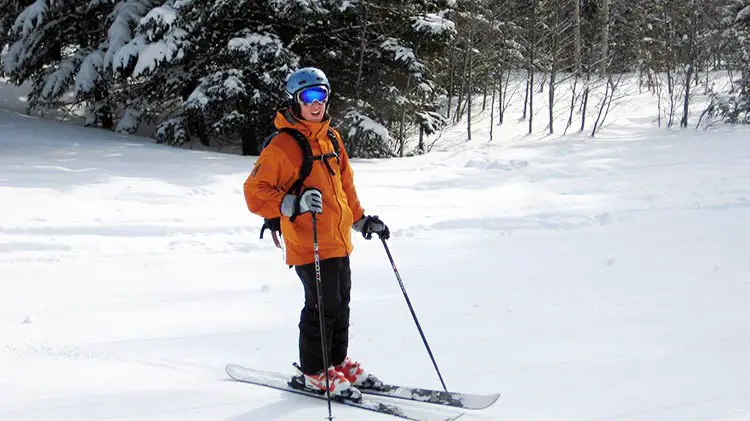 Some people go to Jackson Hole and never ride a trail. How is that possible? There's so much backcountry terrain at Jackson. That being said, there are so many trails to choose from, it can be hard to decide which ones to ride. However, there are a few that are considered must-rides when visiting the area.
The first is the Laramie Bowl. This bowl is world-renowned and offers breathtaking views. It's a bit of a challenge, but well worth it for the experienced rider.
Next is the Middle Hoback trail. It offers some serious steeps on its way down to the Union Pass Traverse.
Finally, Antelope Flats is perfect for beginners or those looking for a leisurely ride.
Jackson Hole Ski School – Don't Miss It
If you're looking for a great place to learn how to ski, the Jackson Hole Ski School is the perfect place for you. The friendly staff will make sure that you have a great time while learning how to ski.
They offer lessons for both beginners and experienced skiers. Whether you're just starting out or looking to improve your skills, the Jackson Hole Ski School is a great choice. Want to get better in the terrain parks, take a lesson.
Worried that Jackson is too big to learn at? Don't be! The ski school will put you at ease, making Jackson Hole a great first resort even though it is huge!
Snow Tubing at Jackson Hole
Looking for a fun winter activity that everyone in the family can enjoy? Take the family snow tubing. Just keep in mind you'll have to head over to Snow King or out to Grand Targhee which is quite the drive.
Final Thoughts on Skiing at Jackson Hole
A ski trip to Jackson Hole Wyoming is a must for any big mountain experience. People fly in from all around the states and the world each year. Make this year, your year to experience Jackson. Pack your bags, grab your skis or snowboard, and head to Jackson Hole for an unforgettable trip.
Brianna Lee writes for Proper Peaks and lives in Duluth, MN. Her favorite thing about skiing is glades. If you want to find her out on the slopes then that is the first place you should look for her bright pink helmet.
Kindly note Proper Peaks may be compensated by purchasing through links within the post.