Have you ever been drained after a day of skiing or snowboarding? Skiing and snowboarding both use a ton of energy when you are out there all day and there is nothing that hit better than a recovery drink for skiing. Many skiers ride all day but don't think about the importance of recovery.
In order to be able to ride at your best for multiple days, it is essential to consume the right type of food and drinks in order to refuel your body after a long day on the slopes. We'll look at some recovery drinks that can help replenish energy levels and provide your muscles with essential nutrients.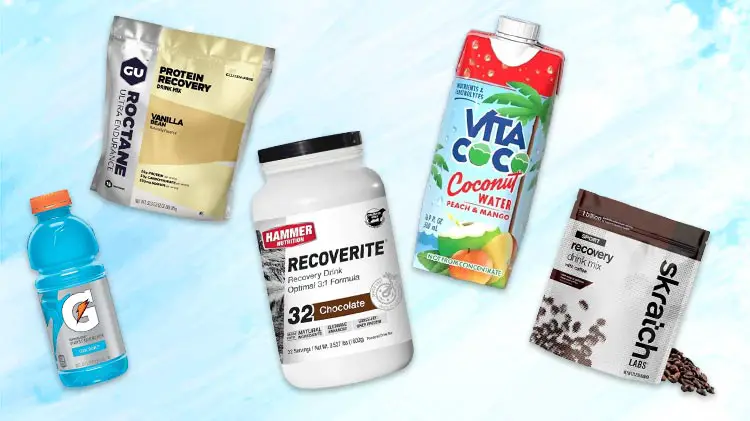 How Should You Approach Recovery After Skiing?
Skiing is a great way to stay active and have fun in the winter months, however, it's important to take time for proper recovery afterward. Rest, rehydration, stretching, and eating the right foods are all important elements of post-skiing recovery. This is crucial when you have a multiday or week ski trip.
While the young guns may be slamming down the beers at Apres Ski, there are a few better options.
When you come off the ski slopes after a long day of skiing, your body has gone through a lot of physical stress. You should start your recovery process by rehydrating with plenty of fluids as soon as possible. This means proper sports drinks if you have them. Then take time to rest and let your body recuperate from its exertion on the slopes.
Kick your legs up and sit by the fireplace if you have one. It's also beneficial to stretch out any tight muscles that may be sore from skiing by doing some light stretches or using a massage gun.
What Are Some Good Sports Drinks for Skiing?
If you're skiing for a long day, it's important to refuel and recharge your body. Not all sports drinks are great for skiing though. You most likely don't need a full-on protein shake but a mix of carbs, electrolytes and protein could be a game-changer. There are lots of great options out there that will aid in recovery after a long day of skiing.
One of the key features to look for in a sports drink for recovery after skiing is electrolytes. When your electrolytes get low after a full day of sweating during skiing, your body won't perform at its peak performance. Another factor to consider when choosing your drink is carbohydrates.
Carbs can provide fuel for muscles under strenuous conditions like skiing. Getting these in quickly after skiing is going to make the legs feel much better the following day. Finally, good hydration helps reduce fatigue and soreness. You need to be hydrating after skiing and snowboarding regardless.
Why not get a recovery drink so you are helping your body?
Hammer Nutrition Recoverite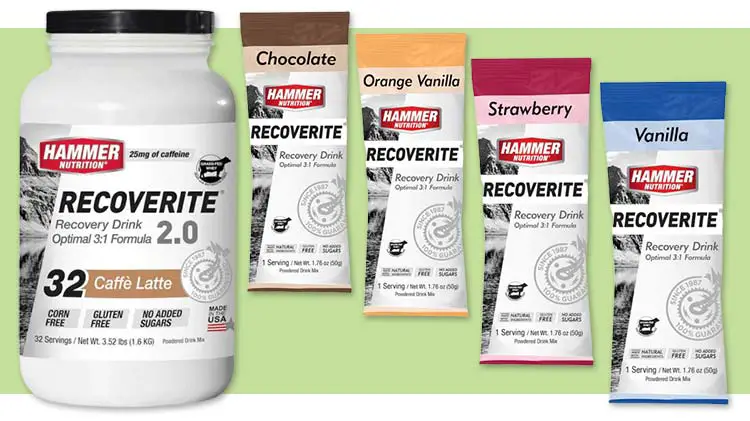 Hammer Nutrition Recoverite is a great recovery drink post-skiing since it helps reduce soreness, restore glycogen and rebuild muscle. The blend is a ratio of 3:1 carbs to whey protein. On top of that, Recoverite is full of electrolytes, dissolves easily and has a great taste.
Some of the flavors Recoverite comes in, include:
Chocolate
Caffe Latte,
Orange-Vanilla
Vanilla
Strawberry
The flavor of Recoverite is surprisingly good. You'll have no struggle getting this one down. It will make you want to skip the after-skiing beer and go for Recoverite instead.
GU Roctane Protein Recovery Drink Mix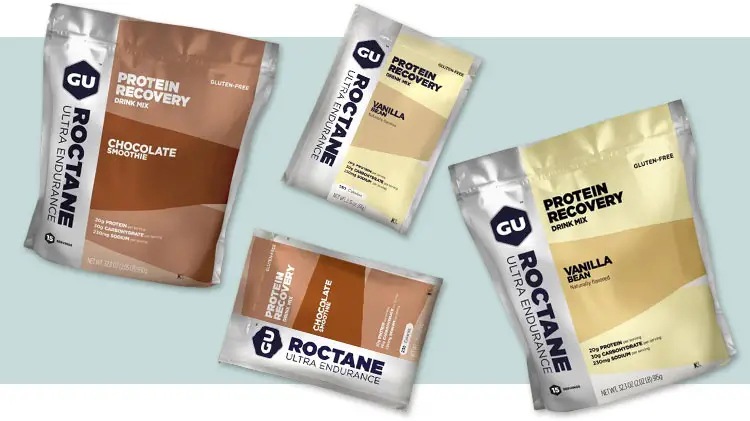 GU is a pretty popular brand when it comes to sports recovery like Hammer Nutrition. Gu's Roctane Protein Recovery Drink Mix is a great match for skiers and snowboarders. It has 20g of protein and is full of fast-acting carbs as well.
This drink mix helps repair muscles while replacing electrolytes that have been lost through sweat on the slopes. The taste is not as great as some other brands, but it's still ok. For taste, it comes in last on the line-up and you don't have many options to choose from.
The flavor options are fewer as it only comes in:
Chocolate Smoothie
Vanilla Bean
GU Roctane Protein Recovery Drink Mix is ideal if you have skied a full day and plan to ski more days afterward. Give Roctane a try and your muscles will be thanking you the next day.
Skratch Labs Post Workout Recovery: Solid Tasting Recovery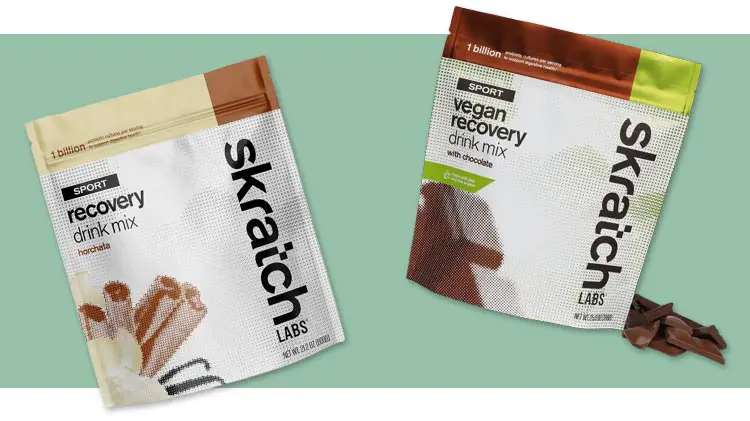 Skratch Labs Post Workout Recovery is a great vegetarian option for those looking to refuel after an intense workout. With a variety of flavors such as Chocolate, Coffee, Horchata and Vegan Chocolate, there's something for everyone. But one flavor that stands out above the rest is the Horchata.
Skratch Labs post-workout recovery drink is easy to pack in your back or throw in your car so that you can have a shake as soon as you get off the slopes. Not only will it curb hunger but it will start to replace everything you depleted over the day. Many skiers have found it to be their go-to post-skiing recovery drink.
Compared to Recoverite by Hammer Nutrition, Scratch Labs post-workout recovery is a 4:1 ratio of carbs to protein. While most recovery drinks work well, they don't all taste great. You should have no issue with the flavor profile of Scratch Labs.
Why Gatorade is Good But Not the Best
You probably know Gatorade. It is even sold at tons of ski resorts. The thing you may not know is that it is a division of PepsiCo. Yes, the sodas. While Gatorade is a popular sports drink that has been around for decades., it isn't the healthiest for recovery after skiing. It has become part of the culture among athletes but it isn't a true recovery drink.
Gatorade is easy to find and purchase almost anywhere, which makes it convenient for skiers who want to rehydrate but it doesn't have the replacing carbs and protein.
At first glance to many skiers and snowboarders, Gatorade appears to be an ideal choice to rehydrate. Take it with caution. You are much better off with a product like Recoverite or Skratch Labs post-workout recovery drinks.
Coconut Water: The Ultimate Hydration
A supposing recovery drink that a lot of skiers may skip over is coconut water. If you are headed home after a full ski day and hit the grocery store then consider picking up some coconut water. Not only is it packed with electrolytes to hydrate you but it is extremely refreshing.
Coconut water contains less sugar than many sports drinks such as Gatorade, making it a healthier option when needing to replenish lost fluids after skiing or boarding.
Aside from grocery stores, you can find coconut water in most convenience stores with bottles and packaged cartons. Make coconut water your treat after a long day of skiing. You'll feel better almost instantly.
Understanding What Your Body Needs Post Skiing
After a long ski day, taking the time to understand what your body needs is essential for muscle and overall health. Your body loses electrolytes while skiing, so replenishing them is important. Electrolytes are minerals such as sodium and potassium that help balance fluids in your body.
Eating foods high in electrolytes like bananas, coconut water, or nuts will help replace lost nutrients after skiing.
In addition, protein can be an important part of post-skiing recovery since it helps build and repair muscles. Eating lean meats, dairy products and beans can provide the necessary proteins to enhance muscle recovery post-skiing. Otherwise, you can cover all your bases by using a recovery drink.
Even after a recovery drink, rehydrating with plenty of water is also key.
Should I Avoid The Post Skiing Beers?
Post-skiing beers are a long-held tradition among skiers and snowboarders. We get it, it feels like you earned it and everyone else is going to Apres Ski. There's no harm in having one or two post-skiing beers, as long as you drink responsibly and make sure not to overdo it.
The beers aren't a replacement for a proper recovery drink but what we are saying is – have a limit. Otherwise, your body will hate you the next day.
Wrapping Up The 5 Recovery Drinks for Skiing & Snowboarding
Now you should have five exceptional recovery drinks for skiing and snowboarding. Don't skimp on your next ski or snowboard trip. Make sure one makes it in your bag and give it a try. Start out with ones like Skratch Labs or Hammer Nutrition and you'll set the bar high. Stay hydrated, keep the legs fresh and we'll see you on the trails.