It doesn't matter if you casually take your Nordic skis out to the trails on the weekend or are a competitive racer, you should always pack sunglasses. Leaving the house to Nordic ski without sunglasses is one of the biggest mistakes you can make but which sunglasses should you bring?
We will look at 5 of the top pairs of sunglasses for Nordic skiers. You can't go wrong with these brands on the trails.
Why Do Nordic Skiers Wear Sunglasses?
When the sun is out, and the snow is freshly groomed, it is no surprise that Nordic skiers need sunglasses to keep the sun off and out of their eyes. The sun reflects harshly off the snow, causing a glare that can be painful and difficult to see through. Wearing sunglasses helps reduce this glare, and allows skiers to better see where they are going.
Sunglasses also help protect Nordic skiers' eyes from the harmful UV rays of the sun. I always recommend sunglasses to Nordic skiers for this reason. Prolonged exposure to UV rays can damage the eyes. By wearing sunglasses, skiers can help reduce their risk of developing these problems.
So next time you hit the trails, don't forget your sunglasses! You will not only have a more enjoyable day but you can look cooler than the other skiers if you wear the right pair of sunglasses. Oh yea, and it protects your eyes too. If you can't ski good, you may as well look good.
Should You Wear Sunglasses When Nordic Skiing?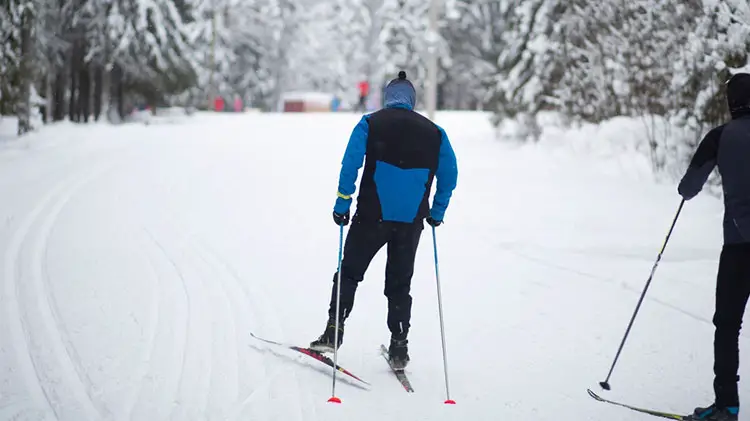 Whether you're out for a leisurely ski on the trails or hitting the slopes for some downhill action, sunglasses are a must. We've established that. Not only do they protect your eyes from the harmful UV rays of the sun, but they also help to reduce glare and improve visibility.
Most people think sunglasses are only for the sun but frankly, they keep out any snow flurries too.
When choosing sunglasses for Nordic skiing, it's important to look for a pair that offers 100% UV protection. Wraparound frames are another great feature to keep the sun out of your eyes from all angles. Polarized lenses are also a good option as they can help reduce glare from the snow and improve the clarity on the trails.
If you're unsure what type of sunglasses to buy, we'll get to that in just a second but before that, let's look at the few things that make a good set of Nordic skiing sunglasses.
What Makes Good Nordic Sunglasses?
Good Nordic sunglasses usually have the following attributes. Lower-end sunglasses won't have all these features.
Durable in order to withstand the elements.
Wide viewing lenses to provide a clear view of the terrain.
Anti-water
Anti-scratch
Shatterproof Lenses
Polarized
Brands of Sunglasses for Nordic Skiing
When it comes to sunglasses for nordic skiing, there are a few brands that stand out above the rest. Bliz, Oakley, and Tifosi are all great options for choosing sunglasses for this winter sport.
I've been to numerous Nordic ski race weekends and these are some of the top brands you see every winter. Picking between them comes down to the style and price generally. All are good options.
Bliz offers a variety of different styles of sunglasses that are specifically designed for nordic skiing. Their glasses are designed to provide superior protection from the sun and wind, while also being comfortable to wear for long periods of time.
Oakley is another great option when it comes to choosing sunglasses for nordic skiing. Their glasses are designed to offer both style and function, and they have a wide variety of different styles to choose from.
Tifosi is another excellent choice when it comes to choosing sunglasses for Nordic skiing because it comes in on the cheaper end of Bliz and Oakley. Oakley is usually the highest priced but you pay for the brand name, whereas with Bliz, you get quality, looks and a reasonable price.
Best Overall Nordic Sunglasses: Blitz Fusion Sunglasses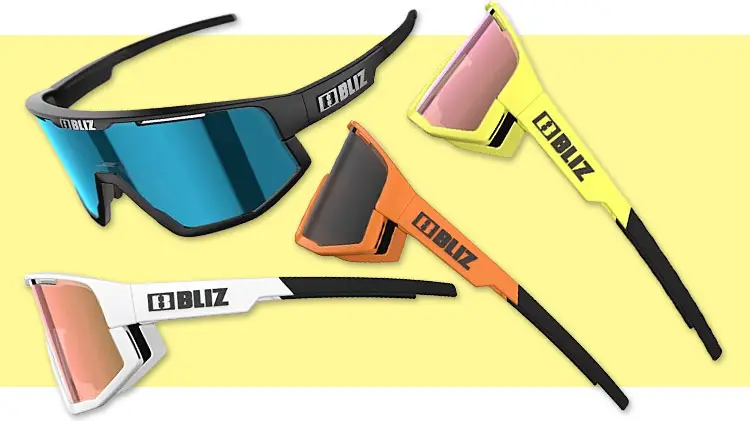 Nordic skiing is a demanding sport, both mentally and physically. It requires intense concentration and focus, as well as split-second decisions. All of this takes place in potentially hazardous conditions, so it's important to have gear that can keep up.
Bliz Vision sunglasses not only will make you look cool on the trails but they have durable lenses that provide a clear view in all conditions.
They are the top sunglasses for Nordic skiing that you can get for just under $100. They check the boxes when it comes to looks, UV protection and being scratch resistant.
While you can certainly spend more on sunglasses, you probably don't need to. Think about how often you go Nordic skiing and factor that in. That is why the Fusion are a great pair to pick up so you have some extra benjamins left over.
Oakley Radar EV Path Sunglasses – Not a Bad Alternative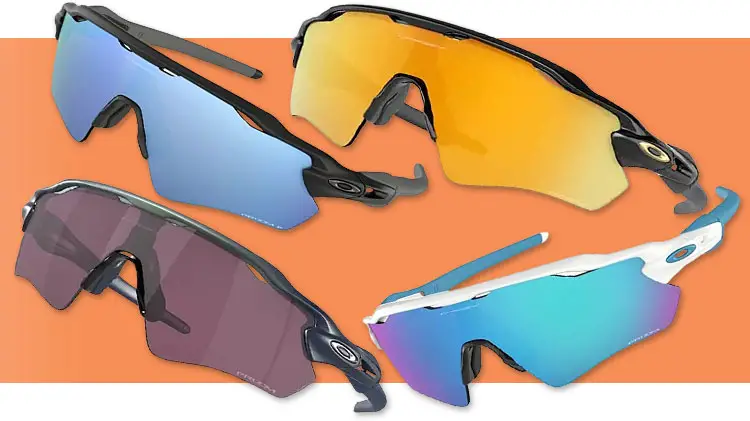 Oakley's Radar EV Path sunglasses offer a wide view and are sporty, making them a good alternative for athletes or anyone who wants to look good while being active. These are expensive. Oakley is a good brand that produces high-quality products but you are certainly paying for a bit of the name.
The Radar EV Path sunglasses are well-made and will last a long time if taken care of properly but that is the thing. You need to be someone who takes care of your sunglasses and doesn't lose them if you are buying Nordic sunglasses at this price point. For me, it's too much but for people racing every weekend, they swear by them.
The lenses are certainly a bit higher quality but the saying is true, you get what you pay for. Oakley's Radar EV have their top-of-the-line Prizm Polarized lenses for excellent clarity. The frames are light and sturdy but have that super sporty look to them.
It can be a good look if that is what you are going for but some people like the more dialed-back look of the Bliz sunglasses.
Smith Ruckus Sunglasses: A Common Nordic Choice
The Smith Ruckus sunglasses are a versatile and stylish option for Nordic trails. The lenses are interchangeable, so you can swap them out to suit your needs. The ChromaPop lenses provide excellent clarity and color correction, making them ideal for Nordic skiing. Once you go from the bright glaring snow to the tree, you will see what I mean.
These lenses are big, like face covers. They are just as good as the Oakley in my opinion but you aren't paying for the Oakley brand name. Full disclosure, I haven't skied in these but have only looked through them, on a friend's pair, before skiing. I think for a higher-end Nordic pair of Nordic skiing sunglasses, these are worth it.
Pit Vipers The Originals: Swagger on the Trails
Alright, honestly these aren't the best for competitive Nordic skiing but how can Pit Vipers not make the list? They make up for in style what they lack in sport. Their classic sunglass design is known to turn heads and make you look cooler instantly. Don't worry, you can even get polarized.
Wearing Pit Vipers either means you are the best skier on the Nordic trails or you can't ski at all. There is no in-between. If you aren't the best skier then the Pit Vipers will help you make it up to your friends with style points. For under $100 Pit Vipers will make you a myth and legend of the nordic trails. Not advised for everyone.
Tifosi Optics Unisex Davos
Tifosi is a big name amongst the Nordic racing community but with the casuals as well. They are very sporty, durable and fit well on the face. The other pro is that they are relatively inexpensive. Some people find that they look a bit dated but the design just works.
You can take these from the Nordic trails, hop on your summer bike or go for a run and they won't disappoint. Tifosi are a functional alternative to the Bliz Fusion.
Read More:
How to Store Skis at Home – (Simple Solutions)
8 Hydration Packs for Skiing: (Take One Of These Skiing)
Keeping Your Sunglasses Clean While Skiing
When it comes to sunglasses, it is important to keep them clean while skiing. I have to mention it, especially if you are buying an expensive pair of Nordic glasses. By taking a few simple precautions, you can avoid scratches and keep your sunglasses dry. Use a soft cloth to wipe down your lenses after skiing, every time!
Be sure to avoid any abrasive materials that could scratch your lenses. If your sunglasses get wet, dry them off and then use your cleaning cloth. This will help prevent water spots from forming on the lenses or dirt from staying on the lenses. You'd be surprised how gunked up they can get.
One Accessory You Need for Nordic Sunglasses
There is one other thing I recommend for Nordic sunglasses. The coveted neck lanyard. It is the perfect accessory to keep your sunglasses securely in place while you're out on the Nordic trails. A lanyard prevents your sunglasses from dropping.
Think of it as protecting your purchase. You can limit the amount of dropping your new sunglasses by just getting a lanyard.
Final Thoughts on Sunglasses for Nordic Skiers
As with anything, sunglasses for Nordic skiers come in all shapes, sizes and price points. I think the Bliz Fusion combines all three of these attributes together in the best way but some people like to go higher end. Just remember, if you can't ski good, you better look good.