Updated August 27, 2023 by Jessie Gonzalez. This post contains affiliate links at no added cost.
Bindings are one of the most important parts of any snowboarders set up. They serve as your connection to the board, giving you the control needed to turn, jump, butter and more. However, with so many options on the market, it can be hard to choose the right pair.
Burton and Union are huge names in the snowboard industry and they both offer a variety of great bindings. In this we will compare the two companies, check out some of their options and pick an overall winner. But first, a word on flex.
When looking at bindings, the most important detail to pay attention to is the "flex". The flex of the binding should correspond to your riding style, ability level and snowboard. Soft to medium-soft flex bindings should be paired with a softer flexing snowboard and are best for riding in the park and hitting features like jumps and rails.
They can also be better for beginner riders compared to their stiffer counterparts, as they are more forgiving of mistakes. In conjunction with this, medium stiff to stiff bindings should be paired with a stiffer board and are ideal for riding steep, fast, all-mountain terrain.
Burton vs Union Bindings: A Look At Burton First
Burton Snowboards was founded in 1977 by Jake Burton Carpenter. Ever since then the Vermont-based company has been easily recognizable as one of the top brands in the snowboarding world.
They offer pretty much any gear and apparel you could possibly want, always high quality and with a distinctive style. Amongst the gear the offer is a great selection of bindings. Lets take a look at a few.
Popular Burton Bindings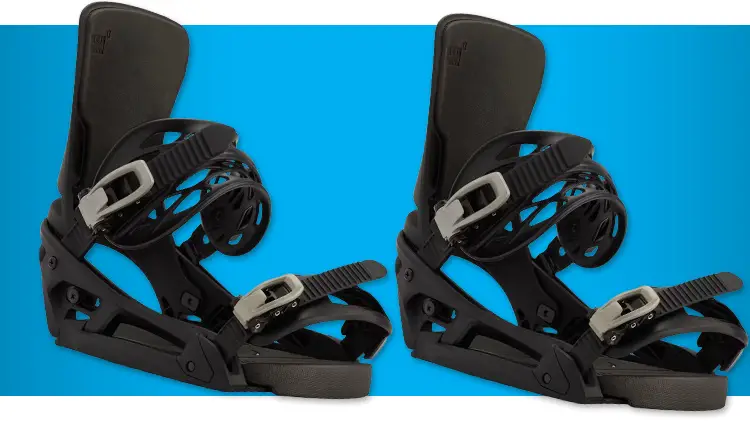 Best soft flex Burton Binding: 2023 Freestyle Binding
If you spend most of your days in the park, this binding will be your best choice from Burton. They have a soft, playful, forgiving feel making them ideal for jumps, boxes, and rails, as well as beginner riders. With solid hardware like Burton's single-component highback and Supergrip Capstrap, security is never an issue.
Medium flex bindings are a good middle ground for freestyle riders who equally enjoy carving down the mountain and taking big hits along the way. The Burton Malativas are a great choice here. They are very adjustable, with minimal need for tools, which lends itself to finding the perfect fit for all day comfort.
These bindings are also dripping in style. Check out the gray fade to make all your friends jealous.
Best stiff flex Burton Binding: 2023 Cartel X Binding
The Cartel bindings are a trusted classic that have been around for over a decade. The newest 2023 edition offers a couple of new improvements upon the previous edition such as a new highback, giving it greater power and improved response. If you're looking for a reliable all mountain binding, it's hard to go wrong with a pair of Cartels.
The Price of Burton Bindings: A Closer Look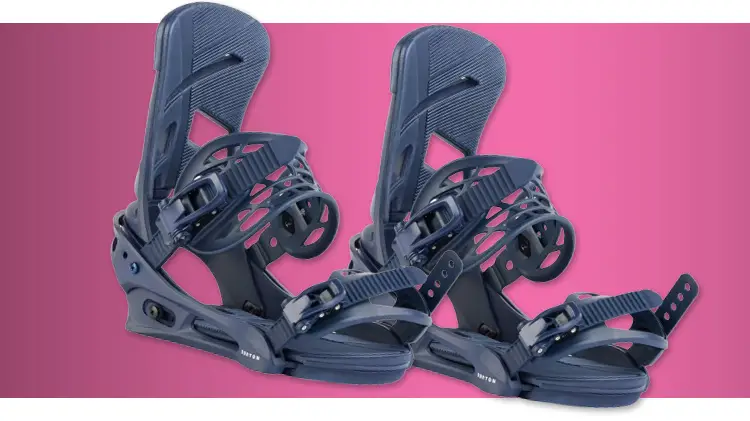 Burton bindings range from about $180 at low end to the most expensive costing about $550, with most capping out around $380. Their most expensive bindings are definitely at the high end of what you should be willing to pay for a pair of bindings, but they also offer a number of affordable options.
Overall, this is a pretty standard price range for bindings from a true and tested company.
Quality: What to Know About Burton Bindings
Burton is a company that has stood the test of time in the snowboard world. Although, their greatest speciality is their boards themselves, their bindings are also reliable and high quality with consistently positive reviews.
Union Bindings: Are They Good?
Founded in 2005, Union Bindings is a newer company in comparison to Burton, however, they have quickly become one of the top names in the snowboarding world. The overall advantage to Union is that they only make bindings, meaning all of their energy and resources goes toward creating top of the line bindings.
All of their components are made in house and never outsourced, meaning you can count on quality. They also have an impressive team of riders including big names such as Travis Rice and Gigi Ruf.
What Are Some Decent Union Bindings?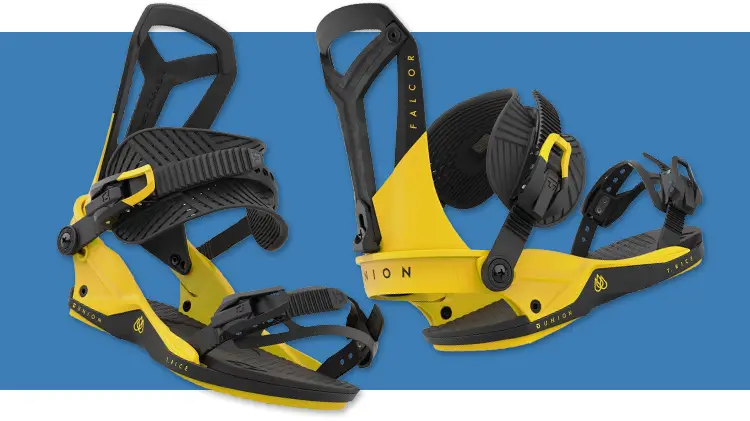 Best soft flex Union binding: 2023 Flite Pro Bindings
These ultralight bindings are made for smooth, surfy riding through the park and freestyle terrain. One of their coolest features is the Union Duraflex Baseplate. This baseplate is their lightest ever, cutting 10 grams off the total weight. The bindings are extremely responsive and a go-to for many park riders.
They come in several different color options so you can match them to your kit with ease.
With a medium flex, the Strata bindings are probably the best all-around binding offered by Union. They ranked first on Snowboarding Profile's top 25 all mountain bindings and are a favorite for many riders.
These lightweight bindings come with a super stiff flex and are extremely powerful making them ideal for both steep powder and busting through chunder. They come with super strong aluminum heelcups which minimize drag and keep a firm hold. The Atlases are a great choice for experienced riders who love big all-mountain terrain.
How Does the Price Compare of Union Bindings?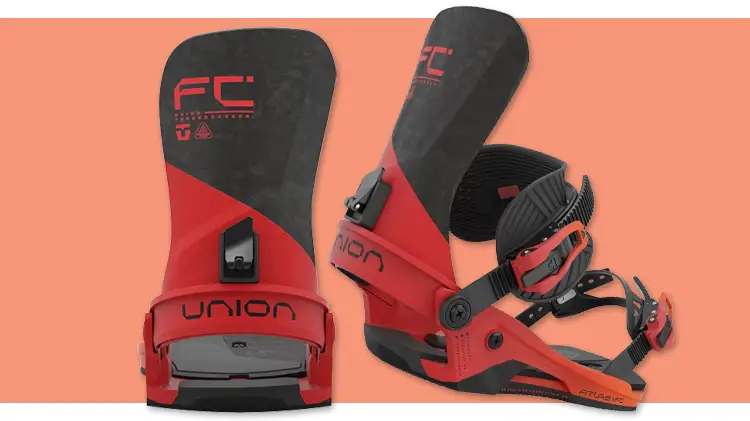 The price range of Union bindings is relatively similar to that of Burton. You can shave off about ten dollars on the low end, but all in all you can expect to spend similar amounts of money from either company. So ultimately, the winner will not come down to price, but quality.
Recommended Reading:
Union Bindings Quality: What You Should Know
If there's one thing Union has focused its energy on over the years, it's making the highest quality bindings money can buy.
By solely specializing in bindings, the company's combined team of engineers and designers have broken through barriers in binding technology, making bindings that are light, durable, and reliable. You can count on quality when buying from Union.
Burton vs Union Bindings (The Winner)
Drumroll please… The overall winner in today's faceoff is Union! Although Burton is an older company with a bigger name but Union's specialization in bindings and forward-thinking technology has given them the binding throne.
Since the company's inception, they have worked nonstop on a single mission– making the most bombproof, reliable bindings on the market. Their team of legendary riders also speak to the quality of their bindings, as they strap in and push the limits of snowboarding.
Final Thoughts on Burton vs Union Bindings
At the end of the day, you're not going to go wrong with bindings from either of these companies. They both make top of line products that will allow you to take your riding to the next level, through countless long days on the mountain.
Binding technology has come a long way in the past couple decades and both of these companies reflect that growth. Whether you go with Burton or Union think about your goals, pick the binding that best fits your style and get ready to strap in!