Pennsylvania is the perfect state to take the family skiing. With over 20 family ski resorts in Pennsylvania, there are ample places to take your pick from. With some resorts a close drive for people from Maryland, D.C., Virginia and New York, it's not hard to see why families flock to Pennsylvania for their annual ski vacations. Let's look at 10 of the top family ski resorts in Pennsylvania.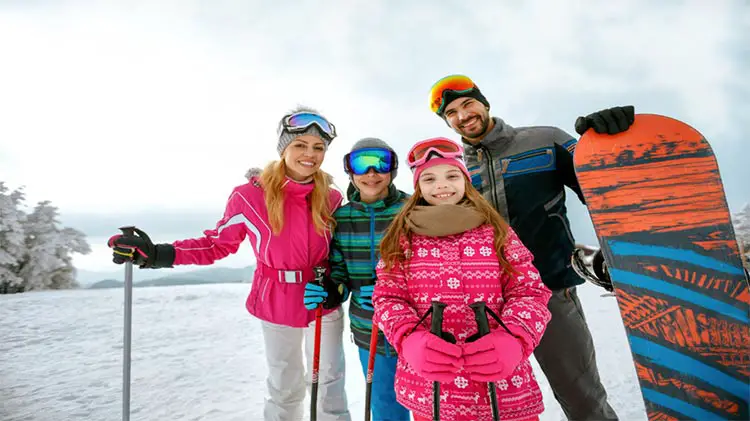 What Makes a Family Ski Resort?
At Proper Peaks, we agree there has to be a few things in place to make a ski area a good family ski resort.
A family ski resort needs to check off the following –
Nearby lodging
Food at the ski area or nearby
Ample beginner trails for learners
Exciting intermediate to advanced trails
A solid ski school
When you have all these things, a family trip can be a go. Dads are able to teach the little ones on the bunny slopes while mom gets in some more exciting laps.
10 of the Top Family Ski Resorts in Pennsylvania
1. Liberty Mountain Resort
Fairfield, Pennsylvania | 22 Trails
Just outside of D.C., Maryland and Virginia, ("DMV") Liberty Mountain Resort is a staple for DMV ski families. With the recently new Highland Lodge, the accommodations are up to date and can accommodate small to large groups.
In addition to the Highland Lodge at Liberty, the resort also has the Alpine Lodge and Fairway Hotel for additional rooms.
Once at Liberty, families can learn together at their ski school or hit the mountain if they have previously skied before. Beginners can start on the Bunny Slope before moving up to more famous runs like Dipsy Doodle and eventually riding the backside of the mountain which has more advanced trails. Once the family gets hungry, stop into Eagle & the Owl to fill up the stomachs.
Otherwise the resort is just 15 minutes to Emmitsburg, Maryland which has quite a few options for food like the notable Ott House. For lower Pennsylvania skiing, Liberty is a great option for the family.
2. Seven Springs Mountain Resort
Champion, Pennsylvania | 33 Trails
One of Pennsylvania's larger family ski resorts is Seven Springs. The choices of lodging make Seven Springs an easy place for a family to plan a ski vacation. There are slopeside hotels, townhomes and cottages all closeby.
With options of casual dining to fine dining, no one will go hungry. Mom and dad can even head into the Foggy Goggle to grab a drink.
Seven Springs larger foot print has it's good and bads for families. On the good, there is a lot of terrain to ride and park features if you have teenagers and they are into that. On the flip side, the beginner's area is so far from the advanced slopes that you'll have to take some time to round up the family if you have different skill level riders in the family.
Overall, Seven Springs is perfect to take the family if you want to ski, eat, sleep and repeat!
3. Camelback Mountain Resort
Tannersville, Pennsylvania |
Family skiing fun in the Poconos starts at Camelback Mountain Resort. For a true mountain getaway in Pennsylvania, the Poconos never disappoint and Camelback Resort surely doesn't either.
The lodging near the slopes is just the start. Families can then take to a lesson with the Camelback ski and ride academy or hit the slopes. If you have younger ones who aren't ready for the slopes yet then snow tubing may still be a viable and fun option.
Pub food, pizza and italian are just a few of the options at Camelback. We like Camelback because once you get there, they have everything you need for a family ski vacation without having to leave the resort. You won't have to try hard to keep a smile on everyone's faces in your group.
4. Blue Mountain Resort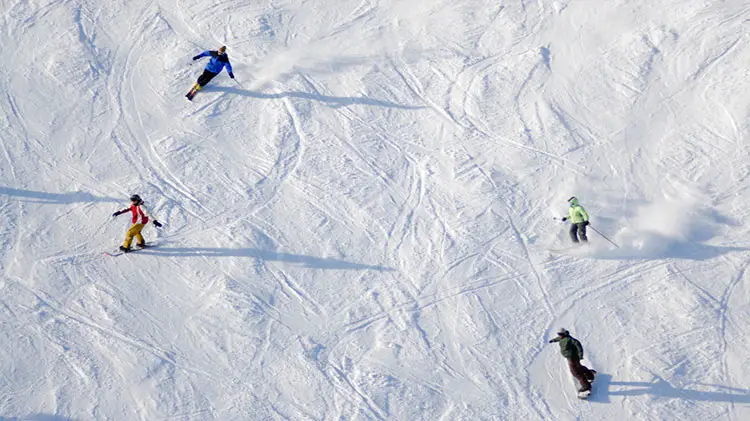 Palmerton, Pennsylvania | 40 Trails
Want another family ski resort option in the Poconos? Try Blue Mountain. They boast having Pennsylvania's highest vertical of all ski resorts at 1,082 feet.
The family can ski day or night as Blue Mountain has 100% lit night skiing. There are also options to have some fun at Blue Mountain's large snow tubing park.
While there isn't lodging onsite, it isn't a deal breaker. You have options like the Hampton Inn 13 miles away in Lehighton, the Hampton Inn in Bethlehem (17 miles away) or numerous vacation rentals by owner nearby.
Take the family out to Blue Mountain if you want an nice mix of beginner trails and some steep trails for the more advanced riders in your family. They have it all.
5. Bear Creek
Lehigh Valley, PA | 23 Trails
Families close to Philadelphia should check out Bear Creek Mountain Resort. It is just under an hour's drive so the kids won't have a long car ride before hitting the slopes.
Once there, you'll find comfortable lodging at the base of the mountain hotel. While there is only 86 skiable acres, they are all lit for night skiing.
Bear Creek can fill up on the weekends in the winter so be sure to book in advance if you want to stay at the hotel for your ski vacation. Otherwise Bear Creek makes for a fun day trip as well with the family. With plenty of beginner trails, the resort is friendly to teaching beginners how to ski.
6. Tussey Mountain Ski & Recreation
Boalsburg, PA | 8 Trails
Tussey Mountain is one of the smallest family ski area's on the list but that doesn't mean it isn't a great place to ski. There is a terrain park, night skiing and a snow tubing park which make it worth the trip too.
While Tussey Mountain is mainly for a day trip, if you really need it, there is lodging and places to eat nearby. For a less crowded family ski area in PA compared to some of the larger resorts on the list, Tussey is a choice.
7. Jack Frost Big Boulder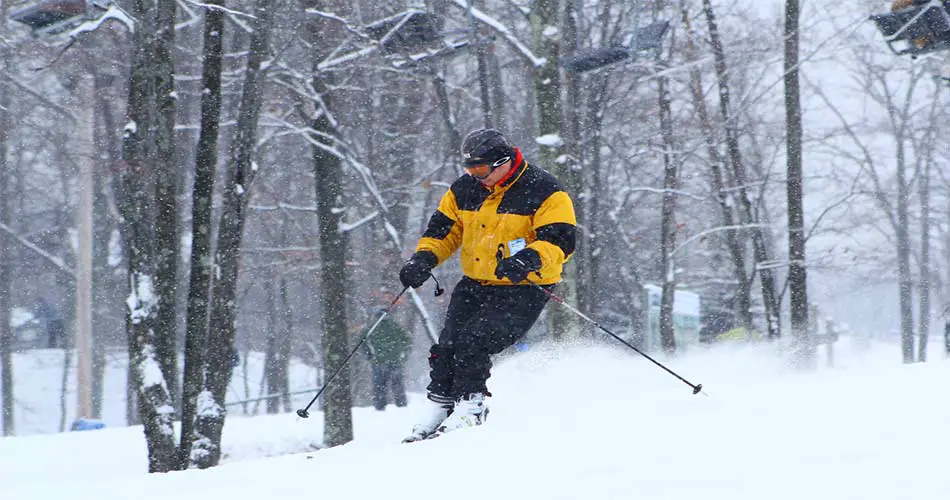 White Haven, Pennsylvania | 35 Total Trails
Doesn't skiing two resorts sound better than one? At Jack Frost Big Boulder ("JFBB"), you have access to two mountains. JFBB takes pride in almost always being the first ski area to open in Pennsylvania each year.
The mountains are great places to learn to ski or just get in some laps if you are already a proficient skier. The family can enjoy night skiing at Big Boulder and then head back to lodging nearby. One interesting place is Split Rock Resort which has an indoor waterpark that the kids will be sure to enjoy.
8. Spring Mountain Adventures
Schwensville, Pennsylvania | 7 Trails
Another ski area for the day tripper families in PA is Spring Mountain Adventures. Spring Mountain is a great place if you want to get out and teach your kids how to ski. Sure, they have a few challenging trails as well but if you want to see a lot of terrain then you will need to go to a bigger ski area on the list.
Once the family gets tired of the slopes, be sure to check out the ice rink at Spring Mountain too. It is a great way to mix up a bit of the fun.
9. Montage Mountain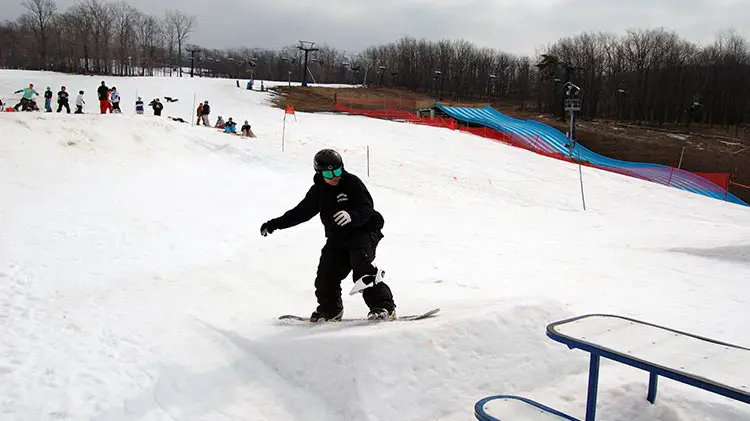 Scranton, Pennsylvania | 27 Trails
Top notch east Pennsylvania skiing is at Montage Mountain. What are you waiting for? If your family likes long runs, lower crowds than some of the other big name resorts then Montage Mountain needs to make your list for PA family ski areas.
Aside from their trails, Montage has multiple places cooking up a bite which makes for some family fun après ski. Call it a night a the Hilton in Scranton which is minutes away and you have the whole family ski trip planned.
10. Ski Roundtop
Lewisberry, Pennsylvania | 20 Trails
Rounding out the list and not to be forgotten of family ski resorts in Pennsylvania is Roundtop Mountain. Start the family on Fanny Hill which is named like some of the tumbles people take. It should be called family hill as most new skiers get there start there. From there, there is a mix of intermediate and advanced trails to keep the family riding all day.
Try snow tubing or grab a bite in the lodge before heading back home for a day trip or to a nearby hotel like the Hampton Inn or Towneplace Suites by Marriott. Both are within 10-15 minutes if you plan on doing an overnighter.
Final Thoughts on 10 Ski Resorts in PA for Families
Pennsylvanians are super lucky with all the ski resorts they have in the state. Planning a trip to a family ski resort has never been easier with so many good resort options that have lodging and food at the resort or closeby.
Get your family on the slopes this winter and try a family ski resort in Pennsylvania. Let us know which one is your family's favorite.